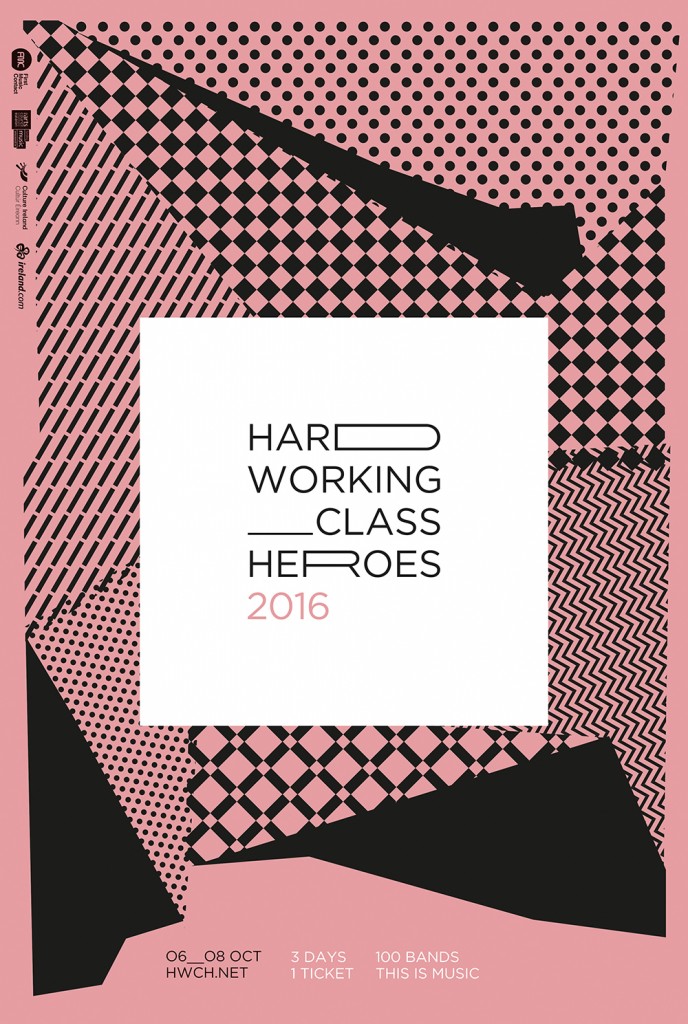 Right up there with the country's leading celebrations of homegrown, independent music, Hard Working Class Heroes have announced the line-up for its 2016 outing, which takes place in several venues in Dublin from October 6-8.
With close to 700 bands applying to perform this year, 100 acts were chosen independently by "top Irish and international music industry professionals." HWCH's Industry Convention will once more also bring international delegates and domestic music industry professionals together for a host of conferences, mentor sessions, workshops and more.
Another addition to this year's showcase is the inaugural Conor Walsh Memorial Bursary, set up in honour of alumni and friend of the festival, Conor Walsh, who died suddenly in March. This year, HWCH will ask all 100 bands participating to vote for the act who most embodies Conor's talent and bravery. That act will be awarded €2,500 toward a recording or tour bill.
Tickets for Hard Working Class Heroes are available to buy here, priced €45.00 for Weekend Tickets, €20.00 for Nightly Tickets and €10.00 for individual venue tickets.
See the full line-up for HWCH below.
A.S. Fanning / Adultrock / AikJ / Ailbhe Reddy / Alana Henderson / BARQ / Basciville / Beach / Birds of Olympus / Bitch Falcon / Black Wing Bird / BlueMusic / Brian Casey / Buffalo Woman / Callum Stewart / Chris Kabs / Clarence & The Winters / Comrade Hat / Cormac O Caoimh / Craig Gallagher / Cult Called Man / Dammy Ari / Damola / Daniel McDermott / Davina and the Messengers / ELE / Elephant / Ella Naseeb / Elm / Eoin Dolan / Erica-Cody / Evvol / Exiles / EXPLODING EYES / Fangclub / Fontaines / Galants / Ger Fox Sailing / HAIL THE GHOST / Half Of Me / handsome eric / Harbouring Oceans / HAWK / Hiva Oa / JAFARIS / Jealous of the Birds / Junk Drawer / Kid Karate / Le Boom / Loah / Maija Sofia / Maria Kelly / Miles Graham / moossmann / Naoise Roo / New Pope / New Portals / New Valley Wolves / Nocturnes / Oh Boland / Oh Joy / Orchid Collective / Paddy Dennehy & The Red Herring / Paddy Mulcahy / PALE RIVERS / Participant / Patrick Freeman / Paul Creane / Peppy / Petty Youth / R.S.A.G. / Rocstrong / Rosie Carney / Rusangano Family / Samyel / SARAMAI / Search Party Animal / Slow Riot / Soule / Stephen Robinson / Strength / Super Silly / swords / Tablets / Talos / Tara Lee / Tebi Rex / The Blizzards / The Ocelots / The Shaker Hymn / Tiz McNamara / TOUTS / Train Room / Tuath / Video Blue / Vulpynes / Wake America / Wastefellow / We, the Oceanographers / whenyoung / Whim / WOLFF / Wyvern Lingo / Yonen / Young Earth