Live Reviews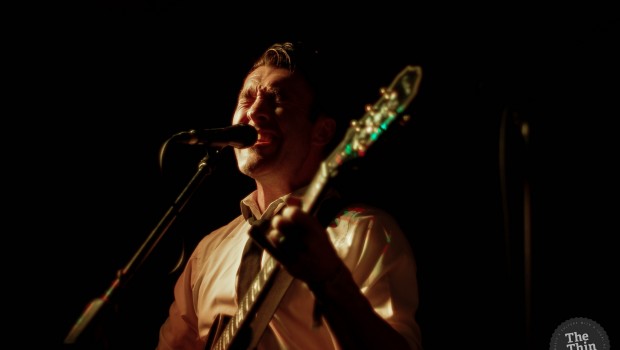 Published on August 15th, 2016 | by Brian Coney
0
Stendhal Festival of Art 2016 (Day One)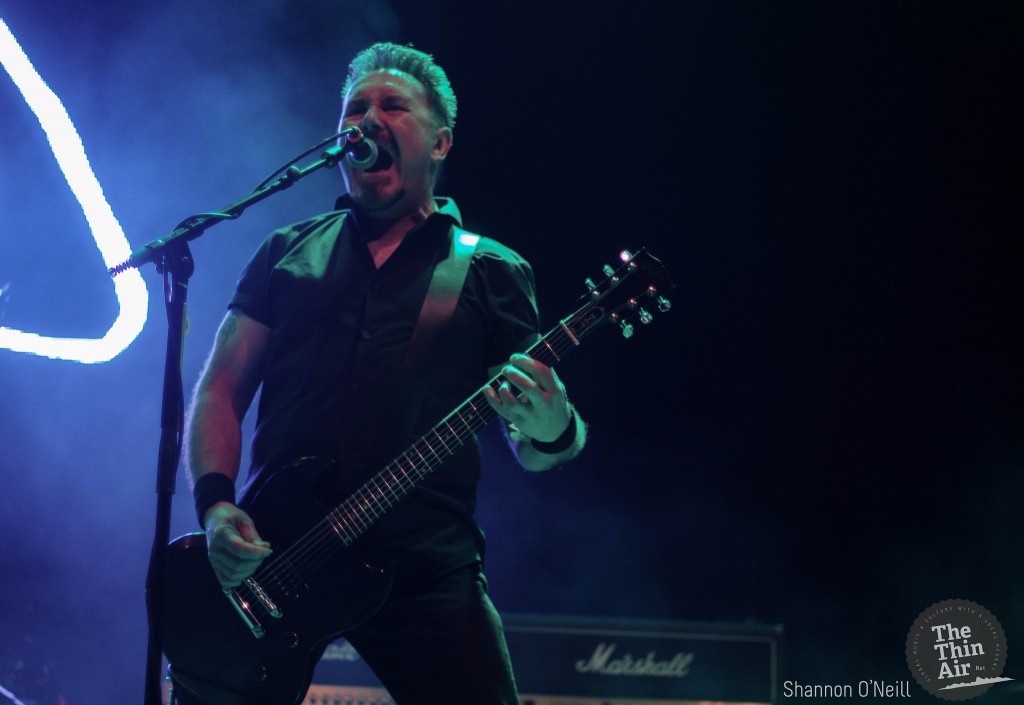 Growing stronger each year, there's a pretence-dodging spirit about Stendhal Festival of Art that always puts creating experiences worth remembering firmly centre-stage. Tucked away in the beautiful, barley-bordered Ballymully Cottage Farm – a heart-skippingly scenic hideaway on the outskirts of Limavady – organisers have lovingly honed the many magical elements that collide to make it Northern Ireland's most unmissable summer festival. Priding itself as much on its intimate rural setting as it does its family-friendly atmosphere – which is unparalleled – the many hidden corners of enchantment that hem the festival's two large areas of stages, stalls and curious spaces ensures no creative stone feels left unturned.
"We're a punk band. Now, I can't help but notice the Q Radio sign at the front of the stage here. If only radio stations like them played more Northern Irish music – well, that would be really something. Sorry… not sorry." Generating cheers from a fairly modest but taken melange of first-day onlookers including Derry MLA Eamonn McCann, The Wood Burning Savages' Paul Connolly (below) is in his element. Bridging the likes of fervent recent single 'We Love You' with a flurry of fiery degrees ("Increase the peace, increase the love, increase the decency") he spearheads the first resounding performance of Friday, the band's crescendo-like, concentrated sense of intent proving equally blistering and bold.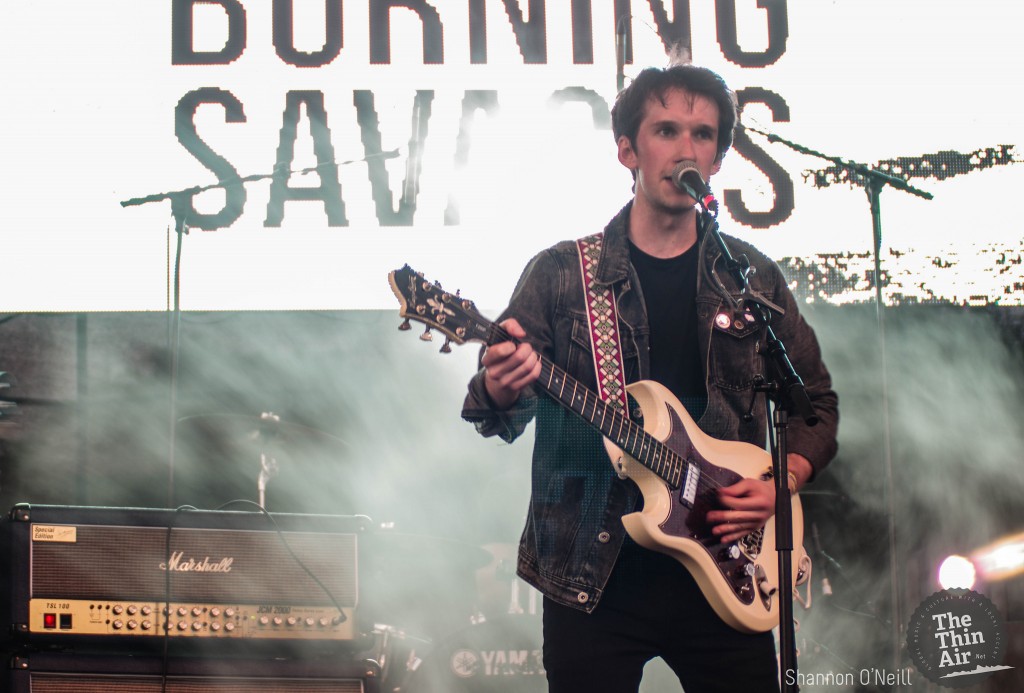 Meanwhile, with its kaleidoscopic trail of multi-coloured, knitted trees and wooded hideaways, Belfast's R51 – with a sick but steadfast soldier in drummer Matty Killen – deliver an equally storming set in the aptly-named Woolly Woodland Stage. Having had to re-locate last-minute from the Henry McCullough Stage (seemingly a very rare organisational mishap from those behind the scenes) there's an elated urgency to the likes of 'Sonder Song' and new single 'Elephant', undoubtedly rooted in the relief of everything fortuitously falling into place in the end. "Thank you for finding us," guitarist Jonny Woods enthuses, catching his breath in a set perfectly bolstered by near-perfect sound out front. With a new EP on the horizon, their set – bursting with gazey textures and wonderfully-woven melodies – reveals a five-piece on the cusp of fully arriving in fine fashion.
A boot-muddying trudge onwards, we emerge from the woods to discover that, in true Stendhal fashion, a patchwork of carefree activity and goodwill is settling in throughout the festival site. And nowhere is that more tangible than back at the main stage, where Derry's PORTS – a band The Wood Burning Savages' Paul Connolly earlier declared the "best band in the country" – deliver a set of carefully-crafted songs where the wistful is tempered with the accessible. With stellar chord progressions and deft instrumentation finely woven around their knack for sublime harmonies, 'The Few and Far Between' and the especially inspired 'The Devil Is A Songbird' hit home and then some. "I'd just like to take a moment to thank the organisers," frontman Steven McCool (below) parts, mid-way. "They're not getting a single penny out of this. They're just doing it for the love of music." Nail on head; his well-received point is something that should really meditated upon in hindsight.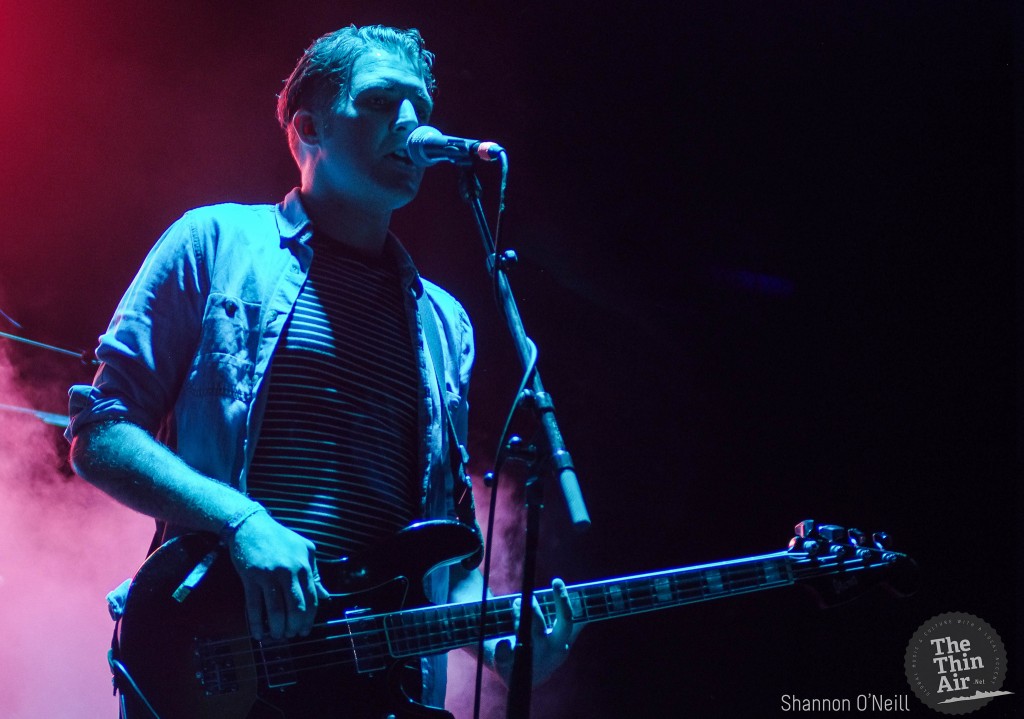 Sentiment appeased, easily the country's finest garage blues duo The Bonnevilles are making an almighty racket over at The Woodtown Stage. As ever, Andy McGibbon (below) and Christopher McMullan make a little go an extraordinarily long way, as their set spirals into perfect, fuzzed-out abandon, each lick, howl and throwdown betraying the mark of a pair that perfected their live show many moons ago. While their hallion-heavy crowd react accordingly, it's in those rare moments of restraint and refrain – those quieter, subtly-delivered moments of cool candour on the likes of 'Ive Come Too Far For Love To Die' – where The Bonnevilles' true majesty and nigh on telepathic interplay shines through tonight. Try as they might, no other act even approaches the masterfully-delivered – and downright loud – electricity channelled by the suited Lurgan pair this August weekend.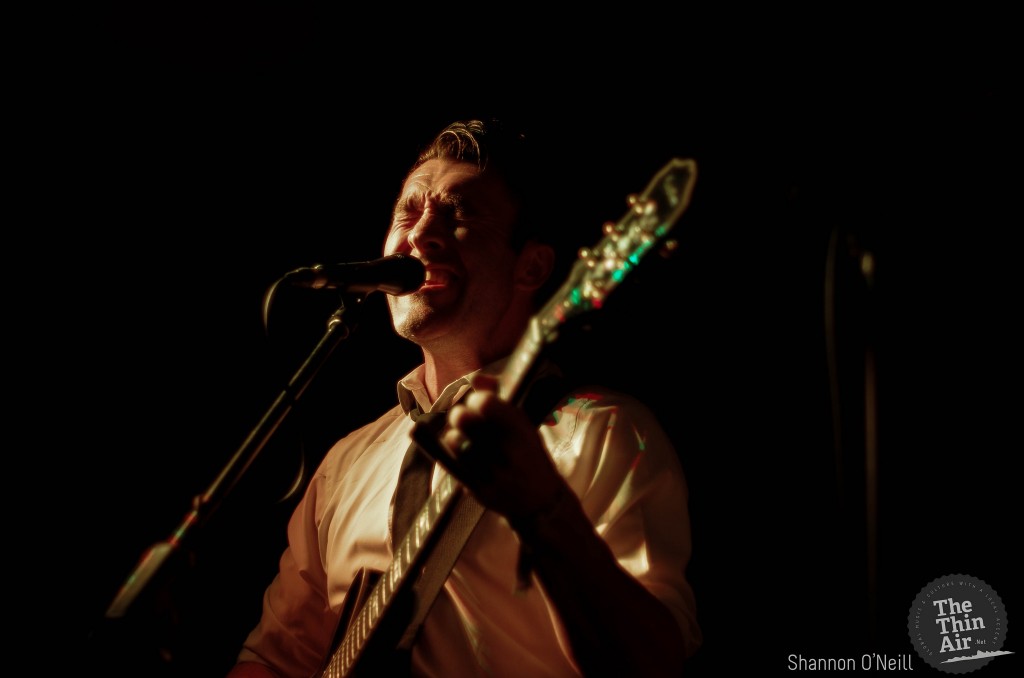 But with the ever-virtuoso Pat McManus having reportedly delivered a typically blinding set over at the Karma Valley stage, bona fide Northern Irish alt-rock legends Therapy? closing out the Main Stage just shy of midnight was always going to be Friday's most unmissable proposition. Notwithstanding various sound issues that occasionally threatened to compromise the flow of their set, an early one-two of the equally timeless 'Knives' and 'Die Laughing' instantly confirmed Andy Cairns (main photo), Michael McKeegan (below) and Neil Cooper were in absolutely no mood whatsoever to be timid. With recent singles 'Deathstimate' and 'Still Hurts' standing up to the sheer impact of Troublegum classics 'Trigger Inside' and 'Nowhere', they prove once more that they do continue to "career-spanning" without entertaining any of undesired connotations the phrase often entails. Peaking on the traditional mass singalong on 'Potate Junkie' – and featuring a particularly knowing dedication to Donald Trump on 'Living In The Shadow of a Terrible Thing' – one of NI's greatest musical exports seal the deal on Day One in emphatic, whiplash-inviting fashion. The Stendhal syndrome has taken root. Brian Coney