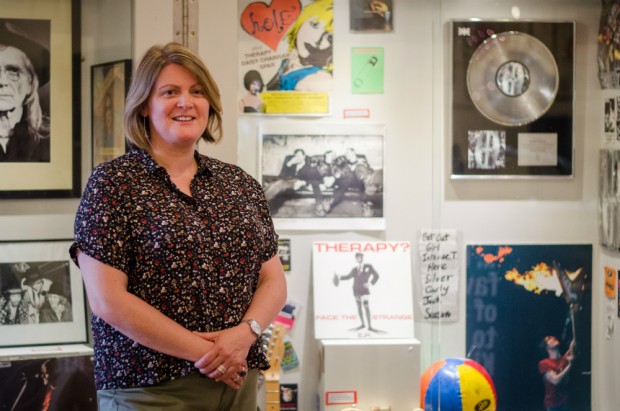 My name is Charlotte Dryden. I'm the new Chief Executive of Oh Yeah Music Centre in Belfast, and while I am new to the role, I'm no stranger to the centre. In fact, I have worked here for eight years. I came here in 2008, exactly one year after the project kicked off. Oh Yeah was set up as a music charity and social enterprise and after securing some funding from Belfast City Council and the Paul Hamlyn Foundation; they were in a position to make two staffing appointments. Up until this point the very dedicated volunteers and the founding board – including Gary Lightbody of Snow Patrol – were keeping things going. Oh Yeah founder Stuart Bailie took up post as CEO and I joined him as part time development officer.
I'll never forget the first day. We sat at donated desks in an old office on the first floor. The building still resembled a warehouse. I remember thinking, "where the hell do I start?!" But we had some tenants, creative people working out of the building, including a recording studio called Start Together. The following eight years are a blur.
Today we have a live venue, rehearsal rooms, a music exhibition, key projects, local, national and international partners. There are now eleven dynamic music and creative enterprises operating out of the centre, people doing business locally and globally, often working through the night and at weekends finalising festival line ups, producing music videos and documentaries, mapping visuals, and even building stages. Then there are the publishing and record deals, and the recording and mastering of albums.
Our most recent tenant is Leif Bodnarchuk, a guitar technician that has worked with everyone from Leonard Cohen to Ash; he's just set up a repair shop for guitars, amps and more. Elsewhere, the rehearsal rooms are busy with practicing bands and the local college BMC use the centre as a music campus.
The Oh Yeah team and volunteers manage event diaries and room hire bookings. Talent development projects like Scratch My Progress are tapping into and nurturing emerging artists. Young promoters Volume Control run regular under 18s events. Outreach officer Paul Kane is doing ground-breaking work in music and dementia. Beyond that he runs the Over The Hill Music Collective, a network that supports older people back into music. We collaborate and work with community and youth organisations, ensuring those with the least access get involved, participate and produce music.
Every year we run a festival called Sound of Belfast, which includes the NI Music Prize and the Oh Yeah Legend Award. This year Ash will be celebrated for the 20th anniversary of their debut album 1977, and will be performing it in full.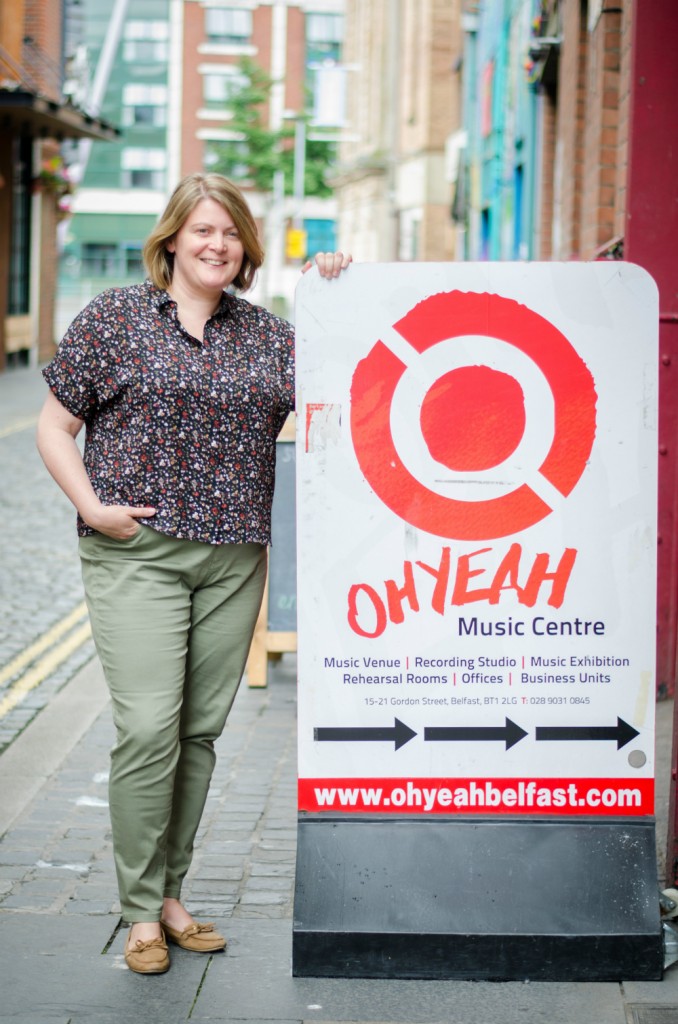 In 2016 I launched a new project called Women's Work, a festival celebrating the contribution that women make to music. We had radio legend Annie Nightingale and influential music journalist Jessica Hopper. What a week that was.
In short, Oh Yeah is a music hub. The effort of our little team and brilliant group of volunteers astounds me. So many people have bought into the vision, but I think we can widen the net and build on encouraging more musicians, fans and music lovers into the building. We have a space, we have ideas, and we would love to hear the thoughts and ideas of our music scene. Let the hub live louder. There's a meeting planned; we will let you know when.
I'm a great believer in grass roots and collective power. It makes sense to work together, to collaborate. I see pockets of musicians and artists collaborating all the time. It's brilliant, let's expand that. From encouraging people to get out and support live music, to providing welcoming spaces for creativity, to finding ways for organisations to compliment rather than compete. A rich, diverse and inclusive scene can help build audiences and create a sense of community. A little solidarity goes a long way.
It's not easy out there, it can be lonely and frustrating, the industry can be cruel, audiences too, funding is tight, austerity bites, politicians fight, venues are struggling and licensing laws suck. The music industry is shifting and changing faster than ever, but we are working with and have support from the likes of Help Musicians UK, Musicians Union, PRS for Music Foundation, UK Music and many more.
Oh Yeah celebrates ten years in 2017. So many things have changed since we first opened the doors of the centre. But one thing has not changed, the excitement and the buzz that I, we get from music. New opportunities, and yes, challenges will continue to present themselves, but I'm excited to be taking things forward, together. Charlotte Dryden
Photos by Sara Marsden
Keep up to date with all things Oh Yeah Centre-related here