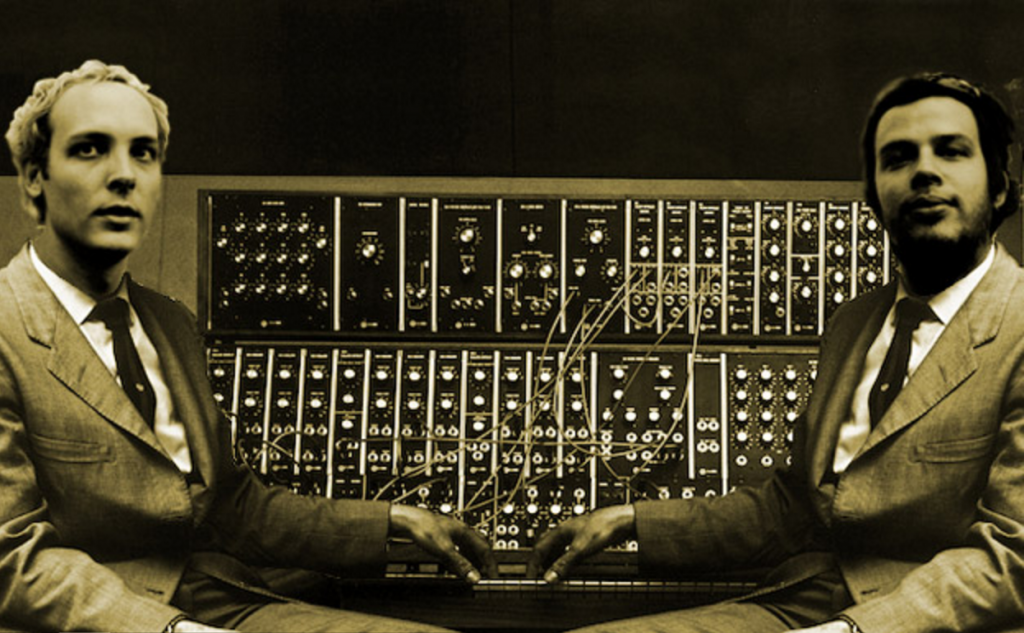 Few artists reign in their respective genre quite like Texan duo Stars of the Lid. Having released a string of stellar, deeply evocative albums via the likes of Kranky over the last 20 years, Adam Wiltzie and Brian McBride have long established themselves as easily one of the most pioneering and influential drone/ambient outfits of all time. Ahead of highly-anticipated shows in Cork (Triskel Christchurch, October 8) and Dublin (National Concert Hall, October 9) as part of their first tour since 2008, Brian Coney talks to Wiltzie about new material, the legacy and future of Stars of the Lid, his work with Dustin O'Halloran as A Winged Victory For The Sullen and bringing an ultra-rare Moog System 55 on the road.
Hi Adam. Stars of the Lid last played Ireland back in 2007 – almost ten years ago now. What are your memories of those shows?
It was the first time we ever played Ireland and it was really nice. I've been to Ireland with other bands over the years and it's always been a good place to play. It's special. I mean, England and the UK has always been good to me in general but Ireland has its own special thing. I always love coming over. I don't know if it's the isolation of the island or what but it's always sincere, that love of music.
This is Stars of the Lid's first full tour since 2008. What made you guys decide to get together for something more than one-off concerts this time around?
We're not a traditional band in the sense that we record a new record and go on tour, take a break, then record a new record and go tour. We haven't put out a record in ten years. After the last record I think I just became a little burned out on wanting to do something different so I started the A Winged Victory For The Sullen project which has really kept me quite busy. We've still been touring all over the world but just in small pockets of time.
A part of this tour was connected with Paul Smith from Blast First getting a hold of these historic, antique Moogs and finding people that wanted to take them out on tour to experiment with. So it all kind of fell together like that and then I reached out to see if anyone wanted to do shows. With Stars of the Lid for some reason it doesn't really matter if we've got a new record or not, so the dates fell into place quite easily and that's how it all came together. It wasn't really a big orchestrated plan or anything like that.
So Paul's involvement proved catalytic in the decision to do more than one or two dates?
Yeah. Actually, the way he's doing it with other artists… for example, Keith Emerson used the same machine – the Moog System 55 – but he just did one show. Typically, it was just meant to be one show; to record it and release it. But for us, as we've a large group of people that tour with us, we needed to have a number of shows to make it work financially, just because we all live in different parts of the world at this point.
Being based in Brussels, you and Brian are thousands of miles apart. How does it feel being able continue and expand upon the project despite living at other sides of the globe? 
Even though we started in Austin together we haven't lived in the same city since the late 90's. And even when we lived in the same city we would always trade tapes because we used to record on cassette tapes – on reel-to-reel four-track. That definitely feels like a long time ago! So it was never really strange for us not to feel the need to be in the same room together. It was liberating because when we did live in different cities it was no big deal as we would just send tapes through the post. We still send tapes but just in different formats, so it's always been quite simple for us. And even with Dustin (O'Halloran of A Winged Victory for The Sullen), he lives in Berlin and I live in Brussels. Ok, that's two different countries but I can jump in a plane and be there in an hour. For Brian it's 12 hours but still, I can be there pretty quickly.
You've mentioned before the anonymous quality of SOTL despite being heralded by many as pioneers and trailblazers in your field. Do you like the fact that you can probably walk into a show just before going on stage and most people wouldn't know who you were?
Oh yeah. It was always about the idea more than the people creating it so I'm completely fine with being anonymous. I'm very comfortable with that.
It's been 22 years since Stars of the Lid formed. Is there a drive or compulsion to prove anything at this point, seven full-length albums and countless other release later?
Not really. I don't know. I think I just have a really hard time taking myself seriously. It is how it is. Brian teaches at university and I've became quite busy with AWVFTS plus I'm doing a lot more film work now. We still continue to write music and play concerts so it's fine. I don't really have a specific feeling about it. As long as we stay alive, I feel there's a chance one day that we'll actually finish that record and release it. I don't really think it matters so much any more but obviously, our fans really want the new record. We're trying. Maybe one of these days.
After years of listening to Stars of the Lid, I find myself still finding new things in the drones and layers on most tracks. Do you feel that sense of longevity owes to the sheer expansiveness of your sound?
I have trouble thinking about my music in that way. It's not for me to decide; how I feel about it is kind of irrelevant. Every artist wants to be taken seriously and want to know that there's someone that cares about we do. But at the same time it's strange how it works out. I had no idea at the beginning that anyone would care; I was just doing it for myself and then it slowly started to grow. I'm very comfortable with how it happened because I don't think there was any hype – maybe other people do – but it happened very organically and naturally. Long after I'm gone who's to know whether it will resonant through the future? It's left, in a sense, to people like you. I'm not going to say there aren't artists that don't like to think of themselves with inflated egos but I don't know what makes that kind of artist. I just feel very uncomfortable pushing myself into that kind of category.
As well as playing some new compositions on this tour, you'll also be joined by Francesco Donadello, Bobby Donne of post-rock greats Labradford, as well as Echo Collective string ensemble…
Yeah, they're the kind of the default string group for AWVFTS. Any time I use strings they are always my first pick. They all live in Brussels and are really good friends of mine. And they sort of understand what I'm trying to do so I don't have to talk to them very much. They're… instinctive.
A lot of effort will have been put into making this a worthwhile endeavour. How much preparation has been put into ensuring it's a rewarding experience for everyone involved?
Not much yet because we haven't even got together for rehearsals! But the Moog recently came to my studio in Brussels and I brought Francesco and Bobby over to try and make some sense of it because it's this really old, archaic machine from the 50's that doesn't have any presets. It's kind of a monster but it sounds incredible. So there was a little bit of preliminary work with the machine to see if we could keep it in tune and make it fit within our palette of sounds, so once we got in there we realised, "Ok, this can work". So a little bit of work is done there but the rest isn't going to happen until the week before we go on tour. It's going to be a last minute but we'll all be in the same room and we'll make it happen.
I love how in the press release the Moog is almost presented as an entity in itself; almost as a person. Are you excited about performing with it live?
Absolutely. It's a new element. There's a little bit of randomness to the machine. It weighs about essentially two people so it's just a behemoth. When you get it working, it sounds beautiful.
You'll also be joined by long-time collaborator Luke Savisky and German lighting designer MFO on this tour. Tell us more about that.
Luke, our protectionist, has been with us since our very first concert. We never play without him. But for a while now I've wanted to incorporate more of an intense light show connected with the projections. So Marcel (Weber AKA MFO) has worked with Tim Hecker and Ben Frost for a long time, who are also good friends of mine, so I've gotten to know him over the past three years. He's a great guy and I really love his style and what he's doing. It fits perfectly in the team of people I'm working with. It's a new element but it's one I've been wanting to do for a while, so I'm really looking forward to that.
I can envisage that working particularly well at Dublin's National Concert Hall… 
Yeah, it's an amazing space. I've been there a couple of times; Dustin and I played there a couple of years ago. It sounded great in there. It was built at a certain time. For acoustic instruments, it's wonderful.
As well as some new compositions, what can fans expect from this forthcoming tour?
We'll be playing some older pieces as well. As a composer there's always these moments when you complete a song you always feel like they're unfinished in a sense. Obviously we're going to be playing older songs too and they're going to have these new elements, including the Moog and these new people bringing their own personalities, so it's really going to sound like a cross between past and present. I can't deny that I've gotten older and I feel a different relationship with older compositions, so it's really a combination of both. I think there'll be moments where maybe tracks will start and you'll not recognise it and then suddenly recognise a string part or guitar part. It's not obvious but eventually it'll be obvious, if that makes any sense.

Has new listening or any discoveries influenced new material in any way?
For me, not so much. Because as of lately – especially the last year – I've been working on so much of my own music. This summer I worked on two films and had to write almost 70 different cues. At the end of the day I didn't want to listen to music at all. I have to say, though, Jóhann Jóhannsson's forthcoming new record, Orphée, is absolutely gorgeous. I've been listening to it because I'm joining his band and going on tour with him in December. I would highly recommend checking that when it's out. It's probably the best thing he has done in a long time. 
Personally, do you feel a sense of reward in the journey of stepping out onto stage, playing a set and coming off again? Do you generally lose yourself in the music with the crowd or is it something more akin to a job nowadays?
You know, music has become a little bit of a job sometimes. I can't deny that because it's what I do for a living and I have to do all different kinds of work most of the year. But really, every night is different. I would say less than half the time I really have an emotional connection with what I'm doing but it's that challenge to try and find that. But when you're there and you do have that connection with the audience it's completely different, because for most of my career my connection is completely absent – I'm not there – but there's all these people that I've reached out to. So playing live is one time that I'm really right there with them, feeling something. It sounds a bit hippy-dippy but it's the truth.
I've noticed that your ending the tour in Brussels. Do you feel like it's a homecoming show of sorts for you now? Do you feel like a native of Brussels?
Yeah, I do. I've lived there quite a long time now. Ironically, we've never actually played Brussels over all these years so it'll be the first. We're playing in a church that's literally right next to where I live. It's on the corner of my house, so I'm looking forward to that. It'll take me one minute to walk home.
What's Brussels like at the minute in terms of music and the scene?
I don't know about the scene but as for venues and a country that supports the arts it's one of the best in Europe. It's absolutely fantastic. There's so much to see for art and culture every night; there's almost too much. The government put a lot of money back into the system for their people so it's really wonderful that way. It's completely different to what I grew up with in the States, although the U.S. has great art, culture and museums but not in the scale that they do in Belgium.
Do you miss Texas, in terms of being a musician?
No. I couldn't take the weather anymore, it's too hot.
Touching briefly on AWVFTS and your film work; what's the future looking like for the former and regarding the latter, have you finished composing music for Alexandre Moors' The Yellow Birds?
AWVFTS will definitely continue. It grew in another way, and happened a lot quicker than SOTL and it's something that's become really close to my heart and a lot of really great things has come out of it. So there will be a lot to come from that project.
And yes, I just finished the music for The Yellow Birds. There's also this film that Dustin and I completed composing for this summer called Iris. It's going to be coming out at the end of November so we have a soundtrack coming out at the end of the Fall. That's directed by Jalil Lespert, who's probably more well known in Ireland for a show that's been on the BBC, Versailles.
How do you go about deciding which film projects to work on? Does the story have to grab you?
It's a combination of – let me just be frank – money, good script and the director. I always like to meet the director. I have a manager now so he has a lot to do with it as well. There's a team of people I talk to and we try to map out the best thing to manage time, because sadly I wish there was more time in the day. There's so much more I would like to do but there never seems to be enough time to do anything these days.
Looking beyond the forthcoming SOTL tour, are there any concrete plans at all in relation to the band?
Stars of the Lid play Cork's Triskel Christchurch on Saturday, October 8 and Dublin's National Concert Hall on Sunday, October 9. Go here and here to buy tickets.
Check out Stars of the Lid's full forthcoming European dates below.
10/01 Amsterdam, NL @ Paradiso Nord
10/02 London, UK @ Barbican
10/03 Bristol, UK @ Colston Hall
10/04 Nottingham, UK @ Nottingham Contemporary
10/05 Manchester, UK @ Methodist Central Hall
10/06 Glasgow, UK @ Oran Mor Auditorium
10/07 Newcastle, UK @ Sage Gateshead
10/08 Cork, IE @ Christchurch
10/09 Dublin, IE @ National Conert Hall
10/10 Brighton, UK @ St Mary's Church
10/11 Brussels, BE @ Beguinage Church