Features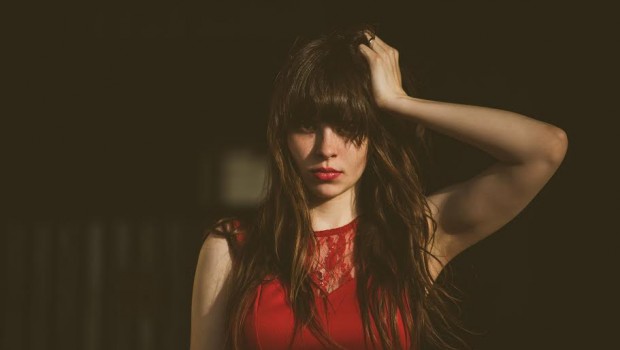 Published on October 10th, 2016 | by Garrett Hargan
0
Blood and Guts: An Interview with Le Butcherettes' Teri Gender Bender
For the uninitiated, Le Butcherettes are a three-piece punk rock band based in El Paso, by way of LA and the streets of Guadalajara, Mexico.  As founder and front-woman Teri Gender Bender has alluded to, her grounding in a deeply religious city, where 'humble hard-working people' live on the same streets as 'violent kidnappers' had a profound impact on her mind-set.  This juxtaposition of good and evil would act as her musical education, informing image, lyrics and sound.
Through a process of cultural osmosis Gender Bender drew inspiration from many sources, be it Mexico's 'raw corruption' or American punk music – thanks to her father's relocation to Denver for work.  It was punk that would provide an outlet for her own emotions when she formed the band around 2007.  They built a formidable reputation for themselves in Mexico, with a mixture of onstage theatrics – making use of blood and meat alongside feather dusters and pearls – and a raw unadulterated punk garage sound.  Over the course of three records (the latest A Raw Youth in 2015) band members have departed and props have disappeared, but Gender Bender's devotion to an unfettered form of punk rock endures – it's more than music to her, it defines her very existence.
In an incredibly insightful and refreshingly honest interview from Teri Gender Bender, she addresses her upbringing, band progression, working with punk icon Iggy Pop, shares some of her all-time favourite Mexican/female artists, talks of 'heartless' presidential candidates and speaks of her love of Irish audiences.
Le Butcherettes play Dublin's Workman's Club on October 19 and Belfast's Black Box on October 20
Teri, I've read your recollection of the extremes of growing up in Guadalajara, where in one hand you had humble hard-working people and extreme violence in the other. Do you think those experiences have informed your music?
Those experiences are the biggest gifts God could have given me. I was so green so I automatically trusted anyone who would approach me, be it at school, on the street, on tour, etc. At the same time if I didn't trust people so easily I would have still been hiding in my room with my father's ashes, mourning the past. Everything that surrounds me highly influences my compositions. It is a must to use the hurt for a creative outlet or else the hurt will end up burning a hole inside your nervous system.
Would you say music and in particular punk rock became a form of escapism?
It became a form of savism. Of being in the moment of the now. Other people around me liked to escape even the music with drug use and alcoholic drops. Music resonates the present for me, and automatically becomes a portal to that given moment in life. Like a soundtrack to a movie, for example.
I discovered Los Dug Dug's a few years ago who I think are a great Mexican band. Are there Mexican bands that inspired you growing up?
Cafe Tacvba, Molotov, Plastilina Mosh, Kinky, Julieta Venegas, Las Ultrasónicas, Zoe … these are bands that were big the moment I moved back to Guadalajara. I definitely admired the fact that they did want they love, and that they continue to do what they love. I highly recommend any one who reads this to please check these bands out. These bands have become iconic bands that all generations in Latin America know.
I understand the line-up has changed over time. But was the band's relocation to the U.S. out of necessity or did it naturally occur?
It was both, I think. It was definitely a necessity needed by my process. I want to always keep the stream flowing and that inevitably meant having to leave the nest. U.S equals more opportunities for the music and art world but it was Mexico's beauty and raw corruption that set fire to my ambition and unwillingness of drowning. In short, during my time in Mexico as great as the band was being received I felt my vision of Le Butcherettes was very undervalued by the masses. But that happens. I turn that feeling into a bullet for my gun.

How would you describe the progression in the band's sound from Sin Sin Sin to A Raw Youth?
Weirder and weirder… darker and more abstract. But then again it is all a matter of perspective, lots of people that come to the shows love Sin Sin Sin more than A Raw Youth and vice versa. I definitely feel the progression in song writing is growing and I'm feeling more confident in the studio.
A song like They Fuck You Over from the new album suggests a band with a political/anti- capitalist stance, would that be right?
That is the great thing about lyrics, you can interpret them in any way you want to.
At the time that I wrote this song, I was starting my band in Guadalajara. Lots of people approached to help… but instead they were there for personal agendas; for the wrong reasons, and ended up leaving me on a rope, things like that to the whole publishing system is also a whirlwind of broken loop holes, and to publish your own art and music it is a long series of bureaucratic paper filling, fee and nausea. Society in Guadalajara was not going to make it easy on artists and much less on female low class artists.
As a band with Mexican roots (Teri at least) now based in the US, what's your view on the two presidential candidates, particularly Trump?
It's a joke but I can't help but admire the artistry of the whole event. This presidential race is a distraction to much darker matters at hand. Trump is playing a character, representing a voice of a grand majority of Americans and Clinton is doing the same just to another portion of Americans. They are scripted lines. Heartless. But there is an art to what they both do… and it's working. It's inspiring hate and causing confusion. It is special to see a woman elected to be president but we can't be fooled by the gender card either. Like I said, there are much darker matters at hand and the race is an illusion to democracy. Money is the new democracy.
Do you think some of the theatre has been lost when it comes to punk bands? It seems like years ago bands valued it more.  Le Butcherettes onstage persona suggests you still believe in those values, would that be right, if so, why do you feel it is important?
I think that a lot of soul has been lost not just when it comes to punk but in general. It's important to be true to the craft of what you do. To give yourself in hence you become the art you make.
Is there a story behind the onstage outfits and use of blood?
The use of blood, meat, feather dusters, pearls, mannequins, kitchen utensils, veils covering the eyes, etc They were all metaphors denouncing many things that I found depressing about society in Mexico. The blood represented the Muertas of Juarez, the blood that tainted the pyramids during the Aztec times, sacrifice, where we come from, the roots of tainted blood. The pig heads represented the misogynist, chauvinist people throughout history, the veils over the mannequin's eyes represented the sleepiness in our generation, the ignorance, many people are still asleep yet concentrate too much on trying to look like a perfect illusion hence the beautiful mannequins. The apron with smeared blood represented the house wife butcher losing her calm and letting the fury within her out, climax… the rubber band breaks. This comes from witnessing my mother losing her cool and fighting depression for years on end. It's not easy to be a house wife. It's an under rated job that also many "feminists" don't take serious. The high heels represent the crippling of a woman's image but it is the butcher woman that uses these man-made inventions to cut up the meat, to stomp on the meat until it dissolves. The meat represented the hate and prejudice that is thrown at women hence "he looks at me like a [piece of meat]". There were many more metaphors and poems that I would hand out to the audience etc.
Iggy Pop contributed to A Raw Youth. Is he someone you admire and what was it like working with him? Was he able to provide any sage career advice as a seasoned punk rock icon 
It was amazing. He reminded me that it is possible to have an aura so big and ultra violet and still be a giving human being. He even took the time to drive us around Miami after the studio. He is calm yet smart and well spoken not to mention that he speaks fluent Spanish. His advice was to always be true to your vision and to not take crap from anyone. Sounds simple but it is a hard thing to do, especially in this day and age where everything is about "gimme gimme" and zero work ethic.
You've supported the Yeah Yeah Yeahs and vocalised your admiration for Bikini Kill. Are there other female musicians you admire, from the past or up and coming artists who we may not be aware of?
Kimbra, Francisca Valenzuela, Eva Gardner, Vanessa Zamora, Mon Laferte, Stars At Night, Space Lemon, The Menstruators and Kim & The Created.
To follow-up on that, it shouldn't be, but do you feel punk rock is a male dominated world? Because surely bands like yourselves are knocking down barriers to change that?
I used to think it was. Now I think punk rock and music in general has been dominated by the banks.
What have been some of the high points in the band's existence thus far?
Our first European headline tour! We've been to Europe before touring with The Mars Volta, Antemasque and At The Drive In but being able to tour there as headliner was truly a great progression as regards to the road. I'm very proud of all the friends that I've made over the years due to music and being receptive.
I understand you were in Ireland previously supporting At the Drive In, what were those shows like?
Amazing. The treatment was spectacular and it is literally traveling with great friends. Omar produced the last 3 records of LB and I have other bands with him so he is no stranger, Cedric is awesome, he would watch our shows every day and would always make sure we were okay, Paul is like family as well, he has always been very welcoming and kind. Tony makes great coffee… it even became a local joke, because every time I'd see him, He'd laugh say, "I'll have your coffee ready!" Jajaja So it was great times all around. Keeley is a uplifting guy. He is weirdly wonderful! His sense of humor goes well with everyone. He fits in so great. Not to mention he has been in bands with Tony before. The shows were great. They played the best I've seen them play. Our shows were great too. It is due to having each other's backs and getting the hang of oiling our road mechanisms.
Have any of the band been to Northern Ireland before? I see your favourite film growing up was Titanic, surely some sightseeing is in order at the Titanic Quarter?
I loved Titanic so much as a little kid. Jajaja! I still love it now. Such a sad movie. I hope we have time to go sight see the Titanic Quarter. Fingers crossed. I also hope I get to kiss the ocean. Taste it a little bit. Sodium is good for you.
And finally, are you looking forward to headlining shows here and playing in Northern Ireland for (what I believe to be) the first time?
Oh yes. Very honoured. You have no idea. I would pray to the heavens since I was little to be able to tour the world. I love Ireland. So welcoming and very similar to Guadalajara in a sense. Catholics unite.