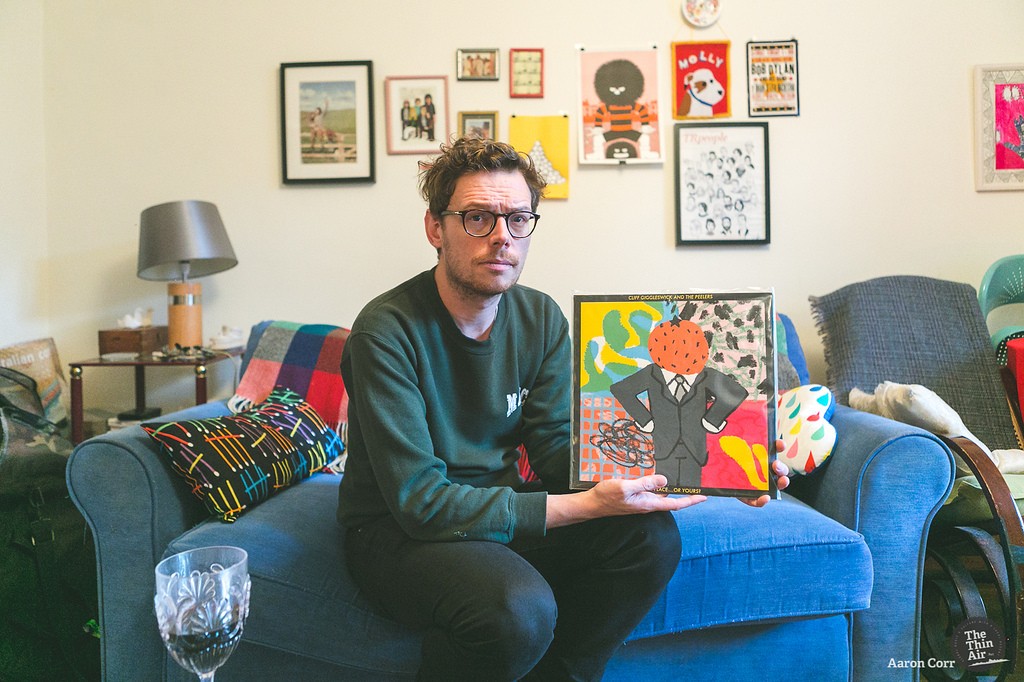 Popical Island co-founder and Dublin-based artist Ruan Van Vliet shares some of the more curious gems in his record collection, including Abigail & The Horsey, Ketaminnie Driver and Ammo Blood. Photos by Aaron Corr.
Tutankhamun Joyner – Celestial Brouhaha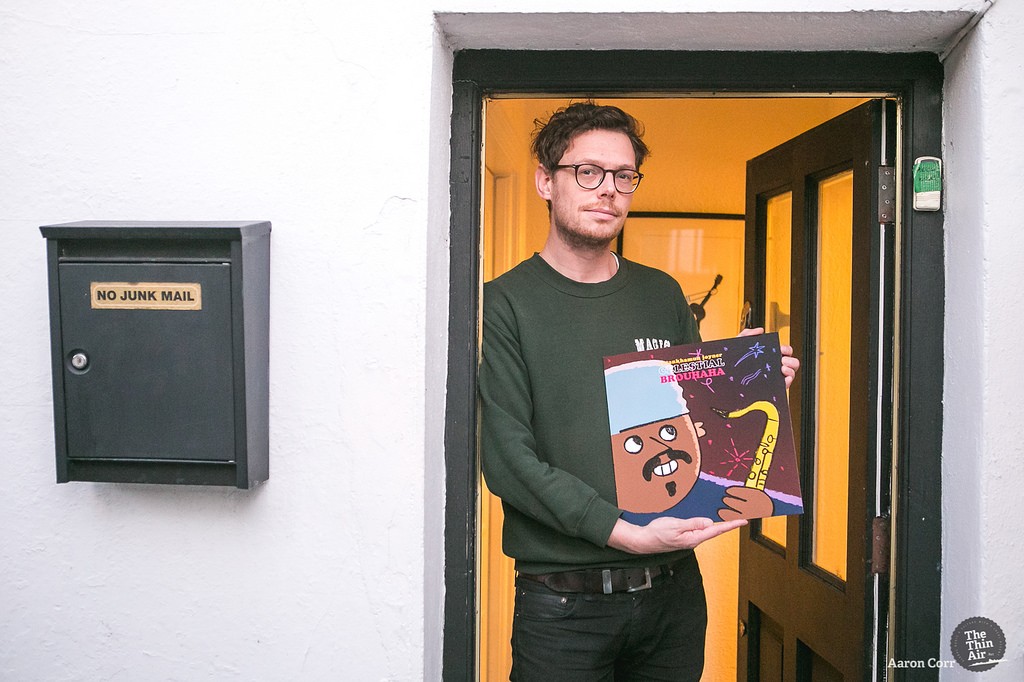 Already a well known sideman in groups led by John Coltrane, Alice Coltrane and Barry Coltrane, Joyner stepped out on his own with this debut as band leader on the Impulse! label in 1969. Energy music, free skronk, multiphonic overblowing, spiritual yodelling – this is a huge mess and I can't make head nor tails of it. Nightmare.
Peepin' Tommy Pervis – Outside Your Window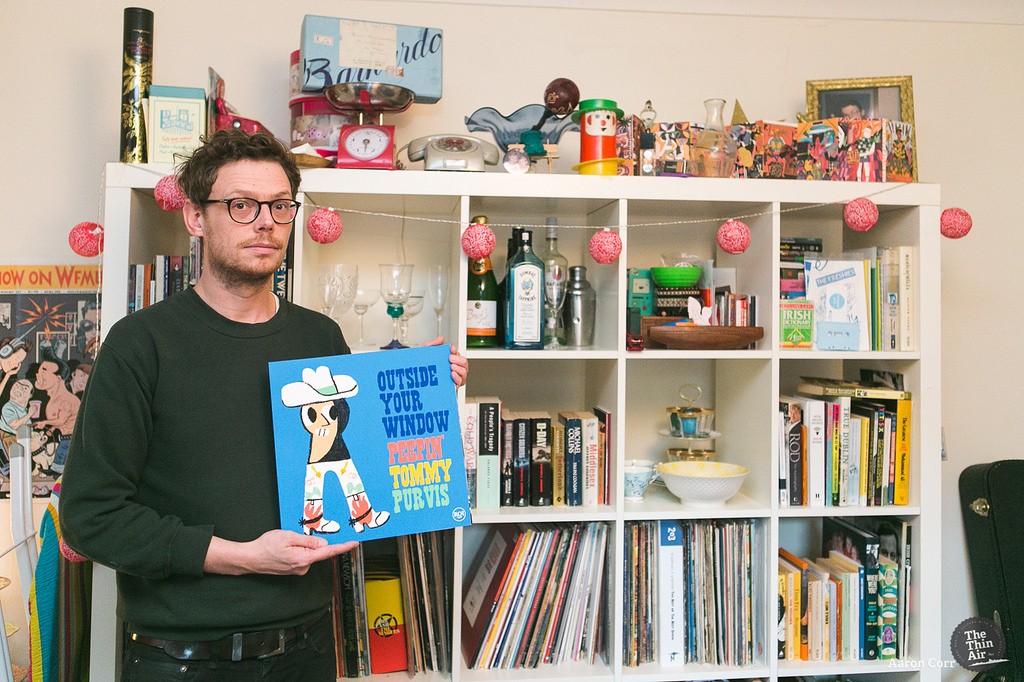 Cheapo compilation I nabbed in Age Action for €2 but it contains most of his big hits; 'I'm Outside Your Window', 'Remember Not To Whistle', 'Deborah' and 'Neil Are Having Spaghetti Tonight' etc. Known as one of the most insightful story-tellers of the Outlaw Country scene, Tommy got the ideas for his songs while indulging his other obsession, spying on his neighbours. Posthumously inducted into the Country Music Hall of Fame, Purvis died in mysterious circumstances in '88, found with his eyes scooped out in someone else's garden.
The Druggy Perverts – The Druggy Perverts and Barry
This is where it all started isn't it? Where would all your favourite alternative/weirdo/punk/queer/dark and serious fuck up bands be without The Druggy Perverts? To think The Beatles were singing about having tea parties under the sea when these freaks were writing songs like 'My Roommate is A Pile of Dead Cats' or 'No Ding Dong Don't Care' is just laughable. As Brian Eno famously said "The first Druggy Perverts album only sold 1,000 copies".
Tommy Quigley & The Wildlads – I Want to Take You Back to The Fertile Rock b/w Hoochie Coochie Mammy
Picked this 7″ up at a car boot sale in the carpark by Poulnabrone Dolmen last summer because the seller told me they were the hardest rocking band to ever come out of Ruan, Co Clare. And that may as well be true! Sadly it's standard showband stuff here, though the b-side, Hoochie Coochie Mammy does start with a hollered "1 2 3 4" that predates the Ramones by a few years.
Abigail & The Horsey – Twelve Teapots
I know it's bad form to include a Best Of here but this is a great introduction to one of the most misunderstood bands of the last while. To start with, no one in the band was called Abigail, there's no sign of a horse anywhere, unless you count all the heroin they took (that's a joke), and they really weren't as twee as they've been made out to be. This is just quietly brilliant songwriting and wry, wistful lyrics over music that borrows from the best of 60s Soul, 70s Pop and 80s Indie. So what if you can hear the singer sucking on a soother in between verses?
Kunstberufung – Nochorgel Schnellstrasse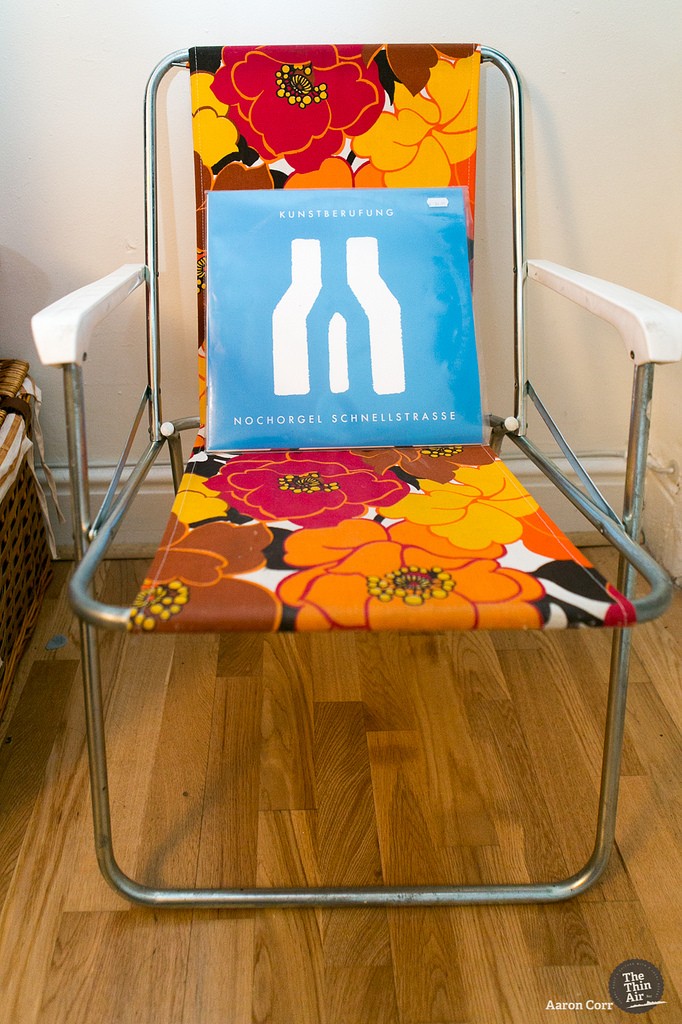 Here's a funny one, early electronic music made by four German students studying in UCD. The title track is intended to capture the feeling of getting the 46A along the Stillorgan Dual Carriageway, from sorting out fare at the bus-stop to checking if there's any seats upstairs and the monotony of the long journey made while standing. "From Bliss to Bollocks" says one Youtube commenter and I'm inclined to agree.
Ketaminnie Driver – Cassette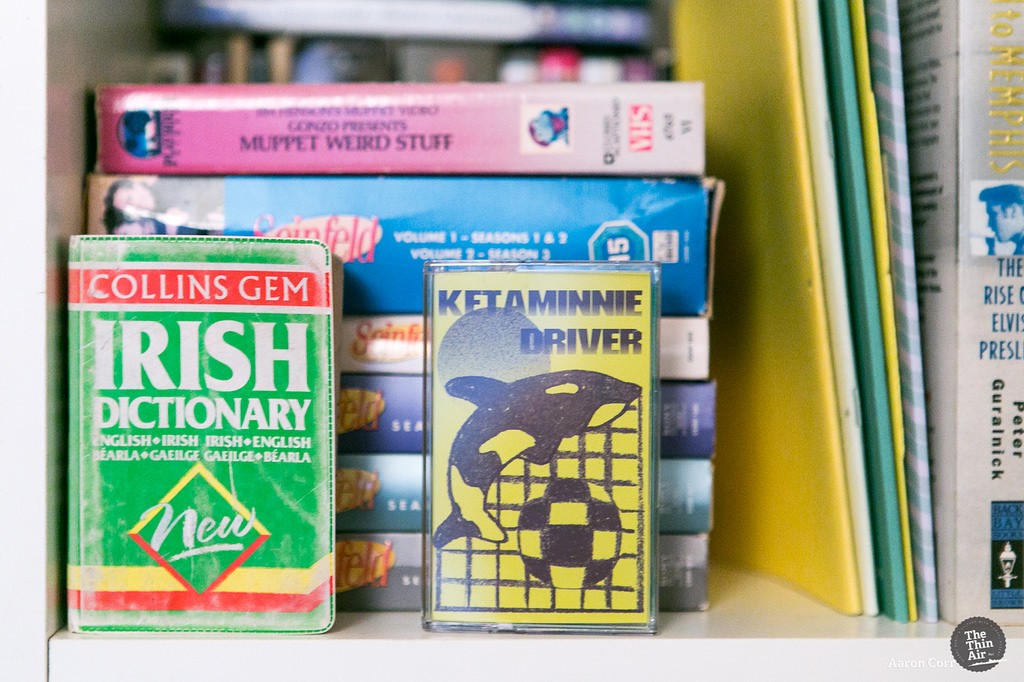 A real treasure from the early days of the noise tape trading scene. Not much info out there for this one, my copy has 27/40 scrawled on the back so you know it's rare. I Paypalled some guy on a forum 20 quid for this in 2007. Musically it's a loop of the Sega ident (Say-GAH!) with some new-age flute and synth noodling. Genius stuff. It feels good that I own it.
Ammo Blood – Abnormal Narrowing of a Passage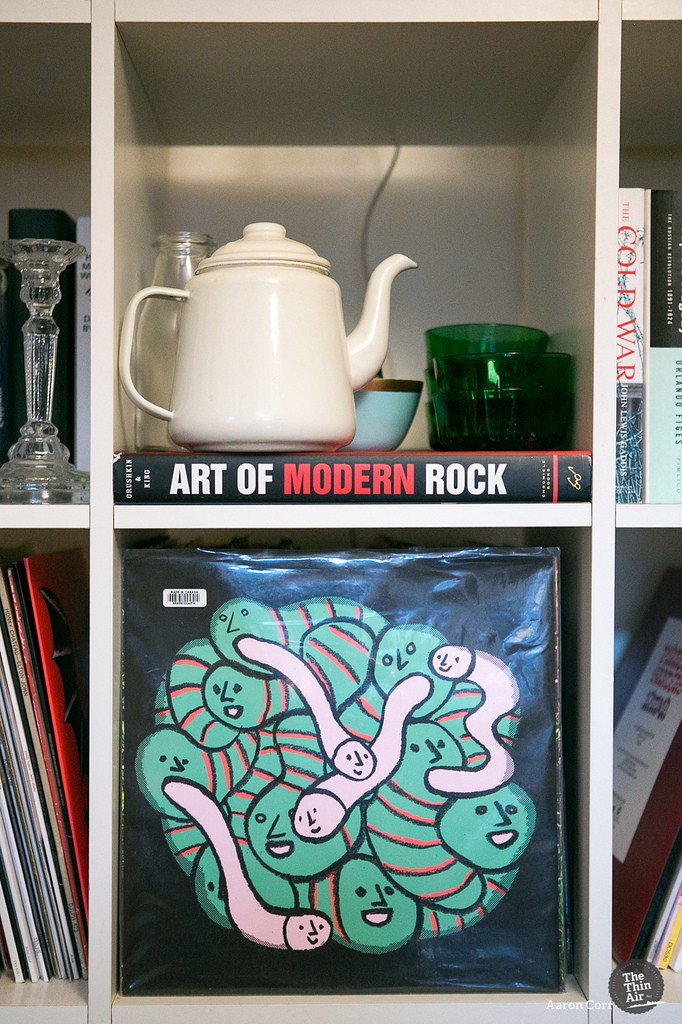 Metal was my first love, and I can still clearly remember the queasy stomach ache I felt when I saw this album on sale in the Sound Cellar in 1993. This is some of the most twisted and evil heavy metal ever laid to tape and it's got the cover to prove it. A gooey knot of maggots, churning and writhing and the maggots have these bizarrely serene human faces and some of the maggots are throwing up worms and the worms also have the weird serene human faces it's so sick oh my god.
The Liverbird Lads – S/T (The Cardboard Album)
Their only release and not a great album by any stretch but notable because its cover, plain cardboard with a barely noticeable smiley face embossed just below and right of the centre was ripped off wholesale by their much more famous mates The Beatles years after anyone had stopped caring who The Liverbird Lads were. Crafty.
Cliff Giggleswick And The Peelers – Our Place…Or Yours?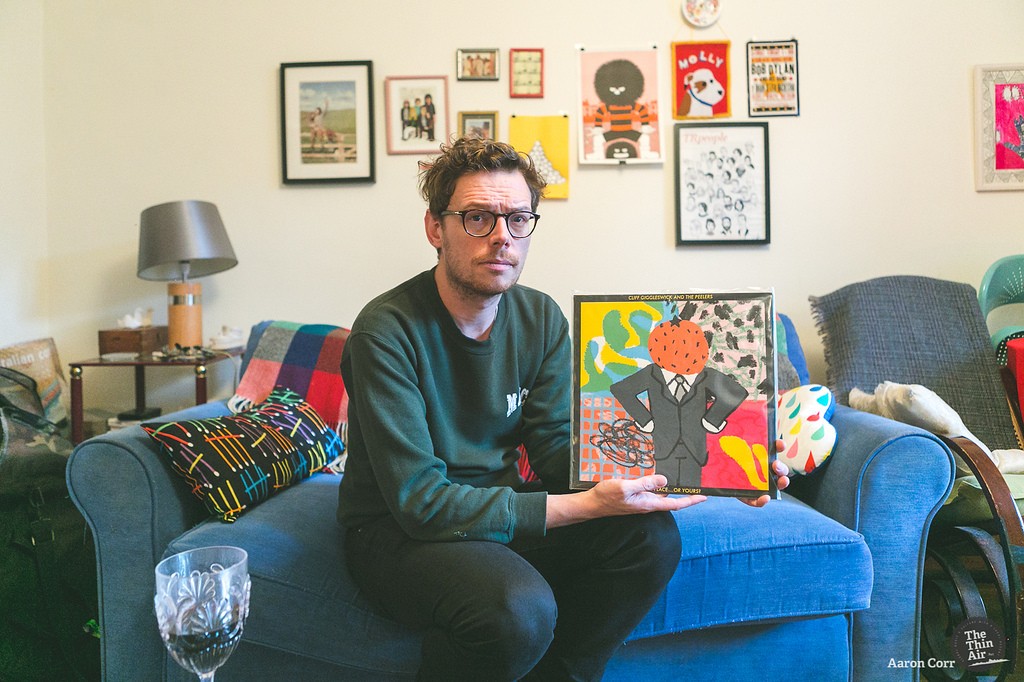 Solid, no-frills Pub-Rock/New Wave featuring members of Rockpile and Eggs Over Easy backing the infamous Mr Giggleswick. I was lucky enough to meet him after a gig in The Mean Fiddler years back, when i was just a lad. Throughout the whole gig I'd been wondering why he had an orange for a head so I just went right up and asked him. What's the deal here? I said.
"Oh all this?" he replied, "…well you see, back when I was a nobody I was walking along the beach in my hometown, skimming stones and feeling sorry for myself. I happened upon a lamp in the sand, dug it out and wiped it down and next thing I know a Genie comes pouring out the spout in a puff of smoke and offers me three wishes!"
I couldn't believe what i was hearing, what did you wish for? I asked.
"Well first off I wished i was the greatest songwriter in the world"
And…?
"How many number one hits did I play tonight?"
I couldn't argue with that. I asked him what his second wish was.
"I wished for an endless supply of money"
Well..??
"Look at this suit! Look at my tour bus, look at the session pros I have playing in my band" he said while pointing at Pino Palladino, who was getting on a bit but could still hold it down majorly on the bass.
This is incredible! I said, and what was your third wish?
"Oh, for my third wish I wished i had an orange for a head".