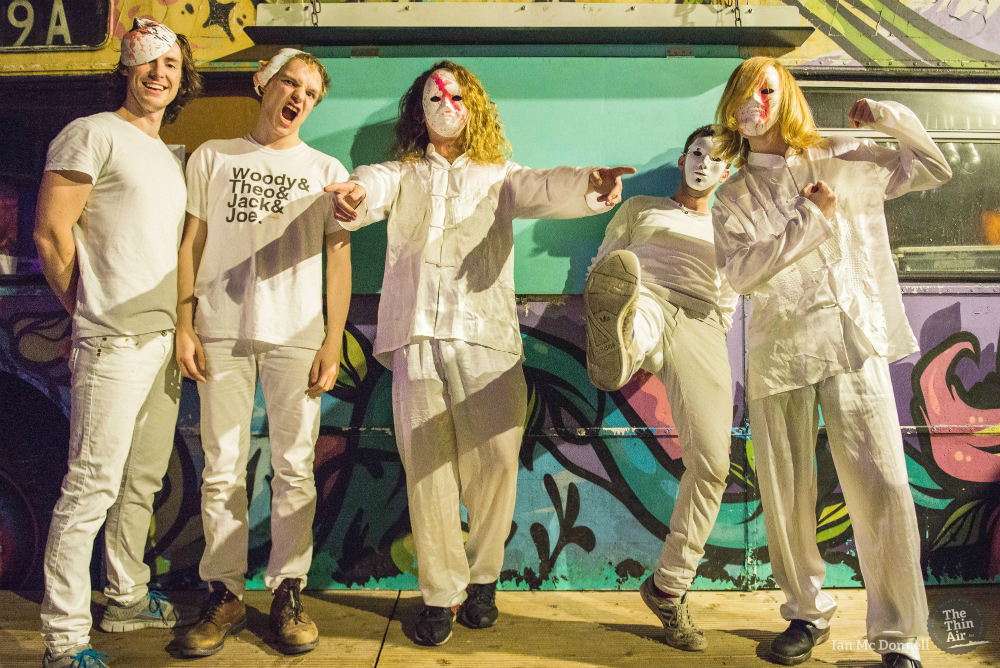 Ahead of playing their biggest headline show to date at Dublin's Academy on Friday night, Dublin experimental maestros Meltybrains? talk collaboration, the scene, pushing boundaries and their new EP with Brian Coney.
Photo by Ian McDonnell
Hi guys. Congratulations on the release of Kiss Yourself. Take us back to the very start of the conception of this release: how was the songwriting process for this one and how did things differ, if at all, to previous work?
The songwriting process was a complicated affair. Some of the tracks were ideas from old demos we recorded in Conor Walsh's hotel in Swinford, Co Mayo. After he died we realised a least 75% of the songs in our live sets were from those demos – so it felt right to properly record some of them on our new EP. The rest of the tracks were from demos we made for our manager to pitch to labels and producers, nothing came from it so we went back to managing ourselves and picked some of our favourite moments from that writing session to record in the studio. It's a bit of a bastard EP in some ways.
Talk us through the recording process this time around: was it a collaborative experience and how did you experiment or push yourselves when it came to concocting the songs?
It was definitely a collaborative experience. Our whole mantra as a band is collaboration. We recorded 4 out of 5 tracks with Rian Trench in his studio called The Meadow. His input was so important into helping us decide how the songs should sound. We also worked with Daniel Fox in Bow Lane for one of the tracks, his own work with Girl Band is something we admire greatly, and he's a good friend too. Some of the songs, one in particular, we spent the guts of a year trying to figure it out – switching around sections, re-recording drums, comparing to old demos. A lot can go into the process.
Is there a deeper significance to the EP title?
It's a reference to remind people about self-love. It's important to love yourself, be honest with yourself and then show bravery in standing up for the things you believe in. On a lighter note, it sounds like piss yourself, but it's not.
For such an inimitable act, it can be tricky sussing points of influence. What art, experiences and ideas are imprinted on this release?
We're always listening to different music as individuals, but we draw a lot from watching TV shows together. It's Always Sunny In Philadelphia is our favourite. If the band were a TV show, it would probably look like that.


You've just finished the UK leg of the album tour. How did it go? Did it run as smoothly as you hoped? Any highlights?
It went as smooth as we could have possibly hoped – one major highlight was getting to play a house party up near Preston and live streaming it. The living room was only able to fit ten people and us with our equipment. It was absolutely mental.
Many consider you to be one of the most distinctive acts in Irish music. Especially at this point in your journey, do you feel you consciously hope to go against the grain or is it more natural than some might imagine?
It's a bit of both really – we're not interested in sounding like something else, but we're not consciously trying to do something just because it's weird. It's what feels natural to us. The world is full of individuals with their own ideas and beliefs – it's nice to be able to represent the idea that people can be themselves but also collectively unite to become something great.
A recent piece said you had "no boundaries or conventions". Do you feel that's the case?
I don't know what our boundaries are, but there are certainly some things we would believe is inappropriate to do or say, as an artist. As for conventional, we're not a conventional band, but that word can mean many different things over a long period of time. Maybe in 100 years everyone will be making music like us. Probably not, though!
You are, for many, a band that must be experienced live in order to fully grasp the whole Meltybrains? experience. What are your thoughts on the creative crossover (or lack thereof) between studio and stage?
It's something we've been working hard to figure out ourselves. We feel this record gives the closest example to how immersive the live show can be, but there will always be something truly special about the live shows. We think Erykah Badu nails it when she says "performing live is about creating a moment, recording in a studio is about perfecting that moment".
Looking at music in Ireland as a whole right now, where do you think Meltybrains? fit in? More importantly, does that matter to you at all?
It doesn't matter to us much, to be honest. Ireland has an incredible music scene, but the industry side of it leaves a lot to be desired. We feel a natural sense of pride in being Irish, but our music doesn't really come from any one place or idea. However, the support we receive from all kinds of Irish people and organisations really helps us to achieve as a band, and the level of quality music in Ireland makes us feel proud to be Irish.
Finally, you play your biggest show to date in Dublin this Friday. What's the nerves to excitement ratio like right now?
That's a good question, between the five of us – we're all incredibly excited, we always have some nerves, but the vision of playing to a packed out Academy is something we've always dreamed about. We also have a couple of insane ideas for the show, it's going to be quite fun seeing how the audience reacts!
Meltybrains launch Kiss Yourself at Dublin's Academy on Friday night