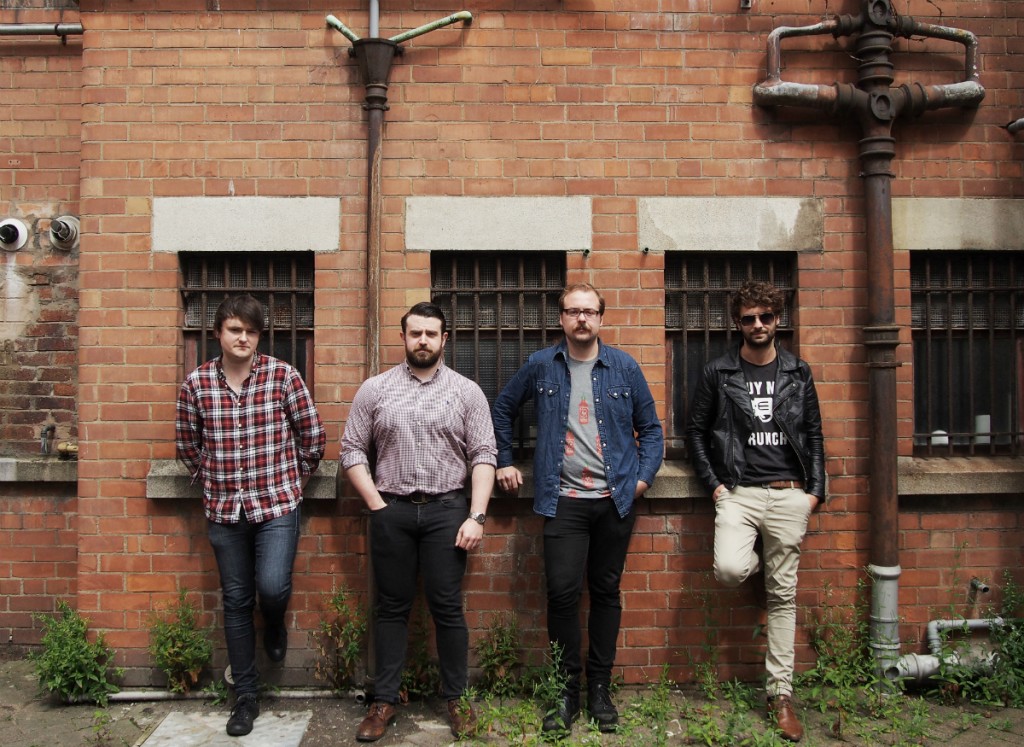 One of many shining lights being championed by our friends at BeKreativ, Orby Chase are a recently-formed Belfast outfit on a mission. We catch up with the alt/indie quartet about the past, present and auspicious future of the band.
Photo by Adam Martin
Hi guys. First up: for the unacquainted, how and when did Orby Chase form?
We formed in early January 2016. Josh had been doing the rounds as a singer/songwriter since the split of his previous outfit The Blindies and to reasonable acclaim. As his writing developed so did the textural palate he found himself reaching for and as such it was him that spearheaded the formation of the band. Phil was added to the mix on drums and percussion, and shortly after Jamie joined in on the creative process.
Jamie and Josh go back to their school years although had never played together, save for sharing the occasional bill. Many an inebriated conversation took place in Lavery's where Jamie worked and often entertained Josh's musings on collaboration until it eventually developed into a sober narrative. Shortly after, Matt climbed aboard and as they say, "That's Numberwang!".
Earlier this year you released your debut EP, Wolf by the Ears, which was recorded at Start Together. Who did you work with and how was the recording?

We've all played music for most of our lives and have learnt the hard way that doing things by halves only serves as a hindrance so we wanted to capture the energy of elements we'd been hearing through our own ears and avoid the sterile, factual, calculated reproduction that can often occur if done without consideration. Everybody's been there.
We reached out to Rocky O'Reilly and sent him a few live guide tracks to offer him a flavour of Orby Chase and he jumped right in to the creative process, drawing comparisons and offering solutions that really resonated with us before we had even booked the studio time.
Rocky really made recording a breeze for us. The process of writing music compared to the process of recording the same can be almost identical or worlds apart depending on the nature of the composition at hand, and Rocky was able to advise what needed done where outside of our own intuition in order to reach the full potential and eventually the end product you can hear now.
The music of the Strokes, Bombay Bicycle Club, Pixies and others are imprinted on your sound. But how much do you consciously aim to channel your main influences
We've never sat down and had the "we want to sound like Band X" conversation. We all get really excited about certain acts and share a real appreciation for different aspects of what's achieved on different records. We're all musos deep down so much of the time it's a case of geeking out over the occasional vocoder, rhodes, riff or tone. Tame Impala have a Deezer session on YouTube that must have racked up 200+ views from Orby Chase alone, but it doesn't necessarily materialise itself in what we've composed to date.
Ireland is arguably oversaturated at the minute with guitar bands that fall under the self-proclaimed "alt/indie" bracket. What do you feel sets you apart from others of your ilk, in Ireland and possibly further afield?
If we were able to truly assess what it is that affords us a sense of individuality, we would hope it would be in our endeavour for melody and harmony juxtaposed with the more rudimental elements of what we play. As stated previously, we love the simplicity that often proves effective in the context of popular music, but without a strong sense of harmony/melody, it lacks the hook that is so crucial in effective songwriting.


Momentum and the sense of an upward trajectory is often crucial to a band's rise. You've covered some really good ground since forming at the start of the year. How do you hope to capitalise on that over the next few months?

Our goal from day one was to offer something tangible as soon as appropriate without jumping the gun; to offer a piece of Orby Chase to everybody from the start. Our agenda now focuses on gigging whenever we possibly can to justify the work we've put in so far. We want to get as much live exposure under our belts before we start looking at releasing more material. We've no intentions on resting on our laurels; it's only been a glimpse of things to come.
Be Kreativ is a support platform from Beck's to give up-and-coming creatives an opportunity to showcase their talents in Ireland. Here, and on BeKreativ.ie. We'll hero YOU, the creatives. So whether you're a musician, painter, writer, sculptor, fashion designer, coder or beyond… All you have to do is #BeKreative