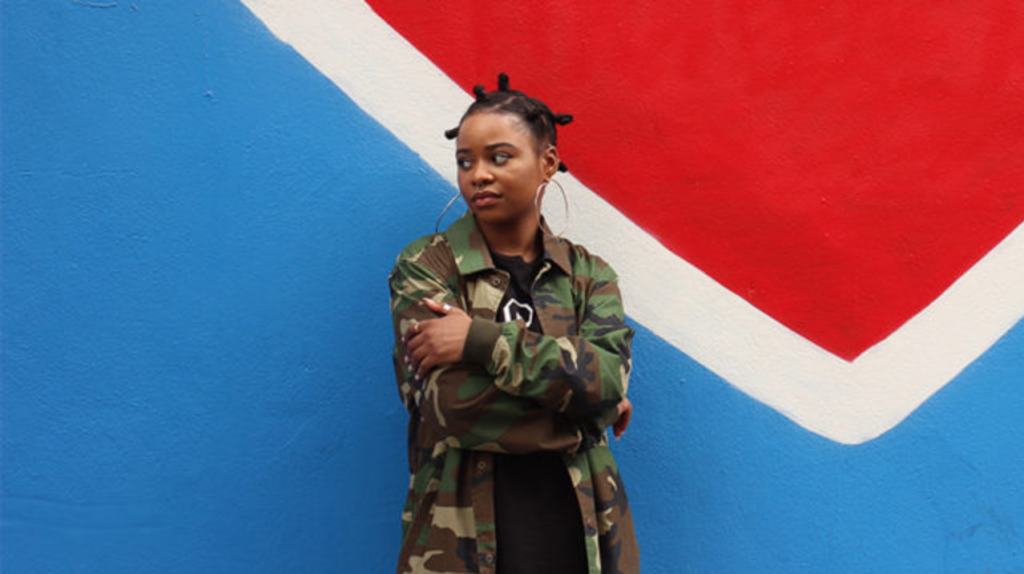 Last year was momentous for Dublin urban-electronic singer Samantha Kay AKA Soulé. She released her debut single 'Love No More' which featured regularly on national airwaves, played her first headline show in Dublin's Workman's Club, all this while concurrently working on her debut album under the guidance of Diffusion Lab. She ignites an innovation within the Irish music R'n'B scene, one that is becoming as prominent amongst a dominance of guitar lead indie and rock bands.
Ahead of performing alongside Booka Brass and BARQ at Jameson's Bow St. Session at Dublin's The Sugar Club tonight, Zara Hedderman talks to Kay about her musical influences, finding one's voice as a new artist and classical music.
You were born in the UK but raised in Ireland. Is the imagery you recreate in your music derived more so from your experiences in the UK or Ireland?
I was very young when I moved to Ireland, I was around seven or eight. When I write music, I'm inspired by experiences that I have had in my personal life and the stories I hear from people around me more so than being inspired by the vibe of a place.
Who were your musical influences growing up?
My main musical influences, especially when I was growing up included the likes of TLC, Spice Girls, Bob Marley, Lauryn Hill and many more. My mom is a huge U2 fan so I grew up listening to their music, also. There are so many artists that I love, they may not have directly inspired the kind of music I make today, but they most definitely ignited the desire in me to becoming a musician. I love all kinds of music. At the moment I'm really into classical music! I never sat down and listened to it from start to finish before, but now I'm hooked. The same way I'm into HipHop, Electronic Dance and Soul, they're omnipresent. I'm into everything.
'Love No More' was your debut single, how did you feel in the lead up to its release? Why did you decide to release that particular song as your introduction within the R'n'B circuit, and to general music audiences.
I was very nervous and excited in the run up to 'Love No More' being released. I remember being afraid that people might not like it, but at the same time I was excited that I was releasing my first proper song out into the world. I chose to release it because after listening to it for a while it never got boring to me. I never got tired of listening to it and the lyrics still spoke to me. I felt that it was the right song to put out there first. I am an electronic artist and I thought it was cool combining my soulful vocals with a drum-bass-dance beat.


The single is shaped around heartbreak, is it difficult to share such personal anecdotes in your lyrics, especially as a new artist?
This is a very good question! I think as artists we put ourselves out there not just with the performance aspect in mind but in our songs. We put our true life experiences in our music and that's what makes it special. Sometimes our best work comes to light when we've experienced some crazy things and the only way to release that negative or positive experience is to put it in our music. This is how people can relate to us and say, "Wow, I feel exactly the same", or "I'm not only one that this happened to." So, no I don't find it difficult talking about personal experiences in my music. It's therapeutic for me and the listener.
You're working with Diffusion Lab, how has the way you write and record your music changed since you began working with a label?
Since I began working with Diffusion Lab, I have grown so much as an artist. Mostly in confidence when it comes to songwriting and my knowledge of the music industry. The guys in Diffusion Lab do a great job of pushing you to reach your full potential and supporting your creativity. I've grown a lot since then but it also has to do with me being super motivated and ambitious.
You're working on your debut EP, how has that been? What are the lyrical themes throughout?
At the moment I'm just putting pen to paper and writing a lot of material. I'm hoping this will turn into an album. I want to give people a full project that they can really enjoy and that really showcases who I am as a person and an artist. It's still early days but we will see how everything goes.
What is the R'n'B scene/community in Dublin like? Is it inclusive or is there a level of competition because it is such a niche part within the Irish music scene?
One thing I would say is Irish artists/musicians of all genres are super supportive of each other's music. Not just within the R'n'b scene. We go to each other's gigs we support each other and there is just genuine love between us. At the end of the day competition is good but it's more important to support our own and push for our own to reach for the stars. That's why I urge people to SUPPORT IRISH ARTISTS.
Have you many exciting projects and plans for 2017?
2017 is looking like a fun and great year for music. And I am excited to show you guys what I have in store. My hope is that you enjoy it and continue supporting me.
Soule plays Jameson's Bow St. Sessions alongside Booka Brass and BARQ at The Sugar Club tonight (Thursday, January 26).