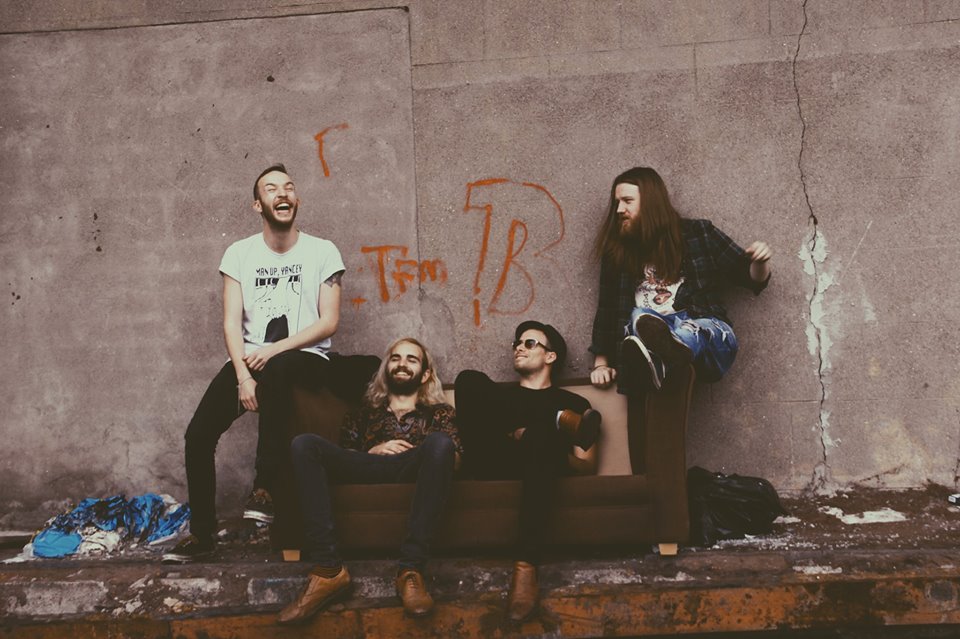 If you're becoming slightly jaded with run of the mill music and want to expand your ear to something different, MUNKY are the antidote. Today, the Dublin quartet released the video for their new single 'Hunter Gatherer Blues', four minutes of infectious disco-infused rock. Zara Hedderman spoke to their frontman, Zac Stephenson about the video, their influences and their forthcoming debut headline gig in Whelan's on February 1.
Who are MUNKY?
MUNKY are Zac Stephenson (lead vocals, guitar),  Sam Russell (drums), Conor Lawlor (lead guitar) Niall Donnelly (bass).
What brought you guys together to form the band?
Zac: I met Conor through being in the same class in BIMM. It was his captivating lush beard that caught my attention, initially. I found out he loved Nirvana and Chic and we became buds through our mutual musical tastes. He also introduced us all to Vulfpeck which was a momentous occasion. Sam and I met after I responded to an ad looking for a bass player for a Foo Fighters tribute act. We'd be in practice and during our breaks I'd start funking around on bass and we'd get carried away with that for a while. Niall is my oldest friend (we met when we were both chubby kids in primary school) and on one intoxicated night he said he'd join the band. Before he had time to regret that decision we were already having great craic jamming together.
Who are your musical influences?
Our influences are very varied. Our musical output is this sort of weird semi-psychedelic-grungy-disco-blues stuff but that doesn't roll of the tongue as well as alternative rock. We'd cite a lot of 70s disco and funk such as Chic, The Meters, Donna Summer, then there's a mix of rock bands like Foo Fighters, Biffy Clyro, Benjamin Booker and blues singers such as Big Bill Broonzy, Robert Johnson, Champion Jack Dupree amongst the artists and bands that influence our sound. We were all also little pop-punk/emo kids deep down on the inside so there's a peppering of Blink-182, Brand New and Fall Out Boy in there too. On paper it sounds like a total and utter mess but we love playing it and people seem to love to come watch us do that so we're pretty happy. Oh! Queens of the Stone Age, all of the QOTSA albums.


You just played at the Whelan's Ones To Watch festival, how did that go?
Ones To Watch was pretty savage. We were playing in the bar and closing that stage so people were pretty rickety-wrecked but digging our tunes. We wrote a seven minute long trippy noisy funky-odyssey two days before the show and played it for the first time there. It went down really well with the crowd, by the end some people were even singing along!
Whelan's do an amazing job with Ones To Watch. All the acts we saw were deadly and there's just such a lovely buzz amongst all the crowds. They really give the bands their full attention and respect.
You're playing your first headlining show in Whelan's on February 1st. How do you feel about the prospect of people gathering especially to see you? What can people expect?
It's pretty exciting, heck yeah! We spent most of last year just playing small gigs ourselves, writing and rehearsing with no audience. Then we decided to start gigging everywhere and anywhere we could. Since November we've played a load of gigs, from venues all around Dublin from Workman's to Diceys, and everywhere in between.We've only really played to strangers before so it's gonna be such a buzz playing our biggest show with our mates there. It was originally supposed to be upstairs in Whelan's but it sold out quickly so we got bumped up to main stage. We couldn't believe it! It's going to be a fun show, expect dancing. We're big on dancing! We're planning on including a cover in our set which we don't normally do. It's a good one.
MUNKY released the video for 'Hunter Gatherer Blues' today. What was the inspiration for the video? Did you make it together as a band?
The video came about after I had been messing around with my laptop and looking up weird footage one long night. It's mostly just public domain stuff I found online. I wanted to just have loads of clips of dancing really, but also some slightly upsetting imagery such as all the meat.  The song is about feeling that the people around you only want to use you just for their own personal gain or survival. At the time I was working for a company that treated me badly so that's basically where that came from.
What are MUNKY's plans for 2017? Will you be working on an album and playing many gigs throughout the year?
Our plan for 2017 is to keep playing, writing and recording. We're hoping to hit up as many festivals as we can this summer and also finish work on an E.P.. Niall and I are both in the midst of our final year in college courses so we also want to make sure we get our degrees. We've built up a dedicated following in Dublin so I suppose we'd better start bringing our weird musical stylings to the rest of the country. We've got gigs coming up in Mullingar and Castlebar which is great cause we love a good road trip!
MUNKY play Whelan's on Wednesday, February 1.