Given our island's reputation, in what now seems to be acknowledged as 'the days of yore', for independently successful rock bands of math and post-prefixed inclinations, it makes sense that mainland acts would flex their considerable muscles on our shores. Our so-called 'island tax' often extends to a limitation on shows from any less than stadium-ready musical artists and their ilk, but there's a growing number of thoughtful and decent promoters out there working in synchronicity – many of whom we hope to feature in coming months – with the likes of Belfast's Solid Choice Industries, Galway's FEAST, Dublin's Venture Presents joining forces, uniting the corners of the island and freely extending the musical conversation across county lines, and even The Pond.
This week, making their first appearances on Irish soil in a joint-headline tour are a pair of pedigree UK instrumental acts in Glasgow's Vasa and Sheffield's Body Hound – the latter of whom features former members of mathcore outfit Rolo Tomassi. We had a chat with Vasa's John Niblock – someone who's helped out many local outfits in Scotland – and Body Hound's Joe Thorpe to see what they're up to, what they've done, and what brings them here.
Could you give us an introduction to who you are, and what you've done so far?
We're a 4-piece instrumental rock, or groovegaze as we like to call it, band from Glasgow, Scotland. Since starting we've supported Russian Circles, Deafheaven, Maybeshewill, Pelican, TTNG, played at ArcTanGent, T in the Park, A Colossal Weekend in Copenhagen alongside Russian Circles, Cult of Luna, Pelican and This Will Destroy You, completed 7 UK tours including tours with Black Peaks, Body Hound and Poly-Math, as well as completing our first European tour in October 2015.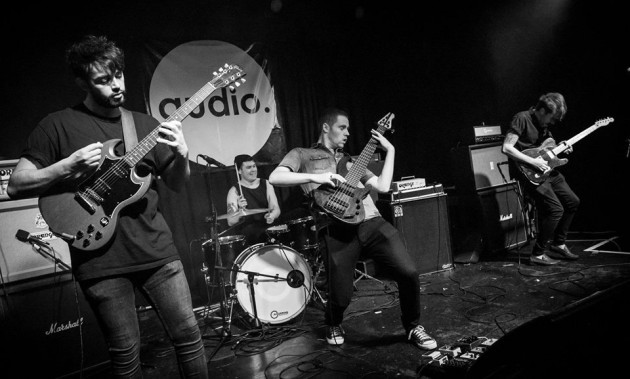 What's the story behind bringing your pair of bands
1. Together, and
2. To Ireland? 
Ourselves and Body Hound did a short run of dates around the UK last April/May and we had a great time with them. They're an amazing band and even better guys so it was probably the best and most fun tour we have done. We've been planning on coming to Ireland for a few years and it seemed like a good shout to tour with Body Hound again seeing as the last tour was such a success. 
Has this been an independently booked tour? Have promoters & other artists been helpful getting logistics and dates together?
This tour has been a sort of combined effort between us and our management. I (John) have a lot of friends in Northern Ireland and our manager Dan has a lot of contacts through his work at Pioneer Music Agency so it has been a nice smooth process. Every promoter we have booked a show with seems really on the ball so we have high hopes for these shows.
What do you have in the pipeline coming up after this tour?
After this tour we have another in the pipeline that we're really looking forward to and we are in the process of writing our next release, which is our main focus. There's some other things that we're waiting to hear about so hopefully that will come through and some more things will rear their head later in the year.
Stream their 2015 debut album, Colours:
and latest single, 2016's 'Burst'.


Body Hound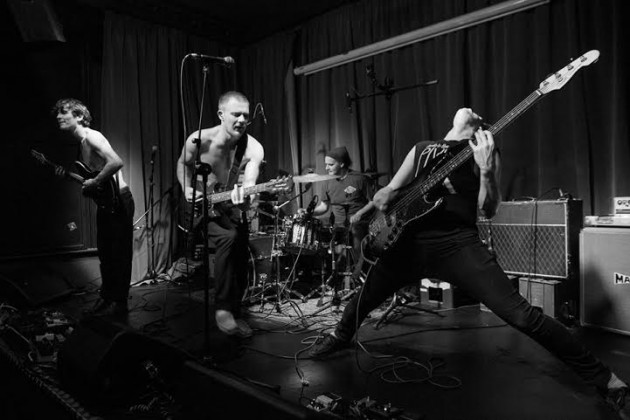 Could you give an overview of who you are and what you've done so far? 
We are Body Hound. We play proggy instrumental stuff and have a great time doing it, thanks. As we are nearing the end of the life cycle for our species, we tend to play as hard as we can, as to savour our final millennium on this planet.
So far, this band has done a couple of short tours and a few festivals, as well as the usual collection of gigs without narrative.
What's the story behind bringing your pair of bands:
1. Together, and
2. To Ireland? 
1. I met Vasa the first time I went to Arctangent Festival. I was minding my own business late at night. I heard a commotion behind me and saw a man being dragged out of a tent the irate owner, who was shaking this guy and shouting "Wakey wakey! Wrong tent, arsehole!" I decided to intervene before it turned nasty and started going towards them. If I remember rightly, the owner of the tent was holding this poor devil by the neck and definitely preparing a wind-up punch while shouting "It's breakfast time, motherfucker!". I calmed him down and begrudgingly accepted responsibility for this terminal reveller. He wasn't able to say anything helpful- I'm quite sure he was eating soil, so I took him to the on-site ambulance.
When I woke the next day, I got out of my tent and surveyed the campsite. The first person I saw was our man from the night before, stood with his friends by their tents. I walked over and said "you don't remember me, do you?" and immediately they all started laughing. He didn't recall. Quite soon after this it emerged they were Vasa and we were booked to play with them in Sheffield the following weekend. Unfortunately we got on quite well.
2. The story is extremely complicated and nobody really understands it, however it is being made into an incredible motion picture starring a half-eaten sandwich as me and Danny DeVito as John Niblock. It's called Please Come And See Our Bands When We Tour Your Lovely Country With Its Excellent Musical Heritage.
Me and the other Joe (Nicholson, guitar) have been to Ireland a few times with our old band. I always wanted to go back so uhhh… yeeeaaaah.
Has this been an independently booked tour? Have promoters & other artists been helpful getting logistics and dates together? 
It has been an independently booked tour in all ways, including the way where John from Vasa does everything and is generally heroic.
What do you have in the pipeline coming up after tour?
After this tour, aside from a few shows here and there, we will be back in our rehearsal room continuing to prepare for a mystery album-shaped event.
Check out Body Hound's debut EP, Rhombus Now:
Catch Vasa & Body Hound in one of the four corners of Ireland this week at one of the following shows:
February 8 – Solid Choice Industries – Voodoo, Belfast w/Towers
February 9 – Venture Presents – On The Rox, Dublin – w/Megacone & Snowblind
February 10 – Cosmonaut Music – An Spailpin Fanach, Cork w/Ealadha
February 11 – Feast Presents – Upstairs @ Roisin Dubh, Galway w/Slowboke