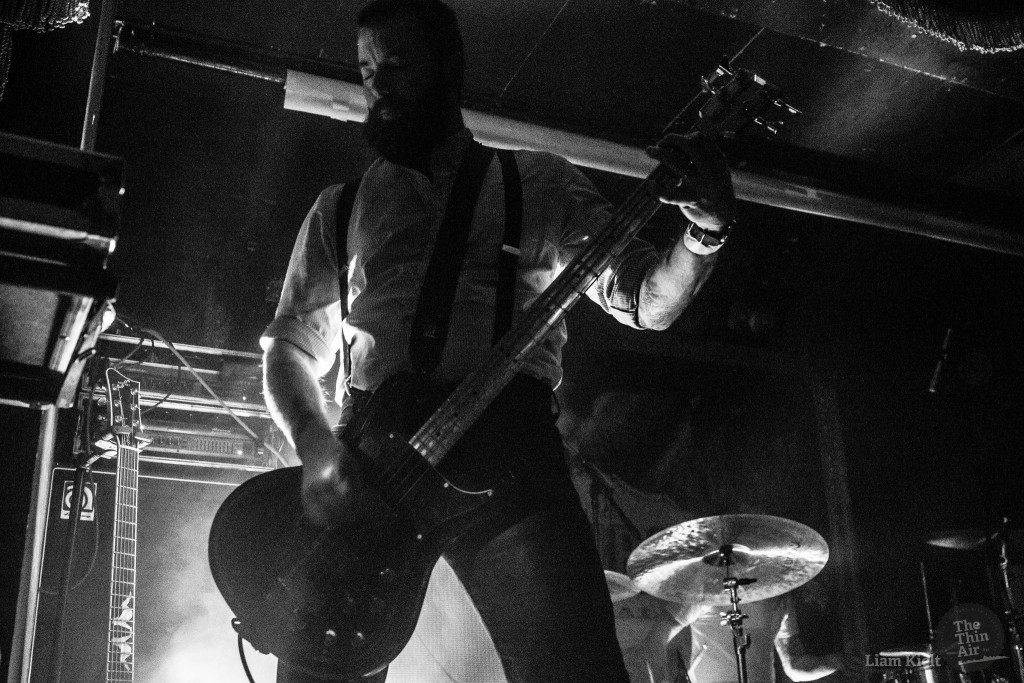 Almost five years to the month since they played one of the shows of 2010 at the Speakeasy alongside a fast-rising Deafheaven, Russian Circles' return to Belfast tonight doubles up as the first anniversary for local promoters and imprint Solid Choice Industries. If ever there was a performance to mirror the sense of occasion – and the spirit of independence and conviction – the Chicago instrumental trio's appearance tonight ticked all the boxes.
Providing this evening's lone support is North Indian trio Cloakroom, a band who strike a keen – and subtly compelling – balance between their slowcore-tinged brand of post-hardcore with a patent love of shoegaze. With frontman Doyle Martin informing the crowd they were collectively letting their hair down tonight following a string of dates on the straight and narrow, the band's set – at times conjuring early Smashing Pumpkins jamming Codeine – is a well-received effort, peaking on recent single 'Big World' and their closing cover of 'Farewell Transmission' by Songs: Ohia. An apt opening gambit from the band.
But it's the main event from Chicago's finest instrumental proposition that truly delivers and then some tonight. In a set divvied by new material and a handful of fan favourites plucked from the band's career to date, their set is a crushing, small-talk free zone that puts the sheer, emphatic might of their craft firmly centre-stage.  Opening on 'Asa' and 'Vorel' – a stellar one-two from their latest album, Guidance – we are once more reminded how Russian Circles, perhaps more than the vast majority of acts of the ilk, have an uncanny ability of stretching their relatively stripped-back set-up to the outer reaches of sonic possibility. On the latter track in particular – featuring a raging break that makes Dillinger Escape Plan at their most vengeful sound pretty tame – it's a real fist-clenched introduction.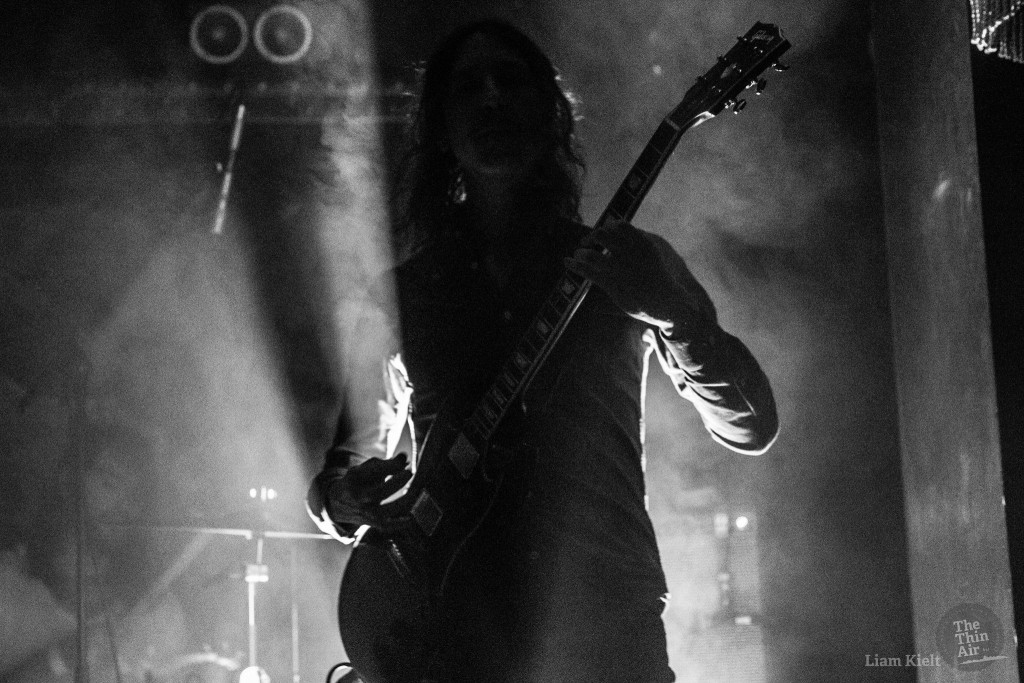 With the majority of the band's ten-track set tonight reaching the upper end of ten minutes in length, highlights including the masterfully menacing '309' – featuring especially furious intent from all members – and the triumphant, tremolo-soaked '1977' sees Brian Cook (pictured, top), Mike Sullivan (above) and Dave Turncrantz (who is, as ever, in particularly exceptional form tonight) execute their sprawling, genre-blending brand of instrumentalism with a level of precision and resolve that clearly knows no bounds. Bowing out via a triptych of 'Mota', 'Mladek' and 'Youngblood', their return to Belfast tonight proves – even for those expecting something pretty special – next-level, game-changing stuff. Brian Coney
Photos by Liam Kielt