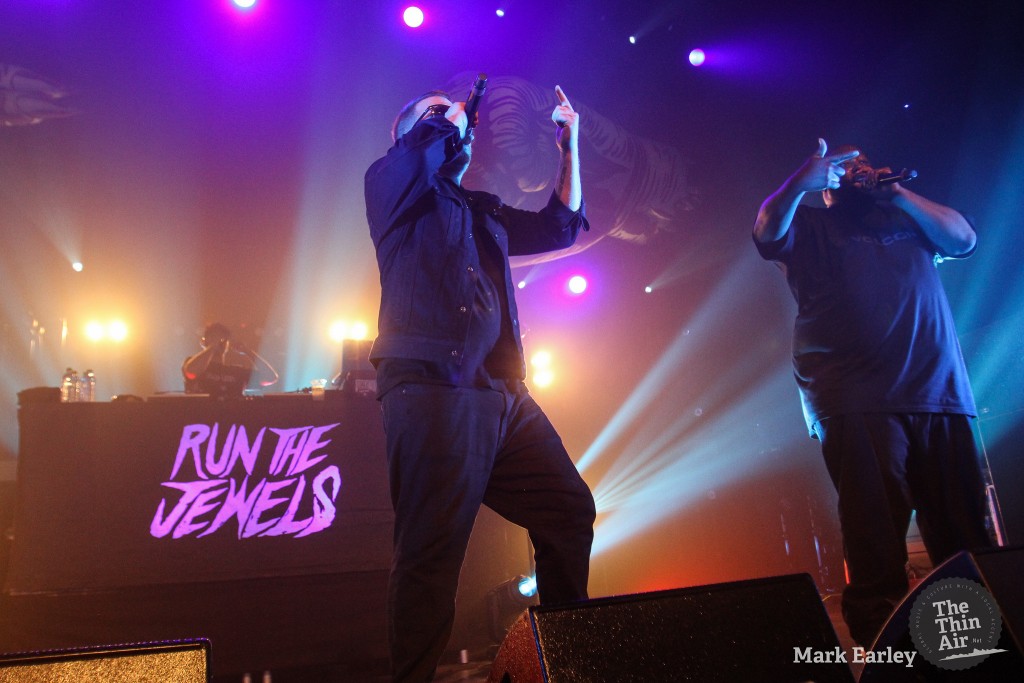 The mighty Run The Jewels kicked off their current European tour with shows at Belfast's Limelight 1 and Dublin's Olympia Theatre. Photos by Colm Laverty and Mark Earley.
Limelight 1, Belfast
Few acts can get away with kickstarting a sold-out show by strutting on-stage to the equivalent of a homecoming welcome soundtracked by Queen's self-congratulatory anthem par-excellence 'We Are The Champions'. The mighty Run The Jewels are one of those acts.
Doubling up as the first leg of their current European tour, to call their appearance at Belfast's Limelight 1 tonight a masterclass would be a towering understatement. Backed by DJ Trackstar, the globetrotting, genre-defining force that is Killer Mike and El-P blast through a set that – keenly balanced between some of the best cuts from their three studio albums to date – rarely lets up. Blasting through an opening triptych of 'Talk To Me', the especially hard-hitting 'Legend Has It' and 'Call Ticketron' – a consecutive series of tracks from their latest, RTJ3 – the scene is set for something very special indeed.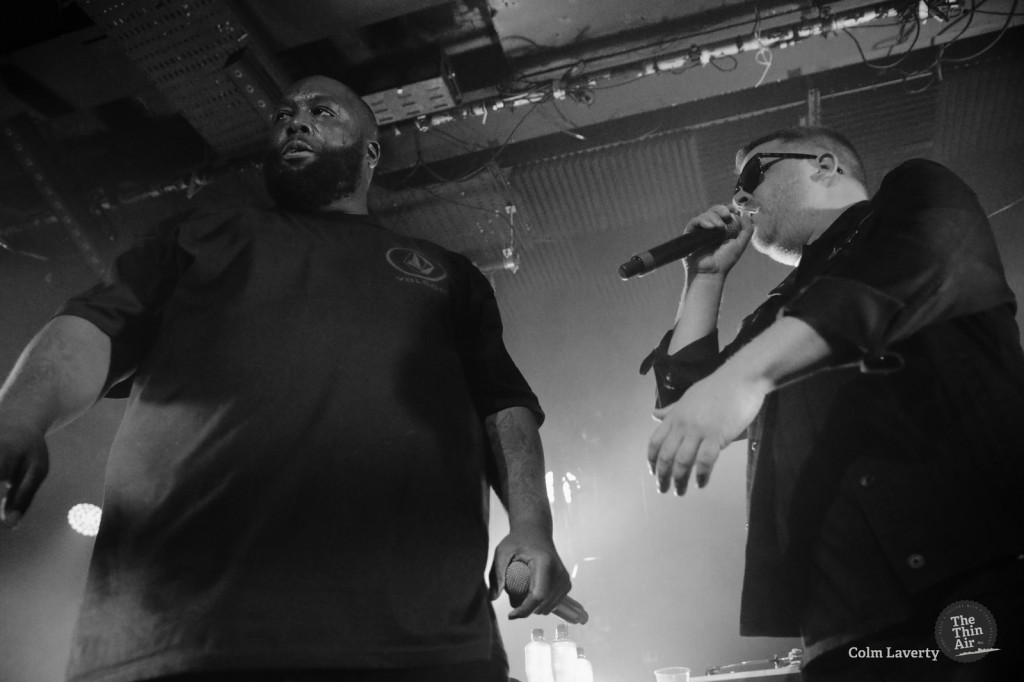 Despite reportedly being unable to use much of their own soundsystem tonight, the likes of 'Blockbuster Night Part 1' and 'Oh My Darling (Don't Cry)' from RTJ2 pack a serious punch and then some with their untouchable marriage of sub-bass and the duo's heady maelstrom of beats and bars. Elsewhere, 'Stay Gold' and 'Lie, Cheat, Steal' (a track dedicated, as such, to Donald Trump) prove just two peaks in a set the sheer impact and flow of which grows to an ever-increasing feeling of fever pitch. The crowd tonight, suitably rapturous and deafening from the off, play a huge part in the sense of occasion – something both Killer Mike and El-P repeatedly, and quite earnestly, thank them for throughout. This sense of open-handed gratitude, combined with the obligatory deference for the mere existence of Guinness, jokingly calling out Conor McGregor and various other skit-like breaks amidst their brilliant barrage, ensures that tonight feel much less like a show and more an event to remember.
Culminating in a particularly elated rendition of 'Run The Jewels', one leaves with EL-P's fitting words from earlier in the set lingering in the inner ear: "We understand how it feels. We know what it's like to be afraid that the wrong people have our future in their hands. But every time I walk off the stage I feel less afraid. So thank you." Brian Coney
Photos by Colm Laverty
Olympia Theatre, Dublin
There's a chant, fully in synch, three letters repeated over and over again. Above the stage, suspended in inflatable glory is the gesture synonymous with its leaders. And then they come, dressed all in black, and the sold out auditorium completely coalesces into one throaty, slightly cut, voice of excitement. Such is the hysteria around a Run the Jewels show it's hard not to call it a rally, if only for their fans impassioned mimicry. All it takes is a nod and the audience, as one, hold up the fist and gun salute that defines the group's brand. So it's seemingly ironic that later El–P, one half of the hip hop superstars, will start a speech with 'You know, you're all different…'. He's not wrong either, instead this temporary uniformity is a powerful statement of hip-hop's current transcendence as a genre and this particular group's huge crossover appeal. It's a wide lasso drawing disparate music fans together, a feat made all the more impressive considering they've done it without ever compromising on a sound or stance.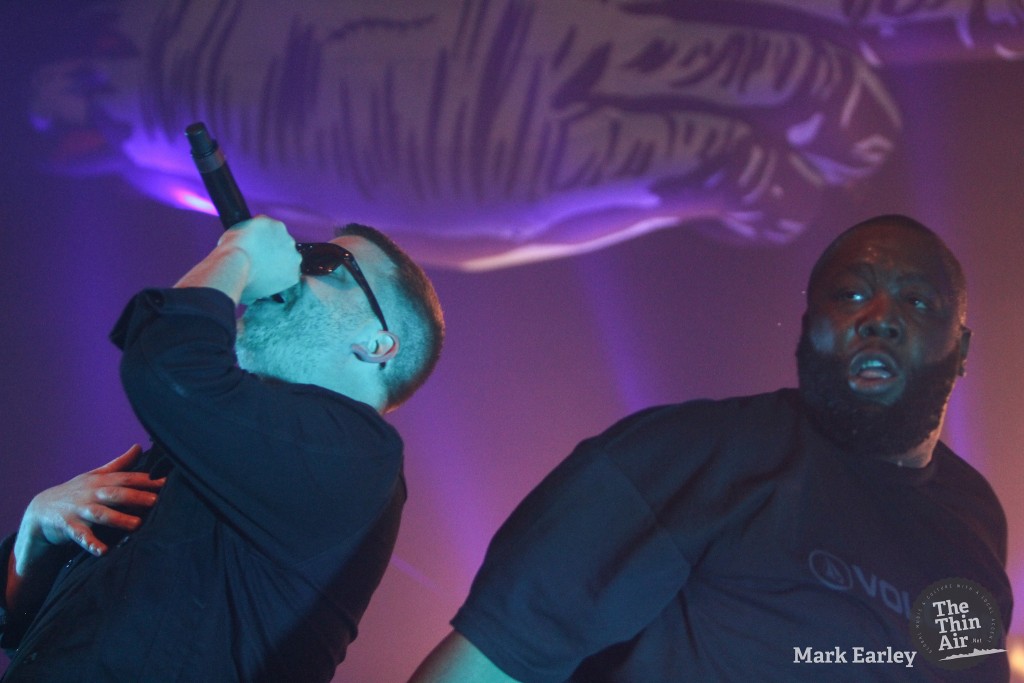 Yet done it they have and an Olympia theatre packed to the rafters is the result. They open with 'Talk to Me' and it's clear from the first second that the duo are not coming in half cocked. The energy of the flows and the buzzing of the beats hurtle out of the speakers. Killer Mike and EL-P have always been respected MC's but with each song wired a beat or more faster their unrestrained prowess is staggering.
They're not shy either. Unless there's a clear segue they're quick to fill the time with Irish platitudes, whether it's calling for a Guinness (which duly comes) or recalling past shows during their meteoric career. Run the Jewels may be the stars on stage but they don't act like it; they're humble and seem genuinely interested in the crowd.
By the mid-point of the set crowd favourites like 'Blockbuster Night Pt.1' hurtle into the DJ Shadow penned 'Don't Speak' and 'Hey Kids'. It's telling of the night that the very good Danny Brown verse isn't even noticed missing. Part of that credit has to go to DJ Trackstar who fills many of the bar-less beats with some fun stuff on the decks.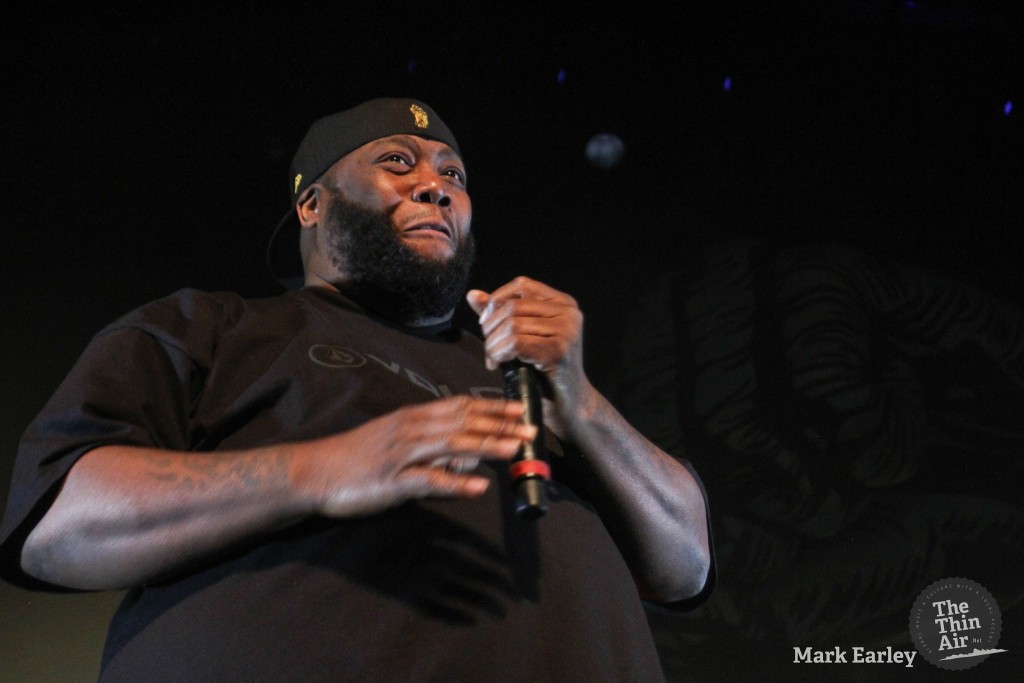 The set continues; the boom-bap, jangling high-hats and electricity all turned up past eleven but the sound stays pristine. The pair's bars are laser precision as they force through tracks like 'Stay Gold' and 'Lie Cheat Steal'. With people visibly panting EL-P takes the moment to preach compassion, across race and monetary divisions. It's no secret that RTJ are politically conscious but this simple message of humanity is a high point, set to the backdrop of the music they make. They encore with 'Run the Jewels', of course, bringing it back to where it all began. Arguably the greatest hip-hop group around today, playing their best set in Ireland so far. As Killer Mike said himself 'Bring on Electric Picnic!' Eoghain Meakin
Photos by Mark Earley