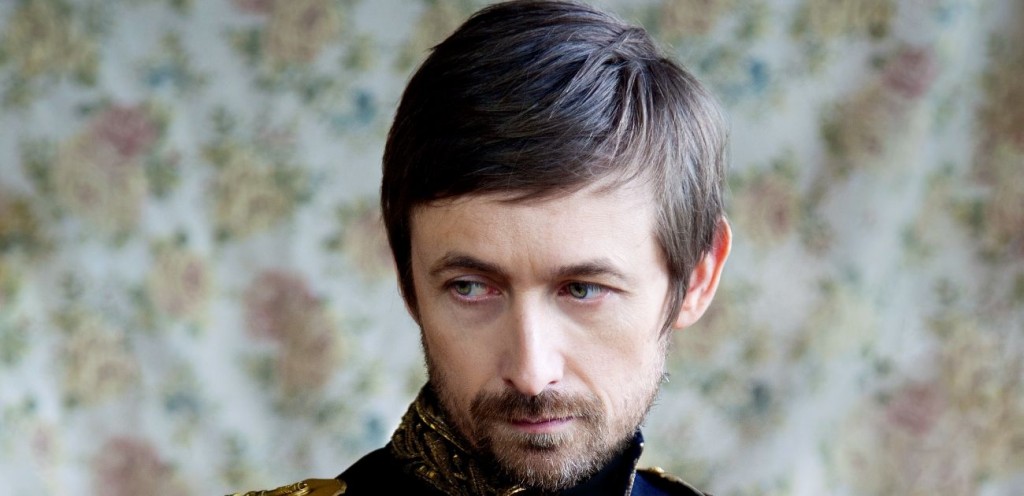 With the release of their eleventh record Foreverland last year, Neil Hannon's The Divine Comedy continue to deliver witty, literate pop that still dents the album charts twenty years after their commercial peak. Jonny Currie catches up with Neil Hannon ahead of his show at Belfast's Cathedral Quarter next month to discuss touring routines, growing old with your audience, and the importance of pop stars keeping their distance from fans.
The Divine Comedy play Cathedral Quarter Arts Festival on May 3. Go here to buy tickets.
You're playing at the Cathedral Quarter Arts Festival next month. When was the last time you were in a cathedral?
Now there's a question… I think it was when we went to see Durufle's requiem mass in St Patrick's cathedral in Dublin about 3 years ago. Having said that I have done some shows in cathedrals but I can't remember if it was before or after that point. I've been in so many cathedrals in my life I've lost count. Obviously the most important one is St Macartan's in Enniskillen.
Some of your contemporaries are diversifying into tours on cruise ships that take in exotic locations where they perform intimate shows. Have you ever considered breaking the regular touring routine this way?
Whenever I hear something like this I think – would I? (laughs)… no. The basic things that would prevent me from doing a cruise tour is the fact that I don't have sea legs and I tend to feel quite ill on the rolling high seas. The best way I ever broke the tour cycle was when we did the solo tours and it was just me and a piano through Europe. I did it entirely by train more or less which was quite a relief. Being on a tour bus can be quite warying. I do love trains and they have trains that go on time in Europe, plus they're comfortable and they have food.
There's a short clip in the video for your most recent single "To The Rescue" where you pose for a selfie with a fan and you both look incredibly awkward. Does that extra demand from fans nowadays for more access to artists sit well with you?
Well, not particularly well. I think as artists we're painted into a bit of a corner financially and I really do want to stick to what our actual jobs are – which is to make interesting records and do interesting shows. It's a bit like – this isn't my job. Also I'm very old and I come from an era where all my favourite pop stars were virtually unattainable. They were these crazy mysterious figures that if you met them you'd probably die. They were like this "other." Although I don't think I would ever be like that, I just I do like to keep a certain distance. If you become too known or an open book then it makes the music a little more humdrum.
You've been writing and performing for over twenty years. How do you plan a show that accommodates everyone – especially those fans who have followed you for a long time?
All of these criteria come to you when you plan a show – you're thinking about these people – you're thinking about the venues you're playing in, the musicians and instrumentation that you've got. There are so many criteria, not least the fact that I've got eleven albums and trying to go over them all is nightmare. In fact some just drop off the list as I can't fit them in. There are certain songs where there might be a riot if you didn't play them!
You also want to be able to play songs people don't want to hear – just because it's your show and you can do what you want. I do think about the audience – I can't help it because that's essentially what we're there for, but it's important to do what you want as well because then you're going to be happier on stage.
Have you considered doing anniversary album tours like Ash did with 1977 and U2 are doing with The Joshua Tree?
I keep trying to do it but then the year goes by and the anniversary disappears! My trouble is that when I make a record it's hard to even get me onto the third single as I'm so interested in the next thing.
I really, really like writing and recording and the rest of it sometimes is a bit of a pain for me. So actually revisiting a record from yesteryear – I wouldn't mind doing it but it's not something I look forward to with great excitement.
You write, record and arrange your own albums. Is it a challenge to motivate yourself throughout this process? 
My problem is motivating myself to let anyone else do anything! I am a complete control freak when it comes to music. It's not necessarily that I do things better than other people, but when I imagine music I imagine the whole thing. It's not just guitars, chords, some words and then what are we going to do next.
I literally hear everything and so everything from then after is trying to bring things to fruition so it is generally me going "no I want it to be like this" with people who are capable of putting up with me. 
Last year's BBC documentary Across The Line at 30 included your memorable performance of the hymn "Dear Lord and Father of Mankind" on ATL TV in 1998. The freedom to take those creative risks on live TV seems much harder today. 
It is much harder these days. I was thinking why that would seem impossible these days. For a start there's a lot less music on television, and opportunities to get on and play your stuff. When you do get those opportunities you tend to promote what you're trying to do yourself at the time. I save that kind of spontaneous crazy stuff for the shows now.
A recent review of one of your gigs commented that the Divine Comedy's live shows are so refined that even the roadie wears a tie. If this is the case was he still wearing shorts?
No, this is Alastair Artingstall we're talking about. He is a different type of roadie altogether! He actually never wears shorts. He is always in a suit. That's my kind of roadie.