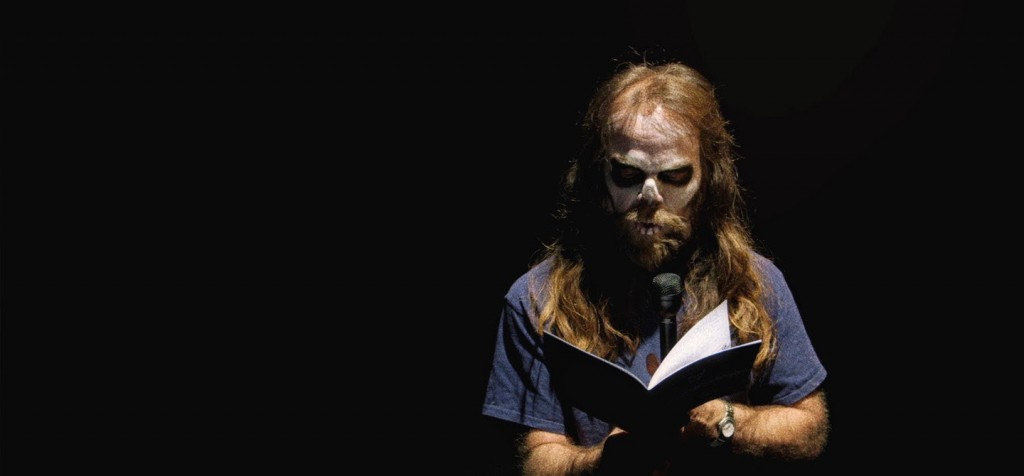 Thor Harris is a percussionist extraordinaire best known for being the pulsing, rhythmic heart of avant rock legends Swans. Yet he is also a carpenter who crafts his own instruments, an artist and a staunch opponent of the political right. The latter of which got him in a bit of trouble when his tongue-in-cheek video dubbed 'How to Punch a Nazi' saw him suspended from Twitter. Though the incident may have been a shock to the Austin based musician it highlighted his particular brand of philosophical, social commentary and political outrage.
On April 28 he's bringing his group Thor & Friends to Ireland for the Drogheda Arts Festival. The band will be performing a set of their hypnotic, minimalist, rhythm-centered sound and Thor will also perform a spoken word entitled 'An Ocean of Despair'. Both performances look set to be interesting, intimate and unmissable opportunities to connect with one of music's most humble heroes.
Words by Eoghain Meakin
At this year's Drogheda Arts Festival you'll be performing with your group Thor & Friends but also doing a spoken word performance. It's billed as a conversation about depression; what can audiences expect and what's your background with it?
Common symptoms of depression include feelings of guilt, isolation, inferiority and self loathing. In talking about depression we share knowledge of the disease, ways of controlling the symptoms, the solace of shared experience, information and understanding for the unafflicted. In these discussions we find common experience with so many others. Speaking openly without shame about this affliction shows it's victims that they are not to blame and not alone. I believe that the political situation in US, UK and EU is exacerbating feelings of hopelessness in most people. I will tell you from my own experience that seeing these hateful men in control of our government is contributing to mental illness in millions of people across the world. Sensitive and sensible people are feeling this deeply.
There's a stereotype that seems to be true in a lot of cases; that people with depression are creative. I feel that especially with your past groups and collaborations often being billed as 'cathartic' and 'transcendent' and 'pure emotion' that this might be true for you. Do you find that it informs your music, or the music you want to be involved in?
The world of emotions and the world of the subconscious are fertile ground for artists. A psychiatrist once told me that people with depression and other mood disorders lack the chemicals that keep most people in smaller range on the emotional spectrum. These outer edges are beautiful and horrific places. In art we see the world through someone else's eyes. Non-artists do also suffer from depression. It's often forbidden to talk about emotions in other parts of society. In artist circles we talk about them a lot. Let's extend the circles. I want everyone to at least feel that it's safe to talk about their deepest darkest thoughts. I think people need to feel heard.
I have always felt drawn to art and music that comes from people with access to these strange and often dark other worlds. Is such rigorous self confrontation causing mental breakdowns or is it the other way around? Who the hell knows?
With Swans and now the work of Thor & Friends I just wonder how you approach music in general. It's always music to get lost in, to explore and touch rather than simply tap your foot to. What are you looking for when writing music now and working with the other members of Thor & Friends?
I hope that our music creates beautiful spaces for people's minds to flutter about freely. Rock is far too rigid to be a vehicle for hallucination and meditation. That's why we have abandoned all the rock tools and forms.
You're also a lot of things; a carpenter, artist and a social commentator. Do you consider yourself primarily a musician or more of a renaissance man?
I am interested in many things and I love when they intersect. The wood shop has long been a good place to build and alter instruments. Music is indeed my greatest love, but I want to know how most things work. You will not meet an artist of any kind who is not also obsessed with science. Well, you might. But I have not.


You're very politically engaged, especially in the face of the Trump regime. Is it hard to stay motivated sometimes, seeing how deeply entrenched some of the issues and power structures are today? Even creatively your contribution 'Triangles' to the 100 Days project was visceral in its gloominess.
Yes. November 8, 2016 was a dark day. Ignorance did prevail. Just like Brexit, the people voted their hate and fear. I get discouraged. But I don't stay that way long. We have a long way to go to a world that is compassionate and kind. It will take all of us working in our own ways. Truth and goodness will prevail.
Meanwhile cities will be devoured by rising sea level. Systems that have supported life for millions of years will break down. We've known since the 1970s that we are changing the climate and have failed to act. It will get harder to grow food. We are already seeing climate refugees. We still need to act fast to slow this. In America the politicians on the right fight progress every step of the way. The starving corpses of their grandchildren will pave those fuckers' road to hell.
Has your engagement with social media changed in the face of your temporary twitter suspension? You noted on your Talkhouse piece that it was 'liberating' to be away from it for a while.   
That ban freaked me out a little, but it was in the end a great adventure. The support and hate that I got was overwhelming. The death threats over my Nazi punching tutorial only lasted a few days. If I made a few hateful pricks a little more afraid to spout their sickness in public.
My video was not a call to violence. It was a humorous admission that I enjoyed that video of that Nazi getting his face smashed. I have been pretty good at fighting my violent urges for most of my life. It's easier now than it was in my youth.
How has touring with Explosions in the Sky been?
Explosions in the Sky are the sweetest men on earth. They are great live. Their fans have been so kind to us.


You've been playing music for a long time, and in groups that are noticeable for their creative capacity but also a level of commercial viability. There's a big conversation going on here at the moment about money and music with several bands and musicians either giving up in the face of exhaustion or changing tact radically. What's your take on the industry today? How would you recommend that bands survive and grow?  
Music has always been a hard way to make money. My advice: learn a trade. Do your trade between tours. I'm a plumber and carpenter. Never make changes to art based on what you think people will like. Make the music the you would love to discover. Don't steal from one artist. Steal from them all. What you listen to will shape you. If you steal from just one artist, it's derivative. Consume new and old music constantly. Use BandCamp. They are the platform that takes most care of the artist. Play with anyone and everyone you can. Don't be an art diva. Treat everyone with respect and fairness. You do not need to fuck anyone over to succeed. Change and learn constantly.
Drogheda Arts Festival 2017 will run from April 24th – May 1st. Thor performs his spoken word on Thursday 27th April at 8pm while Thor & Friends perform the following night Friday 28th April at 8pm. You can buy tickets at http://droghedaartsfestival.ie/
Check out this great website from Drogheda Arts Festival partners thirty three – 45