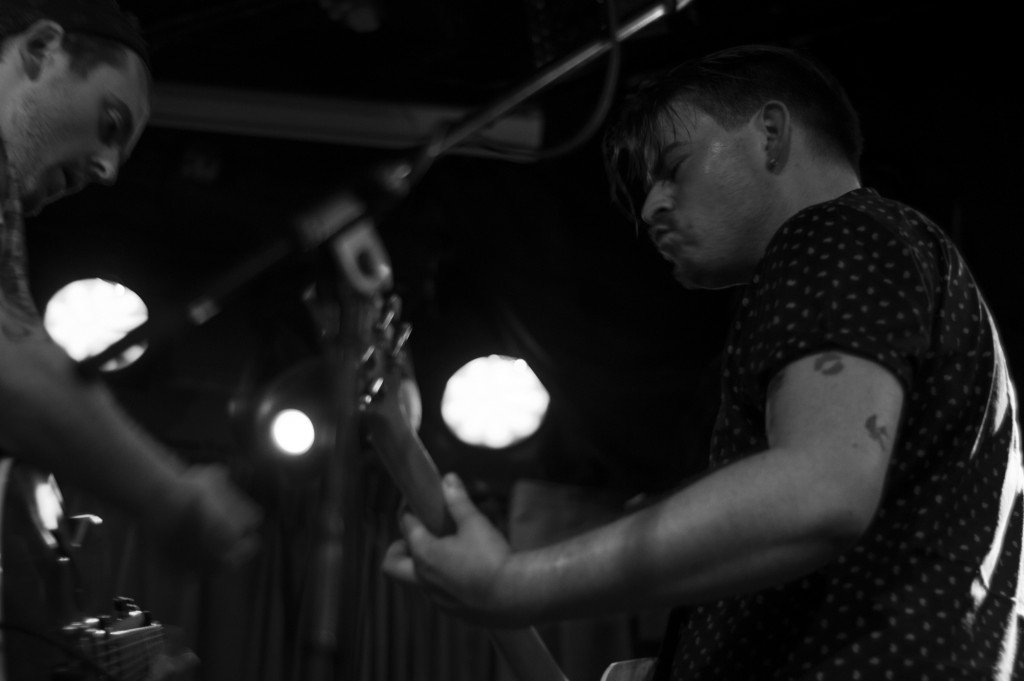 "C'mere, where's my amp?"
"What amp?" Eric replies.
"My black amp." I continue.
"How the fuck should I know where your "black amp" is? And aren't most amps black?"
"You had it last. After that gig we did with HAWK in the Róisín, you, me and Burke were loading the gear into your car on Munster Avenue. That's the last I saw it."
"That was like 2 or 3 years ago. Even if I had it then, which I doubt, fuck knows where it is now?"
"Hmm… fair enough."
"Are you sure it was after the gig with HAWK?"
"Honestly I'm not sure."
___
The above is a recent enough conversation I had with my friend, and actor, Eric Martyn about a tour we took part in. Eric was the drummer, so naturally his vehicle was used by most of us in the group in order to haul gear to venues. Although to be honest when I say "his vehicle", that is in contrast to my no vehicle.
That tour was the last tour I took part in. It was to promote Harrison & The Devil's 'Mary/Blue Blood' single. It was a far cry from the first tour I had ever been on, which was Jaded Strings' (I know, I know, what a name) June '08 week long tour of Monaghan. However, in many ways it was similar. And most of those ways, as you can guess, were shitty.
The story of how the tour goes begins in earnest but ended up like Ernest Goes On Tour.
We sat down in December and laid out a plan. In order of preference we listed towns/cities, venues, and then dates. Money, foolishly in hindsight, did not come into our enthusiastic synapsis as it was an assumption.
We couldn't afford to blanket tour, as we weren't earning enough to just all take a week off work, college, etc so we planned to play only later in the week where possible, and also where possible to skip back to Galway that night and save on accommodation. (Which kind of negates me calling this whole facade a tour, but anyway…)
We decided on Dublin, Galway, Limerick, Cork & Sligo. With the hope of doing Derry and Belfast later in the year. We then aimed for Spring, which was as early as possible, and made things unnecessarily tight for the sake of excitement and idiocracy.
So, with the idea drafted I began contacting venues…
I contacted some 40 venues and bookers around the country, even outside the above towns, looking for a stage on any Wednesday to Sunday between February and April.
One venue asked us the band's name, I obliged and they replied that they hadn't heard of us and so by de facto (his words) we would not be playing in their venue. I then mentioned that we were played on Paul McLoone (Today FM) the previous night to which they replied they hadn't heard of him either. Were they being a dick or I am to believe that a popular music venue booker was unaware of the most popular alternative music show on Irish radio?
One venue we were desperate to play asked us for €400 venue hire. When I humbly replied that we'd get back to them after checking our options they replied they'd do it for €200. And, in a roundabout way, that they'd make sure we wouldn't play their venue ever if we ended playing anywhere else in the city.
Another venue didn't have a free date… for three months (but told another act on our label they had barely anything booked).
One promoter simply replied to ask me how I got their email. Having replied "from the venue's website" we never heard another thing. Some cheeky fuck in Cork looked for a €500 venue hire fee. When I told her of a label mate playing there without such costs she called me a liar. While the majority of the rest never got back to me.
After a fortnight, a schedule was made. It was a car crash of incoordination. In our desperation we said yes to any pretty fool who threw us a smile.
This meant we were playing Limerick, Sligo, Galway and Dublin.
We began in Dublin. A promoter had a monthly night in a quality venue there and offered us the chief slot on their early February gig. There was no money involved, but we were just happy to be playing. Besides the other gigs would have money.
We headed up to the Fair City on a GoBus, €18 return, and spent the night on friends' couches. Myself and Ja had tremendous and, unfortunately for both singers who lived in the same flat, shared throat infections. We thought this would be manageable and we'd work around it in our soundcheck.
Then we were informed that there would be no soundcheck as the sound engineer was caught in traffic. Continuing down Murphy's path we realised that we had forgot all of our pedals, tuners, leads, etc. Finally when we got on stage Ja's voice went in the first stanza of the first song, and I am not far behind him in tragic decline (a punter actually delivered two hot whiskeys for us to the stage mid-set).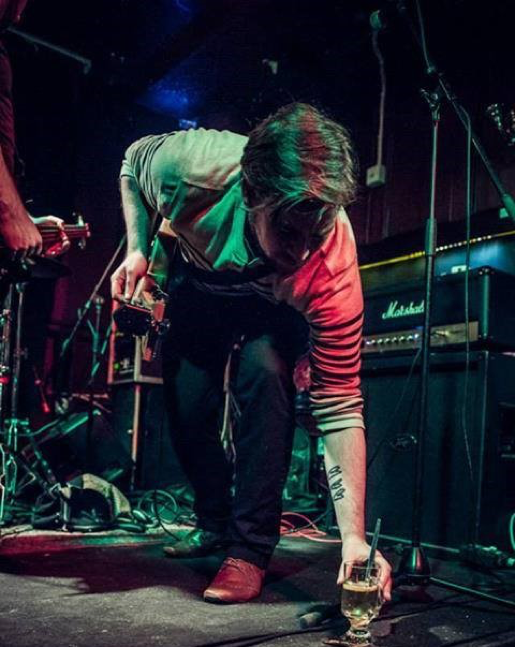 In Dublin, placing down a hot whiskey where my forgotten pedal board should have been.
This voice dropping, and out of tune, hard rock on a clean channel was not in anyway what we hoped to put out. It was not some avant garde new wave grunge nonce but no one seemed to tell the hip buds & beures frequenting the venue that night. It was arguably the best response we ever got from a crowd. And it left me embarrassed. We had given it 100% in previous gigs (well, most gigs) and had gotten okay responses, yet on a night where we are all over the place… the crowd was packed, were singing back our lyrics, buying CDs, etc.
The night ended with us being booked to headline P.H.U.C.K. (Phantom Has U Covered Kids), a new-ish monthly night ran by Phantom FM, that had Nanu Nanu, Wyvern Lingo and Vann Music recently headline. The date would book-end the tour nicely. More than nicely. We looked forward to it with reserved glee. We also got offered a spot on Knockanstockan later on. Still puzzles me how this all went down. 
Two nights later we ventured to Limerick City. We were heavily focused on playing a particular venue in Limerick, and had wanted to play there for its prestige, above everything else. The venue was large, so I had spent a mountain of time promoting the media outlets of the city.
When we arrived at the venue not a single poster was up. Both security and bar staff were unaware there was even a gig on. You had to walk through the ground floor restaurant/bar to an unmarked door to enter the venue. I was fuming but not as much as I would be later.
Support Act A, refused to perform unless they were allowed use their own guitar amp, which was fine.
It was agreed that we would provide the back line, and they would provide one of the guitar amps. This would have been a simple transaction if the band, who were uncontactable on the day, had turned up on time for soundcheck, instead of a half hour after doors opened.
The same band then filmed all of the acts, recorded the audio from the desk and tried to sell it to the others acts playing on the night for €150. The snakes.
Finding ourselves without the necessary equipment come show time, another support act, Support Act B, offered the services of an acoustic one man solo set until the amp could arrive. Hallelujah! We graciously accepted. Although had we known what they had in mind we might have declined as the clearly underage kid they brought on stage did more bad than good with his version of 'Galway Girl' for his faux X-Factor preparations.
Finally when the show began, the first support act, Support Act C, didn't quite grasp the idea of "we'll provide the gear" meaning the backline, and didn't even bring their instruments. They ended up using ours. Breaking a string on my guitar. Not the end of the world, but still a grievance.
When it eventually came to our set we had a blast, the crowd was packed and all were very engaged. Solid 8 out of 10. Happy days or so I thought.
When we were all packed up and ready to go I popped into the office to settle up.
The venue would take the first €200 to cover security, a barmen, a sound engineer and for someone on the door who was to charge €5 a head (which in hindsight seems fucked. Why should we be covering the bouncer and barmen?)
Anyway, I sat with the manager, who informed us we had about 100 or so in. Delighted. We were somewhat aware of this number before the night ended so we dropped each of the support acts a couple of quid for a round or two of drinks before the bar closed (as you, at least, should always do). The venue manager then went to hand me our precious clams. He handed me €45.
I lost it. There was about 100 people there. He said it himself. We should have been talking the guts of €300, and that's after them taking the first €200. Not 45 fuckin' quid!
He then explained that "the guest list really hammered ye". I asked him what that meant and he showed me what I thought was JFK's book of condolences. It was a guestlist with 48 shitehawkin' names on it. He called the person who was on the door to figure out how this had happened, as I maintained it was not my doing or under my authorisation.
Earlier in the night I had introduced myself to the person on the door and informed them that each act could bring in 2 people on a guestlist. A message I relayed to each act prior to the night.
It ended up Support Act A, and Support Act B, told the person on the door they were in fact the organisers and that it was all good to let in all these people (their mates) for free. We returned to Galway dejected.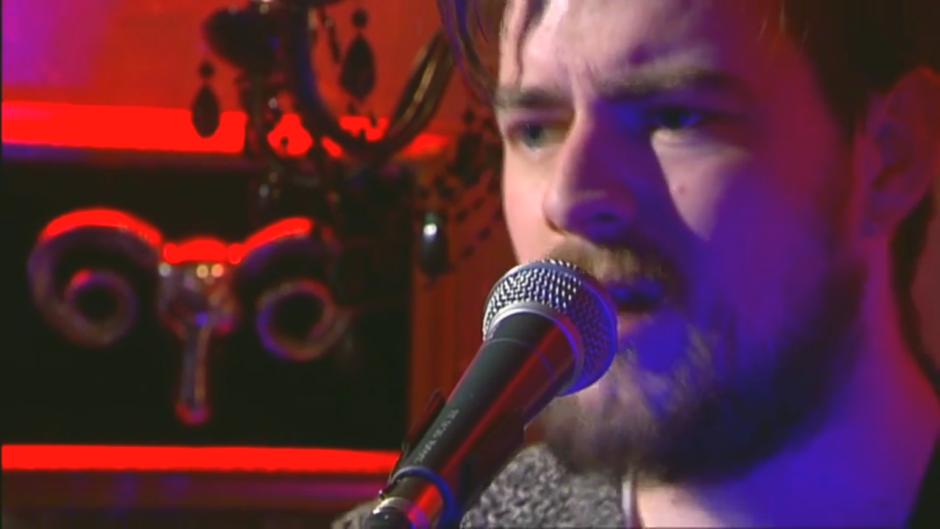 On RTÉ television that spring plugging the single. I was in my Robin Pecknold phase.
Next up, we travelled back to Dublin for a promotional gig in a bar in Temple Bar. We were a bit sketchy at first about playing but happy to do so as the gig was run by a top Irish music shop and promoted very heavily with an Irish radio station. It also paid, which was never to be turned away in our state.
Our skepticism was down to the fact that we had known the place to be more of a restaurant and presumed we would be playing in some side venue or something like that.
Nope. Smack bang in the middle of the restaurant laid the stage surrounded by punters, mostly made up of American tourists, eating their meals. Disaster struck straight away when we realised just before soundcheck that we had no snare drum.
When asked by Eric, before departing, if we needed drum hardware I said "no", when Eric asked if a snare was needed I said: "I don't know. Probably not". So naturally Murphy's law struck. Once we got over the particulars of who said what we were handed a lifeline when the sound guy miraculously pulled a snare out of his boot.
In the end barely anyone came who wasn't a mate, and, beyond them, no one listened to us. And those who did asked could we turn it down. Which is much better than what happened to Oh Boland when they played there a month or two earlier. Eanna (bassist in Oh Boland) told me that, mid-song, one of the said American tourists walked on stage and turned off their guitarist, Niall's, amplifier and declared "I AM TRYING TO EAT!!!"
When the gig was done the promoter, with our quid, was nowhere to be seen. What was worse again was figuring out a large portion of our fee was to be provided in dinner vouchers.
The cherry on top was when the I'm Your Vinyl guys accused us of robbing their guitar leads. Before we could even deal with these scenarios we had to head on the last bus back to G-Town.
The next day we were discussing, and taking solace in, how many of our singles, tshirts, etc we sold at the gig. It was in this moment I realised we left all our merchandise on the bus we came back down in.
To cut a long story short, myself and Eric spent an hour or two at the bus depot, which was in an industrial estate down by the docks, searching through all the buses used the previous evening for our merch, which, thank Christ, turned up. Unlike the money we were owed from the gig.
A week later, we were to play at Citóg in the Cellar, but in the days before I had attended a friend's birthday party. At the party I was speaking with Dave from Le Galaxie.
I told him about the woe we had faced thus far, and waited in vain for him to tell me that it gets easier. In fact he inadvertently hit me with a hammer blow. I explained that the strongest shining light we had ahead of us in the tour was the Phantom FM gig that we would be headlining. Feeling the pain he was about to bring on, he winced and then pulled out his phone showing me the news: Phantom FM was to be no more.
We never received word of the gig's cancellation, but I have no ill feelings about that, nor did I ever harbour any. People had their jobs and sustainability to worry about more so than ringing us.
After another few gigs we were to play a short set in the Róisín Dubh supporting HAWK.
Poor Ja, our singer/guitarist, had believed the gig to be on Friday, not Thursday. If he was aware I am sure he wouldn't have been out till 7am that Thursday morning. Well, that's what I told myself to quell the urge to stab him in his stupid face, the lovable prick. Fair dues though, he struggled through the set, and few would have known.
When our set finished he literally walked off the stage, grabbing his coat, and out the venue's back door (home to bed presumably). It was one of the coolest things I'd ever seen from one of us. Elvis had left the building, leaving the plebs to tidy up.
It is also possible that he left to avoid the bollocking we were about to receive. HAWK, whom we were supporting, are an incredible Galway/Berlin/London band who have used their voice to promote progressive gender equality ideals and attack archaic aspects of society that are still present in a time where they should not be. While we stood strong with them in that believe, hence why we supported them, it was clear their audience did not appreciate how we carried ourselves, which was less socially attentive.
Our opening song was an apathetic number that mixed a backing vocal with guitar bends in order to mimic the sound of a woman orgasiming. It was about leaving your Mrs. for mundane reasons that both George Costanza or Chandler Bing would be proud of. Entitled 'Mumo & Her Putrid Whores' it did not go down well.
That night was the night I believe my black amp was misplaced. I was convinced I put it in Eric's car after the gig. We chucked the stuff in the back and went to a party in an apartment near the venue.
The only memory I have of the party is of walking out the door while Eric was in the throes of a heated finger pointing debate with the venue owner about Game Of Thrones. It was a loss cutting measure. By this stage we were near the end. 2 dates left. Sligo, and our own single launch in Galway.
When we went to Sligo we decided to treat ourselves to a night, so we did what any bunch of fools would do. We booked a few rooms in a hostel, and invited up some friends. We played a good set, had a good time with mates and after with many of the people who came out.
One particular highlight was Mickey, known as The Son Of The Hound, who was supporting and staying with us that night. Back in the hostel, over an open fire, with far more drink in him than he would admit, Mick regaled us with a dramatic telling of The Red Hand of Ulster in the style of Antoine Dodson. Arguably the tour highlight.
The night was not without its hitches though. During one of our songs there is a breakdown with a single bass drum beat in E minor with an acapella vocal. At this point about a dozen girls in the front row starting singing 'Seven Nation Army'. While I was playing the song's outro, Ja leaned in on my shoulder, clearly hurt by the ambiguity of originality something he created had provoked, and whispered to me "Last time I'll ever play this fuckin' song!". Which would have been fine if the song wasn't the actual single we were promoting at the time. The one we were launching next week.
___
As I mentioned earlier, the idea to write about that Spring was brought on by a discussion with Eric about where my black amp is. Shortly after, I had a conversation with a friend about our respective experiences playing around and touring. I told him all of the above and my intent to write something about it.
His response was a slight chuckle and the response: "Pfft, that's nothing! One time when we were playing across the UK we lost Shane in Leeds for two days."
That was it. That is all it provoked out of him. No sympathy, no shock, but a mild empathy. And why?
My conclusion is that it is never a normal experience, all these spectacularly unforeseen hang ups and scenarios can be chucked on the shelf with the millions of similar stories that every act goes through To varying extents of bizarre and unique severity.
My hope, in any conversations I have about it, is not to knock the notion of undertaking a tour, big or small, but to implore that with everything that happened it was still incredibly worth it. It was still one of the best things I have ever done, and one of the most fun and exciting things I'll ever partake in.
I had unreal craic and, as proven, I still talk about it today. And, regardless of the above, I chiefly focus on the vast positives. In Dublin, we created a fanbase that helped our media presence, which in turn helped us move forward. Our gig in Limerick led to a surge in online listeners and downloads. Sligo was instrumental in opening up acts from our label to start playing there, and it paid pretty good. I could go on…
When I was in the midst of all this I came to the conclusion that many bookers, promoters, folk in the media, etc might have an opinion on you and it may not be good, or they might not have an opinion at all.
But it's all subjective. One man's meat is another man's poison. How many times have you been to a gig, with only 20 people there and got frustrated that the act isn't filling Croke Park, because to you they sound that good? You are not wrong, it happens. My Fellow Sponges and Cork greats Fred have, and had, me questioning that regularly.
Another great modern study you could take in that vein is Irish radio. How many times has a musician listened to something on the radio and thought: "My band's better than this shit". Guess what? You could well be right.
Look at Girl Band, signed to Rough Trade Records before anyone on Irish radio was playing them. Walking On Cars sold out The Academy a few years back on their own terms as venues weren't booking them and they had, essentially, zero media support. SOAK won the Choice Music Prize and in the corresponding year 2FM played her 9 times as a fuckin' token gesture.
I remember when we had songs playing on Paul McLoone, Cathal Funge, John Barker, Dave Fanning, etc and playing great venues that we were told by a local Galway DJ, who (undeservedly) prides himself on supporting Irish/Galway, that we weren't good enough for local radio. It's all nonsense.
But if the experience taught me anything it is that there can be many factors that must be taken into account in the scenarios these people find themselves in. When you ring a venue looking for a gig you have no idea what the booker has been up to. They could be reeling after spending a large part of a budget on a band that no one turned up to, and are not in a position to gamble on booking your act. They could have genuinely not rated a band and later seen them getting a couple of hundred people through the door at a place down the street. I could go on and on.
It's worth noting all this would be happening while they are trying to run the day to day operations of a venue, and getting dozens upon dozens of similar enquiries from cats just like us.
The same too can be said for a radio DJ whose numbers are dwindling because they took chances that didn't pay off and find their slot, possibly job, and reputation in question. That or they could be powerless against a playlist which was being forced on them. The variables and scenarios are immeasurably and endless.
If I were to do it all again I reckon I would hire a booking agent and promoter. They are, literally, professionals in these aspects of the business and if you can find one you can work with I implore you to. Arguably the majority of the issues we faced were through our own fault and inexperience. Most of which could have been avoided with a small amount of advice I was too proud and cheap to seek.
One thing I also noted during this time, which others I have spoken with on the matter seem to agree with, was that my concentration on writing, recording, and, to an extent, performing suffered because of admin tasks I took upon myself. It is not healthy for a musician to be putting his next photoshoot ahead of his next practice. And not a debate you should have to draw yourself into. It is something that might seem like the correct thing to do, but it asks a  subjective question of something that is transparently clear in fact.
___
Our last gig on the tour was in the Róisín Dubh, at Strange Brew, the longest running original music night in Ireland. It was our single launch, and we were supported by two of our favourite bands, Oh Boland and Rural Savage. We charged in and by the end there was 200 people there.
We sold out pretty much all of the physical singles we had left, along with a mountain of t-shirts and old EPs. The venue owner, Gugai, stuck around throughout the gig and was superlative after. It was the best gig I ever played, and a moment I daydreamed about since I first wrote a song.
The act of touring and, as touched above, wider promotion. The path it goes and leads to can seem right and wrong in all the right and wrong places even in the face of evidence and wise assumption. It's a puzzle, at the best of times, certainly the worst of times, as it always has been and always will be. Something I have learnt and heard from the most experienced.
We figured out that the black amp was, and still is, in Rick's attic. Rick was our bass player. His car was parked beside Eric's on the night I thought I put my amp in Eric's car.
Metaphor much? David Hickey