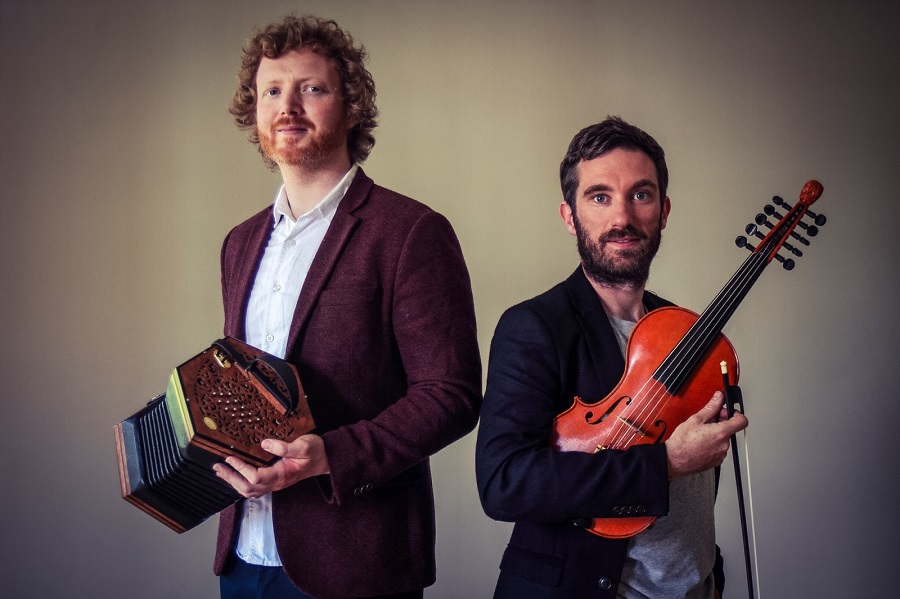 There was double reason for celebration at An Droichead – South Belfast's primary centre of Irish language and culture.
Firstly, there had been the launch earlier that day of the Belfast Traditional Music Trail. This initiative, to be held every Saturday afternoon, presents traditional Irish music to all-comers, on a trail that traverses the Cathedral Quarter – taking in some of the city's most iconic pubs.
Then, just a few hours later, a full house at An Droichead welcomed fiddler Caoimhín Ó Raghallaigh   and concertina player Cormac Begley – two of the finest exponents of their respective instruments in Ireland today.
Ó Raghallaigh, whether as a solo artist, in duos, or as a member of contemporary outfits This Is How We Fly and The Gloaming, is synonymous with the Hardanger fiddle and the Hardanger D'Amore. Therefore, it came as a surprise on the opening number to see him wielding a curiously oversized, psychedelically curved instrument, almost as though Dr Seuss had been the luthier. "A five-stringed weirdo" was Ó Raghallaigh's not inaccurate appraisal.
The five-stringed viola, as it turned out to be – its drunken curves so shaped  to allow more air to circulate – emitted a low tone in sympathy with Begley's bass concertina on the opening reels: the rhythmically hypnotic 'The Morning Dew' and the dancing  'A Fig For A Kiss'. On the latter, Begley switched to piccolo concertina mid-tune, conjuring a high-pitched voice not unlike a flute. Swirling fiddle and concertina motifs chased each other's tails before gradually winding down, Ó Raghallaigh then redirecting the music with a hauntingly delicate slow air,  the melody soon picked up by Begley as though unable to resist its charms.
A set of lively polkas followed, though authorship, as Ó Raghallaigh freely admitted, was elusive. "They could be Seán Keane's, but not that Seán Keane or the other Seán Keane. A different Seán Keane…it's hard to prove that wrong, right?" he suggested rhetorically. And who could argue with that sort of logic?
Indisputable, however, was the duo's rhythmic vibrancy, wrapped in a mellifluous unison shawl.
Ó Raghallaigh then left the stage to Begley, who gave a haunting solo rendition of 'Beauty Deas an Oileáin' on bass concertina. Translating as 'the fine beauty of the island' [Great Blasket Island], the tune appears on Begley's eponymous debut album (2017), which has garnered glowing reviews, including a five star salute from The Irish Times' Siobhan Long.
 Begley's achingly nuanced rendition of this nostalgic Blasket Islands air served as a reminder of another recording well worth tracking down: Beauty An Oileáin: Music and Song of the Blasket Islands, a gorgeous Claddagh Records release from 1992.
Without drawing breath, Begley unfurled a feisty reel, the concertina's bellows rasping as though straining at the exertion. Ó Raghallaigh returned for the well-travelled reel 'The Fermoy Lasses', the two musicians locked for the most part in unison.
Following the intermission, Ó Raghallaigh slowly chiselled an impressionistic solo improvisation of understated lyricism. Employing computer and loops to add drone and layered harmonics to his minimalist bowed soundscape, his dreamy two-handed pizzicato passage, punctuated by deft strum, evoked Chinese sonorities.
The duo reunited, Ó Raghallaigh risking "pins and needles in my eyeballs" when he played flute, on a slide from Munster's Sliabh Luachra region, with Begley on a rich-toned, 1912 baritone concertina. A set of mellifluous, rhythmically driving polkas and the infectious jig 'The Nightingale' rounded out the set in style.
An appreciative ovation drew the musicians back to the stage for an encore – 'Speed the Plow', a toe-tapping reel with concertina and fiddle tightly bound on the lilting, uplifting melody.
Since Medieval times at least, the saying 'God speed the plow' was uttered as blessing for success, not just in agricultural circles—with plows often blessed in church – but for any undertaking at all. Ditto the budding duo of Caoimhín Ó Raghallaigh and Cormac Begley, whose musical furrows nourish the soul. Ian Patterson