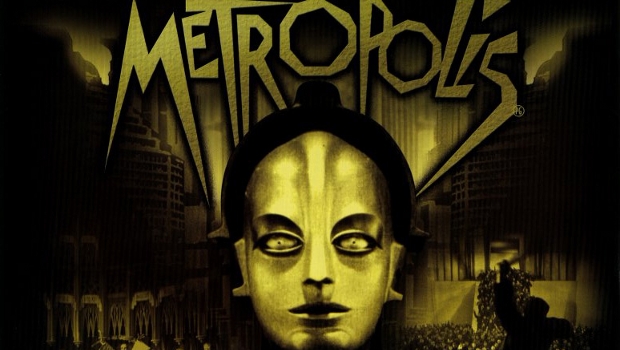 Ahead of live-soundtracking Fritz Lang's German expressionist masterpiece Metropolis at Belfast's the MAC on Thursday, May 25, we talk to acclaimed composer and pianist Dmytro Morykit about the dramatic theatre of his score.
Go here to buy tickets to the event.
Hi Dmytro. Take us back: when did you first watched Metropolis and how did it affect you?
I suppose the first time I saw it was 1983, around about the same time I saw Nosferatu. I had been reading about the Directors of the silent classics but F W Murnau made more of an impact, perhaps that was just the bias of the books I was reading. However, on watching Metropolis I realised it was the greater film and thereafter I began to spot the referencing in many films and other art works, in fact just about everything.
Who created a two-score? to accompany the film in 2014. Why did you choose to soundtrack Metropolis?
I was performing another project, Music in Manufacture, which involved playing my work alongside short films of manufacturing processes including glass making, sail making and a bottling plant as well as two pieces of abstract video art. The idea was to show the heightened effect of music on an image. We had removed the original soundtrack from the manufacturing films. At the end, the projectionist who runs the local Cinema Club, suggested I create a new score for Metropolis and asked to put a date in the diary to show it. It was as simple as that, though unknown to us at the time, quite a profound moment. It has certainly been a new way of presenting my contemporary music and also bringing Metropolis to the attention of a younger generation.
The score is balanced between newly-composed pieces and some of your older material. How did you go about honing the old with the new to create something unique for this accompaniment?
We only had eight weeks before I had to play the score, so for practical reasons I couldn't compose two hours of new music. However, when I delved into the back catalogue for pieces, it became obvious when the right piece of music fitted a scene. In fact some of the pieces fitted the scenes almost perfectly both in plot development timing… it was uncanny. We gave it the name of an 'accidental marriage.' A couple of the older pieces had to be modified – for instance, some 'question and answer' phrases had to be shortened or lengthened. The piece, Proposition, already existed but was very much in its early stages, so playing it alongside Metropolis helped it develop. This is one instance where I actually watched the whole scene several times in order to complete the music. Most of the other scenes I took a sense of the emotion and the movement and chose the music according to that and then Hazel watched the film and ensured it fitted time-wise. In a way, Metropolis is a series of dances beautifully choreographed – music and image create their own dance. I composed the Love Theme and Tango Tease from scratch, also the Thin Man and the Introduction. As my music has a particular signature and because I am playing it myself, it flows well together, despite the changes in the dynamic and moods.
There's been various soundtrack accompaniments to the film over the decades, including Giorgio Moroder. Did you feel any sense of trepidation undertaking scoring such an acclaimed cinematic work?
No, I just grasped the nettle and I realised approaching Metropolis with any sense of awe would not work. I wanted to set up a dialectal (musical argument) with the film, where sometimes I am almost at odds with it. It's not for the faint-hearted and the performance is very physical! After the first couple of performances I realised I had achieved what I'd hoped for by the incredible response from the audiences, many of whom were Metropolis aficionados and could so easily have been critical.


Are there any compositional references to Gottfried Huppertz original orchestral score?
Not really, though I was aware of how he treated the themes. I suppose in one respect there is a little bit of leitmotiv, i.e. there are certain themes associated with individual characters or situations. Huppertz uses a lot of leitmotiv.
To the layperson, there is perhaps some room for error live-scoring a film. What do you use for cues when performing your score alongside the film?
Hazel sits beside me and watches the film and will give me a visual cue now and again or prompt me if I have a memory block. The music is very intimate to me, and I have played it often and always from memory, I therefore play the music with only occasional glances at the film. It is when I start watching the film that there can be moments of slippage, therefore I try not to watch and just take the verbal cues.
There are, of course, some very iconic scenes in the film. How was it first seeing your music and those scenes sync together well?
I am aware that it works but I haven't actually seen the film all the way through with my music! I've seen a few recorded scenes of the show and I am particularly pleased that Silver Screen fits so well with the creation of the robot. This piece was originally composed about 20 years ago in electronic format with references to old silent films but not with Metropolis in mind. When we put it with the film it just seemed to work and then I developed the piano piece further.
Every performance includes the same music but can be interpreted in a slightly different way depending on the mood of both myself and the audience and also the particular piano I play as each has its own character. I am hoping there will eventually be a recording of my work with the film and then I can enjoy a glass of wine and put my feet up.