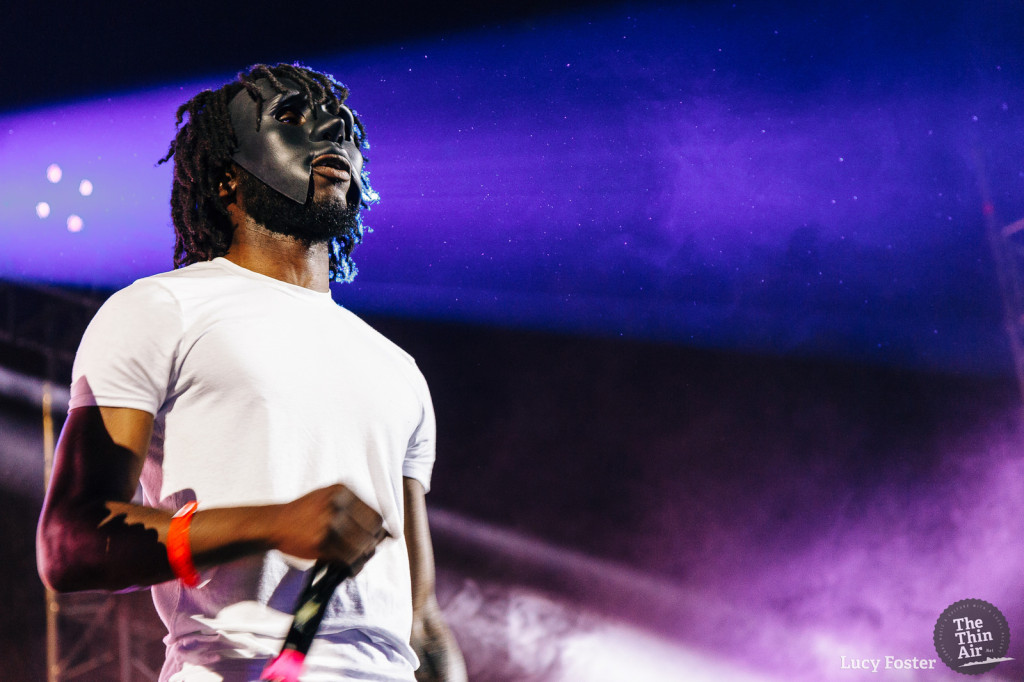 With photos courtesy of Lucy Foster, Eoghain Meakin reports back from Forbidden Fruit at the weekend, featuring Aphex Twin, Bon Iver, Flying Lotus, Moderat, Orbital and more.
Saturday
Turn off Facebook, no one needs to see those sunny pictures coming in from Spain. Instead check YR there or Accuweather so we can time the rain falls. Because today is the first day of Forbidden Fruit, the festival on your doorstep and a bit of rain is an inconvenience not an inhibitor round here. However it does have its immediate drawbacks; clogging the entrance system as people attempt to shove their way out of the down pour. So missing 67 (pictured main) is annoying but if its grime you're looking for there's some of the home-grown variety on offer in the shape of Mango. If you like rap this is the guy. Today he's only playing to a few dozen people but delivering professional beats and a whipcrack flow that wouldn't sound out of place on a main stage. It's all delivered with the right sprinkle of radio earworm that will hopefully spring the Dublin native and his collaborators straight into the stratosphere where they belong.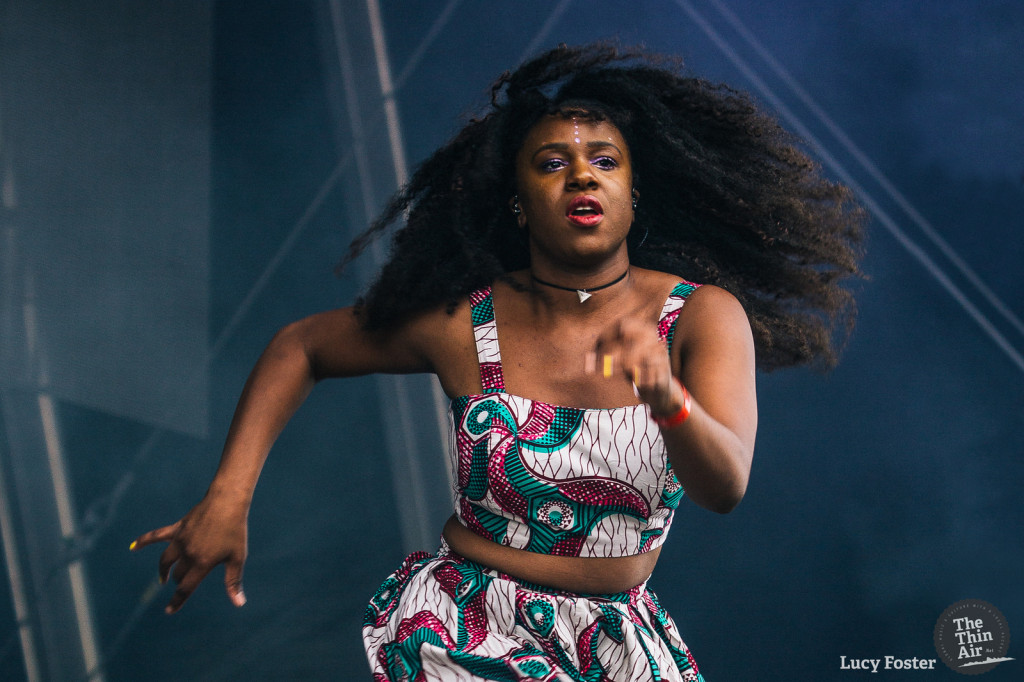 Keeping that energy up makes Mall Grab the next essential but any last minute ravers are to be disappointed as the Australian manages to completely fill the tent making a solid, impenetrable wall of wet backs and biceps. While it remains too heaving to make any inroads it provides a pulsating nexus to siphon some good vibes from the DJ's genre mixing tunes.
Now with the sun out it's a perfect time for Nao (above) to take the main stage bringing the happy up there with her. The soulful singer's speaking voice is a pleasant chirp compared to the big, big sound of her set. A throbbing blend of garage, pop and dub step reaches out across the whole of IMMA and fires like a proper starting gun for the weekend that's in it.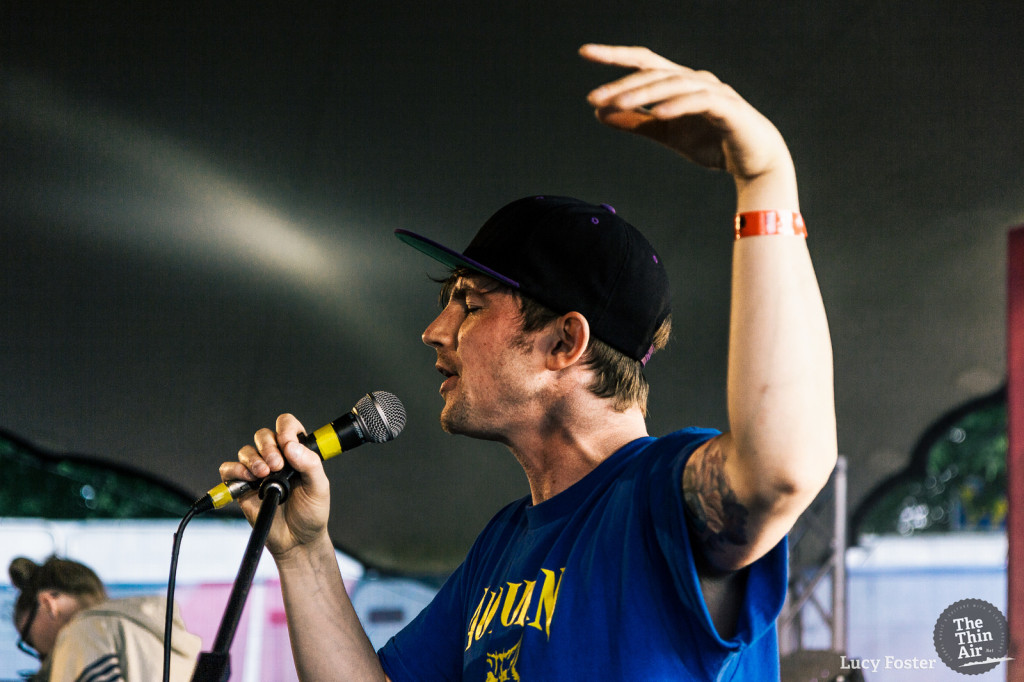 It's hard to imagine that it could stay this good, especially considering the rain is back but that's only if you don't factor in the fluid dance beats of Le Boom (above) whose amazing pulsating vibes transform the downpour into a sun kissed backdrop. The golden light streams through the rain as the local duo do what they do best; get everyone moving.
Next on the agenda is Giggs, one of a handful of UK rap stars taking the brand global. But an Irish crowd are no newbies to the sound and a loyal pack migrate to the Outcider tent where he's set to play. Amongst them is a tiny girl offering out vodka-spiked jelly babies but two songs in and she's not the strangest thing going on for a moshpit has formed at a rap show – a clear indicator of cross culturalism or perhaps just the excess of testosterone after Giggs plays swaggering banger after banger.
Speaking of which it's time for the first of the weekends headliner's. Orbital are back after a tempestuous hiatus but you'd never now. The stage is pimped with a black framework cage which seems to embody the industrial nature of the group as well as their ice cool modernity. The brothers wear matching head lights which swoop over the crowd as they patch and blur their beats into each other. But then just as it's getting going the rain steps up again. This time it's biblical and way too much for all but the most dedicated or medicated fans. For the rest it's time to retreat.
Sunday
The next day the weather is holding out better and a few minor tweaks to the entrance combat the majority of the congestion. But there's still enough Gardaí checks to only hear Dublin's rising star Soule through a mesh fence and then catch the 'Good Life' songwriter as she leaves the stage. It's little enough to be disappointing but just enough to catch some of the artists unnerving cool. She's followed quickly by Ships who channel XX style whispers into neon kissed grooves and the aural aesthetic of Chromatics.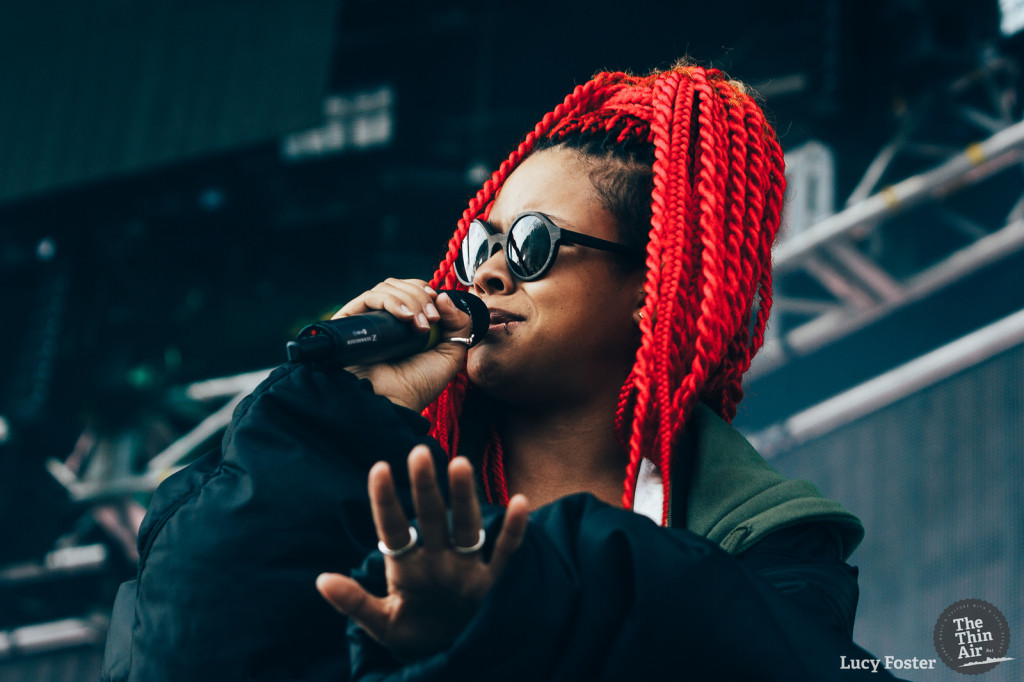 It's a mellow introduction to the day but if you're looking for more of a shot to get you going then look no further than Mura Masa (above). The pop wunderkind takes the stage largely as a rhythm player but for those who don't know the twenty-one year old is currently rocking the world with collaborations with artists like Charlie XCX, Desiigner and A$AP ROCKY. Today he's joined by the incredible Bonsai who still seems to be flying from her own energised set and vocalist Fliss whose moves on stage alone are magnetic.
From one musician at the top of their powers to our own Bad Bones (below) taking the live stage with a similarly rhythmic set up but her own bandit-cum-ninja aesthetic, replete with a duo of dancers. The electronic producer makes dark, pulsating, brooding tunes combined with other worldly vocals which cast a spell over the small stage. At once subtle and powerful Bad Bones is an artist to take seriously.
The spell is cast so that artists like Moderat and Nicolas Jarr seem less like standalone shows and more like the soundtrack to an adventure movie. While completely different and somehow similar they both take hold of their respective audience's and whisk them into the night, into the dark where something altogether stranger and bigger is waiting.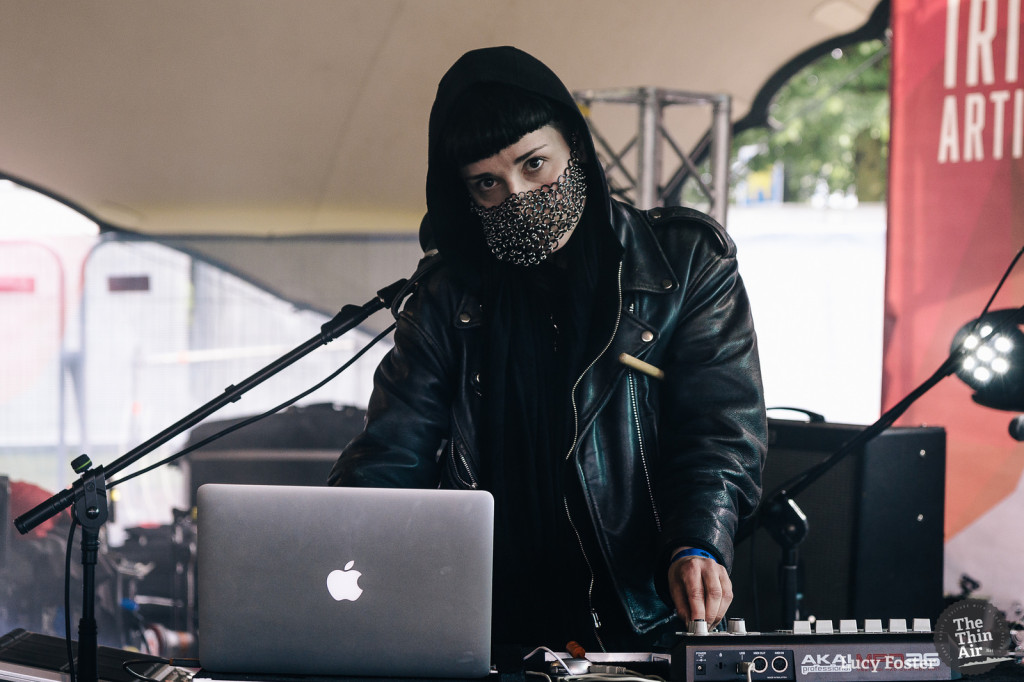 This is Aphex Twin, and well, what can you say? One of the most important figures in electronic and ambient music, elusive, horrifying, enlivening and exciting. At first it seems disappointing as he's obscured by the lightshow and screen heavy stage design. Much of the audience simply don't know what to do. Some try and dance but they just end up shuffling on their feet until they become conscious enough to stop. It's hard to tell when something starts, when something finishes, when to cheer or whoop. But its hypnotic and it builds and builds. Aphex Twin plays a set that could be a surreal blend of his entire back catalogue or something entirely new made there and then on the spot. The visuals start simple enough; avant garde, crackling and sparkling but build in density and power. When the rain comes it seems to be part of the show making it seem as if lighting is worked into the green lasers. The visuals and the music become a complete package together; bizarre and captivating at once. Aphex's features layered on to the audience as they grind to the beat. It's very hard to call this a performance in the traditional sense, instead it's a complete experience breath-taking in its ability to swallow you up until eventually you come back to yourself, shivering wet and ready to find refuge.
Monday
Of course it was always possible that it could rain more but it was just hard to imagine. Luckily Monday comes to confirm all our worst fears. A torrential downpour for the ages and the crowds have certainly been thinned but not so much that you'd call it a washout. This may have something to do with dedicated fans making their way to Forbidden Fruit's bonus act in the form of impromptu band People Mixtape; a laptop centred jam session featuring the full line-up of Bon Iver including maestro Justin Vernon. It's hard to quantify the act, it being the freewheeling thing it is, but there's enough to keep the early evening crowd engaged and there's an immediate sense of fun and play pouring from the stage.
If you had a mind you could pop over to Cork legends Talos at the live tent but it's a hard decision overlapping with the angelic harmonies of The Staves and the bass heavy adrenaline of Danny Brown (below). Sticking with the latter proves worthwhile despite an echo on the vocals, reducing Danny B's usual party-hard whip crack to an indiscernible beatbox. But the energy alone from him and his DJ make a set peppered with classics and new songs alike into a buzz that leave the audience still bouncing as they leave the tent.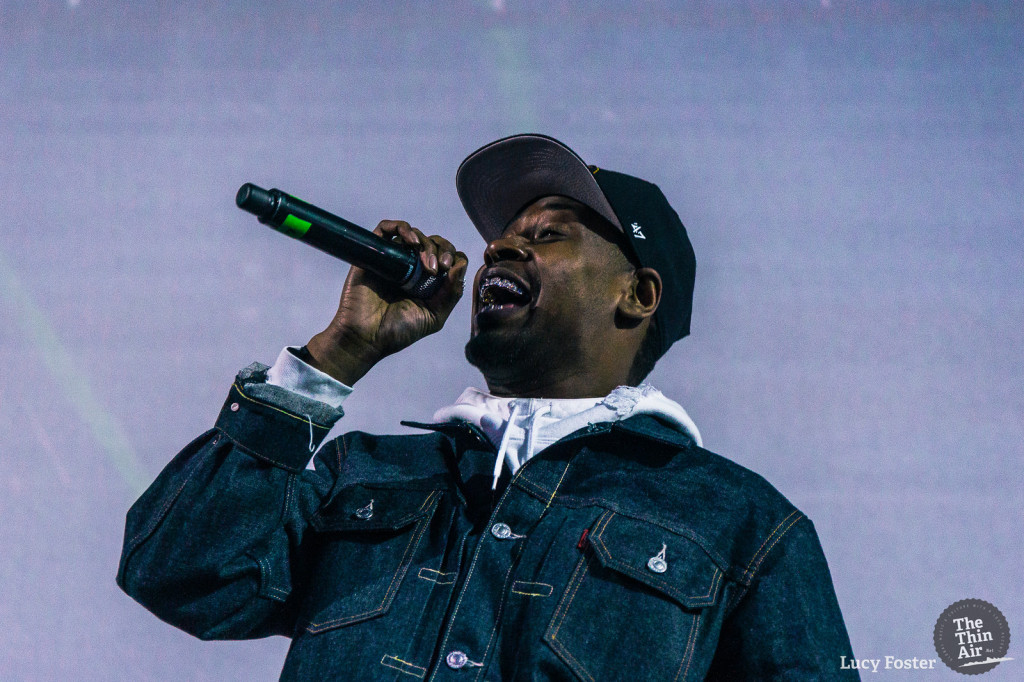 So when the time comes for the wonderful Lisa Hannigan (below) it's hard to gear down quite that hard. It doesn't help either that the rain, previously a steady down pour, has shifted into sheets of Antarctic ice water. 'That's wet rain,' someone says, and he's not lying. So with Lisa's chilled vibe playing to an audience that's already cooled to hyperthermia it's regrettable but understandable that some find it better to vacate.
Luckily by the time that happens there's a perfect spot to warm up and get those neurons firing again. Perhaps only the second greatest electronic producer this weekend due only to the enormity of last night's headliner but there's no doubt that Flying Lotus is one of the highlights of this festival. With his trademark psychedelic visuals and his usual jazz infused experimentation he has the Outcider tent heaving. Playing a heavier, fuzzier version of his recorded work it's the perfect cure to the red eye ahead of this weekend's culmination.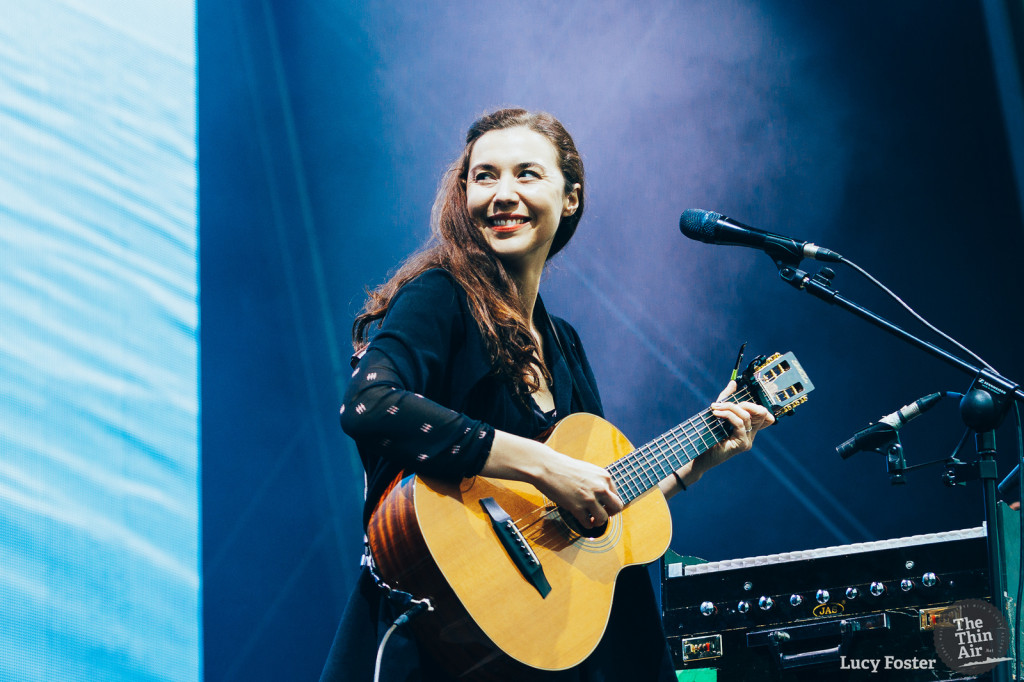 But before that there's just enough time to catch some Rusangano Family. Though the live stage is over capacity it doesn't stop those from hanging around the vicinity picking up on some of the Irish hip-hopers ever present energy. Murli, Godknows and MyNameIsJohn continue to fly the flag high for their own brand of hybrid rap and Irish music full stop.
When it's time Bon Iver take the stage casually. Compared to acts form the last two nights there's a no nonsense feel to the group. The plan it seems is to play most of this year's 22, A Million with a few diversions. As with everything to do with Bon Iver there's a purity and emotional electricity to the performance. The rain still pelting down its impossible to say there was a dry eye in the house, but there's no doubt that a few of those dewy peepers were more than just the come down or the second hand vape smoke. Justin Vernon is a rare artist in terms of his commercial viability and artistic vision but it's clear that his real talent lies in making connections with his fans. 'He's singing to me,' a girl says somewhere and really she's not wrong.
In theory the rain eventually broke Bon Iver as the electrics took to twitching, but having played tracks like 'Skinny Love' and 'Michicant' earlier it's hard to imagine it was going to go much later. Despite the weather Justin Vernon and co. had turned up in peak form and given the drowned and bedraggled crowd the justification for their entire day in the rain.
Forbidden Fruit 2017 looked like a mix bag on paper. A heavy reliance on electro-pop and boiler room DJ's may just be an indicator of changing cultural tastes but the choice at least seemed to run the risk of unbalancing the festival from its moorings. The other imminent risk was that the weather would simply wash it all away. In reality there was always something to see, a nice few surprises and whether you had to walk or swim moving from place to place there was always an impetus more than a dry roof. Forbidden Fruit continues to deserve its comfortable location, its stellar line up and its dedicated clientele. Eoghain Meakin
Photos by Lucy Foster