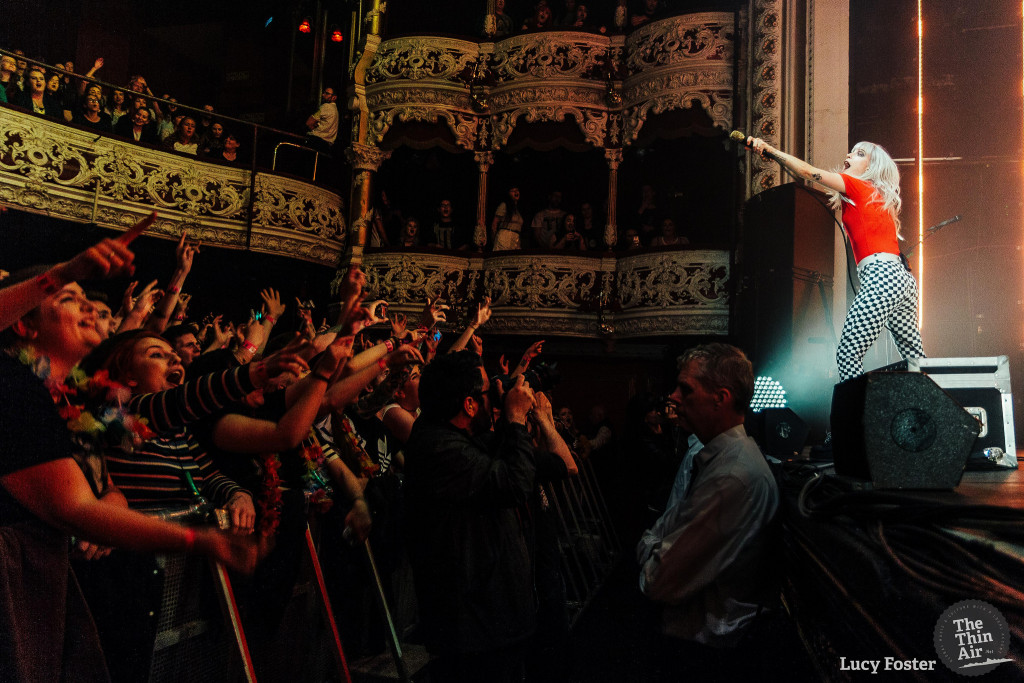 It's been a long time since Tennessee natives, Paramore, last brought their show to Irish shores and by the look of the massive queue outside the Olympia two hours before open doors, Ireland has certainly missed them.
Opening act, California's Bleached, set the pace with a raucous set of female-led punk rock. Bringing to mind 90s riot grrrl with a touch of surf rock, they play an uncompromising set of punk rock anthems. Whilst the music is a small bit lost on a large majority of the crowd, they're a promising act and, as an opening act, send out a clear message that Paramore are yet to leave the scene they grew up in behind.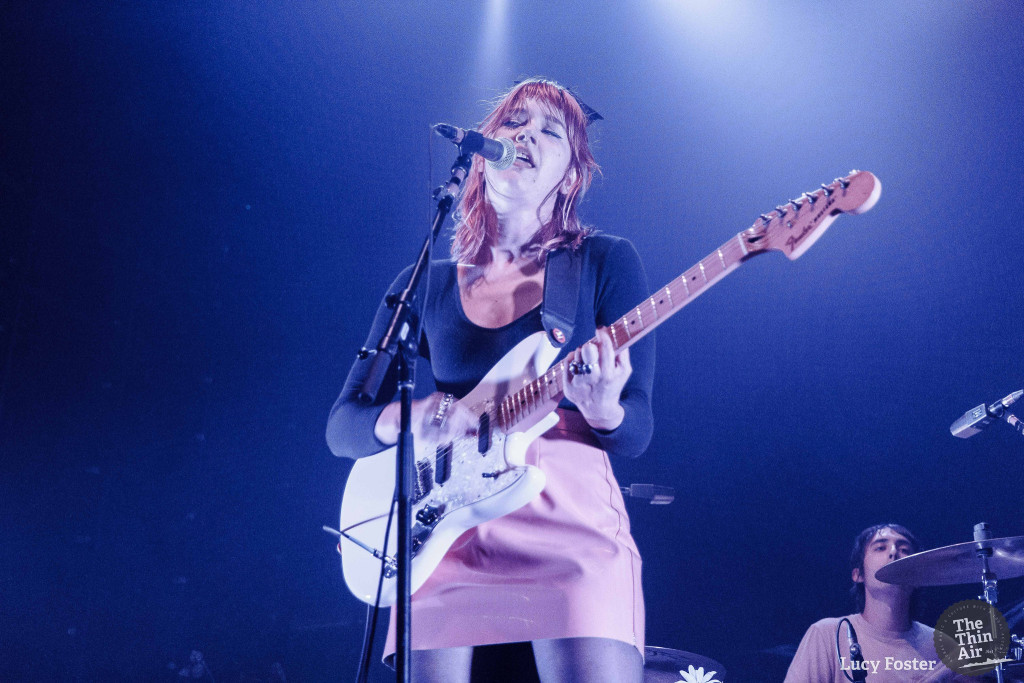 It's not until you watch Paramore zipping through twenty or so exceptionally catchy, massive sounding anthems that you realise just how big this band should be. New cuts such as opener 'Told You So', 'Rose Coloured Boy' and 'Fake Happy' have the crowd eating out of the band's hands despite being only released a month ago. Fan favourites from Riot! and Brand New Eyes such as 'Turn It Off' and 'That's What You Get' show just how much the band have endured through the death of the mainstream pop punk bubble. Whilst a lot of music from that time period sounds dated or overdone looking back, their songwriting has shown much greater maturity than many of their peers even in their teen years, something that's evident in the wide age ranges within the crowd.
Interestingly, despite the seeming drastic change of direction on new album After Laughter, the set feels cohesive. The same energy and inward looking, earnest lyricism that ran throughout their early releases is just as present in their recent release, making the hot takes in YouTube comment sections seem a bit redundant. The band haven't made a massive departure in sound to chase pop stardom, they've just developed their music along the paths it was always moving. It is noticeable that there is a lack of their debut album All We Know Is Falling from the setlist and they leave a lot of their popular acoustic numbers by the wayside – either signalling a desire to keep the energy up or perhaps indicating that Tour One will be quickly followed by an arena based Tour Two.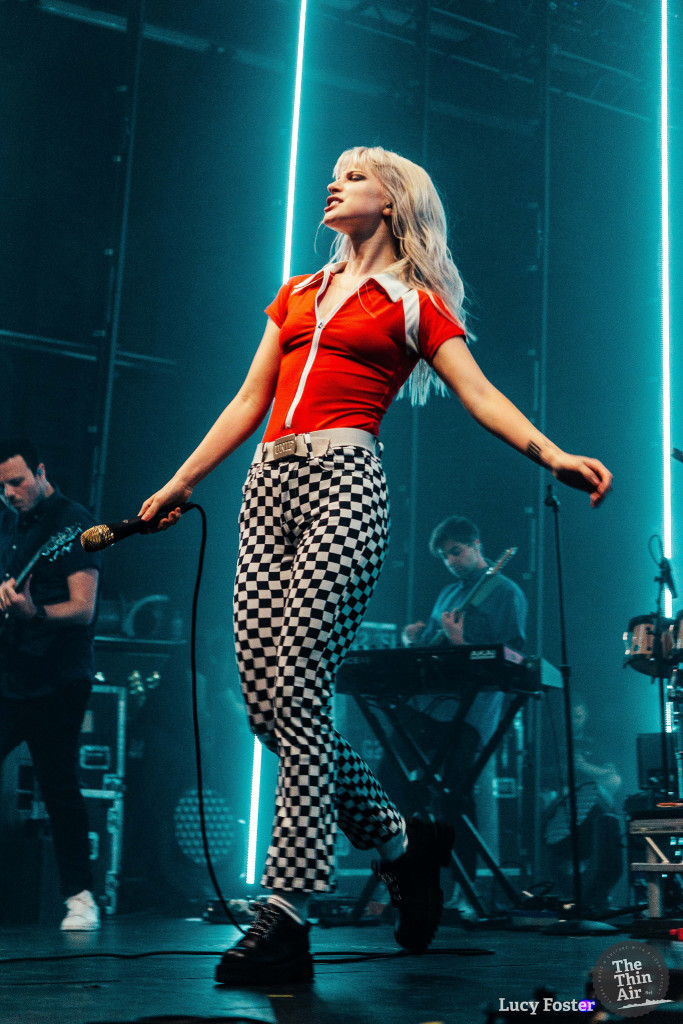 One of the most enjoyable aspects of Paramore's show is, despite their development as a polished act with heavy pop leanings, that sense of community that generally lives and dies within teenage music scenes is still extensively present. Between the band's charismatic exchanges with the crowd (including bringing up an audience member to sing the second half of 'Misery Business') and the audience's undying devotion to screaming every lyric at the top of their lungs, the Olympia feels like it's been invaded by one massive, angsty but happy family. Regardless of media furores around band member fall outs, the group seem genuinely exhilarated to be performing and humbled by the devoted audience. Williams, Farro and York constantly bounce off each other throughout the evening and despite Williams' exceptional stage presence, it's very clear to all that this is a band and not just Hayley and her backing performers. That band chemistry permeates everything they do – making the old songs sound more exhilarating than ever and making the new songs sound like a band on the cusp of superstardom.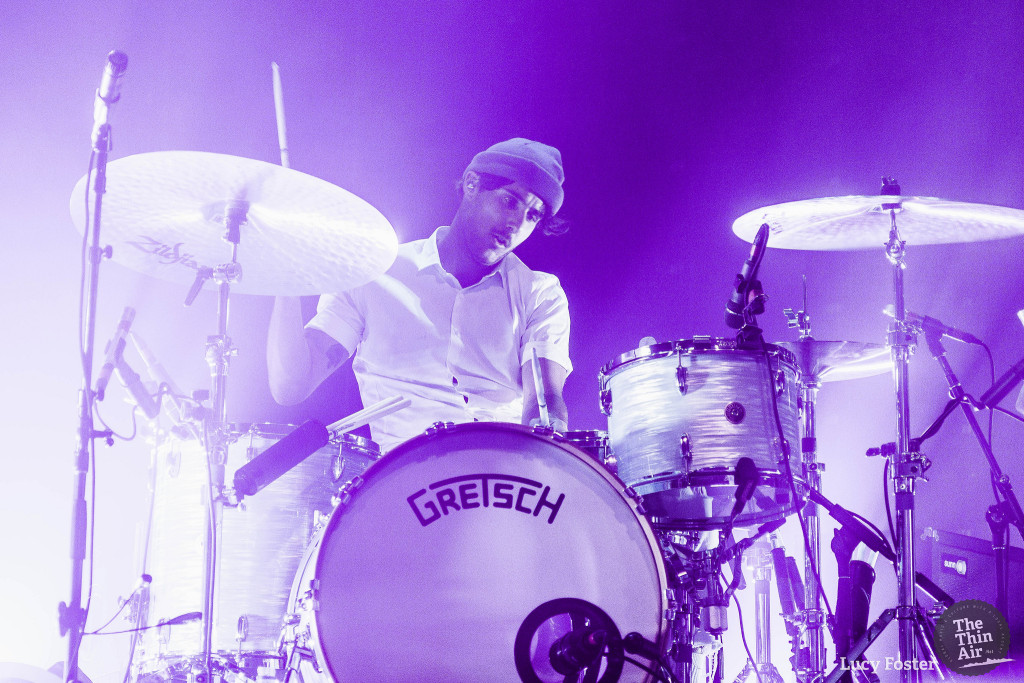 About midway through the set, Williams pauses to muse about how everyone in the Olympia this night has been brought together by music and how beautiful that is. From some that might seem cheesy but it's the perfect summary of the show – Paramore and their fans are here out of sheer love of music. There's no pretence, no showboating and everyone is welcome in Paramore's world. Kelly Doherty