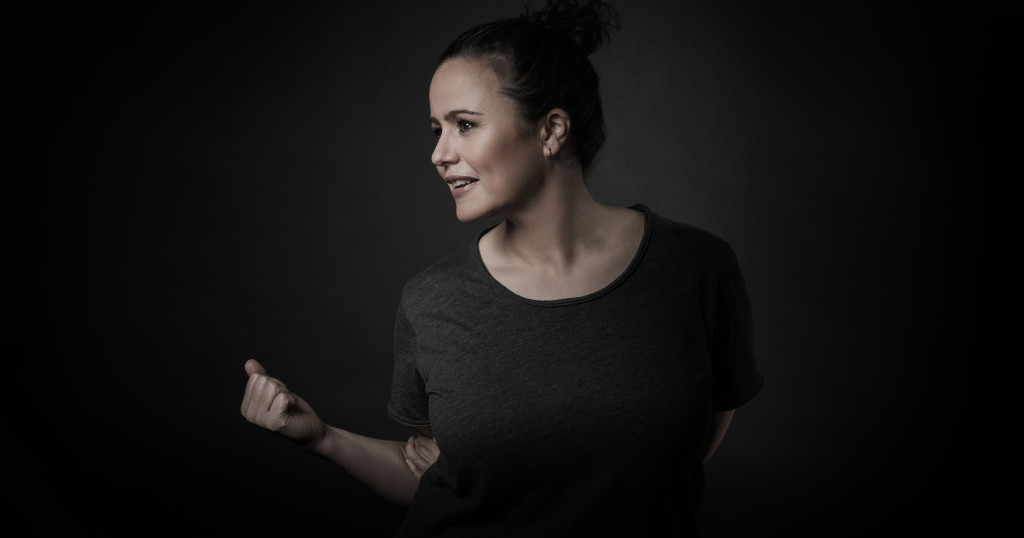 The Fabric and Fabriclive mix series have been on a roll recently, with stellar entries from Special Request, Call Super and Nina Kraviz recently added to the canon. The latest addition, Fabric 94, is from Dutch DJ, producer and label owner Steffi. A longtime resident at Berlin's Panorama Bar (the house-focused corner of techno monolith Berghain), she enlisted an intriguing cast of long-time friends and new faces, asking each one to make a track specifically for the mix. What came out of it is a deep and dark journey with plenty of minor key drama, subaquatic basslines and nary a 4/4 kick drum to be heard.
Steffi also recently announced a series of appearances at Belfast's Twitch club, to which she has been a regular visitor over the last few years. Ahead of the first one tonight (June 23rd), Chris Jones spoke to her over Skype from her Berlin home.
One of the most striking things about the new Fabric mix is that all the tracks are exclusive, unreleased and produced specifically for it by your friends and collaborators. What made you decide to do it that way?
Getting asked to do a mix CD you think, 'where are we in general, in the music scene?'. Everybody has Soundcloud and is doing podcasts; things are really saturated with loads of mixes. If I were to just do a four-to-the-floor dance mix, like for a podcast, it's not really something special. Basically, I wanted to do something that was more everlasting.
I looked into my CD collection and realised that the Warp Artificial Intelligence CDs are still in my car and I still play them and enjoy them a lot. These were done almost 25 years ago and they were a reference point in terms of quality. I wanted to step away from the linear kind of DJ mix – also because [music is] really, really linear at the moment and I think we're ready to break out of the box a little bit and do something less four-to-the-floor. That's where my roots lie anyway, so for me it was nice to go back and widen the horizon again.
I thought, 'How about explaining this to a group of artists, and asking them if they want to make a track with that mindset in the back of their heads', and everybody was really enthusiastic and ready to commit straight away.
Did you ask people to make tracks in particular keys or tempos that they would fit together?
The only restriction I gave people was that their track could not be a four-to-the-floor, straight beat. It needs to be an offbeat track. But I never asked anyone to stick to certain tempo frames or keys they had to write in. It's up to me as a solid DJ to be able to use my skills and blend it together. Otherwise I might as well get somebody to mix it for me!
Can you tell me about some of the artists that are on there? You have a long-standing relationship with Dexter for example, isn't that right?
Yeah, he's been my friend for a long time. We started together in the late 90s, started a record label together and we've been working together for a very long time. I asked Shed to do something for this CD and he actually came up with the proposal to do a track together [as STFSHD]. And there's a collaboration between me and John Daly under a completely different alias [as UAS]. John was here for a couple of days and we went into the studio. Then there's a collaboration between me and Martyn as Doms & Deykers.
So that was a lot of me, but I didn't want to use any of my solo work because I thought it was nice to get some special projects on the CD. There are two new guys – Late Night Approach is a new duo from Italy and Afik Naim is from Israel. There's a little bit of the established, a little bit of the new and collaborations. The whole CD is a family affair.
You've obviously put your heart and soul into this mix. With the "saturation" of online mixes, do you think CD mixes can survive?
Oh God, I hope so, because I love CDs. And not because I'm so ancient – I love to play them in my car when I'm driving to my studio or doing the shopping. You're flipping through your collection and you say, 'Oh yeah, let's listen to this one!'. I really hope they're not going to disappear because you can leave something behind.
If I look at that CD and see that intense, red cover it will remind me of all the artists who were involved, and that it was hard work but a lot of fun. It's a great memory and I don't have that kind of memory when I'm doing a podcast, to be very honest. It's something to be very proud of.
This will be your fifth time playing Twitch in Belfast, and you're slated for a series of gigs over the coming months – you obviously have a close relationship with the club. What do you recall of the first time you played there?
All my Twitch gigs have been with Virginia and we went there the first time and loved it, and it was crazy how buzzing it was from the start. At the first party, we opened at 10pm, at 10:30 it was already going off and at 11 it was completely packed and booming. I was standing next to Matt [Burns, Twitch] and I looked at him and said, 'Is this normal?!'. It went off and it just felt right.
I have a very special thing for Ireland, and I think that needs to be mentioned because that makes the whole package complete. But yeah, I just love it. The crowd is so open-minded and so up for it, and it's just pure energy. They're not distracted by anything at all. It's pure rave that happens there. There's no other way to describe it.
The fact that the DJ is always on the same level as the crowd seems to add to the energy.
Yeah, I don't understand why they ever came up with the idea that the DJ should be on a stage. That's absolute bollocks from the beginning to the end. Also, from a DJ's perspective, I like to be on the same level to be able to understand what's going on in the crowd.
How did these regular Twitch gigs come about?
At one point I said that it would be nice to come back soon and do a little bit more together than just once a year, because I love playing in Ireland and I love playing Twitch.
The last time you played there was the 10th birthday, when you and Virginia closed the main room. That must have been special.
So far, every night playing there has been a riot and of course the 10th anniversary was a special one. Their line-up was really impressive – from a DJ's perspective, these guys have an incredible standing where everybody wants to play there, regardless of how big the room is or how big your fee is. With that party, it's all about what happens inside the room, the music and the vibe. It's all about integrity.