Always something of a hugely reliable draw at the annual Stradbally Festival, Body & Soul have revealed the acts set to play its area at Electric Picnic across September 1-3.
With Public Service Broadcasting, New Jackson, Donal Dineen's This Ain't No Disco, ELLLL (pictured above), Oh Boland, Shookrah, Soulè, Everything Shook and SlowPlaceLikeHome instantly grabbing our eye, here's the full line-up: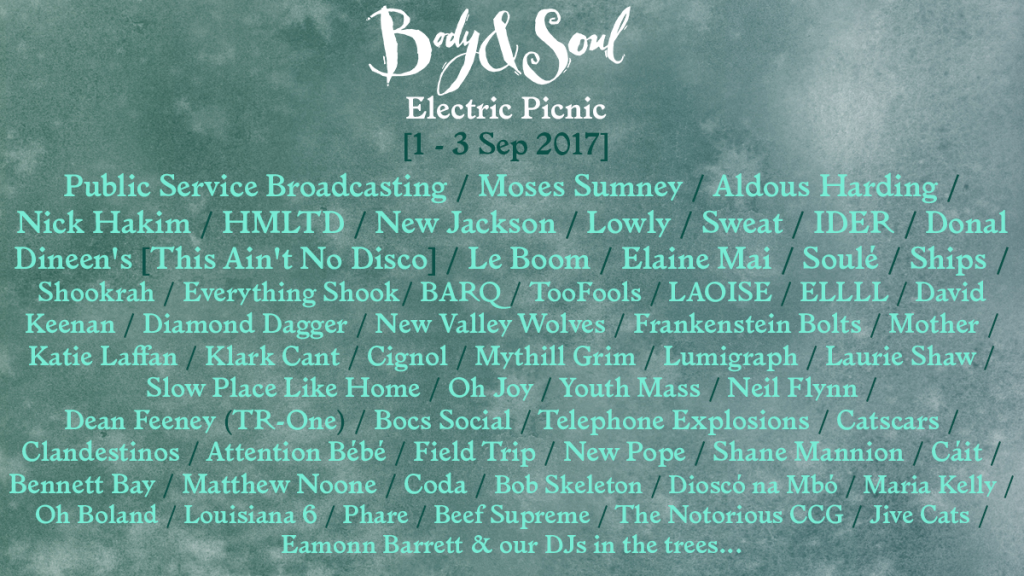 The acts will perform at various stages in the Body & Soul village, including the Body & Soul stage, the Peace Pagoda, The Bandstand and The Haunt. Plan ahead below.
Body&Soul Stage Line-up
Public Service Broadcasting / Moses Sumney / Aldous Harding / Nick Hakim / HMLTD / New Jackson / Lowly / Sweat / IDER / Donal Dineen's [This Ain't No Disco] / Le Boom / Elaine Mai / Soulé / Ships / Shookrah / Everything Shook / BARQ / TooFools / LAOISE / ELLLL / David Keenan / New Valley Wolves / Frankenstein Bolts / Klark Cant / Mythill Grim / Laurie Shaw / Oh Joy / Youth Mass / Telephone Explosions / Clandestinos / Field Trip / Bennett Bay / Matthew Noone / Coda / Bob Skeleton plus DJs in the trees…
Earthship Stage Line-up
Diamond Dagger / ELLLL / Lumigraph / Mother / Neil Flynn / Dean Feeney (TR-One) / Katie Laffan / Attention Bébé / Cignol / Slow Place Like Home / Catscars / Bocs Social / New Pope / Shane Mannion / Cáit / Dioscó na Mbó / Maria Kelly / Oh Boland / Louisiana 6 / Phare / Beef Supreme / The Notorious CCG / Jive Cats / Eamonn Barrett
Peace Pagoda Line-up
Sunken Foal – Live AV / Simon Bird / Lil Dave & Friends / Aquarian / Ickis Mirolo / Ian Nyquist & Dillon O'Sullivan – AV Set / Rob Le Nan / ROSBEG – AV Set / Dowry / Baba / Mike Falvey / Eamonn Winehaus/ AGORILLA / Serdih / More TBA
The Bandstand Line-up
Colorama / Klark Cant / Penrose / WOB / String Theory Sound System / David Keenan / Susie Blue / SÍOMHA / 045 Recordings / RUTH / Thank Funk / Just Mikey / The Ocelots / Stonecutters / More TBA
Here, There and Everywhere
Pop-up performers / Spontaneous Discos / Theatrical Displays / Moments of Madness / Cozy Corners / Epicurean Treats / Unexpected Surprises and much, much more