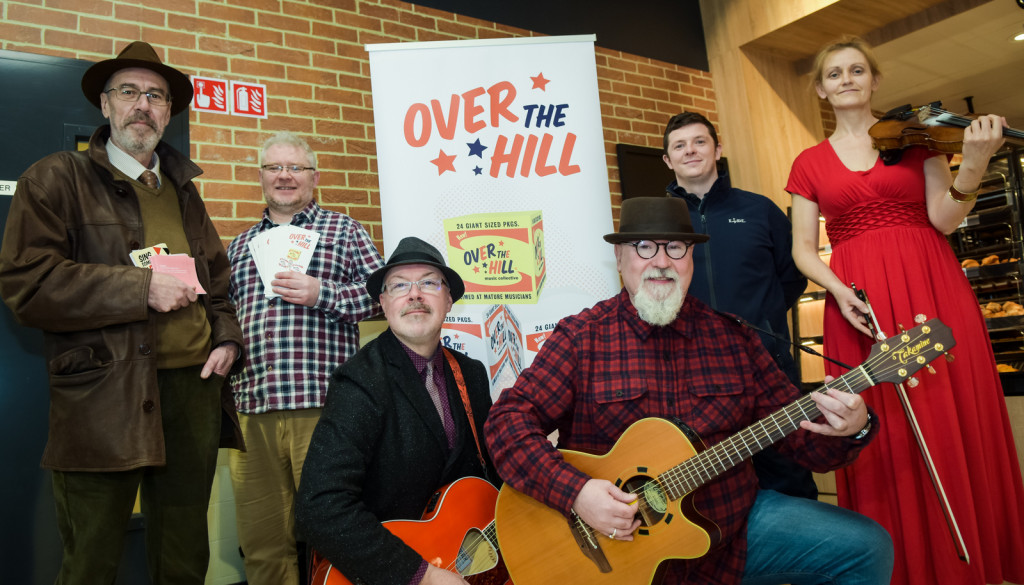 Having grown in leaps and bounds over the last seven years,

Over The Hill

is a music collective based at Belfast's Oh Yeah Music Centre aimed at mature musicians but open to everyone. Brian Coney chats to founder Paul Kane about its foundations and development, as well as why it's a crucial link in bridging music, community and the older generation.
Hi, Paul. First thing's first: how did the Over The Hill collective first come about?
It started about seven years ago. When I first walked in the doors here at Oh Yeah Music Centre I had just changed careers and I'd been a musician about 20 years before that and wanted to focus on music. I came in here and saw the amazing outreach that was going on but realised there was very little happening for people my age and older people. I thought, "Why wouldn't we have those opportunities?"
So it really kicked it off as I have a really strong sense of social justice, so I wanted equality for older people, and that's really where it kicked off. We wanted just a platform for people to come, enjoy music and have a safe environment and maybe be able to speak to peers about say, music, guitars, amps, genres or politics that maybe they wouldn't get anywhere else. It was a consensus of coming together and have a lot of like-minded people.
You call it a collective. Did you consciously prefer that over programme or initiative?
Yeah, for sure. It's a collective in the fact that people bring what they want. They can jump on board, but they don't have to stay. But also, although it's aimed at older people, it's open to everyone. You bring in whatever you want and you take away whatever you can. But as long as you give something back. It's about this idea of dipping in taking something and also giving something back at the same.
We had some really interesting stuff happening because we had some young people coming through initially, they were more clued up in regards to social media and new technologies, but then the reciprocation was that there was older people that maybe had niche guitars or vintage amps, that perhaps some of the young people were trying to emulate. So here was this beautiful marriage of musical minds coming together and having this shared collective thought about making music.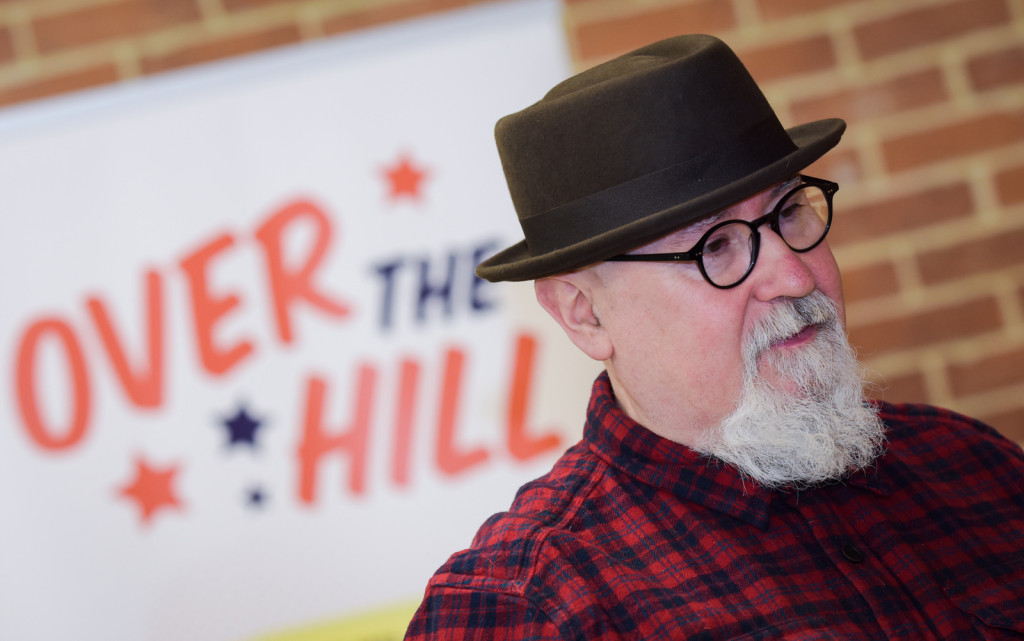 And that's really as pure as it gets. Of course, there was something a gap there – not in the market necessarily – but in the area for something like Over The Hill. Were you aware of any similar programmes or initiatives existing?
At that stage there wasn't really too much happening. Obviously, I work in the arts field and I knew about things like Spring Chickens, Big Telly and Singing for the Brain, but those would have been for older people, around aged 65+. For me, there's this almost forgotten class of people from around 50 to 65, who are almost in this holding pattern. If you look at many bursaries they're for 18-24 year olds. There's very little for the age group 50-65, so for a lot of people approaching retirement age, it almost feels like entering a demise.
The name itself – Over The Hill – was chosen as a way of just saying, you know what? It's an irony. It's not about branding you. It's about freeing you from that. It was a case of taking something negative and making it a positive. It pisses people off but I don't have a problem with that. I wanted to see something in the same way the LGBT community has taken back the word queer. It was always a negative thing when I was a young man. Now it's embraced, it's a badge of honour. So, we haven't quite reached tipping point yet where society allows older people to be who they want to be. But our members have turned around and said they're in a place that they can look back but also forward more clearly, so they've taken on board the meaning of that themselves.
What kind of promotion have you taken to try to expand and advertise OTH – especially beyond social media – over the last few years?
The big things that we've done are obviously live gigs and our monthly meetings. We've religiously had them on the last Thursday of every month. So even if you don't where we are and what we're doing with the collective, you can always jump in – you know it's the last Thursday. But the fact that we've produced two albums also means we have been able to use those as a vehicle for getting our message out there. We've performed those songs, we've been on radio and people have been very kind to us. Arts Extra and Ralph McClean on BBC Radio Ulster, for example, have been playing our work and they get what we do.
Producing an album is a milestone. I would like to produce one every year. For my generation, it's coming back in vogue to have something in vinyl. I've always wanted to see my name on a piece of vinyl – "written by Paul Kane" – and that's still aspirational to this day. But the beauty of this project is that it's through word of mouth, and it's also about the music. All musicians want to create – they want to have something down, and just because we're older doesn't mean we have different feelings about that. In many ways, in being older, we have a sense of freedom, we're not tied to a genre, we're not tied to a label, we're not tied to a commercial manager, and we are very open in our creativity. Cicatrix, the latest album, really highlights that for me.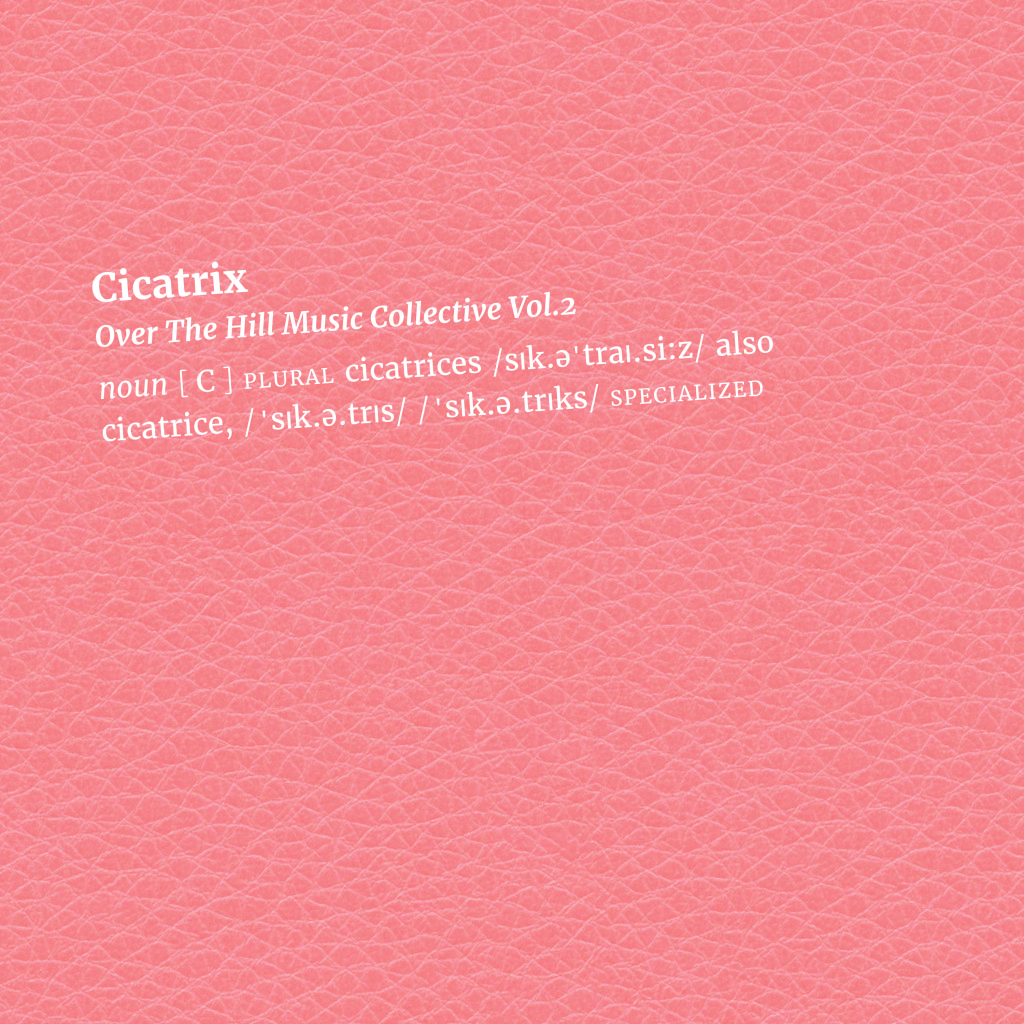 Cicatrix is the second OTH album. How does it differ from the first one in how you approached it? Did you feel a lot more confident in the writing and production of it?
Well, we really pushed things. We worked with Barrett Lahey, who has done something amazing work. He worked originally with Pat Dam Smyth and done some really good stuff. He brought sophistication and some eccentricity to our work. When we started with Velvet Revolution, we didn't have the finance or the resources, so all we could do was singer-songwriters – maybe one acoustic and some overdubs with vocals. And that's all we had time to do. It was a good overview of who we were and what we did. For this album, we decided we wanted to go heavier. We wanted to have something more consistent. So we developed a house band. We literally went out and said, "We need a bass player, we need a guitar player – can you come together?"
About a month before we had sent out a brief to say to people, "We're going to call this album Cicatrix. Cicatrix is a Latin term for scar tissue that forms over a wound. So what we wanted you to tell us as an individual was something that you had come through. It can be anything you want." That was the rough brief for the album. We also said to people, "Keep it reasonably up-tempo" because we just wanted something driving. So we had the consistency of the band and people brought their demos to us a month in advance of that recording. We literally just arranged and tracked all the stuff ourselves in rehearsal spaces. It came along, we invited people to the sessions with Rocky O'Reilly and Niall Doran at Start Together – who did an amazing job. We literally live-tracked the album. It's all live minus the odd guitar or fiddle solo. Someone said to me they thought it was very cinematic.
The first track by Bernard Jackson throws you into somewhere you're not expecting, and when you come into Liz's track – which is a 1940s vibe – it's really varied and I think it shows all the individuals and their strengths.
I noticed the themes of home and journeys seems to be common amongst song titles. Do you think a strong sense of candour comes across on the album, especially bearing in mind the brief that was given?
I think there's a strong sense of catharsis in there, where people are using music – as musicians do – to express themselves. I think the fact as it was a shared experience with the band meant people were very brave. Looking through that window into the control room in the studio is quite daunting. If you're tracking a vocal or guitar solo, you have this professional producer and maybe four or five other people watching you do this it can be quite stressful. But the rewards are immense. We had a listening party for the rough mixes and the smiles on people's faces were just amazing. This place just lit up. People were hearing each other's tracks for the first time, because everyone had a window of three or four hours doing your thing, leaving and then the next person came in. We really worked hard, as did Rocky and Niall – you were amazing. They were very welcoming. At one stage, on the first song I did a solo – it was just off-the-cuff – and I was really happy how it turned out. And Rocky turns to me and says, "I keep forgetting you're a musician." It's a nice compliment – maybe slightly backhanded but you'll take what you can get!
According to a social media post I've spotted recently, you have six new songs written. Is the third album almost there already?
We decided that because we're a collective we take on board what people want to do. One thing people asked for was more collaboration and more stuff about songwriting. So in the last meeting we did a Nashville singer-songwriter type vibe, where we just paired people up, and we got six songs out of that. We don't have to use those but they're sitting there and they could be used. Like everyone else in the industry, it's tricky to get funding to try and put some money together to go in and do this third album but we think it would be a great third milestone for us to reach because we bring people on board all the time. For example, on the very first album, we had a guy who had never been in a studio before and in two months he was played on the radio. We also had a gentleman who was profoundly deaf who also recorded with us. When we played the stuff live here for the first album he blew both of his hearing aids and was like, "How rock n' roll is that?" I thought it was amazing. So we're just encouraging people to write, to do their own thing and to get rid of the shackles of "I'm now sure I can do this. I'm not sure I can go out there." That's what Over The Hill is about: having a platform and an environment for you, where you can just do what you want. Just for the love of the music. It's very rare that you get that these days. Either the bar wants you to make money or you have to make money on the door. We're saying, just come in and express yourself. It's about art, and music for music's sake.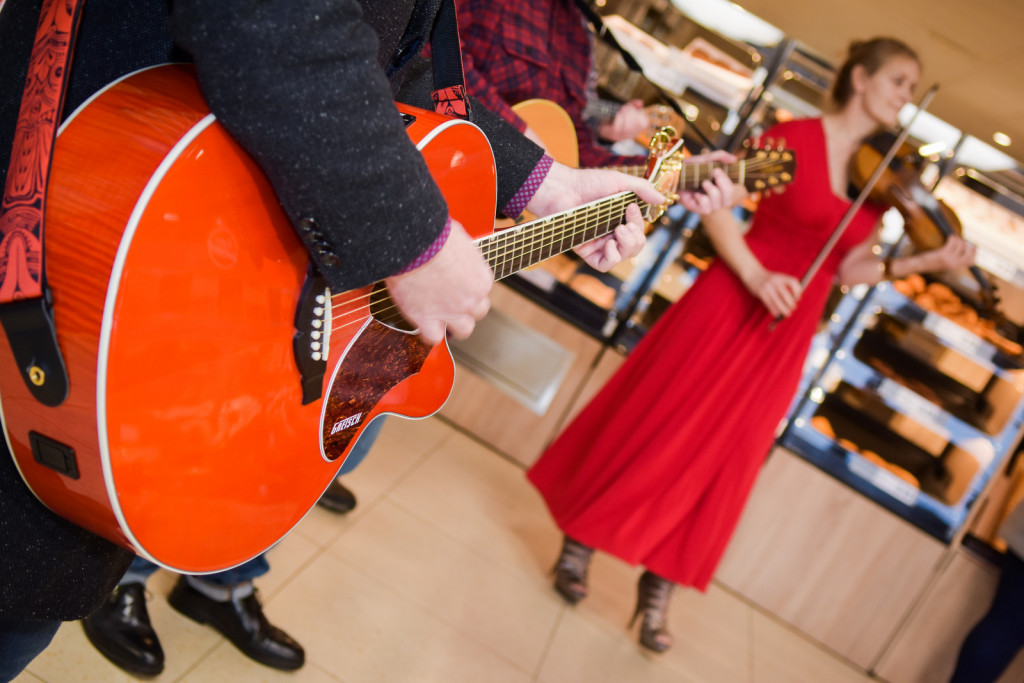 You've always been expanding the collective and integrating new things. For example, Rachel Austin did some vocal coaching recently. How have you managed to try to expand it into new territory over the last seven years?
Oh Yeah is our spiritual home. Of course, I work here as my day job but it's been really special through both Stuart Bailie and Charlotte Dryden. It's been amazing. But when we first started we were twelve people sitting around a sofa, with a couple of acoustics, having a yarn. Whilst that was great, we felt that we weren't pushing people enough. So we went to the Arts Council and that's how the first album came about. But also we bought a PA, a couple of mics and a mini stage, so when people came along it's a different vibe to perform through a PA and on a stage, and with lights on you. So that was another skill. We almost forced people to get up on to the stage, even though they didn't really need a PA, but we felt it was going to garner them well for whenever they played other gigs. It was a good experience. And you know yourself when you're performing in front of an audience, it's a completely different thing to playing on your own.
The other thing that we did was join people together to play together. Initially, it was sometimes tough but it always came together nicely. We've also done some interesting things like if we had some people performing we did a song swap, so if you brought one of your band's songs, I would cover it and you would maybe cover my song in a different style. We have been really lucky in that we've had some amazing mentors in, too, as well some really great people who work within this building: Rocky, Niall, Leif Bodnarchuk to talk about his touring and Jon Moorehead to talk about mastering. We've also had Anthony Toner, a punk Buddhist from New York – a bass player – called Brad. So we try to hook up with people who we feel can offer something to the group, but who can also move you and your songwriting and performance as well, be it learning new guitar chords, improving your songwriting skills, home production and recording techniques.
The final part of the evening is usually you get this idea of performance, so it doesn't really matter what stage your work is at. We've had people read lyrics out, we've had others saying, for example, "I'm thinking of writing a song about my son. Here's the idea. What do you think of this?" So it's a very open, organic thing.
What you to say to anyone who has heard of Over The Hill and has been interested in coming along, but have yet to do so? Or indeed, complete newcomers to what you're all about?
The next one is going to be on the last Thursday of July (27th). It can be a little tough coming down, especially on your own, but come in, we're very welcoming. I'm usually the first port of contact over e-mail or phone. I'm usually the first person they see. I'll have a yarn with them and maybe introduce them to a few folk, and that's all it takes. If you're interested in what's going on, that's great.
But another thing is that we want to give something back as well. So some of the work we're doing is working with people with dementia. With some of our musicians, we're going out to residential care homes and other places and doing performances. So we've developed a whole range of songs and workshops where we can incorporate that in with people with dementia. There's no PAs, it's not invasive and we can quiet down if you want and have a whole range of activities. That's been amazing and we've done some incredible work there.
But the polar opposite of that is that we've been playing Acoustic Picnic at Oh Yeah and we decided to write a theme tune. It's not quite on the same scale of Sesame Street but I'm proud of it. What I had said to Charlotte Dryden (Oh Yeah CEO) was, "I'd love to have a group of children record this for us." Her son, Jack, is in a pre-school nursery with fifteen other three-year-olds, so we brought them in to Start Together to record a theme. The guys were just incredible. It was written by me, we brought it in and recorded it. At three-years-old, that's a pretty cool memory to have and a piece of music with your voice on it. So we're pretty eclectic in what we do. It's always creative, we always try to push the envelope slightly, we're always trying to say, "What can we do that's a little bit different?" We've very proud of what we're doing.