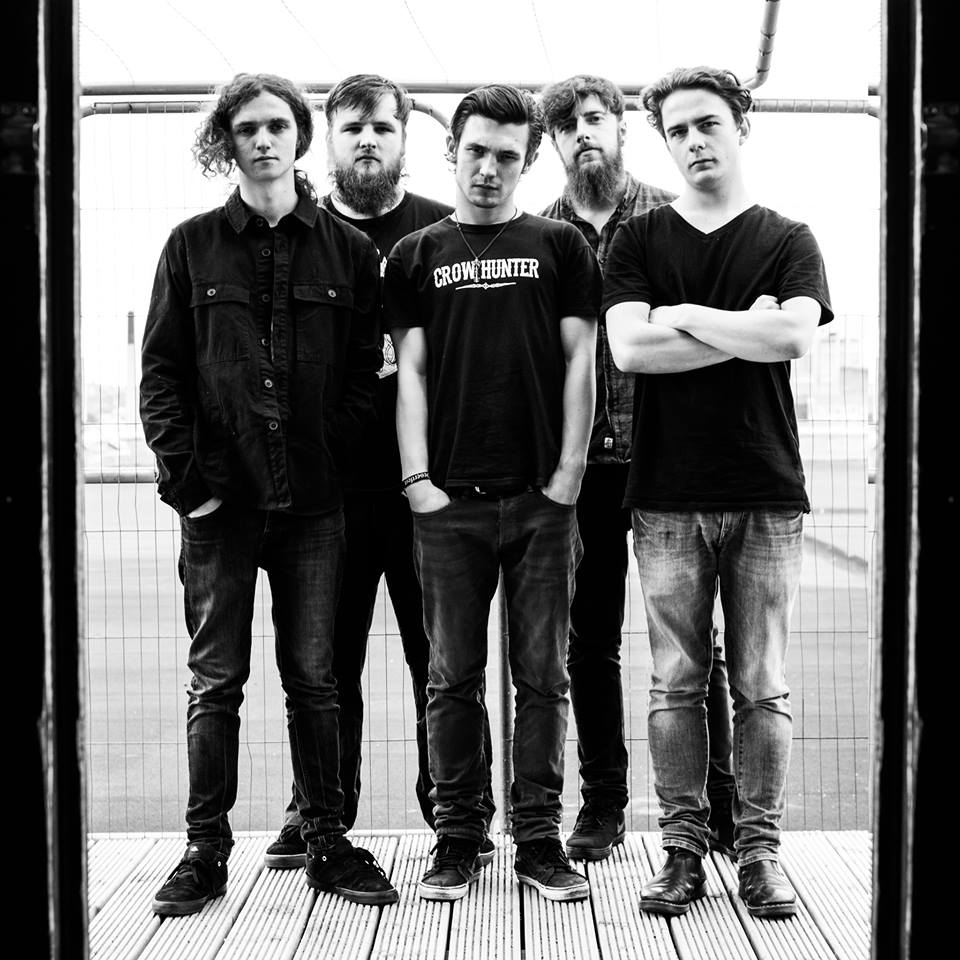 Last week we premiered 'Witchdoctor', the lead single from Belfast sludge doom band Elder Druid's forthcoming debut album, Carmina Satanae. With the album – a fist-clenched, eight-track statement of intent – set for release at Belfast's Bar Sub on Friday, October 6, we chat to the band about influence, evolution, dark lyricism and why Ireland punches above its weight when it comes to the low-end.
You've recently been in the studio recording your debut album, Carmina Satanae. How was the experience?
Dale (Hughes, bass): I think it's safe to say that from start to finish the environment was easy going enough that everyone felt at ease and were able to get into their creative space, but with a sense that Niall was on the ball enough that we didn't have to worry about going off track. I thought the studio itself was fantastic, definitely the best I've worked in at this stage. I had that kid in sweet shop feeling when I saw the gear we were gonna be able to use. Genuinely can't really think of anything I'd change!
You recorded with Niall Doran at Start Together in Belfast. Why did you opt for him for the coveted first album?
Dale: We knew he was good and we knew the studio was good, and the price was right. We also were fans of a few records that were produced there.
Jake (Wallace, guitar): Niall was the first guy to ever buy an Elder Druid shirt when we first started off and countless people have told us that he had recommended us to them. He's a cool dude and a big fan of doom so he was the perfect choice.
There's a lot of weight placed on debut albums. How did you ensure you were prepared before going into the studio? And was there much experimentation when in there, or was the material all nailed down in advance?
Dale: I think we just kinda knew it was getting somewhere great. Sometimes there's just this instinct where the vibe is so good that every time you play the songs, it almost feels like a waste not having them recorded. I started feeling that way about 3 months before we went in, not about all of the songs though. It took me by surprise, but for me some of the songs really crystallised in the last practise session before the studio. We'd been playing everything live a lot, we've done a lot of shows recently, but it all fell into place. Personally, I like to keep my playing open-ended and rarely commit to one part, and deliberately went in with some space to work. Once I heard what it was sounding like in the mix, I knew that there was a specific vibe that would work best, so kinda committed to that on the day.
Your sound bears the hallmarks of a lot of great sludge-doom. But which artists do you think have left an imprint in your own sound, especially on this release?
Dale: Genuinely, I find it quite difficult to identify any direct influences on what we did there. We're obviously 'standing on the shoulders of giants' here, we've all seen loads of doom bands recently, but I think there's a vision that goes a bit beyond what we've seen before. If I had to quantify it somehow, I guess the 'universe' we're in for this was created by people like Matt Pike, Tony Iommi, countless American stoner bands down the ages really.


Carmina Satanae translates as Songs of Satan. Is this angle concerning occult storytelling something you all share or is just something to adorn the low-end?
Dale: I feel like we're creating a landscape for Gregg to do his thing when we play.
Jake: It gives the songs a lot more depth having stories being told underneath all the riffs and not just random babbling. Gregg has a very imaginative thought process and big, heavy fuzzed out riffs are the perfect backdrop to his dark lyricism.
In terms of the lyrics generally, what themes are confronted throughout?
Gregg (McDowell, vocals): Carmina Satanae portrays many scenarios; making a sweet deal with the devil, going insane from loneliness, a prehistoric snake overlord, a thieving Wizard, a tumultuous post-apocalyptic battle for freedom, an adventure through the forest to be driven of your demons, a DMT trip gone wrong named after a bag of weed and a song about absolutely nothing.
Ireland pushes above its weight insofar as heavy music – not least doom and heavy psych – is concerned. Why do you think that is and where do you think Elder Druid fit in amongst your riff-wielding peers?
Dale: I haven't travelled enough to be able to give a complete answer to this, but I think Ireland is very unpretentious in terms of the bands that are spawned here, which maybe results in a tendency for them to be more similar and more interlinking than in other places – people are less desperate to stand out perhaps. Also, I've noticed that the bleaker the place you're from, the heavier the music. That might seem obvious to some but I still haven't fully worked out why it happens, it's a mystery.
The album is a big statement and noticeable progression from last year's Magicka. Looking ahead to its release and the aftermath, what would be the ultimate goals for the band, in terms of its reception, and what it may lead to in the coming months?
Dale: I just want us to be heard and enjoyed by as many people as possible! And making new songs.
Jake: Playing Desertfest London this year would be one of the big goals. It's like the Premier League of stoner/doom metal these days. Can't wait to get stuck into writing some brand new material as well and touring around the UK/Ireland in 2018.