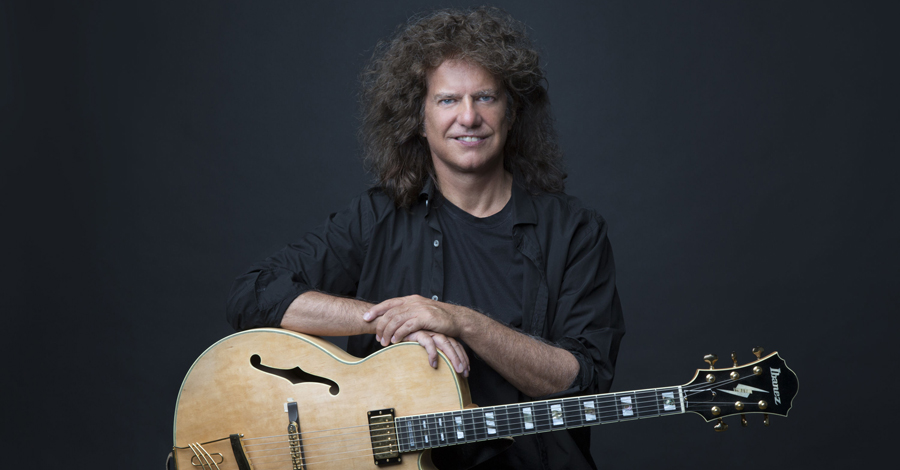 It's taken a while, but the wait for the many Irish fans of twenty-time Grammy-winning guitarist and composer Pat Metheny will finally be over when he plays his first ever gigs in Ireland, in Dublin on 13 November and in Belfast on 14 November.
Given Metheny's extensive, globe-trotting tours since the mid-1970s it seems odd that the Missouri guitar legend has never previously made it to Ireland, a curious fact that's not lost on him. "I have been wanting to play here for forty plus years now," says Metheny, "and for one reason or another, it has never happened. I am really excited to finally be able to visit and play for everyone."
Though clearly delighted to finally be able to play for Irish audiences, the whole mystery of the live experience –the communion between artists and audience – is something that still leaves Metheny scratching his head.
"You can play a place you have played many times with a certain expectation and it can be nothing like that at all. Or you can play the same venue in the same city for three nights in a row and each night will have its own character."
As leader of his own groups, Metheny has long been accustomed to playing municipal concert halls, not to mention auditoriums and arenas more used to catering for rock bands. In 2005, the Pat Metheny Group closed out the Montreal Jazz Festival with a three-hour performance before a mammoth outdoor audience of 100,000.
It's a fairly remarkable state of affairs for a jazz guitarist, but Metheny, an undying servant of the music, is seemingly just as content playing to a couple of hundred people at intimate venues such as Ronnie Scott's.


"I enjoy the variety of it all," says Metheny, though the unchartered territory such as Dublin and Belfast does hold a certain allure. "Playing in a new place is particularly interesting. I try to have no expectations and to offer the best I can to each moment."
Metheny's Dublin and Belfast gigs are a rare chance for people here to witness one of the most exciting and most influential jazz musicians of modern times. It's no outlandish claim to say that nobody has done as much as Metheny to alter the perception of the guitar in jazz since his first high-profile gig with vibraphonist Gary Burton's band in 1975.
The guitar, as Metheny has pointed out in the past, has more associations to more people than probably any other instrument. From courtly Early Music to singer-songwriters, from classical giants like Andrés Segovia to the electric bohemians typified by Jimi Hendrix, and from metal merchants to experimentalists such as Fred Frith. Metheny, however, straddles genres and styles like few other guitarists.
It's telling that Metheny's multiple Grammy awards have come in categories as diverse as Contemporary Jazz, Jazz Fusion, Rock Instrumental and New Age music, with further nominations in pop and country categories, for Metheny is a master of acoustic, electric, synthesizer-guitar and, as Dublin and Belfast audiences may witness, the unique, 42-string Pikasso guitar.
Metheny's own records have embraced straight-ahead jazz, Latin-tinged fusion, hour-long through composed suites, solo acoustic outings and outré avant-garde experiment. He's collaborated with Joni Mitchell, flamenco singer Enrique Morente, Polish folk singer Anna Maria Jopek and David Bowie – a partial list that says as much about Metheny's openness to music as it does his willingness to play outside his comfort zone.
There have been film soundtracks too, notably for The Falcon and the Snowman (1985), for which Metheny and Bowie recorded the hauntingly beautiful 'This Is Not America'. Metheny had written the music, with Bowie then adding the lyrics. It's a collaboration Metheny looks back on with some pride. "It's one of the greatest protest songs ever written," says Metheny of Bowie's lyrics. "It has special resonance right at the moment."
'This Is Not America' was a hit in both UK and US pop charts and has since been covered by artists as diverse as rock singer Lana Lane, classical pianists Ahn Trio and most recently, Tori Amos. It was also poignantly interpreted by Charlie Haden's Liberation Orchestra on the album Not In Our Name (2005), an eloquent protest against the US/UK-led invasion of Iraq.


Over the years Metheny enjoyed a close musical bond with Haden, who died in 2014, arranging and playing Irish tunes 'Fields of Athenry' and 'Down by the Salley Gardens' on Haden's album Rambling Boy (2008). On a superficial level it might have seemed like a divergence from Metheny's more usual path, but folk traditions and pastoral soundscapes have always been part of Metheny's vocabulary. "I think there is a strong and obvious bond between Irish music and the impact it had on what became 'American' music," Metheny asserts.
Although an Irish tune may well slip its way into Metheny' Dublin and Belfast gigs, the set will be drawn from across Metheny's extensive discography. Metheny's latest band brings together long-standing collaborator Antonio Sanchez and newcomers bassist Linda May Han Oh and pianist Gwilym Simcock – three of the finest contemporary musicians on their respective instruments. It's a tremendously exciting formation, as Metheny attests.
"Antonio is one of the very few musicians I have met who has the kind of imagination to keep coming up with germane material night after night, even on a long tour. I know he is really going to take care of business. That allows me a lot of freedom to do different things myself and also focus on the larger picture."
Metheny had heard great things of Malaysian-born Linda May Han oh through other musicians. When putting together a band for this tour Metheny was keen to try out the bassist. "It was instantly a great fit," he says. "I love playing with her."
Over the years Metheny has played with piano legends such as Herbie Hancock, Chick Corea, McCoy Tyner and Joey Calderazzo, although his most significant partnerships have been with Lyle Mays – for three decades in the Pat Metheny Group – and Brad Mehldau, with whom Metheny recorded a couple of albums, also touring extensively. Simcock, like Mays and Mehldau, is another pianist that connects on a deep level with Metheny.
"I do think that Brad, Lyle and Gwilym have something in common in that they all bring a degree of understanding about the guitar as an instrument and what it does and that they can address that from an almost orchestral point of view at the piano. It is different from a saxophone."
It's rare for Metheny to be touring without an album to plug but he is clearly relishing the freedom to explore his vast catalog of compositions, particularly with this stellar band. "It has been great to hear what we can do with these tunes night after night. It has really been fun. You have to keep your eye on the music and play the gig like it is the last time you will ever play." Ian Patterson
Pat Metheny plays Dublin's National Concert Hall on Monday, November 13 and Belfast's Waterfront Hall on Tuesday, November 14.
Photo by Jimmy Katz