Live Reviews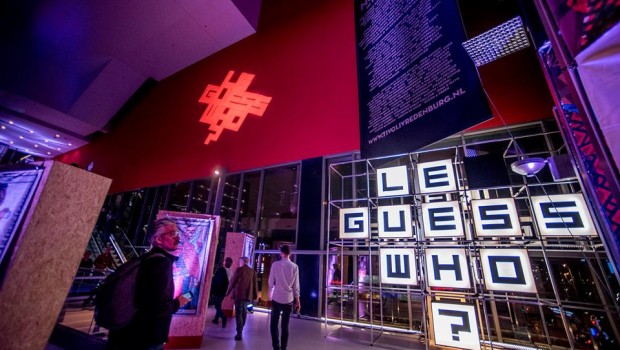 Published on November 24th, 2017 | by Stevie Lennox
0
Le Guess Who? 2017
You can't help but admire the audacity of Le Guess Who? After an almost household-friendly 2016 lineup, they made a point of aiming their powers of tastemaking further toward the underground, with a broad range of curators that give as accurate a microcosm of the festival as you'd hope – Perfume Genius, Jerusalem In My Heart, Grouper, James Holden, Han Bennink, Basilica Soundscape & Shabazz Palaces. This comes accompanied by everything a fan of music & the arts could dream of, including the world's largest record fair, the smaller Le Mini Who? festival.
Every festival accommodates some degree of eclecticism within its audience, but simply put, the compromises made between adventurous and tried-and-tested names in other festivals mean LGW?'s peers are constantly in awe at its purview. This is a festival that follows space-jazz legends Sun Ra Arkestra with the fast-rising, socially-conscious feminist equivalent of gangster rap, Princess Nokia, whose identity is kept secret until the moment she steps onstage in the secret set that closes the festival.
Understandably, given that this festival functions as a bastion of general soundness and good taste in the West, there's a strong undercurrent of multiculturalism and the celebration of activism as shown in the festival-long Black Power Tarot exhibition by King Khan, voices from across the entire spectrum of social commentary – from veteran Jamaican-British dub poet, Linton Kwesi Johnson, through to the aforementioned young, self-proclaimed tomboy & woman of colour Princess Nokia.
Last year, I took a chance on the festival with very little knowledge of it beyond some acts, and came out with a refreshed and broadened perspective from stepping outside my comfort zone to appreciate the cross-pollination of music and the arts. LGW? this year felt like a return home, and an opportunity to use the appreciation I'd since gleaned, alongside a little childlike wonder at what inevitable new game-changers might be in store. In its indoor setting of the Tivolivredenburg and other club venues throughout Utrecht, it's a counterpoint to the traditional festival setup, allowing any set to feels like a standalone headline show if you manage to get there in time for it and treat it with due reverence, and getting into this festival psychology, this method tends towards the most investment in each performance.
International films at the festival include the absolutely incredible, underrated Argentinian black comedy anthology film, Wild Tales and The Invaders, a document about the '60s civil rights activists who came from a pool of Vietnam veterans, musicians, intellectuals who have since been overlooked. It would be completely plausible for a half-dozen people to attend specifically for a single genre, be it jazz, experimental noise, through to electropop. They could see a mutually exclusive list of acts from across the spectrum from and each have a completely different, but similarly nourishing experience. For one, you might try to catch all of free jazz percussion master Han Bennink – who spends the weekend celebrating his 75th birthday by performing with as wide a variety of artists as he can muster.
This includes one Thurston Moore, and while Moore's definitely got his bag of tricks, what's striking is that he rarely, if ever fails to evoke some sense of intuitive narrative or sense of freshness in almost any collaboration. Suitably playful, yet grand in ambition, their set, and Bennink specifically, encapsulates the spirit of Le Guess Who?. His worldly, learned craftsmanship without the straight-line dogma and restriction that can come with it, allows for the complete embracement of music for music's sake when he melds with Moore's audodidactic, primitive, effects-laden, freeform dissonance to create a real moment cherished by the intimate audience in theatre Hertz.
Before the first note hits, Jerusalem In My Heart justifiably kicks out someone in the front row holding an Israeli flag towards the Lebanon-born artist which is, no matter your geopolitical position, the action of a devoutly antagonistic asshole. Thankfully, while it creates no resentment, it adds charge to his amalgam of traditional and modern music, a truly heteroglossic celebration of humanity on Earth. John Maus' set is exactly what you'd hope for – an eccentricity-charged set of ingenious synth-pop, and even if this set lacks the ebb & flow of his studio output, his stage presence more than puts it right as his bellowed layers of vocals grow along with his sweat-patches, breaking out 'Rights For Gays', 'Cop Killer' and every other essential slice of lo-fi charm in his canon.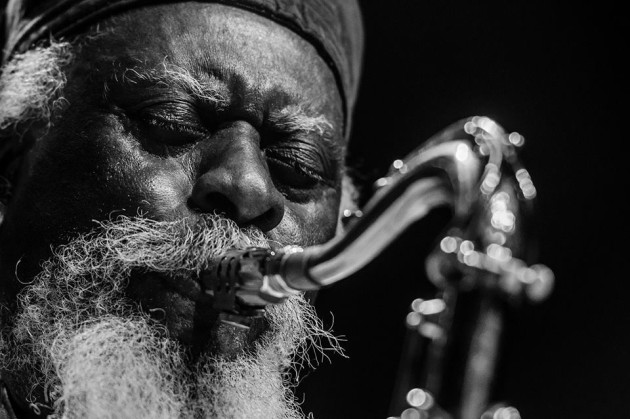 Pharoah Sanders, ©  Tim Van Veen
At his ripe age, jazz great Pharoah Sanders isn't afraid of space. Flitting gradually between chair and centre-stage, when his measured spiritual, transcendental impulse takes hold, it's everything you'd hope. Experimental jazz singer Linda Sharrock is walked onstage, and considering she suffered a serious stroke in 2009 which left her partially disabled and without the ability to speak, performs with an incredible passion for life accompanied by a range of younger, but immeasurably gifted free jazz musicians.
Then there's Mount Eerie in the 13th century Jacobikerk, somehow touring his astonishing, painfully real best-of-year LP, A Crow Looked At Me, written in the short time prior to his wife's passing in July 2016. How can this performance possibly live up to expectation? Are we taking advantage of a man's grief, and is this the commodification of misery? What happens when 500 people are faced with the facts of death? How will I make it through this concert seated beside beside my partner of over three years?
Phil Elverum walks out clad in flannel, looking like the earnest single father from a Duplass Brothers film, and his humility and opener 'Real Death', and throughout his set, he somehow manages to address every point. Unless transhumanism succeeds, people will never cease to be obsessed with death, and during his set, Phil Elverum explores the absurd, in-no-way profound, matter-of-factness of death better more accurately any contemporary artist that springs to mind. His words frantically grasping at memories and the threads of every conceivable anecdote to try to excavate any fiber of potential meaning that can be drawn from the life of his wife, the artist Geneviève Castrée, he still comes up short. Putting into words what can't be accurately put into words, through acknowledging every aspect of the experience, he instead does something altogether more meaningful. It's his descriptions of the silent, mundane moments that help us understand why loss is so hard to bear, but in this, she's immortalised, not on record, but in the emotional imprint left on the people present.
But beyond the existential gravity of this performance, during which he, crystal-eyed, looks frequently up towards the church's arches and roof, we're given the chance to experience his growth in new material, which, with the added perspective of time's passing, looks to be a broader rumination on life and its nature, with topics simply orbiting, rather than directly facing the obvious context. Aside from obviously eliciting the most gut-wrenching sadness of Le Guess Who?, Mount Eerie unexpectedly, genuinely cracks the rapt audience into very audible laughter in a rare, strummed, uptempo refrain, singing: "People get cancer and die. People get hit by trucks and die" in the only singalong moment of the performance. While Elverum thanks us sincerely, without, again, knowing how to fully verbalise how important this moment we've shared is, it's evident that this performance is as overwhelming for him as it is for ourselves, and the reluctant walk out is less indie rock gig than funeral procession.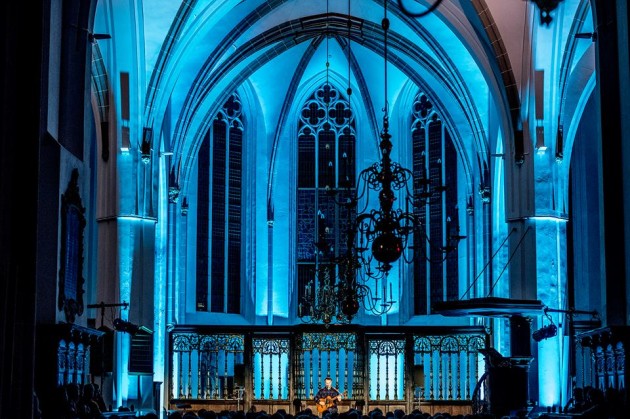 Mount Eerie @ Jacobikerk by Tim van Veen
Although much more earnest, this writing places him close to Benji, and on that note, Sun Kil Moon, one of America's most naturally gifted, plays as Mount Eerie in negative; in actively trying to be funny ["Utrecht sounds like an STI…Utrecht"] he stunts much of the emotional weight and not contrary to recent form, comes across as something of a manchild. Adopting a kind of swing Nick Cave demeanour, backed by his current band performing what are essentially a set of undercooked Crazy Horse jams to frame a set of increasingly heavy-handed raps, with the pleasurable occasional appearance from Sonic Youth drummer & frequent collaborator Steve Shelley. Perhaps it's his attempt to head for the ditch after Benji almost placed him into stardom, but his natural flair for poignancy has mostly been lost in favour of an iteration of himself that confirms what was already suspected – Mark Kozelek is a victim of self-flanderisation, and while we're here to be challenged, we aren't here to be trolled, and it's easy to tell that this doesn't phase Kozelek in the slightest.
One of the more divisive, but definitely memorable sets of the festival is the aforementioned closer. While still young in the game, and very much a zeitgeist-capturer for today, aspects of Princess Nokia's set are jarring. Nokia spends roughly a third of her set detailing the specifics of the intent of much of the material, at times rhyming and explaining her own verses and self-mythologising ["I feel that there is a huge amount of artistic vision and creative spirit in people such as myself"]. However, in minimising the theatrics of her show and self-analysing so literally in an attempt to subvert the performance, she manages to be less subversive than her standard performance – that of a woman using pop conventions & theatrics to spread a message of empowerment to women of colour and those who don't ascribe to the media's narrative of how women should present themselves. It's slightly patronising to the crowd at this festival, of all places, to be drip-fed artistic intent as though we might not understand it, but it's indicative of the pop establishment's lack of faith in an audience's ability to read subtext for what it is.
Possibly to counter last year's most public-friendly lineup, there's an unfortunate number of clashes and unusual stage placing, which seem misjudged and are at the time frustrating – the high-brow pop of Perfume Genius and tUnE-yArDs simultaneously? That said, the latter's set is a flawless example of dancing yrself clean. Merrill Garbus writes entrancing, all-encompassing worldly pop that manages social commentary, folk tales, phenomenal musicianship, looping-layered harmonies, undeniable beats, led by a voice that's too pure in tone to be human, but too human to be robotic. Pharmakon filled the room with her beautiful, painful abstract noise collage, sending us off to tinnitus-inducing levels of high-frequency decibels. There's nothing like the world she creates, and this rammed EKKO performance sees Margaret Chardiet reach every corner of the room in a show that's as immersive & crushing physically as it is sonically.
On the more discordant end of the spectrum, Pissed Jeans once again prove that while they're not an act known for their groundbreaking approach to songwriting, their interactive, practically shit-eating performance draws the most frenetic crowd on display this weekend. On the other hand, METZ are a testament to the power of simplicity, dynamism and repetition and ­remain one of the world's finest live rock'n'roll propositions alongside the likes of Oh Sees and King Gizzard. ­Noise rock's AC/DC, essentially.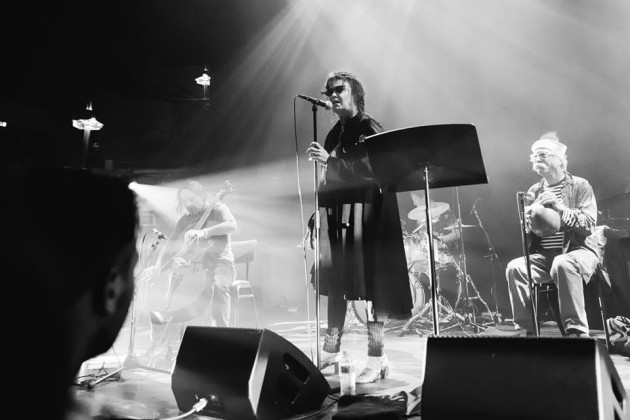 Mary Margaret O'Hara, Photo by Melanie Marsman
Just as this festival has historical precedent of celebrating female artists after self-imposed obscurity has befallen – having last year coaxed a rare performance out of free jazz legend Patty Waters, Mary Margaret O'Hara is undoubtedly one of the festival's finest coups. She's one of the most enchanting, seldom-seen channellers of raw expression. In a bill clearly brimming with them, she gives very probably the most singularly powerful and idiosyncratic performance witnessed this weekend. Her only true studio album that retains its vehement, outsider cult status to this day, 1988's Miss America still holds its charm as an of-its-time deconstruction of pop that could never have been made at any other point in time, in the hands of any other artist.
However, gone are the '80s über-clean Strat guitar sounds and the industry production trappings that came with it; instead, we're given even more deconstruction, including a – it's said often, but it rings true – truly spellbinding 'Somewhere Over The Rainbow', throwing fragments of gibberish, a few seconds of an FM radio, or a voice of authority before singing with the full weight of her being. Heavily improvised, with sparse arrangements, O'Hara's spellbinding delivery and between-song chat keeps me glued to my seat until the climax, and while it's moving, it's not without levity as O'Hara mumbles and jokes with the audience, operating on several levels at any given point. Her small band feature Peggy Lee on cello, Aidan Cross on piano wire, drums & guitar, and her brother Marcus – who, honest to goodness, plays a solo on the balloon that somehow, in this context, is hugely powerful. Whimpering, expressive, funny, soaring, and uncategorisable – she's a true outsider artist, with a voice capable of seemingly conveying any conceivable thought.
Could any other festival fill the largest room – the 2000-capacity Ronda – for something like Mario Batkovic? Not just excelling on this grand stage, the Bosnian accordion player elevates an instrument generally sidelined solely to European folk traditions into a minimalist, but deeply meditative Philip Glass-esque series of instrumental pieces.
This year, it's a test of festival psychology, and in solving their puzzle, as it were, we find out that making the time to see one full set is much more satisfying than a few snippets at the back of a room. This year yields many improvements: increased production values, and across-the-board excellent sound and organisation, more interesting, unique venues. While it was more crowded, and effort was made to have even curators on the smaller stages, and secret sets generally being lesser-known and intentionally allowing for some clashes and venue treks, LGW? encourages the adventure that will keep this fan a repeat customer for some time – and this is a sentiment you'll doubtless see on almost any coverage of the festival. They all say it, but Le Guess Who? does it, without feeling the need to walk us through things. It's as nutritious as the festival experience can get.
Tickets for Le Guess Who? 2018 – which runs from November 8-11 – are on sale now at the disgustingly affordable cost of €90 until the end of November, available here.