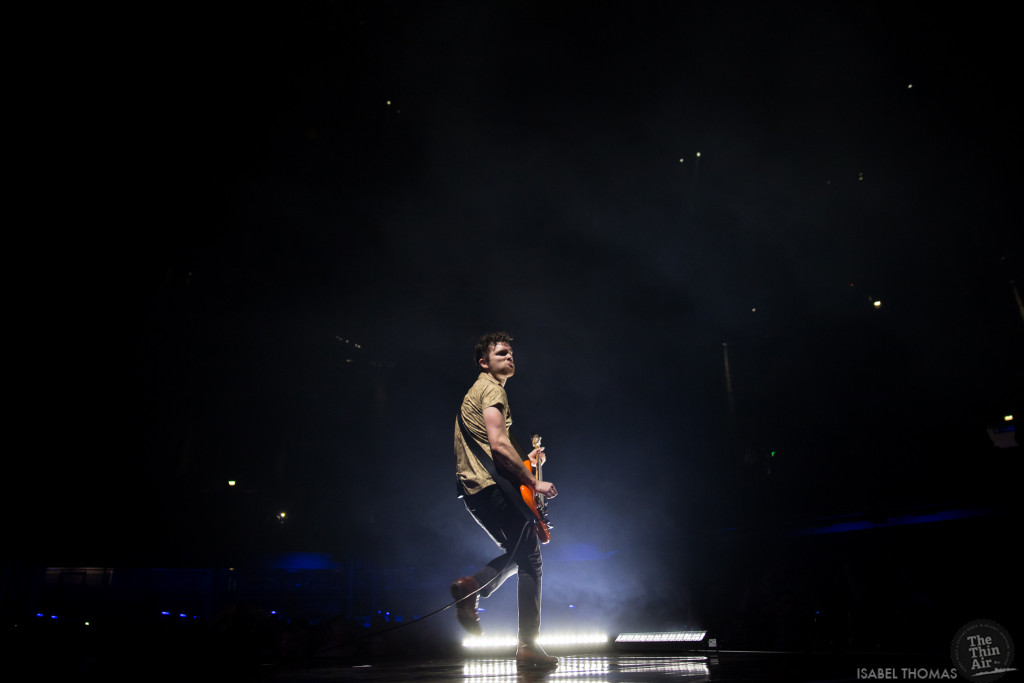 The 3Arena plays host to a veritable smorgasbord of rock and roll tonight with a trio of acts. Riff rockers Royal Blood were joined by El Paso post-hardcore icons At the Drive-In and UK newcomers Black Honey. It caps off a busy weekend at Dublin's arena venue, which saw Queens of the Stone Age and Queen take to the stage on the two nights previous, with many of tonight's attendees adorned in tees from these shows.
On a rainy Sinday night, this added to the feeling that tonight was somewhat of a hangover from what were undoubtedly better gigs. The fact was emphasised by a relatively sparse crowd with the majority of the seating section sealed off and large pockets of space on the floor. Although Royal Blood's brand of easily digestible rock has garnered them many a sync and a seemingly ubiquitous presence, even a bolstering of a heavyweight support act like At The Drive-In isn't enough to get them over the finish line.
Black Honey begin proceedings early on, playing to an almost empty crowd. But turning heads quickly with a combination of indie and baritone guitar led surf rock, the band are stylistically trying to tap into the same mystique that has embodied Wolf Alice. It is, to a degree, somewhat shameless. There is something unique about them, though, as singer Izzie Phillips' vocal ability shines through their twenty-five minute set. She channels a young Debbie Harry on 'Spinning Wheel' before finishing oh 'Corrine', the strongest song of the night and an irresistible earworm.
There appears to be two camps of audience members; one who bought tickets just to see At The Drive-In and another who has never heard of them. It seems a strange move for a band of their acclaim to be opening for an act who've yet to really leave their mark on the musical edifice. However, it is a sensible one as after a hiatus of over 10 years there is a need for them to connect with a younger audience. They take to the stage with all the energy you would expect from their own headline show playing a mix of songs from their latest effort In•ter a•li•a and their seminal album Relationship of Command. The only sign that they've aged at all is in singer Cedric Bixler-Zavala's grey beard. Their efforts seem somewhat in vain in an arena environment however as the atmosphere is tame when compared to their show in Vicar Street some 18 months ago. While new songs 'No Wolf Like The Present' and 'Governed By Contagions' get the crowd moving it's no surprise that the biggest responses of the night come when they pull out post-hardcore anthems including 'One Armed Scissor' and 'Pattern Against User'.
Royal Blood finally take the stage to plow through their collection of hook-heavy hard rock. Starting strong with 'Lights Out', 'Where Are You Now?' and 'Come On Over', these songs are instantly recognisable even to those who may have never consciously paid attention to the band. The sound is good – impeccably so. Every note is crystal clear and the vocals are so precise that you'd believe they were lip-synced. The duo of bassist/singer Mike Kerr and drummer Ben Thatcher are joined by two female backing singers for 'I Only Lie When I love You'. They remain on stage for a significant portion of the set, although they really don't have much to do.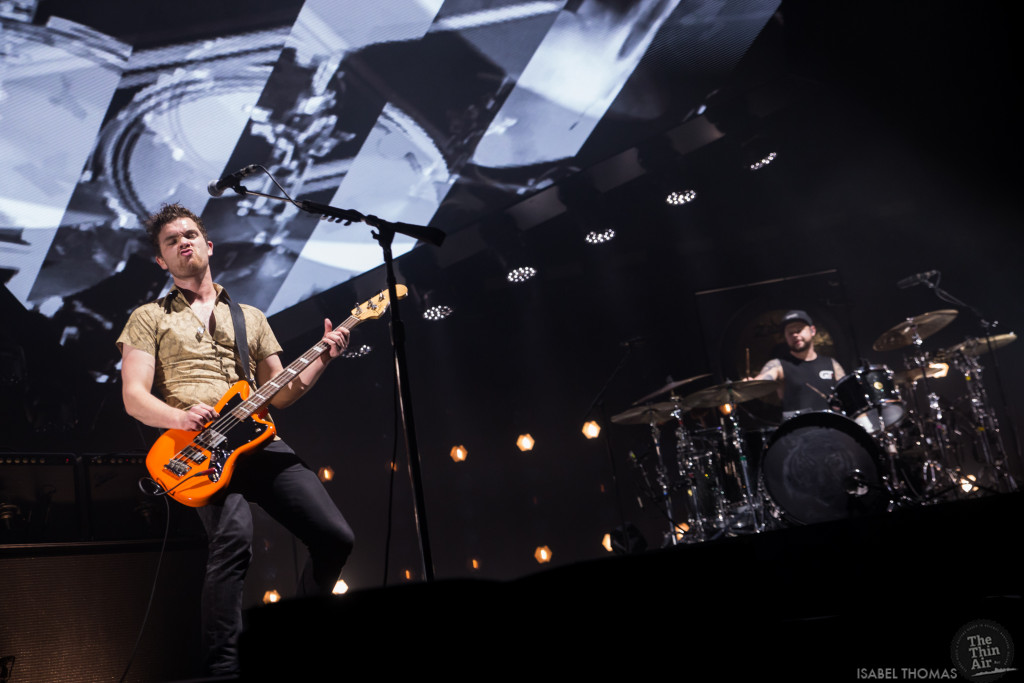 Royal Blood's set includes more gimmicks like this to get the band through the middle of a set where the music could be described as filler at best. A platform rises and falls over the band while and, at one point, Thatcher whips out a flaming mallet to strike a giant gong.
Kerr fumbles through in-between song chat, but it's awkward. It's a sign that the band are somewhat nervous and perhaps have jumped the gun a bit by going up to arena-sized shows with just two records to their name. After an hour or so, each song sounds the same as the last and even a jump onto keyboards for 'Hole In Your Heart' doesn't break this. When the duo leave the stage there isn't much of a call for an encore as the crowd begins to file out. They do come back and redeem themselves however with blistering renditions of 'Ten Tonne Skeleton' and 'Out Of The Black'. Royal Blood have enough in them to play memorable festival sets and smaller headline shows but they aren't quite at arena stage yet and this show felt premature. A move away from their somewhat one-dimensional songwriting could get them there when they come back around next time, though. Hugh O'Dwyer