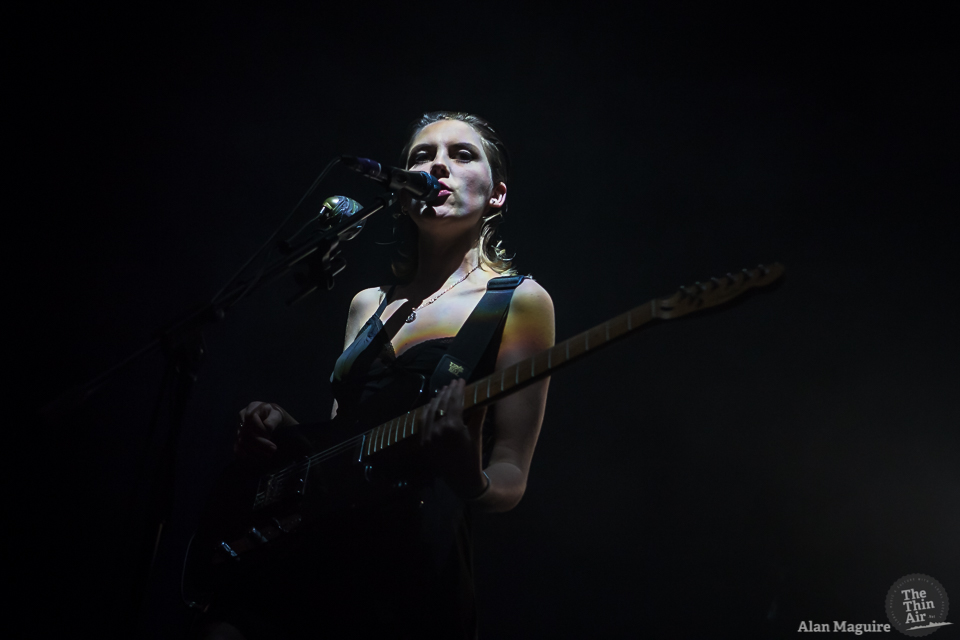 Part of the appeal of Wolf Alice is how cool they have made not fitting in look. They're always goofing off on Instagram, referring to themselves as a group of weirdos more than a band. Even as a collective they feel very different. Ellie Rowsell looks like the cool girl at a party that you'll never talk to; bassist Theo Ellis an east-end gangster fully kitted out in suit and chains; Joff Oddie the nerdy musician who may well be Chris Martin from another life and Joel Amey, the throwback 70s drummer equipped with Cuban heels and a sequenced kit.
But before Wolf Alice made their third appearance at The Olympia there were another group of weirdos competing for attention. Brooklyn three-piece Sunflower Bean kicked off the night with a charming set of glittery indie songs lead by Julia Cumming's arresting falsetto. The singer/bassist competed with guitarist Nick Kivlen (below) for the vocal lines with the pair alternating throughout the set. This competition threatened to boil over when the latter launched into a song too early but was shrugged off with a rather humourous 'dammit' from Cumming, forever endearing her to the Dublin crowd. 1-0 Julia.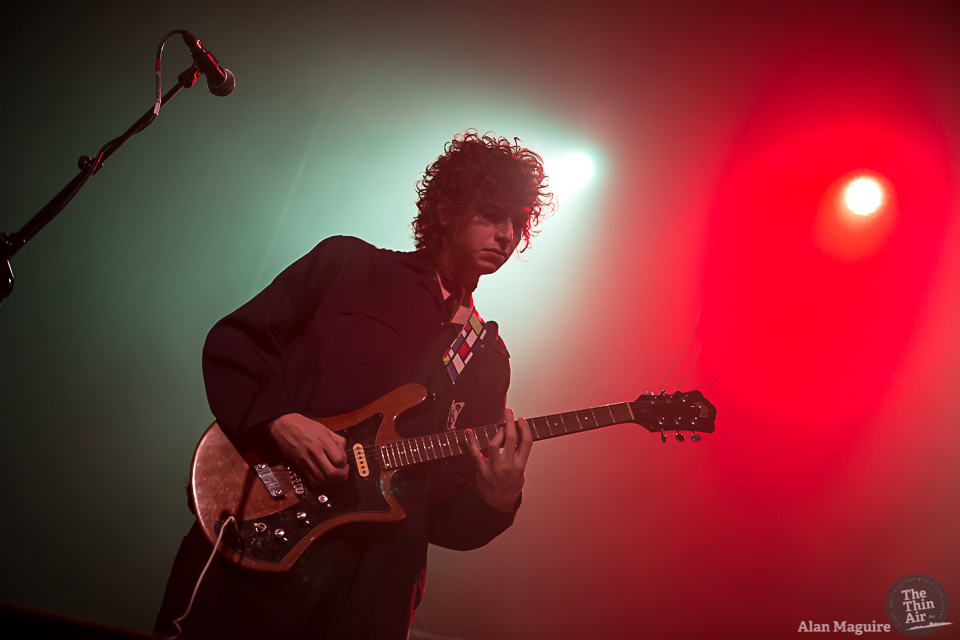 There was no messing around from Wolf Alice. The north London four-piece were barely on stage a beat before they belted into 'Heavenward', the lead track from their latest album Visions of a Life. It was a slightly nervy opener at odds with a band who just played to a sold-out Alexandra Palace, but the fears of the crowd were quickly assuaged when 'Yuk Foo' landed. This shitstorm of a song caused mosh pits to break out all over the floor and served as a warning of what was to come.
The mix of old and new songs that followed demonstrated what a loyal fan base this band have. Every word was sung along with Rowsell regardless of whether it was a new single or B-side. Viewers of this band from outside would be forgiven for thinking that Wolf Alice was all about Ellie. She is the one often singled out for interviews and the one put front and centre in photoshoots. This is a very different story when performing live. Oddie and Ellis both come to the fore, each bringing their own slice of mental to the table. Oddie theatrically swoons with the head of his guitar and seems to treat every song as if it's a rendition of the 'Song 2' video. Ellis likes to act as chief riot starter, tossing his bass through the air with the care of a particularly drunk uncle playing with their newborn niece.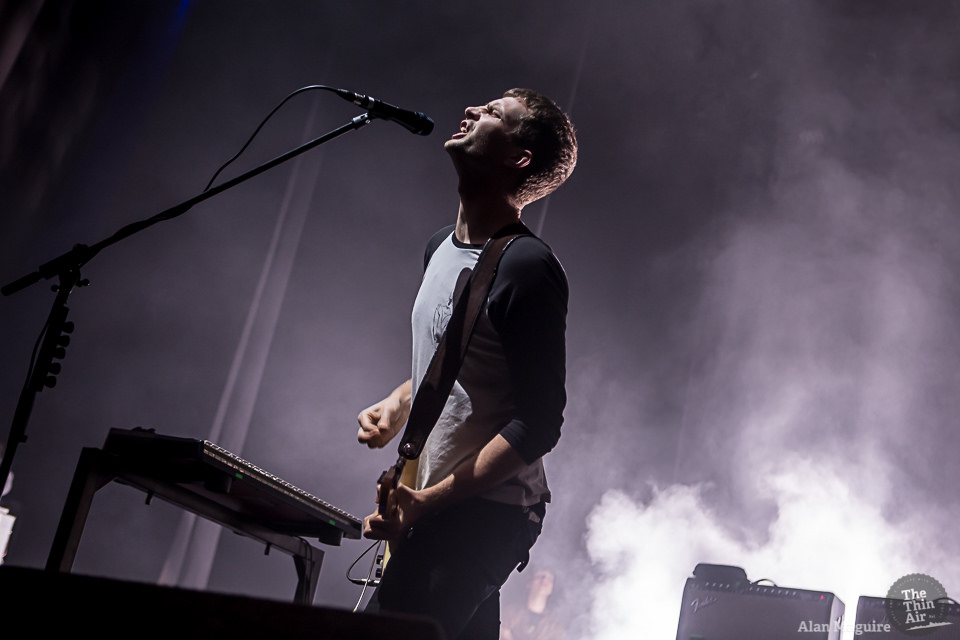 Wolf Alice seem happiest when they're in full fight mode. Whether chugging through some of their earlier stuff – 'Mona Lisa's Smile', 'Blush' – or the heavier cuts from their latest album – 'Visions of a Life', 'Planet Hunter' – they are a band in perfect harmony. However, things tend to wobble when the pitch is taken down a notch. 'Sadboy' feels like a track that would be better left on the record and 'Don't Delete the Kisses' was not the show-stealing, pop song it could be. Rowsell looked visibly uncomfortable without guitar in hand during the latter, and tended to loop around stage aimlessly. This shyness is surprising when compared with the demonic persona displayed during 'Fluffy', but was heavily hinted by the lyrical content of Visions.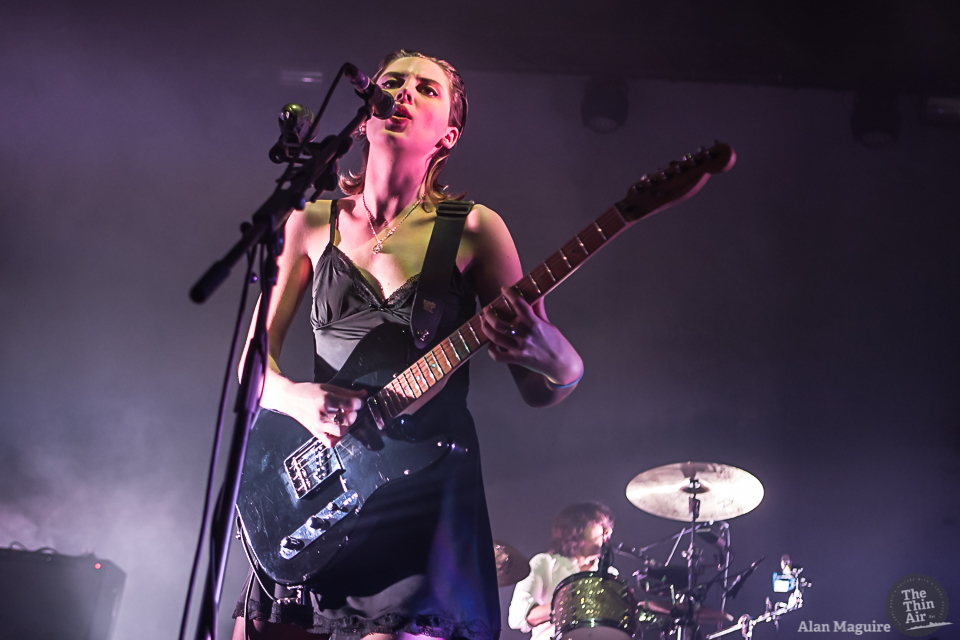 The band returned to form for the encore and bowed out with 'Giant Peach', still a belter nearly three years on. A lot was packed into this 1hr30min as a good selection was chosen from their two albums to date. They feel like a group very much in tune with the zeitgeist of the UK scene and clearly have the energy to make things happen. Don't surprised if they've graduated to the 3Arena the next time they come to town. Cal Byrne
Photos by Alan Maguire