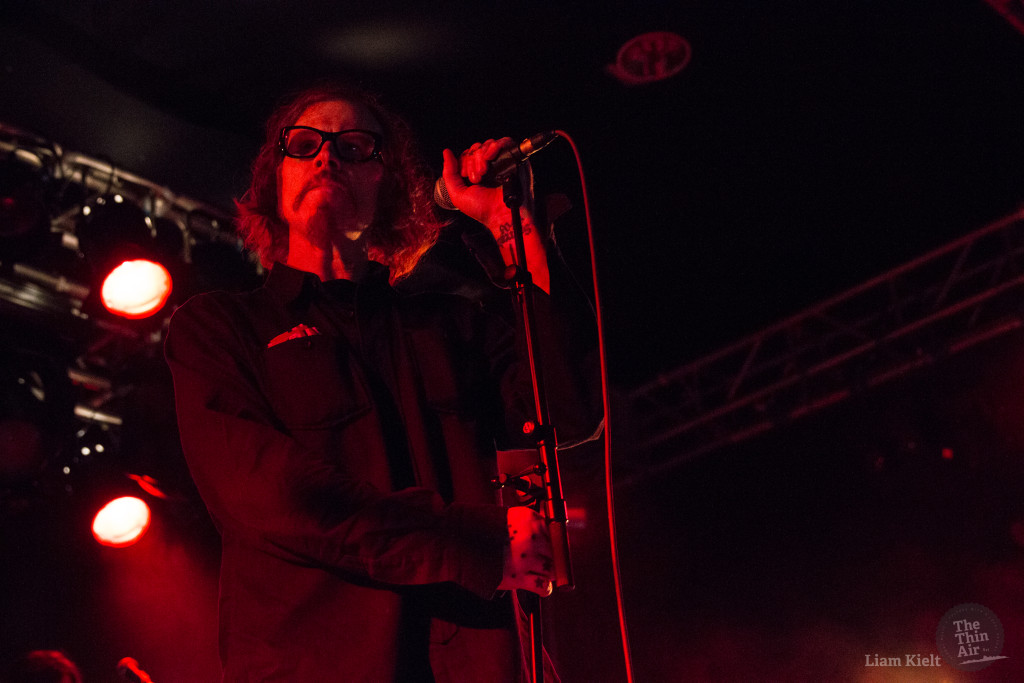 Upon its release back in April, Mark Lanegan's tenth studio album, Gargoyle, not only strongly reiterated his contemporary relevance but also further revealed the multiplicity of artist who – just like his good friend in Joshua Homme – has zero intention of roaming the trodden sonic path ad infinitum. His return to Belfast's Mandela Hall after five years tonight only serves to confirm that fact tenfold.
Following two strong sets from Joe Cardamone and long-standing blues rock co-conspirator Duke Garwood, Lanegan – visible limp notwithstanding – tails his three-piece band on to stage tonight with zero fanfare. Bursting into 'Death's Head Tattoo', the opening track from his latest full-length, the set instantly finds its feet via the pummeling groove of 'Gravedigger's Song' and 'Hit The City', a highlight from Lanegan's 2004 album Bubblegum.
Continuing a well-established live trend over the last few years – including a rather curious slot opening for Guns 'N' Roses at Slane earlier in the year – Lanegan's set tonight is carefully balanced between his more world-weary, whiskey-soaked laments of yore (not least the masterful 'Bleeding Muddy Water'), the disco-doom of 'Harborview Hospital' and 'Ode To Sad Disco', and stellar midpoints including 'Harvest Home' and the rollicking, Pistols-hinting 'Beehive'. Truth be told: while such a range of palette-spanning range is likely responsible for tonight's show not being sold out, it works and it works well.  As with previous shows since his steady transition into the realm of what could be called electro-soul, Lanegan's effortless chameleonic command is undeniable tonight.
Nearing the end – and with fuzzed-out Blues Funeral stomp 'Riot In My House' and the sublime 'Methamphetamine Blues' proving two peaks – Lanegan decides to thank Cardamone and Garwood. Without missing a beat, a member of the audience shouts out, "You're not so bad yourself!" It's unclear whether tonight's high priest heeds the rejoinder, but it proves a small, spell-breaking moment in a nineteen-track set traversing Lanegan's output right throughout the 21st Century. And while some fans are almost certainly quietly disappointed not to be at the receiving end of material from Lanegan's first four solo albums, his set tonight sidesteps nostalgia in favour of a slew of strong, genre-warping gems.
But it's tonight's two-song encore where the true majesty of Lanegan comes to the fore via the timeless howl of 'One Way Street' from 2001's Field Songs and 'Bombed', a terse, darkly lullaby from Bubblegum. Having recently expressed that touring is essentially his sole means to an end right now, shows such as this clearly mean a lot to Lanegan in more ways than one. Though he mightn't be the most openly imploring for affection from his fans, every coarse "thanks a lot" uttered tonight stems from a place of total gratitude. The feeling is beyond mutual. Brian Coney
Photos by Liam Kielt