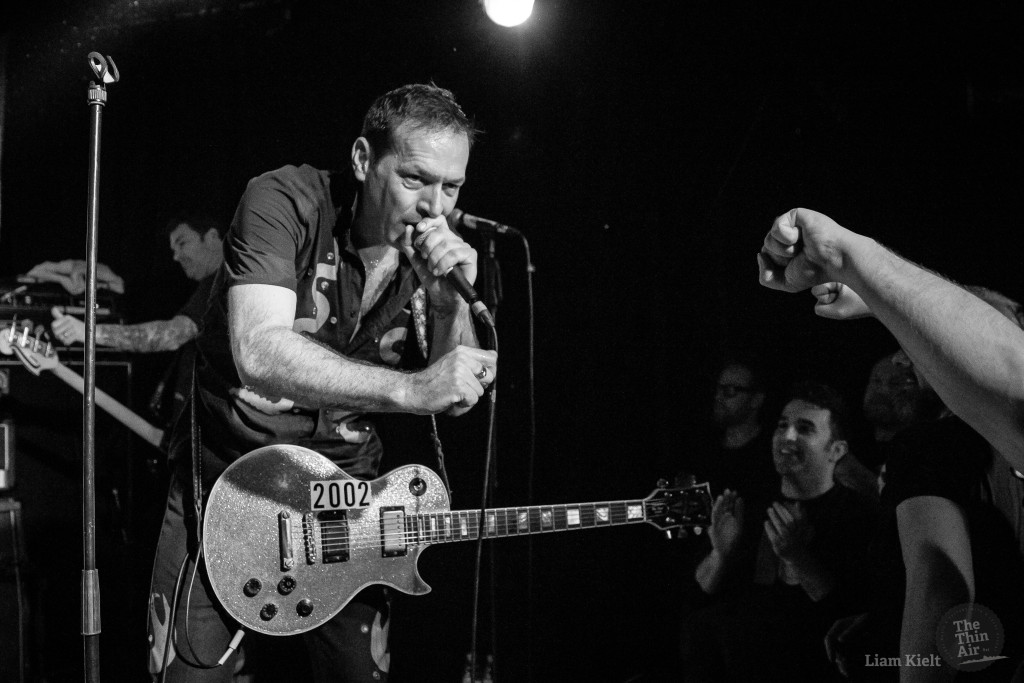 When San Diego's finest purveyors of rock'n'roll Rocket from the Crypt decided to down tools near the tail end of 2005, it came as quite a shock to their devoted fan base. Yes, there were several interlinked side projects the various members continued on with, but none drew you into the same extent. Luckily after a one-off get together six years later involving a kids T.V. show, John 'Speedo' Reis decided to reignite his charges on a fulltime basis circa 2013, and they've been tearing stages across the world a new one ever since.
However, before the headliners arrived, their fellow hometown dwellers The Schizophonics were tasked with warming up this Dublin crowd on a chilly Sunday night. The band is comprised of Pat Beers (guitar/vocals), Lety Beers (drums) and Dave Evanko (bass), and began with a cover of MC5's 'Black to Comm #2', which led to all eyes instantly being drawn to their frontman. As the band doled out their frenetic take on garage rock'n'roll, Beers bounded, spun, shook, rattled and forward-rolled his way, across the confines of the stage, while he also threw in countless splits, a few jaunts into the crowd and other random dance moves. To compare, imagine what the cartoon Tasmanian devil would be like had he knocked back a mix of Buckfast, Fanta and Redbull! 'Venus Transit', 'Ooga Booga Boogaloo' and 'In Mono' went by in a haze of fuzzed up guitar, while 'Put Your Weight On It' rounded off a high-octane half hour!
Rocket from the Crypt strolled on and took up arms; Speedo (guitar), Petey-X (bass), Atom (drums), Apollo 9 (sax) and ND (guitar), although sadly there was no sign of trumpet player JC 2000 for reasons unbeknownst to this writer. Even though it is the same line-up that recorded their sophomore album Circa: Now!, it was still a surprise they opened proceedings with no less than six of that record's 11 tracks including; 'Sturdy Wrists', 'Hairball Alley' and the frantic 'Killy Kill'.
Speedo addressed the crowd throughout their performance, with his quick wit still as evident after all these years. After the first few tunes he asks – "Come on make some noise for this band ladies and gentlemen, I know your tired from going to church or whatever", then when a few of the more drunken members shout back he quips "we speak the same language, but I have no fuckin idea what you're sayin!"
'Dick on a Dog' received the first mass sing-a-long of the evening, which was followed by the emphatic 'Boychucker', with the returning Atom bashing seven shades out of his kit. Apollo 9 took centre stage during 'Pigeon Eater', a track that was followed by Speedo dressing down the overly keen moshers who were making too much space in front of the stage for those wishing to dance. This led to some back and forth between the well-versed frontman and some drunk fans. Guess who won?
Group Sounds' "Straight American Slave" brought things back with Speedo asking if it "sounded better then MP3?!". Complete mayhem then ensued during a seven-song helping from Scream, Dracula, Scream; 'The Middle', 'Born in 69', 'On A Rope' and 'Young Livers' was a seamless slice of rock'n'roll heaven, while there was no let up in site during 'Suit City', 'Fat Lip' and 'Come See Come Saw'.
The band exited with their cobra embroidered shirts drenched in sweat courtesy of 75 exuberantly spent minutes, but before they were allowed to bid farewell, for what may be their last Irish show, as Speedo couldn't say when or if they'd get to return, they blasted through 'When in Rome (Do the Jerk)' and Circa: Now! number 'Glazed'.
Rocket from the Crypt exude everything that is so utterly fantastic about live music. Here's hoping that there is at least one more lap in them when deciding whether they'll return to Europe. Conor Callanan
Photo from Belfast show by Liam Kielt