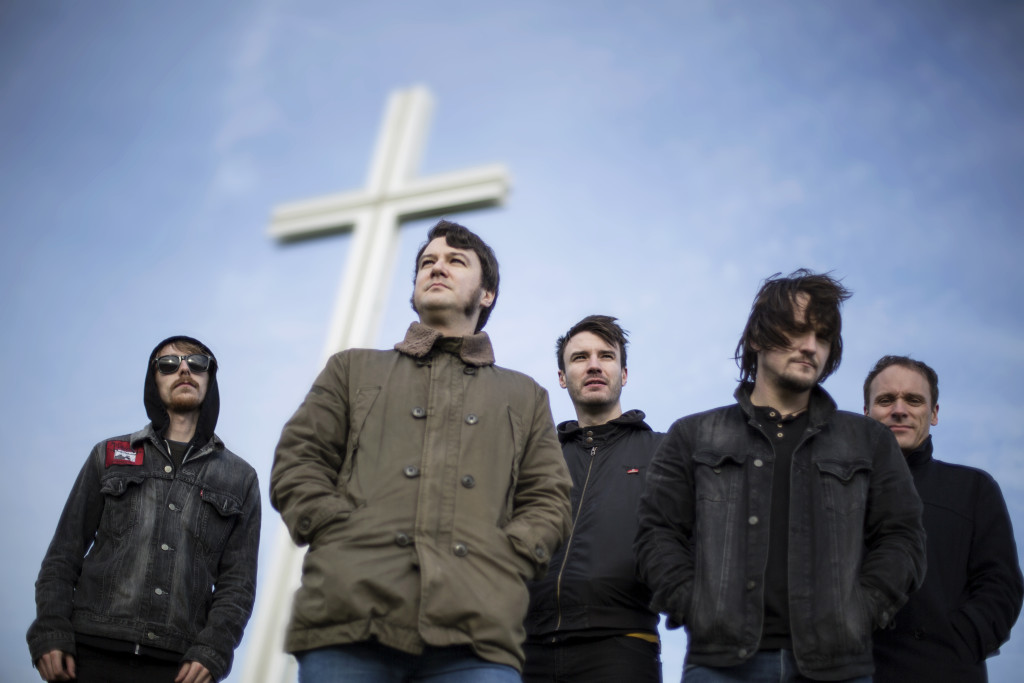 We continue 18 for '18, our feature of showcasing eighteen Irish acts we're convinced are going places in 2018. Throughout January we're going to be previewing each of those acts, accompanied by words from our writers and an original photograph from one of our photographers. Next up is Sun Mahshene.
Photo by Moira Reilly
Dublin's Sun Mahshene are dedicated to doing their own thing. Indeed, frontman Nathan Henderson started the project having grown tired with the local band scene back in 2014. Initially a solo endeavour where he played all instruments himself, over the years a revolving door of musicians have joined their live set-up, including an additional two guitarists for an extra live 'oomph'.
On record, their various influences have blended into a uniquely dark take on psychedelic hard rock: it owes more than a little to British shoegaze, although filtered through grunge and even Krautrock. 'No Control' off 2016's Drones That Don't Kill EP opens with a wailing wall of guitars that sound like an air-raid siren, before leading into a motorik beat that propels the song's strongly melodic verses. There's more than a hint of Soundgarden's signature duelling-guitar squall on the hard-rocking 'In The End', where David Murray's Bonham-esque drumming adds a powerful extra dimension.
Showcasing their lighter side is 'Shine Your Light', whose wavy guitars and summery vocals are pitched somewhere between fellow Dubliners My Bloody Valentine and The Stone Roses. It certainly is reminiscent of Britpop's finer moments and, indeed, the sixties psychedelic pioneers that inspired it, but given a stronger, harder edge.
They've developed a cult-following through gigs in Dublin and further afield, receiving glowing reviews in international blogs as well as at home. Among their fans is Andy Bell of shoegaze pioneers Ride, who would know a thing or two about noisy psychedelia .
As for 2018, the band have live dates booked in Ireland and England, and promise to release a new record. In an indie rock climate where the likes of Tame Impala, Pond and Temples are bringing psych-rock back to the forefront, there's not telling how far this year can take Sun Mahshene. Caolan Coleman