News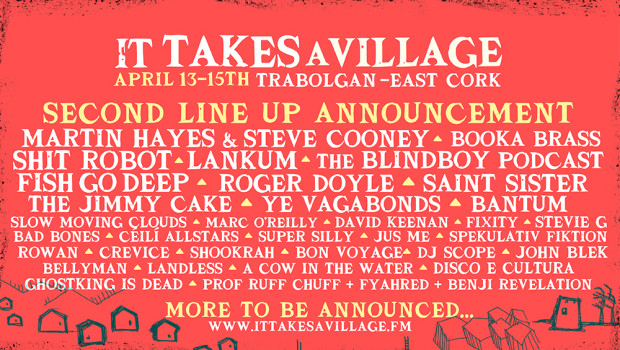 Published on January 24th, 2018 | by Stevie Lennox
0
It Takes A Village makes Second Lineup Announcement
Unique in its setting of the Trabolgan Holiday Village in Cork to offset the unpredicatable Spring weather, It Takes a Village festival runs from April 13-15, and has announced its latest set of bill updates. The Good Room-curated festival offers an ATP-esque alternative in the form of 150 self-catering houses and apartments, as well as 35 fully-serviced campervan sites, not to mention the host of nostalgia-invoking activities Trabolgan has to offer.
Today's line up update includes The Gloaming frontman Martin Hayes, alongside one of Ireland's most respected traditional guitarists Steve Cooney. One of the Irish voices of his generation, Blindboy Boatclub brings his podcast live on Sunday. Landless and the writers of our favourite single of 2017, Lankum bring the modern trad, while Booka Brass are set to bring the party, as well as the more technologically-inclined Shit Robot and house outfit Fish Go Deep perform, while Irish electronic pioneer Roger Doyle teams up with writer Kevin Barry for a one-time performance.
Pushing things out to the ether in their own divergent ways, The Jimmy Cake, Saint Sister, Slow Moving Clouds, Fixity and Stevie G are amongst the new names. Rounding them out are an eclectic bunch of stalwarts and upstarts: Marc O'Reilly, Bantum, Ye Vagabonds, David Keenan, Bad Bones, Céilí Allstars, Super Silly, Jus' Me, Speculativ Fiktion, Rowan, – one of our 18 for '18 features acts Crevice, Shookrah, Bon Voyage, DJ Scope, John Blek, Bellyman, , A Cow In The Water, Disco E Cultura, Ghostking Is Dead & Prof Ruff Chuff + Fyahred + Benji Revelation.
uThe first wave of acts included Young Fathers, Andrew  Weatherall and Fujiya and Miyagi, the bill also features some of the country's best acts including Talos, The Altered Hours, Ryan Vail, Le Boom and Anna Mieke.
More announcements are to be made next month for writers, poets, artists, food vendors and a broader variety of festival options. With the village featuring three main venues a multitude of pop-stages across a 120 acre site, its first time is shaping up to be one of Ireland's best annual propositions.
Tickets range from €205 – €255. Full information and tickets are available here. Read our Festival Preview on It Takes A Village for a deeper look.