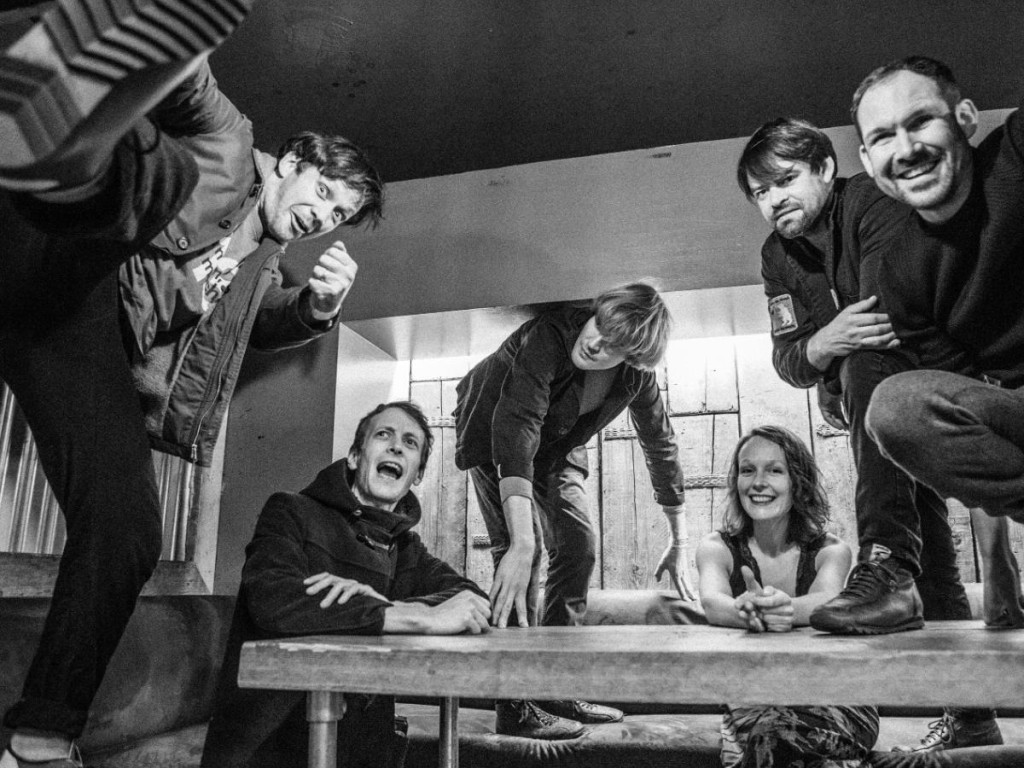 Despite emerging at a time when the supposed cool of The Strokes and The Libertines reigned supreme, British Sea Power have successfully outlived most of their contemporaries to become a strange sort of cult British national treasure, concerned less with drugs and parties than with books and nature – song lyrics cover such topics as collapsing Antarctic shelves and 1953 floods, and the band once even bagged an appearance on Countryfile. Five years since they last graced Irish shores, BSP's famously eccentric live show makes a long overdue return.
After a reverb-drenched opening set from Belfast dream-pop duo MMODE, BSP take to their traditionally foliage covered stage (complete with a wooden owl perched atop an amp) to kick things off with their 2011 protest anthem 'Who's in Control?', a track that feels particularly relevant in today's political climate. Keyboard/cornet player Phil 'The Wandering Horn' Sumner is missing tonight, unable to make the Irish dates, but the original quartet plus later addition Abi Fry on viola manage a fine job without him. Even a smattering of tracks from last year's keyboard-heavy Let the Dancers Inherit the Party survive his absence, with 'Bad Bohemian' being a particular highlight early on.
Co-frontmen, brothers Yan and Hamilton, are on fine form tonight, no longer bothering to swap instruments for the latter's songs – aside from on a breathy rendition of 'Open the Door' – which allows the set to run more smoothly and organically. Where the setlists on previous tours have often been dominated by material from 2003 debut The Decline of British Sea Power, tonight that album doesn't get a look in until the last half hour of the night. Perhaps a disappointment for the contingent of fans who insist they never bettered that record, but it allows for a nicely mixed up set, paying more attention than usual to second LP Open Season, one they all too often neglect – essential single 'It Ended on an Oily Stage' is another early highlight, before the surprise appearance of 'How Will I Ever Find My Way Home?', one of Hamilton's strongest ever tracks.
BSP shows are tamer affairs than they once were, their stage-diving and other antics largely behind them – who could forget their Spring & Airbrake show a decade ago that saw guitarist Noble attempt to leap from the stage onto one of the venue's many pillars mid-set, before later being carried around the shoulders of the tallest man in the audience? – and yet with such a strong back catalogue to lean on now, those antics aren't really missed, and it's perhaps more satisfying to see them power through a 90 minute set without distraction. Either way, there's a sizeable group of diehards at the front enthusiastically dancing throughout, many in faded BSP t-shirts from tours gone by. An usually high number of English accents around the venue suggests there may be a few particular obsessives following the band on tour, and when Krankenhaus? EP rarity 'The Pelican' receives the wildest reception of the night it's obvious these are no mere casual fans.
The pseudo-military stage uniforms of the past are also long gone in favour of more normal clothes, though Hamilton's strange leather cap retains a taste for the absurd, but another enduring BSP tradition remains with the appearance of a giant bear dancing in the audience during 'Remember Me', one of their most charmingly eccentric gig routines. The set reaches its climax in this final third, with drummer Wood's motorik beat to 'Machineries of Joy' following up the mass shout-alongs to 'No Lucifer' and 'Keep on Trying', while their now decade-old pro-immigration anthem 'Waving Flags' and its "welcome in" refrain again feel more relevant than ever in these days of Brexit and refugee crises. 'North Hanging Rock' showcases the band's post-rock leanings, a track that pointed the way early on towards their future soundtrack work, as Yan sings "Drape yourself in greenery, become part of the scenery" while surrounded by leaves and branches.
A medley of 'Carrion' and 'All in It' brings the set to a frantic close of white noise, audience participation on the latter coming close to drowning out the band before they disappear, and fans flock to their always fascinating merch table (there's no beer, sweets or teabags on sale this time round but their usual range of British Tea Power mugs remain). With another powerful performance under their belts, we can only hope it's not another five years until they return. Cathal McBride