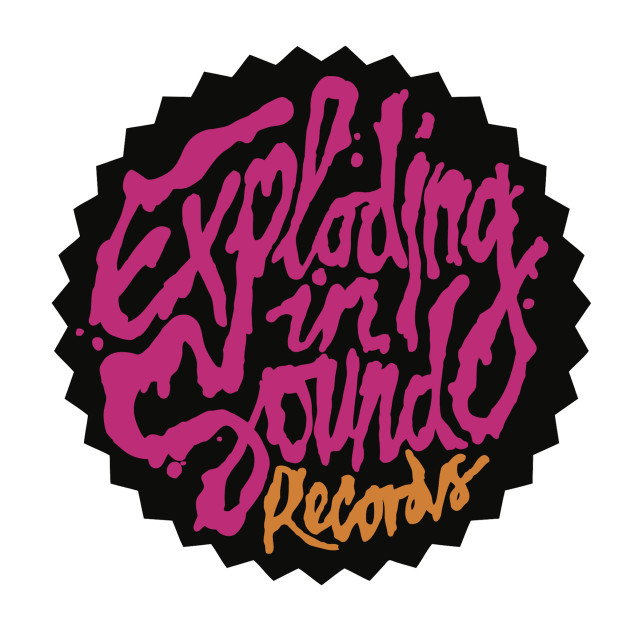 Formed in 2011, and based in New York City, Exploding In Sound Records is a tapestry of idiosyncrasy. Pile, for example, are regularly cited as the world's greatest rock band. Big Ups' Before A Million Universes was very possibly 2016's finest noise rock record. The bubbling, emotional cacophony of Ovlov's 2013 Am has developed its own posthumous devoted cult following, leading to the band reuniting for a second album; not to mention the label's ability to function as an early outlet and jumping point for Speedy Ortiz, Porches, LVL UP and Palehound.
It's a community. Bands share members, shows and tours together, and there's a very genuine individual, handwoven sense of identity present in each. Their subscription service is the ever-reliable bi-monthly Tape Club. While the roster incorporates post-punk, synth-pop, emo, pop-punk, alt. rock, noise rock, post-hardcore, dream-pop, there's a strong emotional through-line of connections to lo-fi, idiosyncratic '90s guitar records, with a probable adoration for the music of Elliott Smith. It's that, coupled with an unfiltered outsider streak, which gives EIS an undeniable edge when placed beside some of their decidedly more commercially comprising, sound & trend-specific contemporaries.
Having considered the spirit of togetherness at Exploding In Sound Records, it felt right to let the people do the talking, so we've decided to make an exception for this edition of Label Mixtape, and allow co-founder Dan Goldin – whose enthusiasm about each band is palpable – put together his own primer for the label, alongside a chat with Stevie Lennox.
How big is the Exploding In Sound operation currently, and who is involved?
Exploding In Sound Records' operation is currently two people, Dan Goldin (myself) and our label manager, Alec Cakebread. I started the label with Dave Spak but we eventually drifted in different directions. I was thrilled to have Alec join me and we've made some really great improvements ever since.
Were there any particular records, labels or scenes that inspired EIS to form?
While we love lots of records and labels, I wouldn't say there were any that inspired us to form. I've always wanted to launch a label and definitely have a ton of respect for labels like Dischord, Touch & Go, AmRep, and other 90s labels that really built a community around itself with a long line of releases you could really trust and (blindly) believe it. I was definitely inspired by the Boston scene around the turn of the decade to get the label going. Bands like Pile, Grass Is Green, Fat History Month, and so on.
Is the label a full time job for you at this point? Do you plan to grow further, or are you happy with the current size of the label's operation and organic growth?
It's not a full time job but we're hoping one day it will be! Until then, we'll keep trying to release the best records we can! We're certainly happy with any attention we get, though doing it full time would be a dream come true for both Alec and myself.
What kind of industry experience did you have prior to Exploding In Sound? You worked in a major for a time, which obviously isn't the best place for allowing the conditions for an artist to fully explore themselves – so how involved are you in the album process for each artist on your roster? Day-to-day, are there many differences in terms of dealing with press, public, promoters and in communications with artists?
I worked in various roles at major labels for a few years, mostly as a temp and intern. It taught me a lot about what I didn't want to do, but definitely motivated me to further pursue things in our own way. We're not super involved in the album process as far as creative aspects go, unless the band would like us to be. We give our bands the space to make the record and art they want to make. We trust our bands – it's why we work with them! As the record is finished and it comes time to promote it, we're extremely hands on and do all we can to make sure people hear the music. It's not easy, but we're proud of our releases and thankful to reach the folks we do. Every day is a bit different, press is an ever changing form, so we just try to stay focused and moving forward.
How do you manage to operate outside the major label system and staying afloat while allowing that level of creative control?
 The major label system is a totally different world than ours. We operate beyond it without any worry of what they've got going on. We're lucky enough to sell enough records to usually recoup our expenses and take it one release at a time.
There are a few consistent band members across the EIS community – do you actively encourage some intermingling amongst your roster?
It's not something we actively encourage but many of our bands are close friends with a lot of creative spark… so it happens, and we're totally cool with that.
Do you collaborate or have any particular alliances with other indie labels in the world, or just in the US, and how do you view yourselves within the bigger US indie game? What sets you apart from other indie imprints?
We work together with Run For Cover who are kind enough to sub-distribute the label with their distribution deal. We're pals with many other labels and have worked together in the past with Babe City Records (DC), Sophomore Lounge (KY), Midnight Werewolf (MA), and some others. We're not really gung-ho on doing split releases these days, but it was great when we were getting started and strapping for cash. I'm not sure where I'd say I see ourselves as a label, but I guess I like to think that we stay true to what we believe in. We try to work with bands we love as both musicians and people, unconcerned with trends and chasing buzz bands. We're in it for the long haul.
What does it take in an artist for you to put out their records? The bands on EIS could be characterised by a tendency to sincerely embrace their idiosyncrasies & weirdness, and that gives each act a heart that never feels trite, too 'of this time' or like they're trying too hard – is that a conscious thing you look out for?
I get that question a lot and I can't say there's any one particular thing. I guess great songwriting is important, but it also has to be interesting. It's important a band is good live and want to work hard, regardless of our involvement. We definitely like bands that do "their own thing" and let loose, never taking themselves too seriously, but still creating music they are passionate about. Weird is good, weird is interesting.
There is a little something magical about EIS that reminds me of my favourite indie labels from yesteryear like Touch & Go, SST, AmRep, Dischord. I find if I know someone predisposed to a few genres, and is very into guitar-led '90s indie rock – Polvo, Dinosaur Jr, Pavement and the likes, or even just math-rock, hardcore, noise rock, emo, shoegaze & grunge, I can pretty much point them in the direction of Exploding In Sound and they can tap into it – is there a mission statement for what you folks put out? Is that kind of thinking in line with what you do?
Thanks! As I mentioned earlier, we love those labels. We don't have a "mission statement" so to be speak but we love the idea of keeping indie rock and punk/alternative *whatever you want to call it* music interesting because that's the music we love and means so much to us. Apart from the noise, distortion, and weirdness, I think most of our bands at their core are incredible songwriters, capable of stripping it way back and being just as engaging, which goes a long way. Add in the all the glorious racket and pummeling, and it only gets better. We want to be the label you can believe in, the type that can introduce a new artist and you know it's going to be good before you've heard it.
As a proponent of modern guitar music, do you think it can continue to grow in 2018 and beyond, despite it seeming to be read the last rites every other trend? Is there any advice you could give that could help other DIY artists, labels & communities?
Last year was definitely a bit more difficult in terms of growth for "guitar music" in general, but we're going to keep at it. Trends come and go, we're not budging, haha. For all the talk of "rock being dead," I just profiled over 100 releases on Post-Trash.com that made this year one of the strongest in recent memory. I don't buy into the hype. Rock music is doing just fine, regardless of what critics might want you to believe.
As for advice, just do what comes natural. Nobody wants to listen to anything that sounds forced.
Has the Trump election affected yourselves in any way as a smaller, independent artistic endeavour?
Other than the fact that he's a national disgrace, causes problems every time he opens his mouth, and has set the country back about 100 years… nothing that has affected us particularly as a label. I guess there's potential that his FCC appointee (who is a giant dickhead) and the removal of Net Neutrality could change things for all of us (and possibly music streaming as we know it), but we'll holding out hope that Congress will overturn that…we'll see.
Are there any albums in the EIS back catalogue that really stand out to you as milestones or huge events for the label? Impact, summing up the label's identity or just really, really great records?
I think they're all really really great records, haha. Pile's Dripping was the first 12" LP we released and I think considered by many to be a modern masterpiece. Of the first year's records, I'm also very proud to have released Fat History Month's Bad History Month, Ovlov's Am, Speedy Ortiz's Sports, Grass Is Green's Ronson, and Kal Marks' Life Is Murder. The fact that we released Disco Doom's Numerals is a literal dream come true as they are one of my favourite bands in the world. I actually have a tattoo from one of their records called Dream Electric that is an inspiration reminder (as cheesy as it sounds) that dreams can actually come true. We've been lucky to release so many incredible bands (Porches, Two Inch Astronaut, Fond Han, Krill, Palehound, Geronimo!, etc) and we hope people will continue to discover both our past and new releases with an equally open mind.
What does 2018 have in store for EIS in terms of releases?
Our first release of this year was from a duo called Water From Your Eyes who we are honoured to have as part of the EIS Tape Club. It's called All A Dance and it's amazing dance-pop, post-punk, whatever you want to call it!
Our next release this year is from one of Boston's favourite bands, Kal Marks, will be releasing their third LP, Universal Care on February 23rd and we can't wait for everyone to hear that in its entirety. It's their best release to date and in true Kal Marks fashion it's as heavy as it is beautiful and weird.
On a personal note, as Am would genuinely be an indie rock desert island disc at this point – what prompted Ovlov to get back together? Did their album start picking up unexpected traction? And is the follow-up coming as promised? I've lost count of the number of people I've gotten obsessed with them in the last year or 2.
Hard to say why they got back together, but harder to say why they broke up. It's not easy being in a band with your brother (or being in a band at all), but we're just happy they're together once again. The follow up is done and most likely coming out in the Spring! Know anyone that wants to book a UK/EU tour for them? Haha.
Dan Goldin's Exploding In Sound Label Mixtape
Dan Goldin's fun facts/anecdotes/stray thoughts:
There is no better guitar tone in the world than Disco Doom's.
Sean of Fat/Bad History Month is my favourite lyricist of all time. If his music hasn't hit you on a profoundly deep level yet, keep listening.
I've watched two bands with my jaw dropped like an idiot: Fond Han and Grass Is Green.
Pile, often considered the world's greatest band, just keep getting better. If you asked me to pick my favourite album of theirs, it would be a five way tie, though Jerk Routine is perfect for strolling through the city while snowing in the midnight hours (give it a try).
Krill are legends and when they asked if we'd release their EP loosely themed around Pile, the answer was "of course". I miss them everyday.
I consider Ovlov's Steve Hartlett to be one of my best friends in the world at this point, and their LONG awaited sophomore album will blow more than a few minds.
I've never seen a Bethlehem Steel show where Becca didn't mention some sort of bodily fluid, and I love her for that.
Washer and Two Inch Astronaut only know how to write smash hits. One day the world will catch up to them.
As well as being available on Spotify, EIS and Bandcamp, your local record retailer can be asked about Exploding in Sound stock, if not already available.