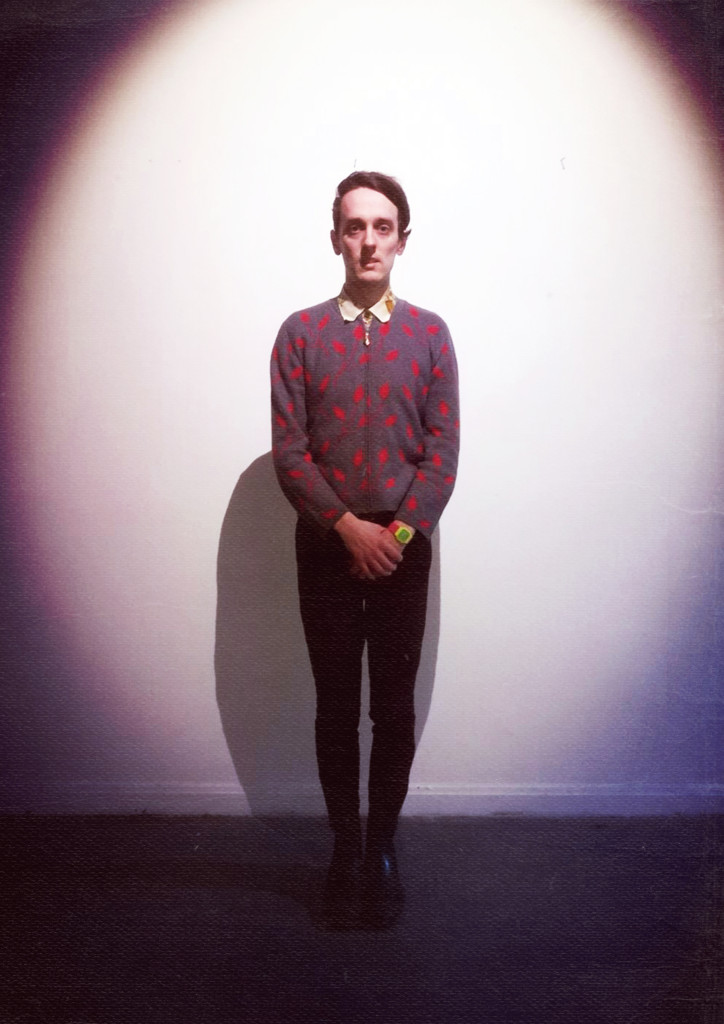 We're rather fond of Myles Manley here at the TTA. In fact, we have no qualms saying that we think the English-born, Sligo-raised, Dublin-based musician is one of the country's most masterfully idiosyncratic artists.
Take 2015's "comprehensively endearing" 'Pay Me What I'm Worth', or last year's 'Relax; Enjoy Your Night Upon the Town', a track that featured highly in our Top 100 Irish Tracks of 2017. Manley's craft doesn't serve up the odd gem here and there – he consistently delivers the goods, forever finding ways to make music whose points of reference often squarely fall back facing his very own direction.
Accompanied by Sebastian MacDermott's perfectly disturbing video (with cinematography by Conor O'Toole, editing by Seamus Hanley, grading by Michael Higgins and text by Cillian Finnerty, you understand) 'i'm in love w/ myself' is another such triumph. The track is released on a split 7″ with 'Leader' by Rattle as part of a 7″ single series by Art for Blind Records. Subscriptions to the single series and digital downloads of the track are available here.
Myles Manley is on tour across March-May:
Wed, Mar 28 — STOKE — Pilgrim's Pit*
Thurs March 29 — BRISTOL — St Michaels Parish Hall*
Fri, March 30 — PLYMOUTH — Images*
Sun, Apr 1 — LONDON — Paper Dress Vintage*
Mon, Apr 2 — BRIGHTON — The Blue Rose*
Tues, Apr 3 — NOTTINGHAM — JT SOAR*
Wed, Apr 4 — LEEDS — Wharf Chambers*
Thurs, Apr 5 — SHEFFIELD — Audacious Art Experiment*
Fri, Apr 6 — GLASGOW — The Flying Duck w/ Kaputt
Sat, Apr 7 — NEWCASTLE — The Head of Steam
Sun, Apr 8 — MANCHESTER — The Carlton Club
* w/ Rattle
Fri, Apr 13 — GALWAY — Black Gate Cultural Centre w/ Half Forward Line
Sat, Apr 14 — LIMERICK — Pharmacia w/ Oh Boland
Thurs, Apr 19 — CORK — The Guesthouse w/ Elaine Malone
Sat, Apr 21 — KILLARNEY — Courtney's w/ Junior Brother
Thurs, Apr 26 — BUNCRANA — Roddens
Fri, Apr 27 — DERRY — Bennigans w/ Neptune M.
Sat Apr 28 — SLIGO — McGarrigles
Fri, May 4 — DUNDALK — House Show @ TPM's house w/ Junior Brother
Sat, May 5 — BELFAST — Venue TBC
Sun, May 6 — DUBLIN — Jigsaw