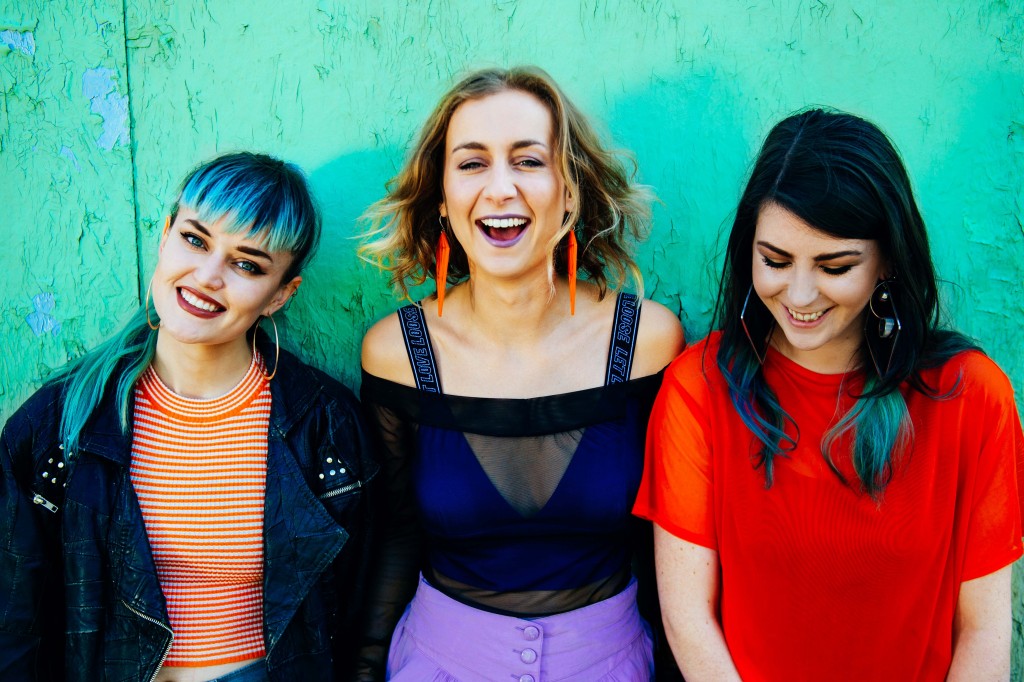 Bray's Wyvern Lingo chat to Nicole Glennon about being women in the Irish music industry,their camaraderie, activism and plans for the future.
What does it mean to each of you to be a woman in 2018?
Caoi: It's socially more acceptable as a woman to dress in a garish fashion..? I don't think about being a woman. The day our album was released, we were loading the van after our sold out gig in the Button Factory in Temple Bar, and some random prick walking past smacked my ass. When I ran after him, punched him in the back and screamed at him, him and his friend just laughed at me. Then I remembered I was a woman.
Karen: It means I'm lucky it's not as bad as it was in 1918, but this privilege means I've lots of work to do because I'm part of a minority of women worldwide are not denied access basic human rights on a daily basis due to gender.
Has your idea of what it means to be a woman evolved over time?
Karen: Yes, I'd say it has. I grew up very lucky – it never crossed my mind that there would be limitations or disadvantages to being a woman. My mother and older sisters were my role models- incredibly successful, high achieving women, and my Dad and brother never treated gender as an issue. The only time I started noticing it was when I started joining bands in college (not Wyvern Lingo, obviously) where I would be "the girl". I used to think that gender inequality was an issue in different parts of the world, but not here in my life. I think that safe, privileged bubble began to burst after I left school. I distinctly remember getting sleazed on when singing in my first few cover bands, and I learned quickly how a lot of people would insist on seeing me as sexualised, and see my bandmates as musicians.
Even in recent years, I've started noticing a lot more clichéd patterns. Men seem to occupy the top positions across the board. Things I thought were past problems are still taking a very long time to change. Still though, I feel very comfortable at the moment in being able to speak about these things. I've endeavoured to be more assertive recently in business – something that apparently effects women in particular. Having said that though, my main role model for assertion is my Nana, who was a power-house matriarch.
Is there a strong sense of female camaraderie, or sisterhood, as an all-female group?
Saoirse: Yes, absolutely. We have known each other for years and we grew up playing music together. We're all the best of friends and naturally Karen and Caoi are like sisters to me. We don't really see ourselves as an 'all female group' – it's more like a group of musicians who happen to be women.
Karen: I'm paraphrasing, but Audre Lorde once wrote about how women's desire to nurture each other is redemptive, and how women working together is a very powerful thing. It's in 'The Master's Tools…' essay where she criticised the absence of POC and LGBT inclusion in feminist discussion, read it!
I think there is something really powerful and cathartic in writing and working together. I find that synergy really exciting. Half the time, we're oblivious to it until someone tells us that it has inspired them in someway. Something that made me really happy after meeting fans after gigs recently was that coming to our shows was something that friends (female and male) were doing together, they'd been following us for years together, which reminded me of how we used to (and still do) obsess over music together. It's amazing that that sense of camaraderie passes to our fans.
How do you think your experience of being a woman has influenced your work as an artist?
Saoirse: I don't think being a women has influenced my work at all really. I'm a songwriter and I happen to be female. I don't know any different.
Karen: I do think that my writing is informed by my experience as a woman, sometimes consciously but mostly subconsciously. Some of my writing comes from a place of being frustrated with depictions of women in art, which would be intended, others from experiences that seem to be more common among women.
What female artists were you most inspired by and why?
Saoirse: We're all Joni Mitchell fans. Her lyrics are so beautiful and she is an amazing songwriter. Singers like Ella Fitzgerald, Aretha Franklin, and Eva Cassidy were a big inspiration for vocals. We also grew up listening to a lot of Destiny Child, Christina and Britney. In more recent years we are in awe of NAO. Her voice, her songs, her production. She is flawless. Queen!
Karen: I'm going to add Carole King – incredible songwriter with an incredible life story. Stevie Nicks coz Stevie Nicks. Absolutely obsessed with Solange right now. What a woman.
What's it like being an all-female group in such a male dominated industry?
Karen: For the most part, being all-female in this industry hasn't really been much of an issue for us. Our label & management treat us like the other bands they work with. We've been lucky enough to encounter and work with some incredible, successful women who've paved the way in the industry. The likes of Duchess Iredale, Caroline Downey, Aoife Woodlock and Angela Dorgan are household names in the Irish music industry, and come from all sides – production, management etc – and our label is also 40% female. So some days I don't think it's that male dominated at all where we are, but unfortunately you don't have to look very far to see it. It always seems to be the male Irish acts both headline the festivals and get the most radio play, and then never have their gender pointed out…
We've been very lucky in that sleazy/sexist encounters within the industry as Wyvern Lingo have been minimal, but not non- existent. I imagine that because we are a group, we are generally more difficult to manipulate.
Responding to criticism over the lack of female representation at the most recent Grammy Awards, Recording Academy president Neil Portnow said women need "to step up." What's your response to this?
Caoi: My first thought was… is he right, somehow? Are women not pushing themselves as much as their male counterparts? And then I think of albums like  SZA's 'Control', and Cardi B's track 'Bodak Yellow' that broke records in 2017, and I'm like…nah, that guy is a jerk. People like Neil Portnow need to step up in how they view and respect women and their work.
Do you think the Irish music industry need to step up when it comes to giving female acts a platform?
Karen: I think the Irish Music industry is beginning to step up, but could be doing more. The Longitude line up is certainly a good start to 2018. I think it has to be said that the public have use their platform also. The radio responds to demand, as do festival bookers.
This reflects a trend across society, not just the industry. We need to start in schools and get more girls playing music. Our music teacher from school told us last week that there are currently NO bands in our old school. Only vocal groups. What's that about??? This needs to change – why has it regressed since our time there? On that note, check out the great work that Girls Rock Dublin are doing.
Are there any female Irish artists you'd like to give a shout out to? Who should we all add to our playlists?
Saint Sister, Loah, Fedah, Lisa Hannigan,  Soule, Laoise, Siomha, Ailbhe Reddy, Aine Cahill, Socha Richardson, Farah Elle – there are so many!
You have taken a pro-choice stance in the Repeal the 8th movement. Do you feel a sense of pressure as an all-women Irish act to take a public stance on this?
Saoirse: We put the pressure on ourselves before we stated that we are pro-choice. Within the band we have had many many conversations about Repeal the 8th. It's not an easy subject to talk about and we are three different personalities so it took us a while to make a decision as a group. We did a lot of research together and really got ourselves informed. To be honest we think that's the most important thing – get informed, and know what you're voting for. We as three individuals proudly stand behind the Repeal the 8th movement and will try spread the word as much as possible.
Your lyrics are very socially aware and politically engaged, do you feel a sense of responsibility as artists to address social & political issues through your music?
Saoirse: It's not that we feel a sense of responsibility or to make a statement. We as songwriters don't force ourselves to write about the social and political issues in the world, we write about true experiences that might touch off issues, but it always comes from a genuine place.  
Nina Simone had a great quote: "You can't help it. An artist's duty, as far as I'm concerned, is to reflect the times."
We all keep notebooks and we are all constantly writing, so issues like the Repeal the 8th movement and gender stereotypes are topics of our time that we're surrounded by every day.
'Out of My Hands' was inspired by a man cynical towards activism. How do you use your music as a form of activism?
Karen: 'Out Of My Hands' summed up the attitudes of many I'd encountered over the last 2 years since I've gotten involved in some activism regarding the refugee crisis. I think we're so saturated with appeals and agendas online, that sometimes issues can resonate with people more when delivered through art & music.
I didn't really intend the song as form of activism, it just came out that way. The second you start trying to 'use music as a form of activism', it ceases to impact people, I think.
Which tracks are your favourites on your debut album and why?
Saoirse: Two of my favorite tracks would be 'When I Can (Rubbish)' and 'Out of my Hands'. Rubbish is so much fun to play live! It makes me so excited to write more songs like this for the next album and I love the fact that it's the last track, because it makes you want to listen to it all over again. 'Out of my Hands' was the most fun to record. This song was actually written in the studio with an old piano line Karen had from one of our songs years ago. The vocals at the start of the track are us warming up so having this as the opening track on the album made perfect sense.
What's been the highlight of being Wyvern Lingo so far? What are you most excited for in 2018?
Saoirse: The highlight, for me anyway, has been the whole album experience. I have wanted to record and have an album since I was a teenager, and now to finally have the finished copy in my hand is a dream come true. What I'm most excited for in 2018 is touring the album and supporting Grace Jones in July. Can't believe I'm going to share a stage with a legend.
You've a number of exciting Irish and European dates lined up for 2018, what can people expect from these gigs?
Caoi: The live gigs, for us, are the pay off. We've put a lot of thought into our live show, and it's the only the beginning of what we would like to do in the future. What can you expect? To have a good time. To have a great time.
Wyvern Lingo are about to go on their most extensive tour to date – see where they're at near you, and buy tickets here.
Wyvern Lingo's self titled debut album is out now.