Features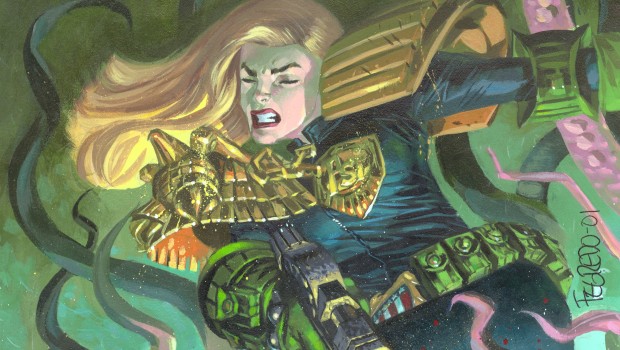 Published on March 6th, 2018 | by Loreana Rushe
0
Never Judge a Book by its Cover: A Conversation with Maura McHugh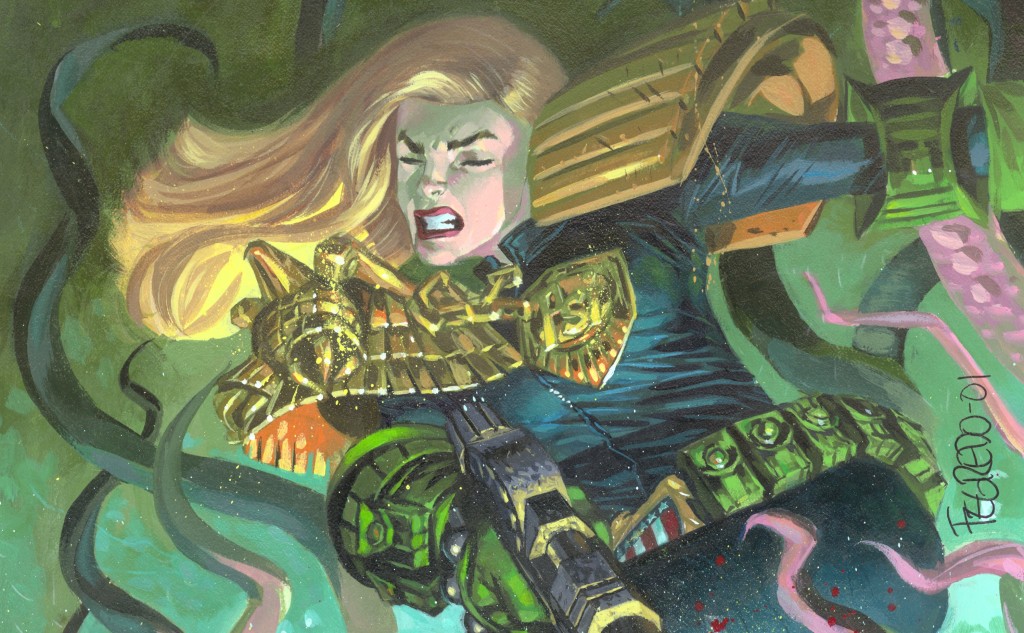 Maura McHugh is a writer based in the West of Ireland, predominantly working in comic books, prose (fiction and non-fiction) and works for the stage and screen. She recently made history by signing on as one of the first official writers of the upcoming all female special of 2000AD, the renowned British comic book series and dwelling of the indomitable Judge Dredd. She talks to Loreana Rushe about her work, female heroes and diversity in the comic book industry.
What do you enjoy most about writing comics and how did you get into the industry?
I love working with artists. That collaborative process, when at its best, can result in a comic book that fuses the visual and the written word into something special. The thrill of receiving pages of beautiful art based on my script never gets old. I entered the industry when I was asked to write a comic. It was an ambition of mine, so I said yes immediately (and enthusiastically).
What comic book writers and characters have been the biggest influence on you? What are you reading and enjoying at the moment?
Actually, 2000AD was a big influence on me. There were very few comics available when I was growing up in a small town in Ireland, but there were always copies of 2000AD in the newsagents. It's probably the comic that kindled my love for the medium. I read a lot of it as a kid.
I'm an omnivorous reader of comics – I like superheroes, oddball indie titles, graphic novel memoires, comic book journalism, etc. Probably because I just love good storytelling.
Not surprisingly, I'm reading a lot of 2000AD at the moment. I'm hugely impressed with the range of talent and the array of stories being told, from the stalwarts like Alan Grant, Pat Mills, John Wagner, to the more recent talent like Gordon Rennie, Eoin Coveney, Emma Beeby, Alex de Campi, Michael Carroll, and Phil Winslade (there are far too many to list them all).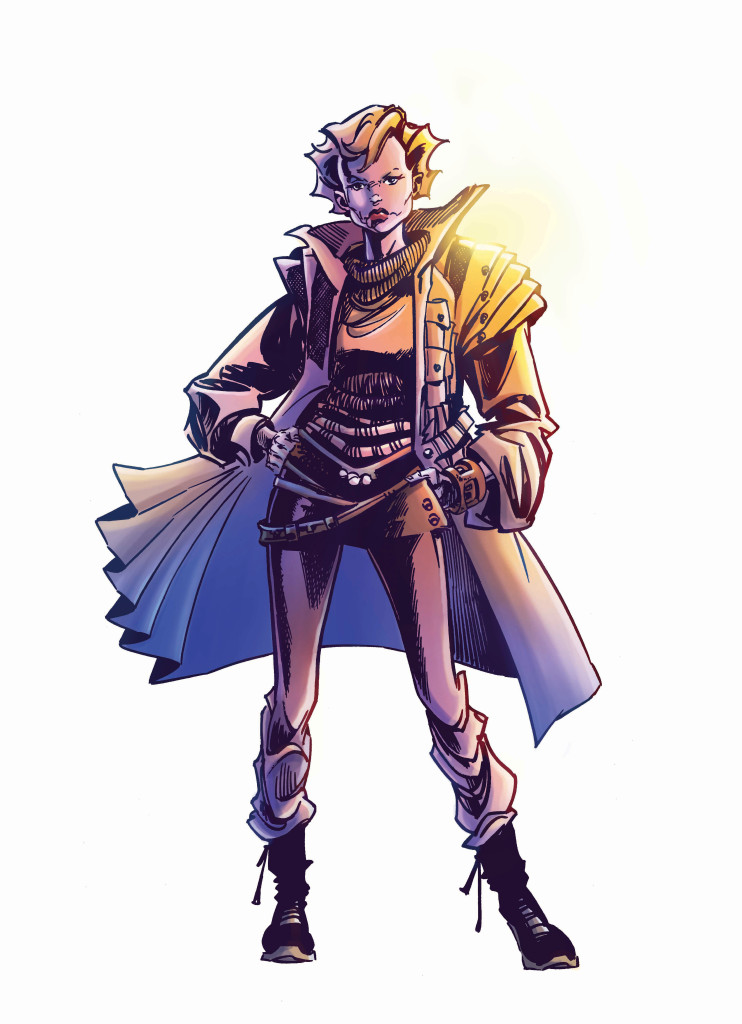 This is the first time in its history that 2000AD is being handed over to a team of all female creators. What are your thoughts on this? How does it feel to be involved?
First off it's an honour to be considered for this project, and I think it's a smart way to showcase the work of women in the industry and to introduce them to the 2000AD universe. Women have been writing, drawing and reading comics since the inception of the medium after all, we're not interlopers, outsiders, or newcomers.
Do you plan to add to any of the comic's established characters? How much would fan opinion and canon factor into this for you?
I can't discuss the details of what I'm writing I'm afraid. Since I'm working in an established universe part of the gig is to have fun with that world and its characters, and perhaps push the boundaries at times if editorial is happy with your direction. Decisions about characters are always made at the beginning with the editor (in this case Matt Smith), so storylines evolve through conversations with the creative team, including the artist, who is the significant contributor to the visual appeal of the story – a vital factor in any comic book.
Canon morphs in any long-lived creative property, and 2000AD has had several changes during its 41 years. All creators hope that fans will like the work, but you can't let that become a worry that hinders your imagination.
As a women working in a mostly male dominated industry which is constantly evolving, what are your feelings on this? 
Overall my experiences have been positive, and I've received a lot of support from my peers and fans of the medium. I've also tried to pay that back by supporting and highlighting the work of new and established comic book creators.
I love comics. I think it's an outstanding, flexible medium with the potential to tell engaging, exciting stories that entertain and move people. That's what I focus on – making better work. Sometimes it comes together perfectly and sometimes it doesn't, which is the same for any creative practice. So you dig down and try again.
Something I rarely do is check the comments section on comic book sites, but on the various posts about the 2000AD news the response has been hugely positive. Do you think 2000AD's anti-authoritarian ethos might make it easier for you as a female writer?
Yes, there has been remarkable enthusiasm for this project, and it's wonderful to see that the majority of the 2000AD community is receptive to widening the ranks of talent working with their favourite characters. There's an array of stories examining the issues around authority, power, and conformity in 2000AD, so readers of the comic would certainly be used to thinking about those issues. I have huge respect for the legacy of innovation that infuses the 2000AD universe, and I'm excited to be part of it.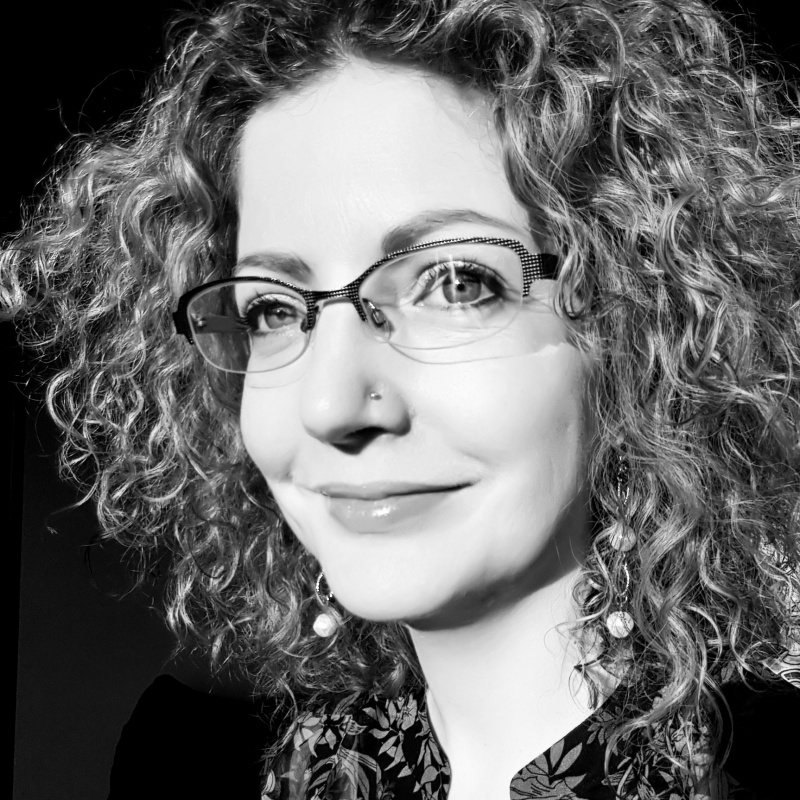 Are there any existing female comic book characters you'd love to write for or reimagine?
Of course on the biggest scale there's Wonder Woman, but other characters I'd love to take a crack at are Renee Montoya (the Question), Catwoman, Batwoman, Tank Girl, Buffy Summers, Faith, Leia Organa, Scarlet Witch, and Storm, or to look back at some of the earliest comic book female superheroes like Fantomah or the Woman in Red.
But I'd also love to write John Constantine (or Justice League Dark), Blade, Doctor Strange, or Shade the Changing Man (or Girl). Much as I like writing women characters I'm equally happy to write male ones, or aliens, or creatures from another dimension! What's nice is to get the chance to be considered for a wide range of work.
Since you're also passionate about film, was the recent Wonder Woman film a feminist triumph like many claimed it to be or do you think women are still being misrepresented in comic book films?
The Wonder Woman film will always stand out as an important moment for the representation of female superheroes on the big screen, but there is a tradition of terrific women on the small screen that has led to it – such as the early iterations of Catwoman (Julie Newmar, Eartha Kitt), Batgirl (Yvonne Craig), and Wonder Woman (Lynda Carter), and more recently kickass characters such as Buffy Summers (Sarah Michelle Gellar), Peggy Carter (Hayley Atwell), Melinda May (Ming-Na Wen), Daisy Johnson (Chloe Bennett), Jessica Jones (Krysten Ritter), and Supergirl (Melissa Benoist)… and that's just a fraction of what's out there now, with new series launching all the time.
There have been loads of excellent characters who have been playing secondary parts in superhero team films. I'd be remiss not to namecheck Judge Anderson (Olivia Thirlby) in the recent Dredd movie, who was important to the story, well written, and well acted. Plus every woman in the Black Panther movie. All of this builds and leads inexorably to more women-centric films.
I welcome the time when there will be so many women-led superhero movies that the 'woman' part of it will be dropped, and the storylines will represent a wider range of experiences.
I mean, who wouldn't want a movie featuring Shuri (Letitia Wright) and Nakia (Lupita Nyong'o) leading the Dora Milaje on a mission to save the planet from invading aliens intent on stealing all the Vibranium from Wakanda (for example)? That just sounds like cool characters on a fun adventure to me. Who doesn't want that?
Are there any examples of strong female leads you feel should be noted? If not, what female led stories or characters do you believe would make great film adaptations?
I adore Halo Jones from 2000AD. That could be a cool, trippy, offbeat film – and a good antidote to the more action-led films. There's room for more introspective, thoughtful comic book adaptations. Don't get me wrong, I love a good action flick, but Logan (2017) proved that there's an audience for a wider range of stories told via different styles.
Are there any male writers and artists portraying women faithfully?
Yes, lots! Honestly, there's way too many to list.
Comicsbeat recently published an article online stating 'diversity in comics is alive and well and selling a lot' (see link below) What's your opinion and experience with writing diverse characters and how important is it for you to be inclusive?
The Top 20 Graphic Novels of 2017 Prove Diversity in Comics is Alive and Well and Selling a Lot
Comics as a creative medium has the potential to depict many different experiences from a multitude of perspectives. Our world is a place of tremendous variety, so it's not surprising that when comics express that they are popular with a wide audience.
When I'm sitting in a coffee shop, or just walking down the street, I'm constantly observing people and thinking about who they are and what has shaped them. I'm curious about people, and I think most writers are… even if we're introverted!
I'm always in my own head so it's refreshing to write other people and fundamentally consider life from a different perspective. I enjoy reading or watching stories about people who have lives very different to mine. How else can we get to know one another? As humans we have threads of commonality, but also differences of upbringing, language, culture, history, spirituality, etc.
Fiction is the perfect way to explore what brings us together and drives us apart. Tackling it from a variety of points of view is not only invigorating but it can lead to drama, conflict, and solid entertainment. And even fun! These are all good things for any creative industry.
What's your opinion on the work currently coming out of Ireland and any particular favourites? Who are the biggest supporters of Irish talent both here and abroad? Do you think comic book creators are nurtured here?
It's a dangerous game to name a few favourites in a comic book scene as a small as Ireland. What I will say is that there's been an explosion of talent across the range of the medium: those working for big American/British publishers, in the indie and small presses, and via webcomics and self-published titles. It's becoming a rich seed bed for talent. Social media and the array of events and meet-ups across the country has been a massive help. It's not a couple of people creating stories in their own rooms feeling isolated any more, but a network of creators who can meet and support each other.
Plus, the comic books shops across the country have been very supportive of local talent, which has been vital. The change in the past five years has been astonishing, and quite uplifting.
Finally, do you have any opinions on the upcoming referendum / Repeal the 8th? Is the subject matter of bodily autonomy something you'd ever consider exploring for a comic book?
I'm in favour of repealing the 8th amendment, and I've addressed issues around bodily autonomy in my fiction before. To lose authority over your physical body is one of the most fearful prospects for anyone to contemplate, and it's a reality, and a source of anxiety, for many women in Ireland today. With the upcoming referendum we have the opportunity to signal that as a society we value women, and trust their decisions about their own wellbeing. Strangely, it remains a contentious issue to trust women.
For more information about Maura and to keep an eye on her work check out her website here and follow her on twitter here