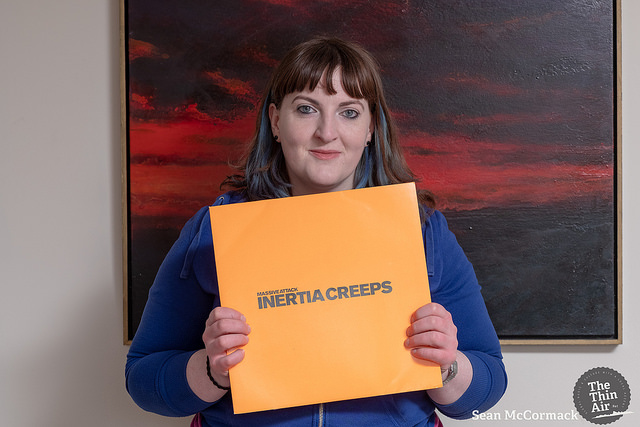 Paula Healy is the station manager with 
Flirt

 

FM

, Galway's Community of Interest station. She also works with The Irish Student Radio Network, NUI Galway's Youth Academy and freelances as Studio Engineer and 

Audio

 Editor. Her show Lovesick airs on Wednesdays at 8pm and specialises in new Irish music and electronica. She's shares some of her favourite records for us,  from Massive Attack to Zig and Zag. Photos by Sean McCormack
The Cinematic Orchestra – The Man With a Movie Camera
When this came out in 2003 I picked it up for a listen in an attempt to be more sophisticated in my listening habits. Turns out maybe I do like some some nu jazz and possibly this is one of my favourite albums ever. The DVD release, with a making of, and the Dziga Vertov film with its new soundtrack was a very limited release, and I had to lurk on a couple of Ebay auctions before I finally got a copy. Seeing the Cinematic Orchestra perform this soundtrack live is one of the few things left on my musical bucket-list.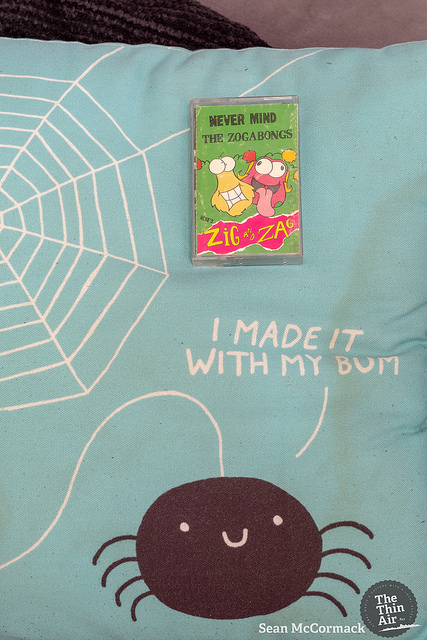 Zig & Zag – Nevermind the Zogabongs
I think I know every word to this album, which was a Christmas present in 1991. I still hum classics like Ted Danson's Wig and 1992 to myself even now. I've soured on novelty music since then, but this album is up there with The Muppet Show Vol. 2 for the sound of my childhood. I also still have my prized Zig and Zag bin.
The Rapture – Echoes
Coming after Out of the Races and Onto the Tracks and Gotham! by Radio 4, it seemed like New York and Punk-Funk was just the most exciting thing you could dance to. The Rapture did a signing in the record shop I worked in, and they couldn't have been lovelier. Little did I suspect that LCD Soundsystem were just around the corner too.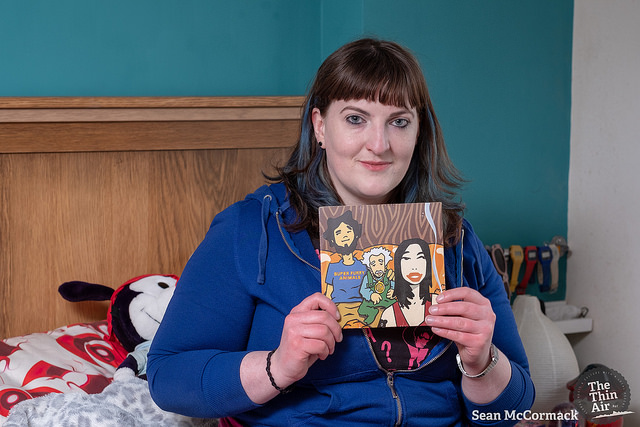 Super Furry Animals – Radiator
I'd bought Fuzzy Logic after hearing their tracks on compilations, but it was Radiator that has stuck with me. Watching No Disco and seeing the videos for Hermann ♥'s Pauline and Play it Cool cemented it as a favourite. I ended up collecting all the singles I could get my hands on as I loved the artwork by Pete Fowler so much. Part of my Junior Cert art project may have been slightly influenced by the style, and I just couldn't see them play live often enough. I nearly picked Welsh for first year Arts in college, so I could understand what on earth Mwng was about. Phew.
Beck – Sea Change
Of all Beck's albums, this is the one I still listen to the most. A polar opposite of his previous release Midnite Vultures, this, and I see a Darkness by Bonnie Prince Billy are my go-to's for a proper wallow. I haven't seen him live since Witnness in 2000, so I'm pretty excited about catching him and The Yeah Yeah Yeahs in May.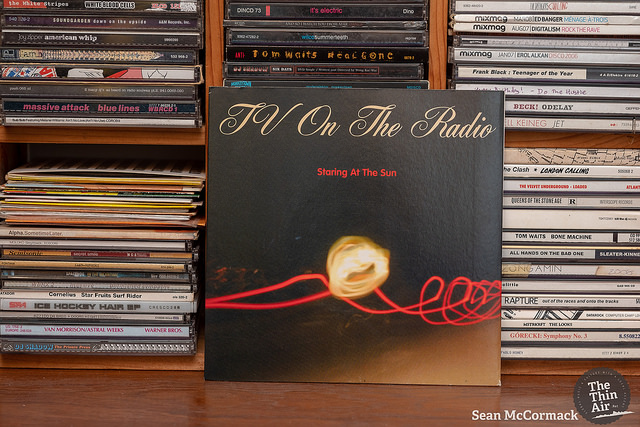 TV on the Radio –  Desperate Youth, Blood Thirsty Babes
Staring at the Sun (initially featured on 2003's Young Liars EP) is my favourite song of all time – so much so that I ration listening to it. Nick Zinner of the Yeah Yeah Yeahs guesting on guitar for that track is a bonus. Another New York band I love, I could have picked any album by TV on the Radio, but their first was so exciting, I'd heard nothing like it, and nothing connected quite like it either. I've only caught them live once in Edinburgh touring Desperate Youth, and so far I don't think they've had a date in Ireland.
David Holmes – Let's Get Killed
Between the release of Let's Get Killed and his Essential Mix, 1997 was the year of David Holmes for me. I was excited to be up in Dublin, going into the basement of HMV on Grafton Street day of release to buy this album. Not to play the poor mouth, but I normally agonised for at least a week before buying a new album. The album's first single, My Mate Paul had me convinced I needed to buy it as soon as possible. The snippets of New York street chatter and range of genres from Serge Gainsbourg re-works to big beat make it a perfect snapshot of the time.
Mylo – Destroy Rock & Roll
This was the soundtrack to a lot of late nights, but it also held a special place, as I'd recently moved back from Scotland and missed all my friends back there. It has the great back story of the then 25 years old Myles MacInnes creating it on a second hand iMac in a messy bedroom on the Isle of Skye.
Massive Attack – Mezzanine
I spent a good chunk of my teenage years gently obsessed with Massive Attack, the way you only can be when you're a teenager. Blue Lines was good, Protection was really good, but I loved the mood of Mezzanine the best. I was relieved that their third album had little of the dubby feel of their previous releases, this in its entirety was more up my street. Even though the members of the weren't taking to each other during the making, and Tricky was long since gone it hangs together as a collection. The three Elizabeth Fraser tracks, Inertia Creeps and Risingson are definitely the best on this.
Soulwax- NY Excuse
I can't come up with a reason for including this – the single is great, the album isn't