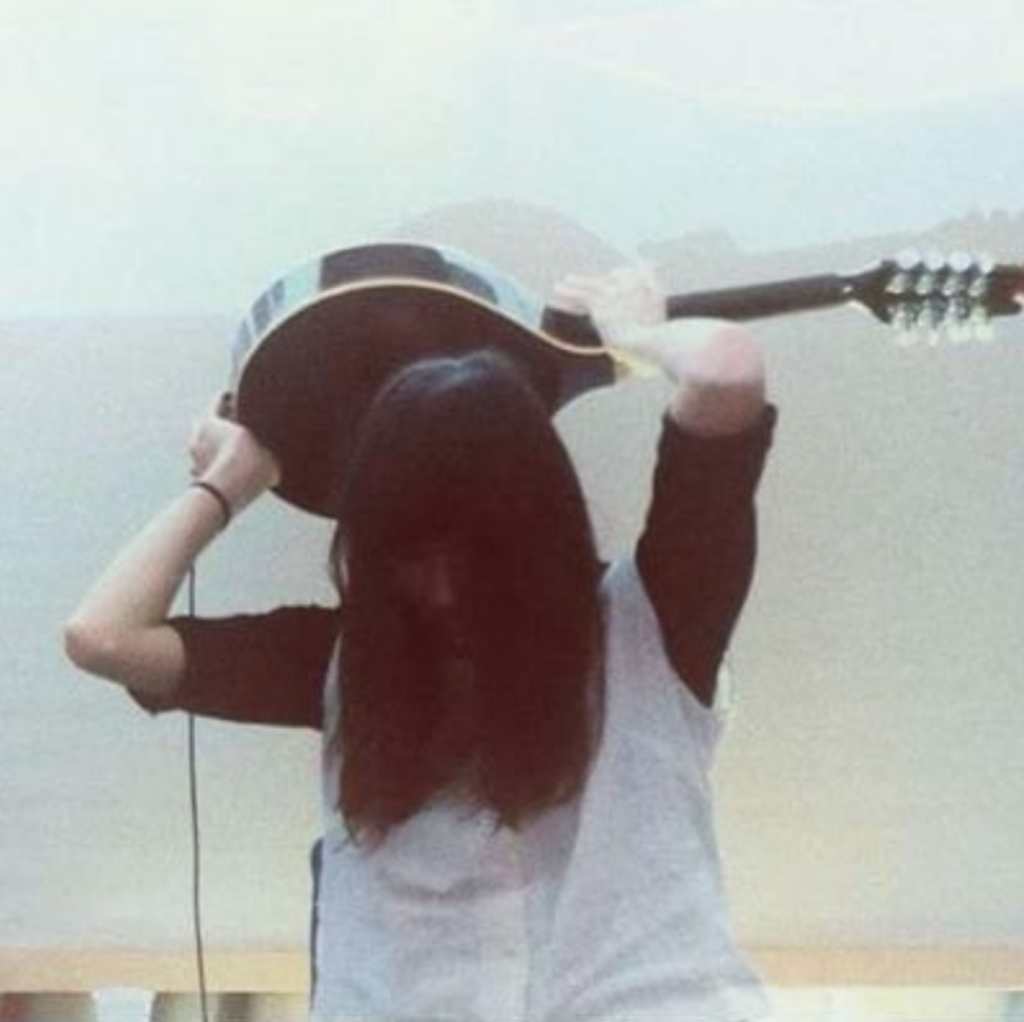 Hunters Moon presents An Evening of Experimental Performance + Sound took place in the gallery room of A4 Sounds, an art space off Dorset Street in Dublin's north inner city.
The night began in relaxed fashion, as Little Movies, the duo of Ben Donohue and Morgan Buckley, sat on stage facing each other across their modular synths. It looked like a game of Battleship and sounded like an alternate-universe take on 'Dueling Banjos'. Two opposing banks of sound played out throughout the performance: one, a series of rippling waves, floating bubbles that shifted and grew to different shapes and sizes; the other an arresting blast of noise that bent and swayed. The two artists took on their work with serious intent, pausing from their minute alterations to swig from their cans.
Initially billed to perform, Branwen Kavanagh was forced to pull out days before the gig. They were replaced on the bill by Deirdre Murphy and Sean Carpio, a duo performing in dance and music. Sean, seated, performed a thrilling game of crescendo-diminuendo on a ride cymbal, hammering away with solid intensity while Deirdre moved about the room. Hers was a performance of sharp movements, spins, whirls, crawls and glides. It was striking, though difficult to appreciate at times; when she lowered herself to the floor her shape was obscured by those seated towards the front. This is where the limitations of a small, flat room are laid bare. That said, the juxtaposition of one man and a drum and one woman on her feet was thoroughly engaging.
Another change in personnel followed. AR~DS became AR, as Declan Synnott was unable to attend. AR, or Antakya Remains, produced a fascinating combination of rich sound garnered from tape loops and synth twiddling, yet the performance was affected by the choice of visuals behind the artists. Seemingly a silent art film from the early-to-mid-20th Century, it featured a series of men groping and orally assaulting a woman, who thrashes about as she is held down by her attackers. While the music was dark, haunting and confusing, these horrific images distracted from it entirely, removing this listener from any possible enjoyment of the sounds. At one point someone saw fit to disconnect the display, and I saw one audience member give a thumbs-up in support of this decision. Clearly, I wasn't the only one put off by this choice. The members of AR said that this wasn't their choice and someone had put it on without their knowledge. A failure of communication on the part of the organisers? It left a sour taste, nonetheless.
Last up was Natalia Beylis. I have never witnessed a performance like this. She set up a record of nature sounds, walked around the room with portable tape recorders playing bird sounds and then went up on stage where she manipulated a selection of cassettes. It was somewhere between curation, DJing and live performance, an overall experience of wonder and awe. That's without mentioning the visuals behind her – a fascinating, beautiful film entitled The Private Life of a Cat by Alexander Hammid and Maya Deren. At one point Natalia went off stage and returned with a bucket of plastic warbling bird whistles, which she distributed among the crowd for audience participation. A joyous end to an evening that was at turns gripping, fascinating, disgusting and enriching. Aidan Hanratty