Features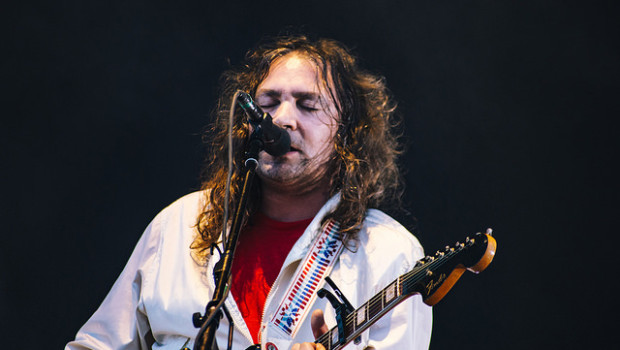 Published on June 6th, 2018 | by Zara Hedderman
0
Forbidden Fruit 2018: Monday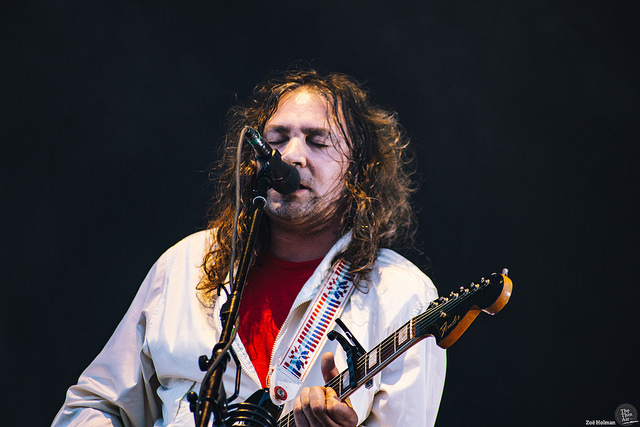 On the last day of the June bank holiday, also one of the hottest days of the year, a modest gathering assembled at Forbidden Fruit. The line-up for day three differed greatly from Saturday and Sunday's bill, as it catered devotees of guitar-led indie-rock with Philadelphia based The War on Drugs headlining and veteran (and nostalgia inducing) acts like Spoon, Warpaint and Grizzly Bear performing, also.
David Kitt, whose set predominantly drew from his most recent record, Yous, eased the early attendees into the day's marathon of live music. His set-up was minimal; comprised of Kitt switching between acoustic and electric guitars, a drum backing track and long-time collaborator Margie Lewis on violin. The combination of 'Still Don't Know' and 'There Will always Be This Love's' soothing melodies with the upbeat multi-layered 'The Taste Without' and 'Like Lightning' was enjoyed by the clusters of seated audience members. Kitt dedicated his final track (aforementioned 'Like Lightning') to the "people on a rollover", and commended them on their prompt arrival. Those in attendance appeared to be enthralled by his set. This was felt when a collective sigh permeated the sun-scorched hill after Kitt introduced a song, however, stringent scheduling meant he was ushered from side-stage to accommodate the next band.
The band in question was New Zealand psych-rock trio, Unknown Mortal Orchestra. After a prolonged period of setting up, they launched immediately into 'From The Sun', off their second record, II. The crowd congregated before the stage as frontman, Ruben Nielson walked, casually, off the main stage, stopped briefly for pictures as he made his way into the sound-desk. A few minutes elapsed, Nielson presumably asked for the levels to increase. Once he returned to his band members with improved sound quality, they grooved through the best of their back catalogue with 'FFunny FFriends', 'Necessary Evil' and 'So Good At Being in Trouble'. They played a variation of old and new material, satisfying pre-existing fans and, undoubtedly gaining new ones. Ultimately, UMO's were infectious and billed at the perfect time to get the crowd invigorated, clearing away any cobwebs forming as the long weekend came to a close.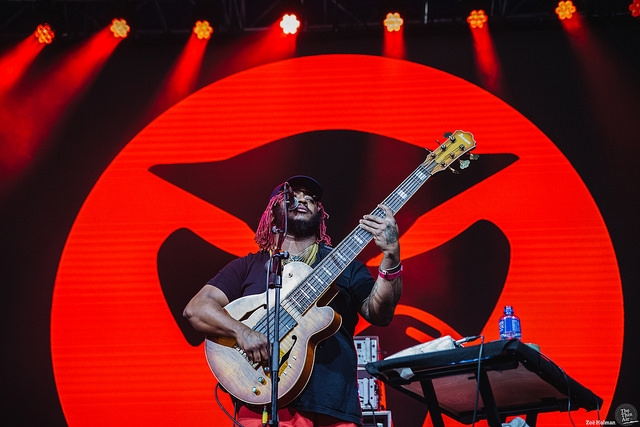 Ruben Nielsen was irked, however, by their set clashing with Thundercat, a frequent collaborator with Kendrick Lamar and Kamasi Washington. Nielson jokingly tweeted afterwards requesting festivals to refrain from scheduling them at the same time as it has prevented him from seeing the supremely talented American multi-instrumentalist at previous festivals. Nielson didn't miss a lot, unfortunately.
There were a number of issues with Thundercat's set in the Undergrowth Tent; primarily the switching of his stage time to an hour and a half earlier than originally advertised. This resulted in people either rushing to catch him, arriving at the mid-point or missing him altogether. Surprisingly, his appearance (one that many ticket holders were most excited for) was the most disappointing of the day. Yes, he's beloved for his free-jazz improvisations, but extending the mid-section of every song by adding at least five minutes of him and his band (a keyboardist and drummer)  jamming became monotonous and self-indulgent. The highpoint of his performance was 'These Walls', a feature he did on Lamar's 2015 album To Pimp A Butterfly. Outside of the sprawling arrangements, Thundercat divulged a his love for his cat to the crowd before dedicating 'Tron' and 'Jethro' to his feline friend. Overall, it was an underwhelming set that failed to meet projected high expectations. Not even the distant sound of the funky hook to 'Friend Zone' was enough to entice people away from making the voyage to see Spoon and return to the tent.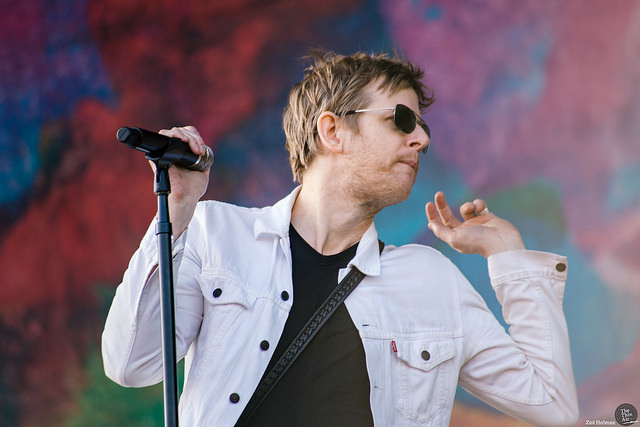 A seemingly rogue inclusion to the line-up was Spoon, the alt-rock group founded by Britt Daniel in Austin, Texas twenty-five years ago. A band that enjoys great domestic success but  has teetered alongside The Walkmen, The Shins and Modest Mouse amongst European audiences. Their set could have gone either way as one of the lesser known acts to perform on the main stage. Dressed in a similar style seen on Hamilton Leithauser throughout last year's festival season (black t-shirt, black jeans and a cream denim jacket), Britt Daniel exuded a persona of one who's studied the onstage antics of rock legends; over-the-top guitar strumming, lying on his back halfway through their set and general nonchalant flailing of his long limbs. His goofy movements were, actually, endearing and the band's musicianship was more than impressive. The sound for their hour was exceptional, each element from keyboard solos to bouncy bass parts were crystal clear to the ear.
Each song offered a variation of moods, this kept the crowd invested and excited to see where the music would lead. An extended intro to Gimme Fiction's 'I Turn My Camera On', was one such highlight. Followed by 'Don't You Evah', 'Do You' (another excellent moment during their set) and 'I Ain't The One', which three guys enjoying cold beers as they watched Spoon were overheard saying that it sounded like "the next James Bond theme song." They left on a high with 'Can I Sit Next To You' from last year's, Hot Thoughts and finished with an energetic rendition of 'Don't Make Me a Target.' To casual fans of the band, familiar with a handful of their songs, this was the perfect curation of their discography, that appealed to the tastes of a diversified festival crowd. Spoon were, undeniably, the unexpected treasure of Forbidden Fruit's climax.
A tough act for Grizzly Bear to follow as only six months had passed since they played to an Irish crowd in Dublin's Vicar Street, shortly after the release of their well-received fifth record, Painted Ruins. By this time, a considerably vast and tame crowd assembled with a mix of people standing in the pit while many enjoyed the music seated on the hill ascending from the stage. The band struggled initially with some sound issues as Chris Bear's incredible but lofty drumming overshadowed both Daniel Rossen and Ed Droste's vocals during the first three tracks, 'Aquarian', 'Losing All Sense' and 'Cut-Out'.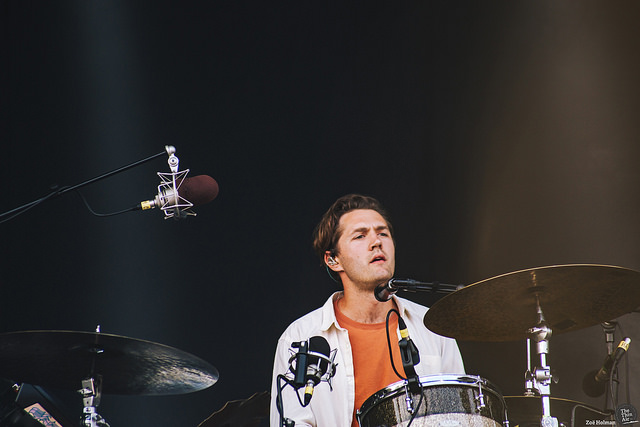 Fortunately, all technical inadequacies were resolved for 'Yet Again', 'Fine For Now', and 'Ready, Able'. Their setlist was completed with 'Mourning Sound', global favourite 'Two Weeks' and 'Sun In Your Eyes', their steadfast choice to close gigs throughout their recent tours. The closer saw Chris Taylor swap his guitar for a saxophone, Daniel Rossen seated at an electric piano and the other members putting every final ounce of energy into the rambunctious instrumentation which was met with a rapturous applause. From the glowing reception, it's no surprise that Grizzly Bear return frequently to Ireland.
Another band that enjoyed the warmth of the Irish festival crowd was Warpaint, nestled away in the Undergrowth Tent. Much to the annoyance of attendees wanting to catch both Grizzly Bear and Warpaint, a slight overlap meant that most missed the start of the latter's performance. Upon arrival, the Los Angeles dark-wave quartet were sprightly throughout 'Whiteout' with Emily Kokal, Theresa Wayman and Jenny Lee Lindberg moving in tandem to the languid melody led by their amazing drummer, Stella Mozgawa.
Kokal interacted regularly with the crowd – all of whom danced freely to every song – and informed the full tent of her Irish ancestry whilst affirming her appreciation of Irish audience's enthusiasm for their music over the years. These pleasantries swiftly progressed into 'Billie Holiday', a song featuring a sample of Mary Wells' 1964 hit, 'My Guy', that dwells deep in their discography on the 2009 EP, Exquisite Corpse. Their set drew to a close with newer material, namely, 'So Good', culminating in a plume of smoke, 'New Song' and 'Disco/Very'. Along with Spoon, Warpaint held joint place as the highlight of the day's festivities. The band seemed to have thoroughly enjoyed every minute and relished the response they received from the enthusiastic tent inhabitants.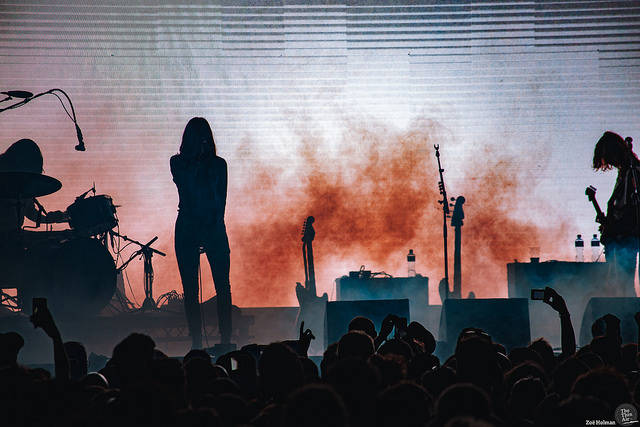 The band who met the level of expectation of this particular festival goer, and not necessarily in a positive way, was The War on Drugs. The six-piece band led by Adam Granduciel are frequently compared to both Tom Petty and Bruce Springsteen based on their penchant for extended guitar solos and borderline dad-rock soundscapes. White denim jackets must be this festival season's garment of choice as the frontman sported one atop a red t-shirt which coordinated nicely with his Gibson White Falcon played during 'Strangest Thing'.
The song that excited the crowd most was, of course, 'Under The Pressure', from 2014's Like A Dream. The band played a slowed down version of one of their biggest hits, to date. Granduciel elongating each early mention of the word "pressure" before an added instrumental interlude followed the first verse and chorus which morphed into fuzzed synths and drawn out guitar as their impressive oval light rig twinkled overhead. The noticeably mature crowd, unironically wearing Roger Federer snapback caps, clapped their hands overhead as Granduciel launched into his fourth guitar solo of the song, which last well into fifteen minutes. Once the sound steadied to silence the majority of the audience took that as their queue to leave the grounds.
As festival experiences go, Forbidden Fruit's closing day was far superior to that of two years ago, the last time this reviewer went along. It was a tremendously enjoyable day rom witnessing the ironic confiscation of an apple before entering the spacious surrounds, spotlessly clean portaloos equipped with two full rolls of toilet paper and Candi Staton's 'Young Hearts Run Free' audible in close proximity. The relaxed temperament of good-spirited crowds basking in the summer sun and fantastic selection of music left little to fault the festival on. Zara Hedderman