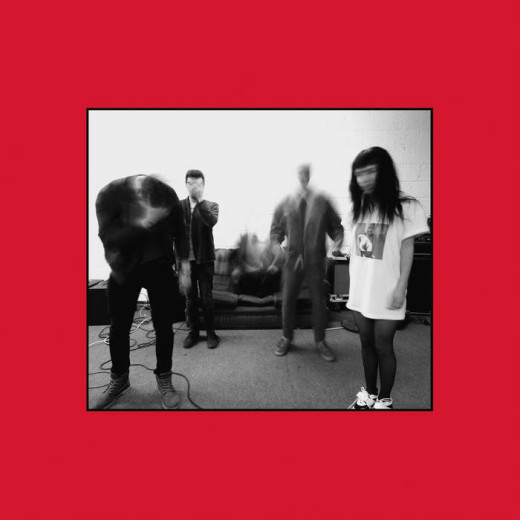 Dundalk Co. Louth is becoming more and more of a creative hub, breeding a new wave of young acts paving their way through Ireland's current music scene. From artists like Elephant and the now UK-based natives Video Blue and Trick Mist to staple venue The Spirit Store and local record shop Classified Records, the town is gradually becoming one of the country's most vital hotbeds of talent. Testament to that, is the newly label Pizza Pizza Records, and with it – it's first release, Just Mustard's debut album Wednesday.
Previous to this release, Just Mustard could have been considered a gritty form of dream pop. Edgy, but still with a light, ethereal element to their sound. We know this from premier single 'Lemon Smiles' and 2017's 'Television'. However while the act hang on to their gloomy/dreamy nature, Wednesday has amped them up with a lot more grunge and a lot less pop. It's distorted and unfiltered, and all the better for it.
Opening track 'Boo' is one of the more subtle numbers of the whole, and lulls the listener in through a haze of guitar and interference. It does however, set the tone for the record going forward. It's serious and moody with a repetitive, throbbing percussion throughout that seems to drag the music along as it progresses.
'Curtains' follows and is a strong indicator of the band's development over the past few years. It juxtaposes gentle vocals against writhing guitar riffs and offbeat percussion in a way that's reminiscent of Wolf Alice in their early years. 'Deaf' is another such track, where the vocals are portrayed softly, against a haze of scratchy guitar and bass. Here though, the guitar is given more force with a droning motif that accompanies the vocals as a subtle accompaniment.
It becomes apparent that Just Mustard aren't simply a generic alt-grunge band. Behind the distortion and interference are a group of highly talented musicians and songwriters. From the understated instrumentation to the vocals and the arrangements clouded in guitar feedback and distortion. It takes effort to create a sound so heavily grunge and hazy, without sounding messy and chaotic. And while the sound they create is so unordered in nature, as an ensemble they are tight and together.
One of the more obscure tracks 'Tennis' is perhaps one of the most interesting. The percussion is choppy and intermittent, seemingly mimicking the sound of a tennis ball during a game. Whether purposeful or not, it creates an unsteady and jarring effect, which the rest of the music reiterates. The minor key and almost over-powering effects on guitar and bass come close to drowning the vocals, though the desired effect is clear and welcome. This is a gritty, grunge album and 'Tennis' perfectly encapsulates this through its texture and layering of sounds.
'Pictures' concludes Wednesday in the same way 'Boo' started it, fading the listener out on a slow and steady wave of dim guitar, bass and vocals.
Each of the album's tracks have a one word title, which is perhaps a subtle indicator to the no-frills attitude the band have adopted for this release. Either way, it gives them a choppy yet solid grounding that has seemingly fused into their identity as an act. Some of the tracks are less memorable than others and seem to blend into each other at times. However, the stronger songs such as 'Curtain's', 'Tainted' and 'Deaf' more than compensate and as a whole, Just Mustard have given us a decent first album. They've deservedly forged their way into Ireland's wider music scene via one of the most promising creative towns and are a welcome addition for anyone searching for solidly grunge arrangements with a fresh and unique edge. Shannon McNamee