Live Reviews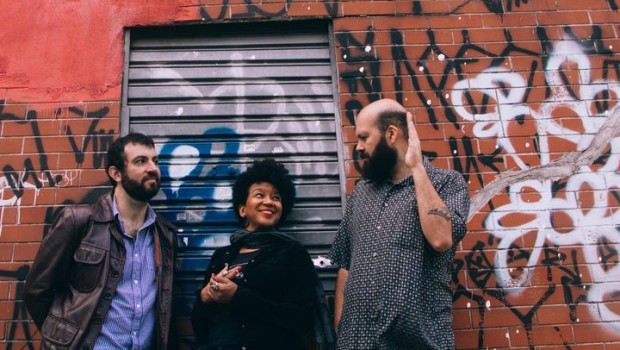 Published on June 11th, 2018 | by Ian Patterson
0
Metá Metá @ Black Box, Belfast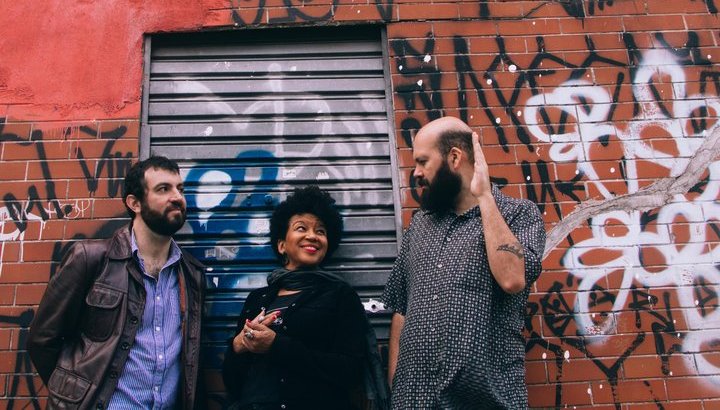 Two years have passed since Metá Metá's memorable gig at the Crescent Arts Centre as part of Moving On Music's Beat Root festival. The São Paulo band's incendiary performance that evening was all the more remarkable given the absence of saxophonist Thiago  França  forced to spend the night in a Belfast hospital due to a virus. Without him, vocalist Juçara Marçal, guitarist/vocalist Kiko Dinucci, electric bassist Marcelo Cabral and drummer Sergio Machada served up a heady brew of indie rock laced with Afro-Brazilian and psychedelic colors.
Back to full strength for its return trip to Belfast, Metá Metá greets Black Box with a visceral set drawn largely from its albums Metal Metal (2012) and MM3 (2016). Cabral's infectious, slow-grooving bass ostinato announces "Tres Amigos", a striking opener of stalking rhythms and brooding melody. Without pausing for breath, the quintet veers, via a Gong-esque saxophone motif, into brash, punkish terrain, followed by a psychedelic melt-down of screeching static and distortion. Anyone in Black Box expecting some pleasant bossa nova vibes had a brilliantly rude awakening.
Just as common preconceptions of Irish music in foreign climes reduce expectations to the twiddly dee of a mythic past, so too, Brazilian music tends to be rather too neatly pigeon-holed in this part of the world.  Some sixty years on from João Gilberto's 'Desafinado',  stereotypes of bossa, samba and Brazilian party music still dominate at the expense of more adventurous, contemporary Brazilian music. "Songs about boats," Franca scoffs, dismissing the clichés of bossa nova and samba. "Who has a boat? Come on! Nobody has a boat," he assures the audience.
What Metá Metá does have in abundance is danceable rhythms, and soon a good proportion of the crowd is up on its feet, lured by the intoxicating grooves. With the music mutating from funk-rock and post-punk to free-form jazz and noise – with all bar Marchada occasionally working pedals and knobs to forge dense walls of distortion – the dancing is likewise variable. Once caught by Metá Metá's wave it's no easy thing to jump off.
Brazilian roots music is, however, a fundamental element of Metá Metá's musical DNA. Candomblé music from Bahia – via West Africa and the Portuguese slave traders – courses like blood through the veins of Metá Metá's music.  On "Exu", Marçal's electronically filtered vocals, which conjure the atmosphere of an old field recording, Machada's tribal rhythms and Franca's braying horn pay homage to the Yoruba spirit messenger of the title.
Earthier rhythms, including samba, infuse Dinucci's dancing guitar lines and Marçal's percussive/wordless vocals on the carnivalesque 'Toque Certeiro'.  On the gently swaying 'Cobra Resteira', Dinucci and Marçal toggle between harmonies and call and response over Machada's shuffling groove; Franca's lilting flute gradually takes flight , soaring freely. Afrobeat also rears its head – the band recruited the legendary Tony Allen, pioneering Afro-beat drummer behind Fela Kuti for Alokoro (2013) – to drive the dancing crowd.
'Corpo Vao', with its punchy riff-motif and searing guitar work, steers the music back towards visceral rock and there's room too for a blistering drum solo. With Metá Metá, however, the music can spin on a centavo, with ferocious guitar distortion and pedal effects, Afro-beat groove or skronking saxophone suddenly exploding the status quo.
Dinucci takes lead vocals on the set closer, 'Oba Kossa', a rumbling slow-burner of brooding intensity that gradually catches fire. França's tenor saxophone spirals in John Coltrane-esque abandon, and, just when it seems the music is dissipating gently, the quintet sparks up once more in a rousing finale.  Rapturous applause ensures an encore of 'Orunmila' and 'Angloana' –both funked-up, danceable folk tunes spiced with spiky guitar, freewheeling saxophone and Marçal's inimitable vocals.
Metá Metá's Black Box gig already ranks as one of the best of the year in Belfast. Hopefully, if the spirits concur, this electrifying band will return before too long with more of its potent musical brew. Ian Patterson