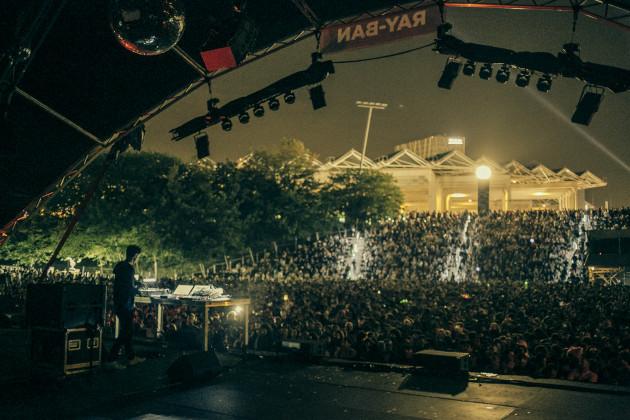 Four Tet – Credit: Sergio Albert
Disclaimer: The punctuality of this review was brought to you by Vueling Airlines, whose inability to deal with two hours of stormy weather resulted in several hundred failing to make it home for up to 4 days without compensation – half this site's editorial team included. We recommend sacrificing some extra budget allocation on transport.
It's easy to stress the festival experience with its clashes, transport and accommodation woes, but once you've arrived at Primavera Sound, it's all vibes; that soft coastal breeze – and a €1 street Estrella to cushion the sun's blow on our temperate island monkey constitution. As thoroughly discussed, this year's sprawling lineup is broader than any seen before at the Parc del Fòrum, evolving from a lineup philosophy that was already ahead of the rest.
(Sandy) Alex G is humble about his coveted Mango stage slot, and plays a set that sits on the guitar-led end of his own, incredibly broad scope, transforming 'Poison Root''s "now i know everything" refrain into a unifying moment of release. The enduring success of Bohemian Rhapsody opened a lot of doors, and while Sparks are sonically cleaner than their sleazy original tunes, the big open-air sound works for them. They're a joy on Thursday evening, despite that campy occasional racial stereotyping element.
Over at the Shellac residency on the reliable, often unnoticed Adidas stage – although the noise philanthropists also played a surprise show by the Primavera entrance – Steve Albini makes the same crack he's done for the last couple of years – probably all eleven – about "how impossibly sexy" we are and his disbelief at our lack of "furious making out". Despite those occasional, well-meaning Old Jim moments, they continue to be the finest working rock'n'roll band around, minimal theatrics and all. Amidst a greatest hits set with a touch of promising new material, they reach deep into the canon for 'Billiard Player Song' – its refrain of "A lot of people think she's crazy/but I know a lot of people and I think she's alright" giving a rare moments of genuine pathos across a famously cold discography. It's a reminder of not just their depth, but prescience for its time – to the untrained ear, this would be an emo-tinged update for a band attuned to current trends, not an early deep cut.
Raging introvert John Maus, adorned in the same shirt he always wears enveloped more by his sweat as the show progresses, his manic geography teacher meltdown pop hits the spot approaching sundown on Friday. Just an hour later, the first set from former bandmate Ariel Pink features a starring role for the same Call of Duty: Advanced Warfare t-shirt he's been wearing all tour. The former set, while never less than strong, is beaten by a Sunday night Sala Apolo appearance, ultimately ending up being bolstered in character than held back by the room's unbearable heat causing the desk to knock out the PA half a dozen times. Pink disappears each time happens, his hype man goading things into a pantomime Punch & Judy moment ("You have to be really, really loud if you want Ariel to come out!"). The band continue to mime their way through a selection of the lo-fi pop, off-kilter basslines, never leaving his impenetrable persona. 'Hardcore Pops Are Fun' being a major highlight, much stronger than the original. Oh Sees Castle Face labelmates Flat Worms impress with an immediate noise rock-flecked propellent 45 minutes that keeps an exhausted, dehydrated Apolo moving, fighting past the idea that this festival has to end at all.
One of the understated coups on a bill less heavy on guitar music, Lift To Experience play a blinder – skull atop a Leslie speaker on the stage, Texas flags draped in the background. The warped, self-mythologising vision of their One True Band concept bolstered by the louche, towering figure cut by Josh T Pearson. It's odd to see a set of such grand scale play so early on, but as Pearson knowingly plays those Stairway chords during the climax, explaining how possible it is that they'll never play again, and we're transported to a set where the USA is the centre of Jerusalem, and we feel the train a-comin.
As expected, Karin Dreijer's Fever Ray is without a doubt one of the strongest unisons of sound, vision, and humanity, throughout the weekend. Her confrontational synth-wars pair with absurdist stage art – Dreijer dressed as a petulant, sadistic being flanked by backing singers in grotesque bodybuilder suits – is the confrontational statement it needs to be. Ty Segall is about as phenomenal as you'd hope. Saying nary a word compared to his beautifully shambolic piece of performance art with the Muggers two years ago, he's becoming a genuine rock behemoth – watch the entire performance and see for yourself – although his 'Every1's a Winner' cover remains the singalong tune of the weekend.
Admittedly, the concrete amphitheatre of the Ray Ban stage does some serious aural damage throughout the weekend, its sub bass disproportionately powerful in the concrete amphitheatre. That said, it does allow Thundercat's low-end virtuosity to envelop, as squelching clav-synth sounds pierce through a part tune, part jammed set that's as soulfully intuitive as it is indulgent – in the best way.
Former dance prodigy James Holden's captivating hourlong, cleansing set over at the palm-draped is further proof of his true artistic arrival, following last year's galvanising career-best The Animal Spirits. A blend of the organic and electronic, his live VFX, pristine, glistening textures of bells, cymbal work & chimes pairs with the star pupil of Terry Riley's Minimalism Masterclass, Holden, sitting atop a riser, barely visible behind his in front of looping, unfolding arpeggios, leading to one of the weekend's undoubted highlights.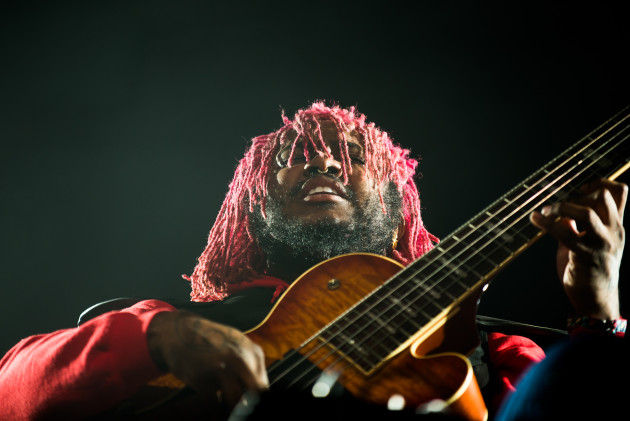 Thundercat – Credit: Garbinel Rizar
The nature of Slowdive's music, as tight and pristine as their tone is, means it's live performances can never have that enveloping, sonic cushion effect as heard Souvlaki or Pygmalion, and while these are wonderfully soaring anthems, they've shifted closer to alt. rock territory. We decend down an underlit amphitheatre, where Four Tet makes the case for finest dance set of the weekend in complete darkness. He's able to craft real arc throughout in a minimally theatrical, music-first set that globs a mass of individuals into one malleable putty.
A fine example of the egalitarian nature of Primavera bookers is offering high-profile slots to current beloved buzz lo-fi house artists like Ross From Friends' apt exotic wistful air or DJ Seinfeld alongside established royalty like Floating Points or Jon Hopkins. The era of Bandcamp & Soundcloud is here, and been around longer than most will admit, and let it be known that Primavera Sound were on the zeitgeist immediately. DJ Koze pumped increasingly eardrum-bothering beats to soundtrack a surprisingly quick sunrise – a perfect final party on the first night, playing well past his 5.30am scheduled endtime.
On the final night, our weary travellers were treated to some low-key Grizzly Bear's captivating experimental pop is as pristine as you'd expect, Deerhunter play essentially a best-of, the famously unpredictable Bradford Cox very gratefully explaining his appreciation for a festival that's been a continental home for them over the course of their trajectory. Late on at 3am, Atlantan trio Omni are one of the most endearing indie presences, profusely appreciative of those in attendance at their unenviable slot, their sharp post-punk converting several.
Their willingness to book high-calibre metal with consistency each year is commendable – those who knew Swedish black metallers Watain had an *ahem* blast, as their genuinely threatening presence is unlike anything else on offer this weekend. Likewise, Sumac's festering slabs of riffery – featuring stand-in bassist Joe Preston of Earth & Melvins – breathe life into an obliterated crowd on Saturday night, just before Beach House provide a low-key close, filling the Primavera stage's trademark grassy knoll as we reflect, semi-consciously, upon another wonderful pilgrimage. Mike Patton continues to troll fans the world across, as Dead Cross' Dave Lombardo teases an encore with the intro to Slayer's 'Reign in Blood'. Fans sprint toward the stage to catch a rare pit opportunity, as they briefly cut into Faith No More's 'Epic', before an abrupt stoppage to close an electric set of good-spirited thrash.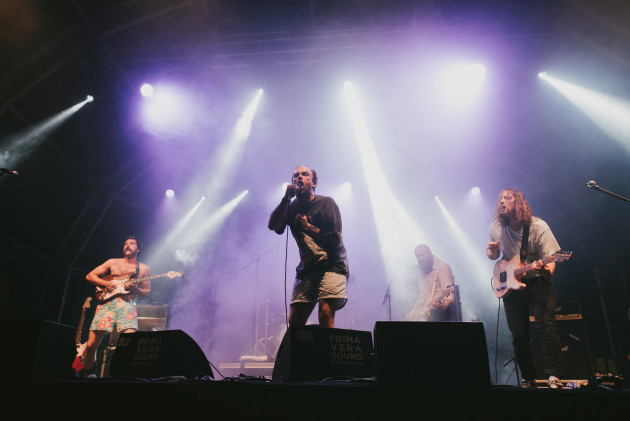 Idles – Credit: Garbinel Rizar
Idles provide one of the most captivating affirmations of why we must fight injustice at every turn, and even more pointedly, its dangerous enabler – apathy. They're crying out for a Ken Loach music video, exploring toxic masculinity & its resultant vulnerability, the NHS, hierarchical structures. Simply put, the enigmatic, mercurial performance of frontman Joe Talbot, with the band's insurgent rhythm section has us firmly adding to the echo of voices proclaiming them "the only punk rock band that matters", a moniker that's been firmly affixed throughout their organic growth over the last couple of years. Utterly vital, it punches upwards as its unafraid to look inward.
In summation: Thirty-three countries of artists. Music until sunrise. Nigh on zero porta-loo queues. The most eclectic, deep-reaching major festival bill in Europe – at least. One of the most culturally rich cities on the continent. The kind of food options you'd reach for even outside a festival – battered avocado bites with chips, in a poke, and kimchi pizza. More importantly, the rarely-seen phenomena of experiencing a major music festival transcend the dusty, commercial physical realm to become one sprawling, welcoming musical community. Stevie Lennox