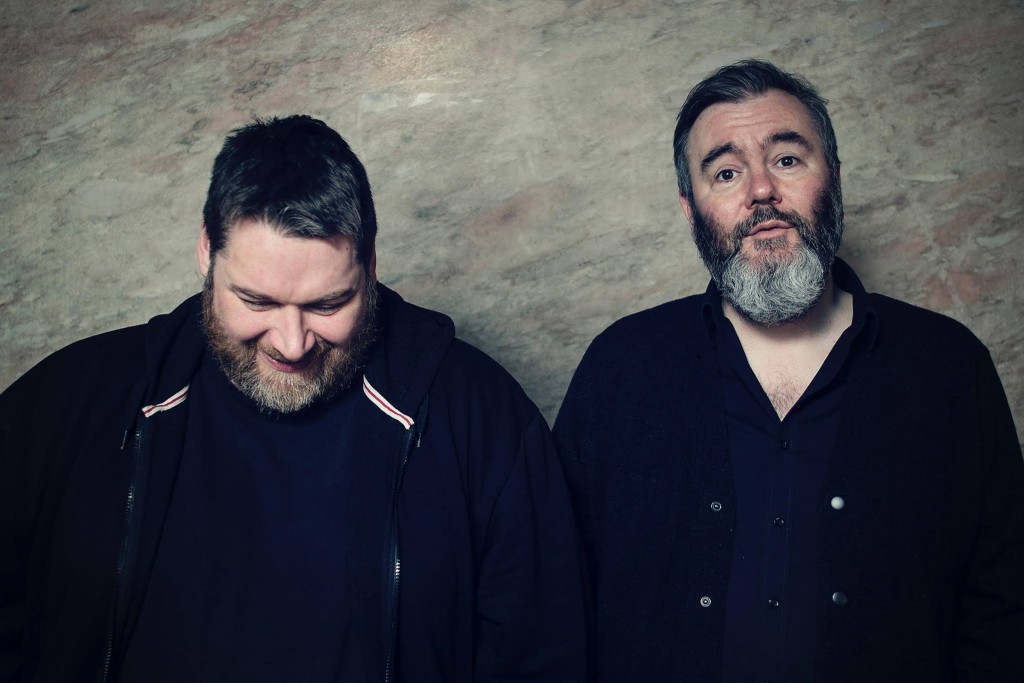 Still best known as one half of Arab Strab with Malcolm Middleton, Aidan Moffat's later career has been a multifaceted one, and his latest album, Here Lies the Body, a collaboration with RM Hubbert, is one of our favourites of 2018 so far. Ahead of July dates at Galway's Róisín Dubh (23rd), Dublin's Grand Social (24th) and Belfast's Black Box (25th), Cathal McBride speaks to Aidan (pictured right, with Hubbert) about this latest project and other recent work. 
Hi Aidan, how has the tour for Here Lies the Body been going so far?
They've all been pretty great so far, a couple of quiet, strange ones, but mostly they've been pretty full and great fun. The London one was especially great, the venue was very sweaty but very good. 
You've worked on numerous collaborations over the past decade or so, how has your working relationship with RM Hubbert compared with some of the others, like Bill Wells for instance?
It's pretty much the same, I think – I just listen to what they send me and write about what comes to mind based on how the music makes me feel. I had more room to play with with Hubby, though, a lot of Bill's tunes would come with vocal melodies already written, but that's the only difference.
The pair of you first collaborated back on Hubbert's 2012 track 'Car Song' from his guest-laden Thirteen Lost & Found album. Was it obvious from the beginning that you two had a lot more mileage in your partnership?
We were both really pleased with that song and it seemed to get the best reaction whenever we played it, so I think we knew we had potential, aye. We started work on the record years ago, but it took us ages to find the right window in our calendars between all the other stuff we do.


Here Lies the Body is something of a concept album about one couple's relationship. Did you set out with this continuous narrative idea from the start or was it just something that developed during the writing process?
It wasn't planned that way but the first song I demoed and sent to Hubby was Fringe, the last song on the album, and that definitely inspired the rest of the album. So aye, it was very early on that I knew there would a story to be told – every album I've made has a story buried within, I think it's important that albums are more than just a collection of tunes. I think an LP can be just as powerful a storyteller as a film of a book. 
Do you think the pair of you will continue to work together or are you already looking towards the next idea?
We're definitely doing a Christmas single this year, and then maybe an EP next year too, but beyond that we don't have any plans. I think we'll probably move on to other things for a while but maybe come back to it again later – it all depends on how it pans out, to be honest. If the album still has a life next year and people still want to see us, we'll still be out playing gigs.
You also quietly put out a vinyl only record under your ambient, sample-based L Pierre moniker last year that you declared to be the final L Pierre record. What made you decide to bring that project to a close after all these years?
It just seemed like the right time – I really liked the previous album, The Island Come True, and the last one, 1948 –, was really just a way to say goodbye in a vaguely meaningful way. It worked pretty well, though – you'd be surprised at how many people were into the idea of buying an already damaged, sleeveless LP!


Since we last spoke to you there's also been a surprise Arab Strap anniversary reunion. What was it like working with Malcolm again, and how did you find the reception from fans?
I loved all of it, it was brilliant fun and we've never sounded better. I can't stand listening to old Arab Strap records, I hate my voice on almost all of them, so the gigs gave me a chance to sing the songs the way I was trying to sing them twenty years ago, but much, much better. Indeed, all of the band were amazing, and there's no greater feeling than walking onto a stage with 100% confidence in your band, and it makes you a better, more confident performer, and makes for a good gig.
With the initial run of dates extending into some festival appearances last year as well, is the reunion still a going concern or has the band been put to bed again in time for the latest project?
Arab Strap is dead again for now, which can be quite frustrating because we've knocked back quite a lot of money this year already. But we decided to do our own things for now, and we said we'll only tour again if we make a new record that we're 100% sure is brilliant. Whether that will ever happen, I have no idea.