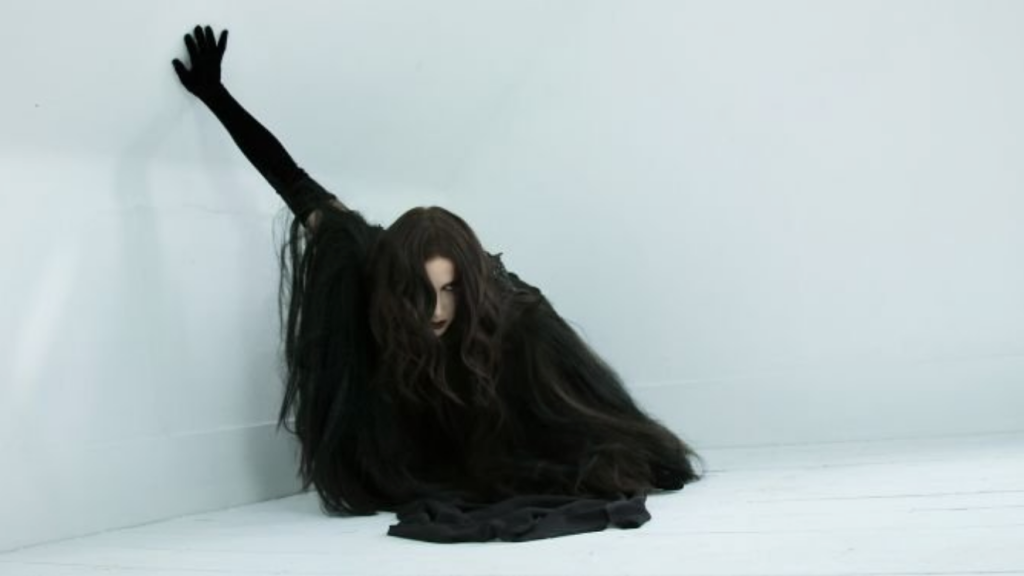 Currently on tour in Europe, the bewitching force that is Chelsea Wolfe will play Belfast's Limelight on July 23 and Dublin's Tivoli Theatre on July 24. Ahead of those shows, the Californian goth-rock artist talks to Jack Rudden about new music, her country music background, the ideal breakfast and more.
On your latest release, Aaron Turner of Post Metal icons ISIS featured on the track 'Vex'. What was it like collaborating with Aaron  and have you any plans to collaborate with other artists in the near future?
CW: I also collaborated with Troy Van Leeuwen of QOTSA, and my longtime bandmate Ben Chisholm, along with my drummer Jess Gowrie. The trust between musicians you've worked with a long time is the very important first layer, and then bringing in wizards like Aaron and Troy elevates it to a new level that you couldn't foresee as the writer of a song. I did my vocals parts for "Vex" and then sent the song to Aaron without them, and magically when I put the two vocals together they worked together so well. 
You last played in Dublin last Spring. Is there anything about Dublin that you particularly love, or do you hate it as much as the natives?
In general, for an American, being in Ireland or Scotland is like being in some magical world. It's so green and historical and different for us… but also as a foreigner I don't feel I can fully respond to this question…
You previously cited the black metal act Burzum as an influence on your work, but retracted the statement due to the bands extreme political views.
When I covered the Burzum song I was young and didn't know anything about him as a person, but then later learned that he had nazi leanings and anti-gay leanings, and fuck that! I retracted my support. I have since removed the cover song upload from YouTube.

Do you think people are becoming more conscious about who they support through their listenership, or is separating the art from the artist the prevalent view?

Definitely, people are more conscious of who they support, because it is important. I used to think you could separate the artist from the art, but if someone is openly hateful or aggressive towards oppressed peoples or women, then they should be accountable.


You have played numerous shows with Ministry over the last year. What's it like to be on tour with arguably the biggest names in Industrial Metal? Does it ever feel slightly surreal?
I'm not the type of person to become enchanted with celebrities, but I do appreciate artists with good old fashioned experience and wisdom, so spending time with Al was very cool and interesting. My bandmates and I were influenced by their innovative industrial sound in the late 90's and I think that's reflected in our music in its own way, so it was special to be able to tour with them. It's always great to open for a legendary band and learn from them.
In 2016 you said that you "try not to eat too much cereal". What is the ideal breakfast?
Well, I consider cereal as empty calories. Umm, in the winter I'll drink like 2 cups of matcha tea for breakfast, and in the summer I'll make smoothies. If I'm hungry I'll make gluten-free pancakes with bananas instead of eggs. My eating habits are a bit boring.


In 2013 you stated that you listen to a lot of Erik Satie, one of if not the earliest pioneer of what became ambient music. Has ambient music had any sort of significant impact on your music?
Yeah, I used to listen to Satie a lot. I don't really anymore – my tastes have expanded. Ambient music is not my favorite, but I do lean towards a lot of soundtrack music. Many modern composers are creating such innovative sounds through film score.

You come from a bit of a country music background and have shown an affinity for Johnny Cash in the past. Is there any band or moment that sticks out to you as your bridging point from the world of country into the world of metal?
I grew up on country music! I sometimes bridge country/folk and metal, and there are also my sisters Emma Ruth Rundle and King Woman who also combine folk, rock and metal. 

&nbso;