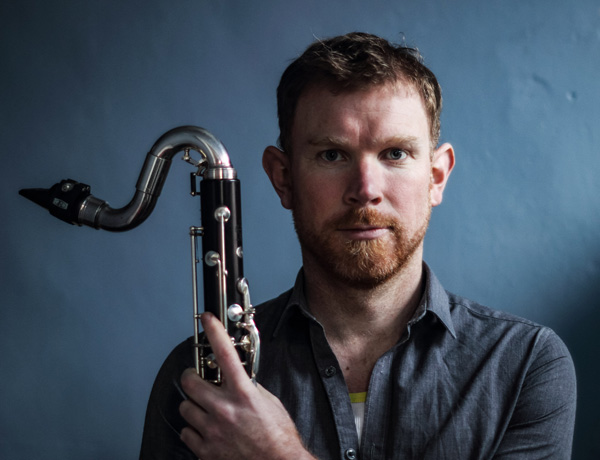 Woodwind specialist and experimental composer Seán Mac Erlaine creates deeply cerebral and alluringly unclassifiable music. Long celebrated for his own swirling, phantasmal compositions as well as his work with Swedish/Irish folk group , This is How We Fly, May saw the release of his latest solo album, the divine Music for Empty Ears.
The album was recorded in collaboration with Norwegian luminaries, innovative live sampler Jan Bang and guitarist Eivind Aarset and also features the sumptuous wraith like vocals of Galway singer Sadhbh Ní Dhálaighhe. The dizzying array of talents on record combines to create one of the most seductive releases in Mac Erlaine's catalog.
Our James Cox grabbed some time with Seán Mac Erlaine to discuss his new release, his creative process, the keys to a successful collaboration and his next exciting steps in live performance.
You've worked with a long and varied list of collaborators in the past and your latest release features contributions from electronic composer Jan Bang and guitarist Eivind Aarset. How did this collaboration come about?
"In 2016, Dublin promoters Note Productions approached me and asked if I'd like to curate and perform in a series of duo concerts. It didn't take me long to say yes and I put together a list of my favourite musicians. Eivind Aarset was the first duo encounter and Jan Bang was the fifth and final concert. I also got to play with Eivind in another project, a live score of Dracula in the NCH. Both Jan and Eivind of course have worked together for years and I was a fan of their playing across so many albums."
Speaking about collaboration more generally, what do you think the most important factors are in a successful creative partnership?
"The ability to listen and to share a path together in making the best artwe can is paramount. I tend to pick my collaborators carefully and I like to return again and again to a slowly expanding pool of people who  I can get on with, communicate easily with and have a good time with!"
In a dream come true scenario, are there any artists you would particularly like to work with in the future?
"I've been very fortunate this far, so I'll just be reaching out gently to people whose work I really admire and if I can sound them out personality-wise then I'll see if there's scope for something to happen.  I'm not going to put any names down in ink here!"
What first drew you to the woodwind section and what is your preferred instrument to compose with?
"As a teenager I switched from guitar and piano to saxophone which I studied and practised for a number of years in an intensive way. I moved from tenor sax to soprano and then to alto but eventually Iarrived at bass clarinet and clarinet. The clarinet is currently my go to instrument although I have been working a lot with the chalumeau recently, a very simple baroque iteration of the clarinet, which in a way allows me to get closer to the voice – my idea of the ultimate instrument."
Who do you consider to be your main musical inspirations? Is there anyone you've been listening to recently that you'd like to recommend to our readers?

"Oh stuff comes at me from all angles, I can't really point to main musical inspirations these days. A lot of inspiration comes from non-musical sources. I've gone through periods of not listening to any prerecorded music at all but at the moment all I want to listen to repeatedly is Mark Fell's new LP Intra on the Boomkat label. Stunning work."
Your releases have no shortage of poetic and off beat song titles. Are the track names simply words and phrases you feel sum up the soul of a piece, or do they tie into deeper narratives which inspire the songs?
"Most of the time I'm adamantly non-narrative. Why all this need for stories, people?! Having said that, it's complicated. A part of me is driven by poetry, by words and it mainly gets expressed – however briefly – in song titles these days."


Delving further into the inspiration behind your music, how would you describe the recurring themes that run through your latest release Music for Empty Ears? What is the significance of the title?
"I'm not convinced that there is any inspiration behind the music. It should be able to stand as music without any back-story. At a certain point I decided that I'd try to make music that went beyond the idea of 'here's a sad piece and now here's a happy piece'. To get over that narrow binary choice I'm often thinking of creating a space where there's much more ambiguity and a chance for the listener to make some decisions about it themselves if they so choose. So maybe a theme is contemplation. Thinking."
How do you feel these themes and ideas manifest themselves in your primarily instrumental compositions?
"Happily I don't feel that's my job to say. People will amaze you with what they hear in a piece of music and I'd like to just do my best and hand it over to them to take anything, or nothing, that they might find."
Regarding your creative process, I'm interested to know how much of your fluid and dreamlike music is the product of improvisation.
"In general it hovers around 95% – 100% the product of improvisation. A lot of what I do is stand on a stage with zero preconception of what might happen. Well, I say zero but there's some things like how long play to for and what instrument I'll play is predetermined. But the nuts and bolts of the music – key, tempo, mood, dynamics, etc – are left open to be decided by the way I can feel I can respond to the room, the audience, an energy… On Music for Empty Ears we did start mostly with some compositional sketches but the bulk of what you hear is improvised music which has been edited and mixed in a manner which hopefully works as a record."
Much of the acoustic instrumentation on your records is swathed in electronic effects. Does recreating this sound pose any challenges in a live setting?  
"No, there's no effects or electronics added on post performance. I use software that I've written which is designed to respond to my playing and which I control live so that it wouldn't make sense to change any of that after playing in a studio. The electronics are just a reaction and an extension of the acoustic instrument. On this new record the same goes for Eivind's guitar playing and Jan's live sampling, in fact Jan's instrument only works in a live setting, otherwise it's just an empty box waiting to process live musicians."
Speaking of live performances, do you feel that your music comes alive in front of an audience, or do you prefer the exacting control of the studio?
"They are two very different modes of music making for sure and I really enjoy each for their different reasons. Playing music in front of an audience is such a privilege and when the music has space to respond and grow in reaction to people in a space that's a tremendously exciting thing. Making a record requires a very different headspace and I'll tend to make different decisions when I know that this is something that people will hear more than once, (hopefully heh, heh!). I'd miss one as much as the other."
Finally, will we be lucky enough to catch you in performance this summer?
"The summer tends to be my quietest time of year where I get to work up to performances for the autumn. In July I start a new residency with my group This is How we Fly in The Solstice Arts Centre in Navan and we play in a Norman Castle in Meath as well as a once-off gig in Austria. August is mainly spent in Estonia working on a new show that happens there in September adapting the writing of Fernando Pessoa for a run in Tallinn's main cathedral which boasts a wildly uncontrollable reverberation! Other than that I'm writing new music for a few bigger things due to happen in 2019 (which I'm not allowed to tell you about yet!)"
Grab your copy of Music For Empty Ears here.