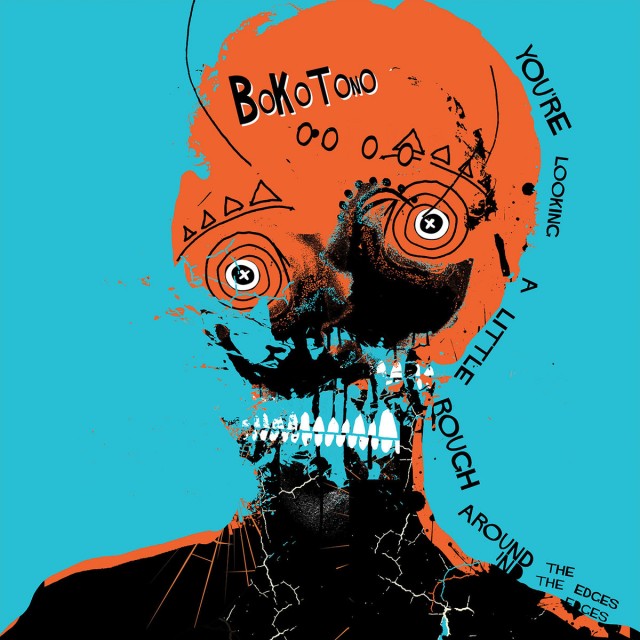 Did you catch Electric Dreams last year? It was an uneven, but effective rendering Philip K. Dick's warped simulacrum of reality. Know what's not uneven? The new video for Bokotono's latest single, 'You're Looking a Little Rough Around the Edges', which we're premiering here today.
Formed in West Ireland in 2017, Bokotono are a trio informed by the frantic, but composition-conscious heavy post-hardcore of the likes of Botch, Daughters & Fall of Troy, as well as peers like ASIWYFA, Alpha Male Tea Party & Gallops, with whom they've shared stages. As chance would have it, their Venn diagram has a not-insignificant crossover with one of our longstanding favourite Irish music collectives, the Galway-based Feast Presents. An organic partnership, Feast released their debut, double-A side You're Looking A Little Rough Around The Edges/Somewhere In The Second Season back in May, and in terms of visualising that track's ambitious sensory overload – never veering too close to byzantine – the band had this to say:
"Capturing the energy of the song was our first priority. We had the idea of a mundane task, with some extraordinary factor taking the protagonist into a state of chaotic madness. The video is hectic, brutal, colourful and ridiculous."
Directed by Fintan Geraghty, produced by Adrian Conway, edited by Shakeela Singh, the video stars Aaron Southgate as a man under duress, just trying to enjoy his birthday in a playful hyperreal fantasy in reverse chronology, eerily mirroring the experience of completing the most menial of tasks when beyond the trappings of consensus reality.
Of the song itself, the band's intent was to distill themselves into something that incorporates aggression without being overwhelming, catchy without being by-numbers, "to concentrate all aspects of the music we had been writing and listening to when we had started out."
Download it on Bandcamp on a name-your-price basis, and stream it on Spotify. Watch the video below: