Articles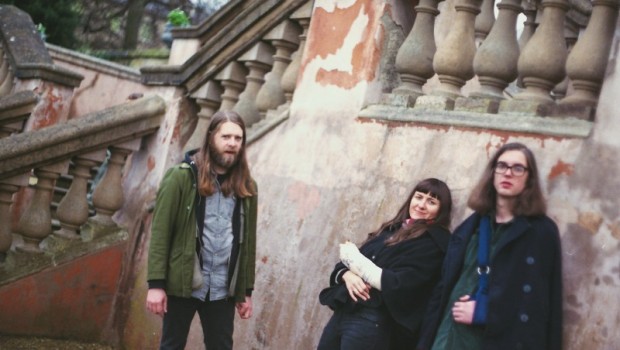 Published on October 31st, 2018 | by Eoin Murray
0
Album Stream + Interview: Woven Skull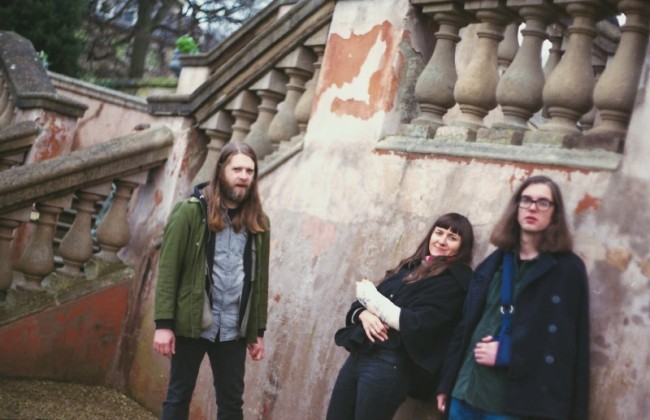 Photo: Colum O'Dwyer
Back at the end of 2016, we included Leitrim experimental/psych outfit Woven Skull in our 17 for '17 round up of acts to watch in the coming year. We like to think we were fairly on the money with the trio, who both on an individual level and as an outfit delivered dividends throughout 2017 and well into this year…
Mondola player Natalia Beylis, for one, developed her breathtaking field recordings and drones project with the release of The Sunken Hum Vol 1: Field Rhythms & Drones and Scchh​.​.​.​phh. Guitarist Aonghus McEvoy, meanwhile, continued his solo and group improv pursuits while drummer Willie Stewart worked on a film about Belgium fluxus artist Ludo Mich which is soon to be released.
As Woven Skull, the trio didn't rest on their laurels either – they've been bafflingly prolific since forming in 2008 – releasing the They Were Pebbles But I Call Them Stones EP in August 2017 as well as the single 'Cracking Of The Limbs' that same September. As if that wasn't enough, Beylis and Stewart regularly co-ordinated their Hunters Moon events in and around Leitrim, serving as curious showcases and celebrations of the most experimental, improvised and unusual music to be found within the Irish undergrowth.
Now, the band are readying their brand new, self-titled album, for release this Friday 2nd November via Oaken Palace Records. Arguably their most ambitious and – without sounding hackneyed – personal release to date. The eight-track collection features an old family photo of Beylis' on the cover and, as we learned in the interview below, the track titles each pertain to a place relevant to members of the band in one way or another. The album also found the band recruiting additional instrumentation from collaborators including Ailbhe Nic Oireachtaigh, whose own releases on labels like Cork's Fort Evil Fruit have been a perfect improvisational fit for the band's rambunctious style .
Ferocious, heavy, rotational and climactic, this is without question Woven Skull's best work to date. Fusing psych, folk, prog and jazz precepts of melody, improvisation and repetition with the intensity of black metal or noise, this is the sort of album that will more than satisfy fans of Popol Vuh and Amon Düül II as well as fellow Irish acts like Whirling Hall Of Knives or The Jimmy Cake.
Listen to the entire album and read our interview with Aonghus McEvoy below…
Tell us about the background of this album. What was the writing recording process like?
"The writing didn't take place at one time. The songs were toured and grew very naturally over a couple of years. Ailbhe joined us for this record and the addition of another instrument influenced the ways in which a lot of the material developed. Other parts of the album are recordings of improvisations and little studio experiments. I like things that feel very considered and fleeting at the same time. I want this record to be sprawling in a welcoming manner."
Giving this record the self-title, and putting a family picture on the cover makes it seems as though this is a significant landmark release for the band. What makes this one so special?
"The record is a culmination… or distillation of a lot of ideas, so it seemed fitting to self-title it. All good rock bands seem to self-title things that are not the first record i.e. the second Rolling Stones, the third Velvet Underground, the fourth Television, the fifth Metallica album (they had stopped being a good rock band for a while at this stage) and the Beatles ninth album. The Modern Lovers have two set-titled records! Seems like an okay lineage to situate something in."
Most of the track names on here relate to places. What is the significance of that?
"The titles relate to places that are meaningful to us, and in a lot of cases were places in which the music was written or recorded. Little maps of personal experience and ephemeral snapshots. They function in a similar manner to having a family photo on the cover. I don't want to fob off instrumental music by donning it with ironic in-jokes. The music holds meaning to us and these are the places in which we've lived, wasted our time, or played music. The ideas presented are borne of or intrinsically linked to these places. Go drink cans on Warren Street."
Anything else we should know about the album? What should we do while listening to it?
"Frys chocolate cream and redbush tea is my usual form of sonic exploration. Everyone is welcome to their own modes of navigation."
What have Woven Skull (and respective solo projects) got coming up in the next few months?

"We're off on some dates in the UK in early November, some Irish release shows (November 17th Dublin, 18th Cork."
Aonghus: "I'm finishing up an Aonghus McEvoy solo rock guitar album which tries to balance the ideas of Evan Parker c.1986 with Bo Diddley c.1958."
Willie: "I'm booking a lot of screenings for a film that I made about the Belgium fluxus artist Ludo Mich called Ludo is Fantastic."
Natalia: "I've doing something yet to be decided in Glor in Ennis on the 14th November and then I'm on tour playing solo electric piano around Ireland with Bell Lungs in December. Aside from that I'm spending a lot of time at home recording bird wing flutters and the various sounds made by seashells".
Get your copy of Woven Skull's self-titled album here
By the way, Woven Skull have dedicated the album to the Eurasian red squirrel, which is facing a particular difficult situation in Ireland and England. All profits will be donated to the Red Squirrel Survival Trust, a national charity working to keep red and grey squirrels apart, protect the country's biodiversity and establish new red squirrel colonies.