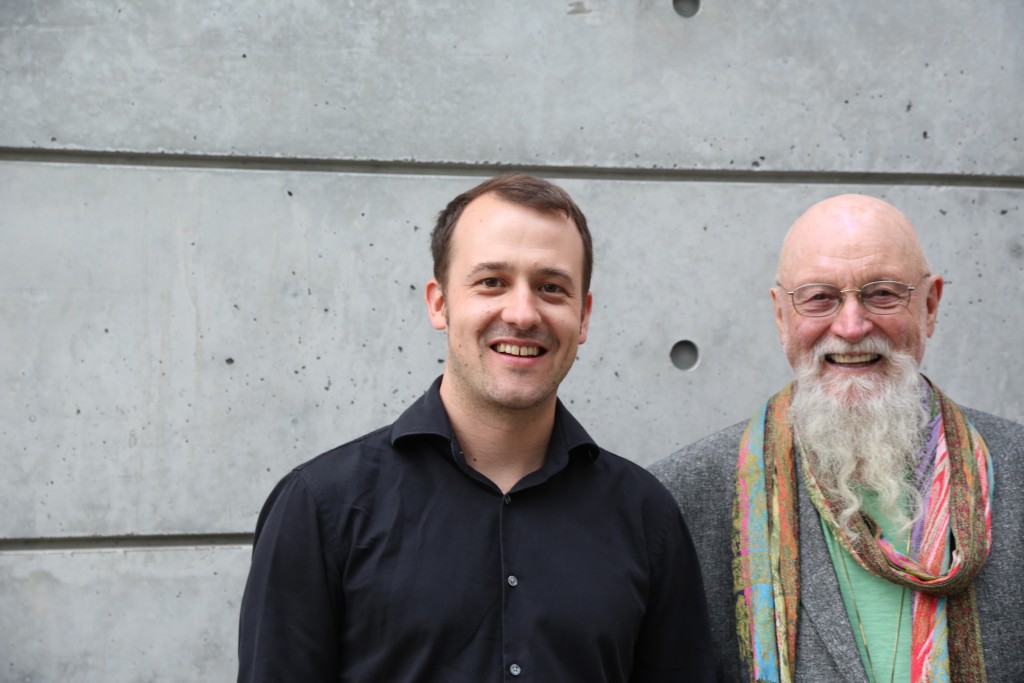 "We've heard the bar will be closed during this performance, so this might be a long 45 minutes. But we'll suffer through it together."

Gyan Riley is sat across from his 85-year-old father, Terry, on-stage at Dublin's The Sugar Club. Before them, watching on from tiered cinema seating and plush velvet banquettes, is a small sea of muted smiles that strong suggest that sufferance – or anything resembling it – is far from on the cards this evening.
Hosted by the city's perennial gatekeepers of good taste, Choice Cuts, it's the first of a two-night residency from The Rileys and the sense of expectation could touch the ceiling. For many in attendance, the opportunity to bear witness to one of the true greats of 20th Century Music, alongside his critically-lauded guitarist son, is simply something not to be passed up. At a mere €25.00 per ticket, and in such an remarkably intimate space, it is, in a fact, a booking that should be slotted under priceless.
Speaking of this collaborative series with 41-year-old Gyan, who the New Yorker once called "a one-man American-music machine", Terry Tiley said, "Nothing I have done in this life has given me more satisfaction than improvising on these songs with Gyan. Nothing I have done can match the intuitive synchronicity we have shared many times on the stage." Even for an artist whose output over six decades has dealt strongly in the realms of premonition and simultaneity, in the context of both Western and Eastern traditions, tonight is a feature-length confirmation of that.
Drawing from their new live album, Way Out Yonder, the performance is divided into two 45-minute sets. The first (again, nothing to be suffered) veers between open-ended call-and-response and patterned grooves. Improvisation and order overlap; nanosecond's transitions and pauses are made without even a glance. In ways that perhaps only virtuoso parent-offspring unions can tap into, the cues remain remarkably unseen. Tying it all together is a sprawling melodic sprees, dizzying minimalist phrases and intricate interplay – Terry on piano and organ; Gyan on electric guitar (in short, think the Crossroads guitar duel, but with considerable more panache and for life-long Wire magazine subscribers.)
On the penultimate piece of the first set, 'Deep Night' casts the strongest spell early on. Almost 50 years on from studying with Indian vocal master Pran Nath in 1970, Terry's scale-bending vocal incantations, based upon microtonal Indian modalities, stem straight from a vast well of experience. Semi-improvised and bounding from a place of pure knowledge, aired over Gyan's nuanced lead forays, they make for spiralling invitations for tonight's audience to, if even for the duration, silently peek behind the curtain of their mind.
Wrapping up just after 11pm, the second set proves more revelatory. Beginning on a piece in which Terry musters a warped symphony from software on an iPad (a surprising peak in a discreetly lodged between more familiar territory) father and son clearly take pleasure in the process of eking out the best in each other; from precise restraint and counterpoint to dizzying explosions of piano, organ and guitar. Terry's melodica work, too, takes its rightful place, threading simple, sombre moods throughout a tapestry of boundary-pushing invention.
Better still, it's throughout tonight's second set where Gyan's at times seemingly limitless virtuosity comes to the fore. Leaping between economical and elaborate, each lightning arpeggio and rhythmic incision has its place. While Terry has previously called their musical relationship – which spans minimalism, maximalism and the contours in between – "a marriage of mind and spirit", the cerebral and cosmic clout that informs both Gyan and his famous father's individualism is clear for all to see tonight. Round two is sure to deliver more of the same. Brian Coney