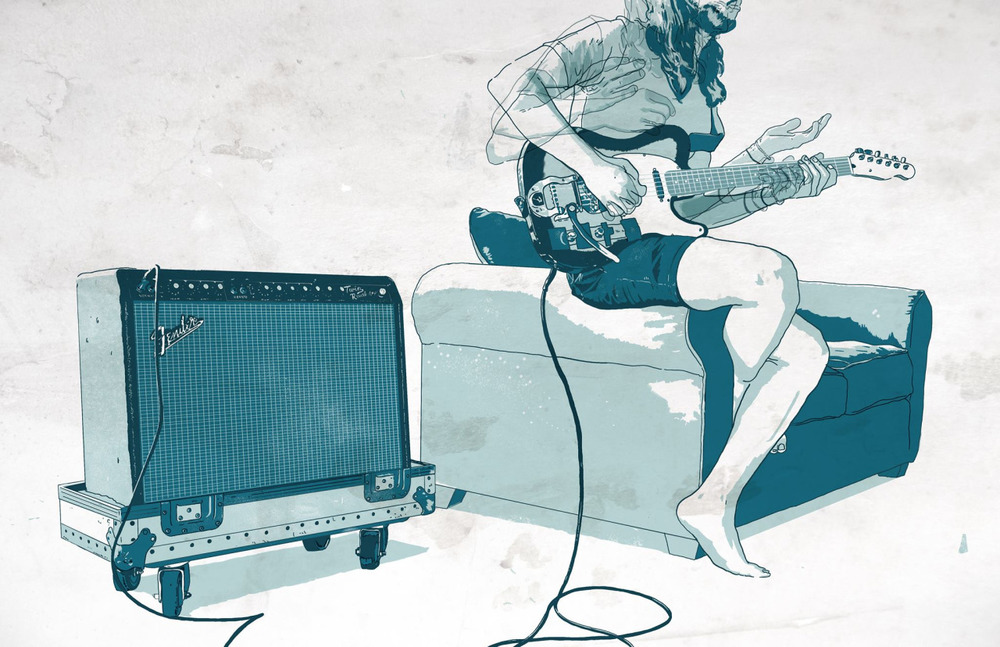 Christ on a rickety sleigh, was this tough. But truth be told – it's rarely easy. As we scramble to bang heads and attempt to assimilate, order and re-order the absolute deluge of excellence that has met our ears over the previous twelve months, it's instantly clear that there will be some notable omissions. It's equal parts unavoidable and unfortunate, but more significantly, it's glowing testament to what we're dealing with in every pocket of this island.
Of course, we can't – nor wish to – conclusively say this is "the best year for Irish music in recent memory" (the last three, in particular, have well and truly delivered). What we can say is that, combined, these tracks represent something that no end-of-year list will likely ever come close capturing: the importance of the music communities that breed, support and propel Irish musicians – be they Cork bedroom producers, Belfast indie rock upstarts, fast-rising Dublin rappers or Derry songsmiths – toward the world-stage.
Here's part two of our two-part – #50 to #1 – of our Top 100 countdown for 2018. If you get the chance, endeavor to spend some time with these songs. Work your way down the listen and give each their due. Collectively, this is the sound of an island whose artists are going above and beyond to excavating incredible new territory and push forward into 2019 with a collective, genre-spanning, unrelentingly inspired head of steam.
Go here for #100-51.
50. Melts – Skyward
49. Maija Sofia – Flowers
48. Super Silly – Here
47. Ghostking Is Dead – Tokyo
46. Mob Wife – Warm Water
45. Jafaris – Found My Feet
44. Squarehead – Always On
43. Galants – In Vain
42. Conor Mason – Follow
41. Our Krypton Son – Falling In Love Is A Suicide Mission
40. Documenta – Jack Morbus
39. JYellowL – Me n Me Too (Freestyle)
38. Sleep Thieves – Aching Bones
37. Slouch – Petty Sounds
36. Blue Whale – Shortbread Fingers
35. The Sunshine Factory – Negative Light
34. Robyn G Shiels – An Offering As Such
33. Elaine Malone – You
32. Bouts – Face Up
31. Kitt Philippa – Human
30. Tuath – I'm Sorry, Young Man
29. Paddy Hanna – Toulouse The Kisser
28. Postcard Versions – Sunday Morning With Nate
27. Dott – Like A Girl (feat. Sadie Dupuis)
26. Pillow Queens – Gay Girls
25. Myles Manley – i'm in love w/ myself
24. Villagers – A Trick of the Light
23. The Altered Hours – Over The Void
22. Arvo Party – 4s & 7s
21. The Cyclist – Lucille
20. Doubt – Return
19. Girlfriend – Spitkissing
18. Silverbacks – Dunkirk
17. Dowry – In É
16. Syn – Coy
15. Brigid Mae Power – I'm Grateful
14. Tension – On Call
13. Just Mustard – Pigs
12. Robocobra Quartet – Bar 37 Will Shock You
11. Hilary Woods – Inhaler

_____
10. Rejjie Snow – Charlie Brown
9. O Emperor – Make It Rain
8. Hot Cops – Decay
7. PowPig – Birds of Paradise
6. Loah – Keep Your Heart [feat. God Knows, Bantum, Ben Bix, Dunny]
5. Junior Brother – The Back of Her
4. DJ Nervou$ x Post Punk Podge – Never Coming Home
3. Fears – h_always
2. Kojaque – White Noise
1. Vicky Langan – The Palms
Grotto in Granard today. Only sounds: Angelus bell, crying dog, raindrops falling from trees & many birds #AnnLovett pic.twitter.com/QasHCrFPaQ

— Vicky Langan (@vicky_langan) 31 January 2014